Manifesto Market transforms Prague's heartland with black containers as a new food space
A new gastro and culture market has transformed former wasteland in the heart of Prague into the city's new landmark, envisioned and led by Martin Barry, the founder and Chairman of architecture and urbanism platform reSITE.
Opened in June to the public, the project, called Manifesto, was developed to revive a derelict and forgotten corner in the center of Prague, to make a top attraction place in the Czech capital.
Aiming to extend the boundaries of architecture and "public space" with the actual operating mechanism with reSITE Conference, to design the market, Martin Barry commissioned a trio of young female architects Nikola Karabcová and Lucie Červená, winners of a student competition where the initial design was conceived.
The new food space was completed within only 18 months from idea to realization. Composed of 27 black containers, the aim of the project was to convert a forgotten corner and "no-go zone" in the city, adjacent to unused rail yards for Prague's Masaryk Railway station.
The site is located between two billboards and is overlooked by an elevated highway. The area is owned by Penta Real Estate and awaits its permanent redevelopment designed by Zaha Hadid Architects.
"After having completed several landscape designs internationally, Manifesto is the first F&B completed experience design project with reSITE – a hybrid that threads his breadth of experiences in design, events, culture, tech innovation and real estate development," said Martin Barry.
"reSITE has always tried to design completely unique and inspiring experiences for users. With regeneration projects like Manifesto, we are now moving beyond events into more tangible impacts and more permanent spaces," added Martin Barry, the founder of reSITE, one of Europe's most prestigious architecture and urbanism events platforms and an award-winning landscape architect in America.
With thousands of daily visitors already, Manifesto provides the first glimpse of the future – an already transformed zone of the city. Manifesto offers a mix of use and activities from food and beverage to cultural happenings, DJs, summer cinema, workshops, bringing locals in contact with tourists, businesswo/men with hipsters. The cultural program is curated by local culturevores, Aerofilms.
"Designing the experience was as important as the material and color choices here, the focus being on the user and tenants, always. The architect and client aimed to give people opportunities they couldn't find elsewhere, in a place where they might least expect it - in an intimately designed and comfortable space," explained reSITE in project description.
Furniture, some custom and others curated, are nestled between artistic installations of lavender and sage. This environment is in concert with carefully a curated roster of two-dozen top local purveyors, restaurants, chefs, bartenders and Czech microbreweries.
"I had to convince weary business owners, sponsors, our commercial leasing partner and tenants alike that a minimalist approach to their branding, design and on site advertising would equate to better business for everyone," Barry explained the path to a pure visual style. He convinced them, and it proved true.
"The experience we designed is cool, it's new, it's green, it's alive and it's unique. Beyond design, the place is buzzing with interesting stories and hot-blooded life since the very first night. Our vision and mix of DJ sets to dim sum is working to stimulate lots of senses. The daytime hums and the evenings are buzzing."
Manifesto is new and clearly needed – to my surprise, many local residents have said they're proud to have such a place in their city – adding some identity and coolness that some fear is missing in their hometown," added Martin Barry, Founder of Manifesto and reSITE.
Developed as a "mini city" concept, Manifesto Market was designed to be temporary and movable, and this brief helped define the architecture. The team decided to use custom-built containers, 27 of them for food, beverage and retail spaces.
The architectural team lead by Martin Barry consists of Nikola Karabcová and Lucie Červená who were selected in a student design competition Superstudio. Elvira Islas managed the team, designed and coordinated the process for reSITE. Thanks to the construction method, the place was erected, equipped and opened in 9 days.
The architects added 8 rectangular steel frames in the same cubic dimensions as the containers themselves, which help lift the project upward without adding much weight to the lightweight slabs below.
The frames provide a visual reference for visitors, and allow for plants and iconic shade sails to hang from them, accentuated with warm architectural up-lighting from LED linear fixtures tucked into the coves of the steel beams, keeping the light source hidden.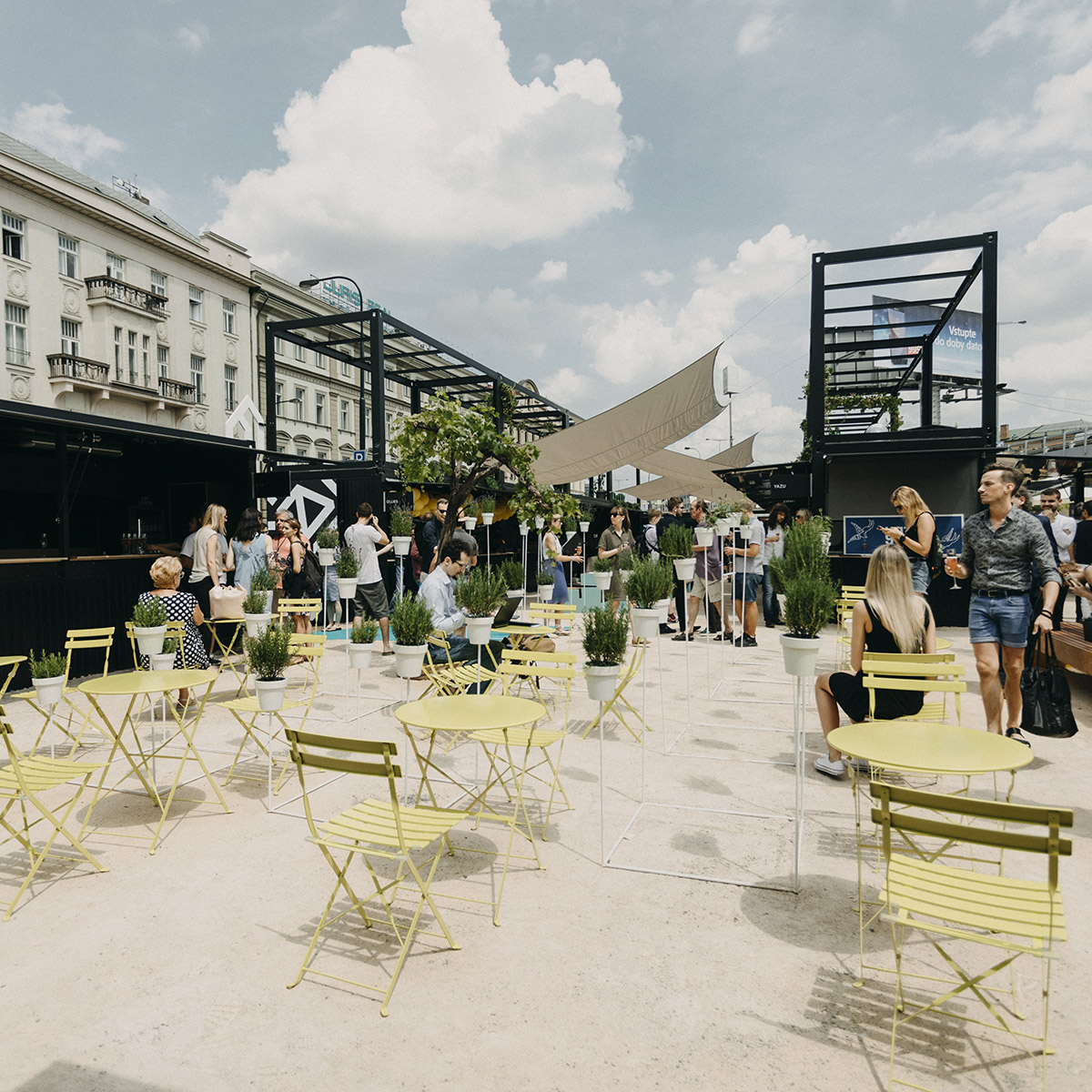 The layout of the market is inspired by archetypal urban morphology of old Prague, which is easy for people to read and understand, but mysterious enough for exploration. Visitors can identify a main avenue, a square, a piazza and an "old town" – something familiar put in a new context and reduced scale.
Three types of units are designed per tenant fit-out needs. The service windows or bar windows exist in modular sizes. The black exteriors unify the project, and offer very discrete branding. The interiors, on the contrary, leave room for customized fit-outs.
The furniture was carefully selected to accommodate various user needs. Utilizing Barry's nearly 10-year experience designing and building public spaces, this was carefully considered. Movable seating with bistro tables, custom-designed standing wood tables, powder coated steel stools with wide mess seats that are just uncomfortable enough to keep the guests moving, allowing the kitchens to serve more.
The iconic piece at Manifesto is a set of 2m (6') long communal tables, six in total, creating what appears to be a monolithic farm-style communal table. The tables, called blocq, are made of tropical hardwood and feature powder coated, laser cut steel ends. These tables are the first of their kind off the production line, donated to the project by the award winning Czech brand, mmcité 1.
The branding of the project has been created by reSITE in collaboration with Funkfu, a well-known Czech graphic designer. "The brandname existed before we've had a clear idea of the scale, design or program. It brought us through the process and reminded us of our mission. A manifesto of life, sustainable urban design combining economy, architecture and collaborative approach," said Radka Ondrackova, reSITE's Creative Captain.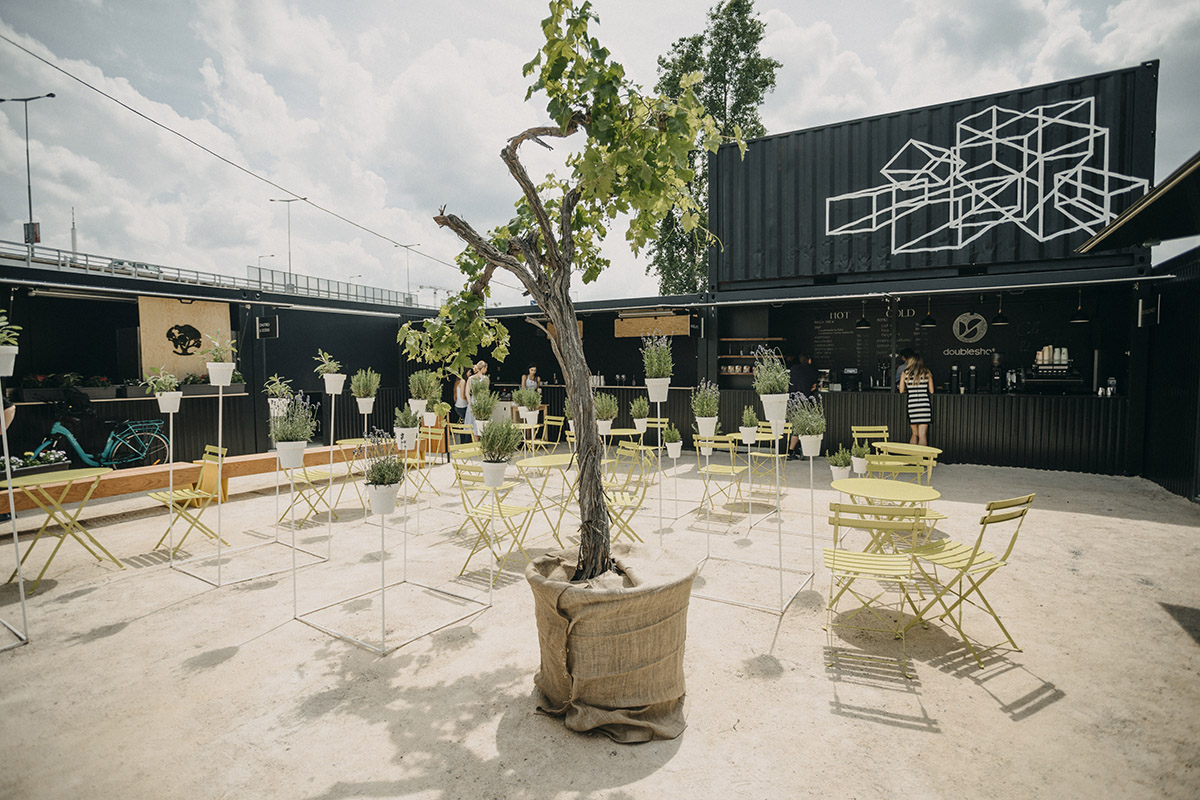 Haenke curated and designed green installations on the roofs of the containers and throughout the space. The medicinal plants installation called Victoria Pragensis, originally designed for the piazza of the National Theater by Juras Lasovky, and nominated for the Czech Architecture Award, is now finding a new home and thousands of new visitors at Manifesto.
The construction of the Manifesto triggered bottom-up, collaborative and cashless collaborations. The culture market provided 150 jobs over 30 different nationalities working on diverse positions, from design to the kitchens. Oriented to the future and innovations, Manifesto is the first fully cashless place in the Czech Republic and one of the first in Europe, thanks to a partnership with Mastercard.
The Manifesto Market is a rare example of a truly collaborative project, connecting good ideas with capital and political resources. reSITE and Martin Barry partnered with the local cultural powerhouse, Aerofilms to build and operate this venture.
Penta Real Estate leased one portion of their brownfield while the rest of the land is undergoing archeological excavations. The City of Prague lent it's support in the form of letters of support.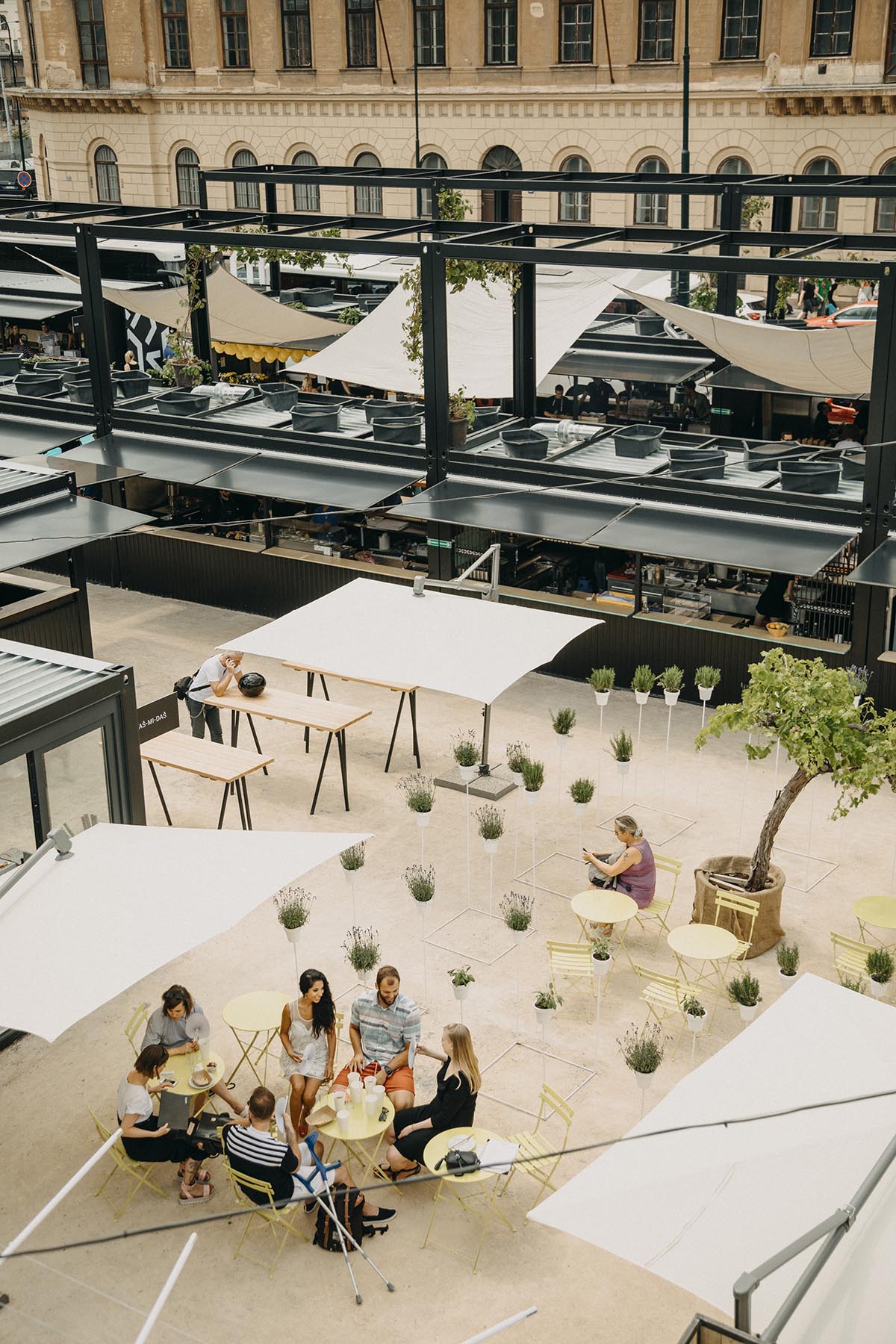 Manifesto's initial rendering-1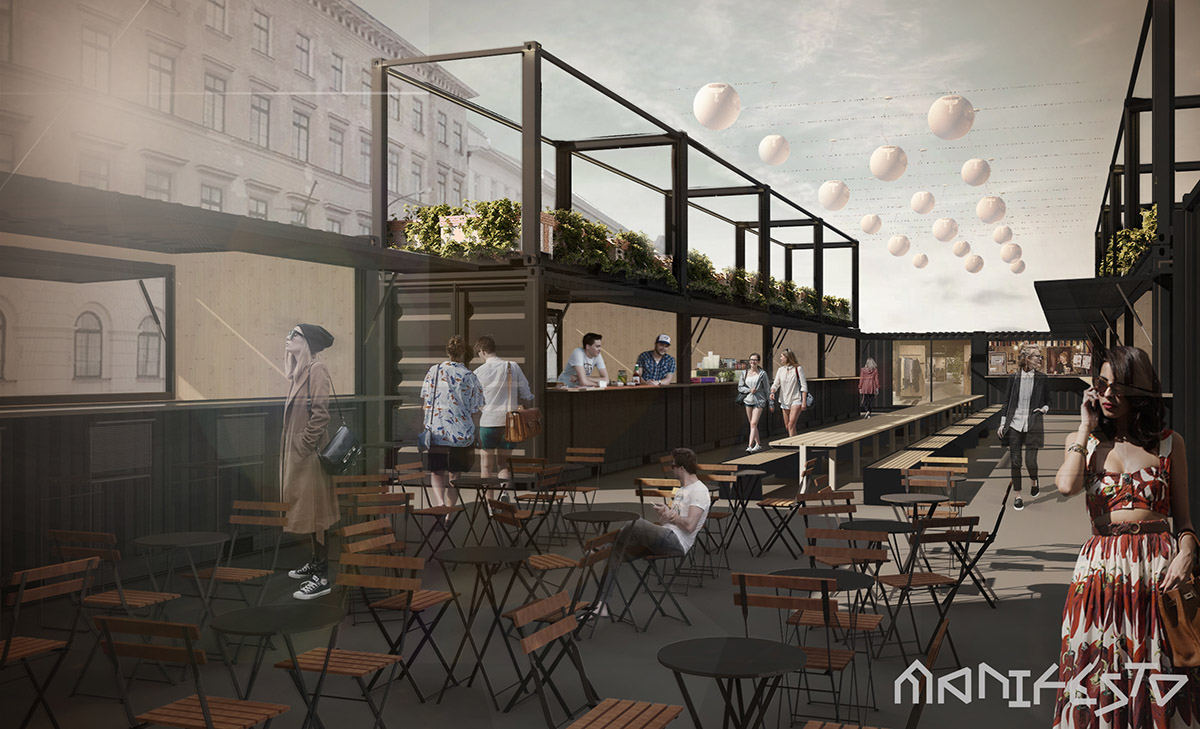 Manifesto's initial rendering-2
Manifesto's axonometric plan
Project facts
Project initiator, Founder: Martin Barry
Investor: Abatanado, s.r.o. (Owner: Martin Barry)
Production and cultural development: Aerofilms
Culture partner: reSITE
Land owner: Penta Real Estate
Architects: Nikola Karabcová, Lucie Červená & Elvira Islas
Plant Design: Haenke
Container Fabrication: Cubespace
Finish Fabricator & Custom Furniture: BAT Design
Copywriting: Radka Ondrackova and Martin Barry
Partner websites: reSITE.org | aerofilms.cz
In Collaboration with: Penta Real Estate, Mastercard, mmcité, Business Chamber Prague 1
All images © Jakub Cervenka
> via Manifesto