Top 10 Architecture Books Of 2018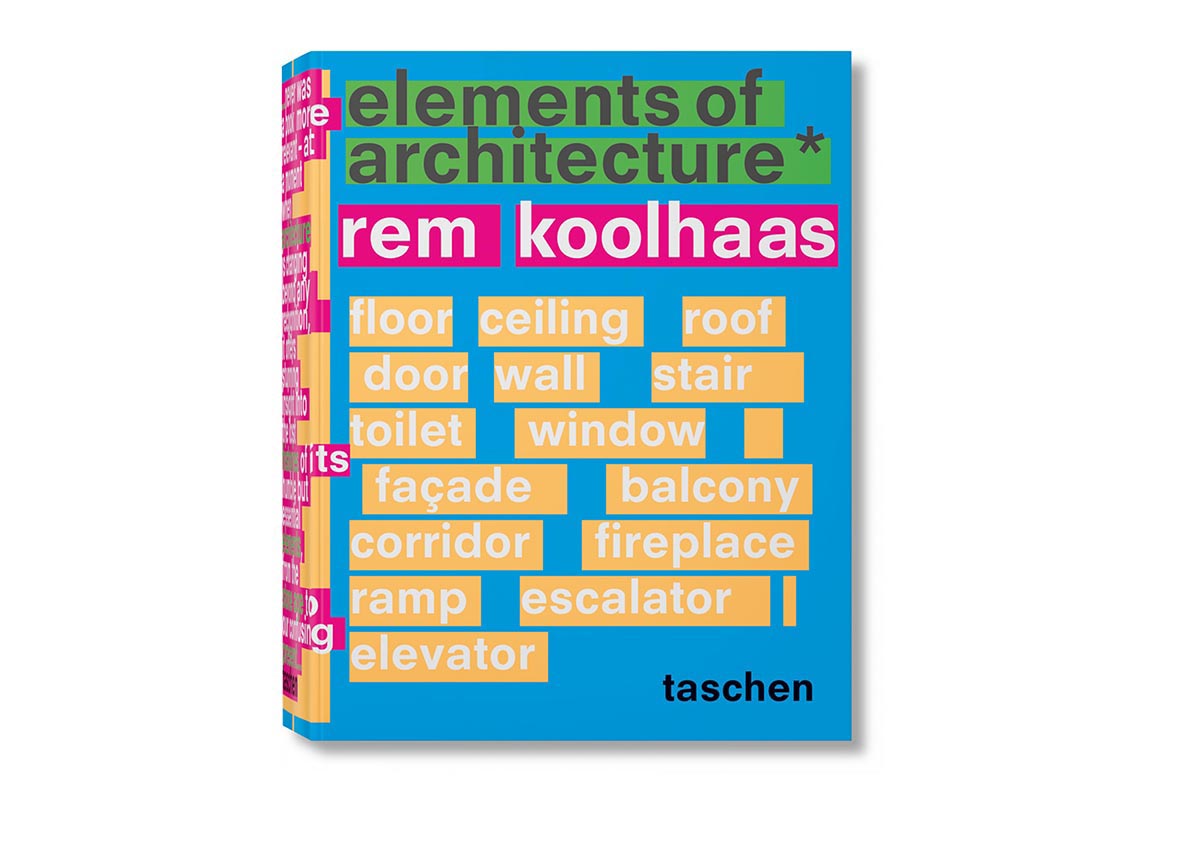 As we fastly approach to 2019, WAC editors have picked up the best architectural books of 2018 for our readers. Picked up generously from WAC Books, World Architecture Community's selection does not only focus on one topic in the architectural discourse, WAC editors' selection also explores a variety of choices from design to politics, from photography to graphic narration, from history to drawings. If you're curious about the books that should be on your shelves, check out the following special top 10 selection of the World Architecture Community.
Magdalena Droste's Bauhaus: Updated Edition, the best-selling reference work of Modernism's most famous school in a revised and updated edition, Rem Koolhaas and Irma Boom's Elements of Architecture, focusing on the fragments of the rich and complex architectural collage, Oliver Wainwright and Julius Wiedemann's Inside North Korea book, opening up an eye-opening tour behind closed doors in the most secretive country of North Korea, are just few among the most captivating stories of 2018.
See our extensive archive on architectural books and pick your favourite book below:
1. Bauhaus: Updated Edition by Magdalena Droste (Author)
Published by Taschen, the best-selling reference work of Modernism's most famous school was released in a revised and updated edition.
"In a fleeting 14-year period between two world wars, Germany's Bauhaus school of art and design changed the face of modernity. With utopian ideals for the future, the school developed a pioneering fusion of fine art, craftsmanship, and technology which they applied across media and practices, from film to theater, sculpture to ceramics."
"This book is made in collaboration with the Bauhaus-Archiv/Museum für Gestaltung in Berlin, the world's largest collection on the history of the Bauhaus. Documents, studies, new photography, sketches, plans, new photography and models record not only the realized works but also the leading principles and personalities of this idealistic creative community through its three successive locations in Weimar, Dessau, and Berlin."
2. Inside North Korea by Oliver Wainwright (Author), Julius Wiedemann (Editor)
Published by Taschen, in the book, "Guardian journalist and photographer Oliver Wainwright takes us on an eye-opening tour behind closed doors in the most secretive country in the world, revealing that past the grand stone façades lie lavish wonder-worlds of marble and mosaic, coffered ceilings, and crystal chandeliers, along with new interiors in dazzling color palettes. Discover the palatial reading rooms of the Grand People's Study House, and peer inside the locker rooms of the recently renovated Rungrado May Day Stadium, ready to host a FIFA World Cup that will never come."
3. Toward A Concrete Utopia. Architecture In Yugoslavia 1948-1980 by Martino Stierli (Author, Editor), Vladimir Kulić (Author, Editor), Tamara Bjažić Klarin (Author), Vladimir Deskov(Author), Andrew Herscher (Author), Sanja Horvatinčić (Author), Theodossis Issaias (Author), Ana Ivanovska Desakova(Author), Jovan Ivanovski (Author), Jelica Jovanović (Author), Anna Kats (Author), Juliet Kinchin (Author), Martina Malešič (Author), Maroje Mrduljaš (Author), Arber Sadiki (Author), Luka Skansi (Author), Lukasz Stanek (Author)
Published by the Museum of Modern Art, New York (MoMA), the book was published "in conjunction with a major exhibition on the architectural production of Yugoslavia between 1948 and 1980, this is the first publication to showcase an understudied but important body of modernist architecture."
"Featuring new scholarship and previously unpublished archival materials, this richly illustrated publication sheds light on key ideological concepts of Yugoslav architecture, urbanism and society by delving into the exceptional projects and key figures of the era, among them Bogdan Bogdanovic, Zoran Bojovic, Drago Galic, Janko Konstantinov, Georgi Konstantinovski, Niko Kralj, Boris Magaš, Juraj Neidhardt, Jože Plecnik, Svetlana Kana Radevic, Edvard Ravnikar, Vjenceslav Richter, Milica Šteric, Ivan Štraus and Zlatko Ugljen."
4. The Man In The Glass House: Philip Johnson, Architect Of The Modern Century by Mark Lamster (Author)
Published by Little, Brown and Company, "award-winning architectural critic and biographer Mark Lamster's "The Man In The Glass House" lifts the veil on Johnson's controversial and endlessly contradictory life to tell the story of a charming yet deeply flawed man. A rollercoaster tale of the perils of wealth, privilege, and ambition, this book probes the dynamics of American culture that made him so powerful, and tells the story of the built environment in modern America."
5. Rem Koolhaas: Elements Of Architecture by Rem Koolhaas (Author), Irma Boom (Designer)
Published by Taschen, "Elements of Architecture" focuses on the fragments of the rich and complex architectural collage. Window, façade, balcony, corridor, fireplace, stair, escalator, elevator: the book seeks to excavate the micro-narratives of building detail."
"The result is no single history, but rather the web of origins, contaminations, similarities, and differences in architectural evolution, including the influence of technological advances, climatic adaptation, political calculation, economic contexts, regulatory requirements, and new digital opportunities."
6. Victor Papanek: The Politics Of Design by Mateo Kries (Editor), Amelie Klein (Editor), Alison Clarke (Editor), Victor Papanek (Artist)
Published by Vitra Design Museum, "Victor Papanek: The Politics of Design" presents an encompassing overview of Papanek's oeuvre, at the heart of which stood his preoccupation with the socially marginalized and his commitment to the interests of areas then called the Third World, as well as his involvement in the fields of ecology, bionics, sustainability and anti-consumerism."
"Alongside essays and interviews discussing Papanek's relevance in his own era, this book also presents current perspectives on his enduring legacy and its influence on contemporary design theory. Original Papanek family photographs, art and design work, drawings, correspondence and countless materials from the Victor J. Papanek Foundation archive at the University of Applied Arts Vienna are reproduced here for the first time, alongside work by both Papanek's contemporaries and designers working today."
7. Spomenik Monument Database by Donald Niebyl (Author), Damon Murray (Author), Stephen Sorrell (Author)
Published by FUEL Publishing, "the book is the first ever spomenik guidebook, with over 75 examples alongside map references and information on why they exist and who built them. Spomenik' the Serbo-Croat/Slovenian word for `monument' - refers to a series of memorials built in Tito's Republic of Yugoslavia from the 1960s-1990s, marking the horror of the occupation and the defeat of Axis forces during World War II. Hundreds were built across the country, from coastal resorts to remote mountains."
"Through these imaginative forms of concrete and steel, a classless, forward-looking, socialist society, free of ethnic tensions, was envisaged. Instead of looking to the ideologically aligned Soviet Union for artistic inspiration, Tito turned to the west and works of abstract expressionism and minimalism."
8. The Adventures Of Owen Hatherley In The Post-Soviet Space by Donald Niebyl (Author), Damon Murray (Author), Stephen Sorrell (Author)
Published by Repeater, "the book intends to be an engaged travelogue, a subjective, personal Marxist Humanist guidebook to somewhere that actually exists, but which is constantly haunted by what it didn't become, whether a real Communist utopia or a successful or fair capitalism."
"Nearly thirty years after the fall of the USSR, the word "Soviet" should be as meaningless by now as "Hapsburg" or "Hohenzollern". Strangely, though, it endures, as places both inside and outside the former Soviet Union define themselves for or against what happened when it existed. But does that experience mean anything today, or is it just an enormous cul-de-sac? This book tries to find out, through an itinerary that goes from the Baltic to Belarus, from Ukraine to the Urals, from the Caucasus to Central Asia, and in cities that range from nuclear new towns of the Fifties to gleaming new capitals of the 21st century."
9. Drawing Architecture by Helen Thomas (Author)
Published by Phaidon Press, "the book brings an elegant presentation of stunning and inspiring architectural drawings from antiquity to the present day. Throughout history, architects have relied on drawings both to develop their ideas and communicate their vision to the world."
"This gorgeous collection brings together more than 250 of the finest architectural drawings of all time, revealing each architect's process and personality as never before. Creatively paired to stimulate the imagination, the illustrations span the centuries and range from sketches to renderings, simple to intricate, built projects to a utopian ideal, famous to rarely seen - a true celebration of the art of architecture."
10. Simon Phipps Finding Brutalism: A Photographic Survey Of Post-War British Architecture by Simon Phipps (Editor), Hilar Stadler (Editor), Andreas Hertach (Editor)
Published by Park Books, "photographer Simon Phipps reveals an amazing documentation of the brutalist buildings of Great Britain, amassing an extraordinary collection of photographs and historic documents that make clear the enormous contribution of architects to the transformation of the country in the postwar period."
"Finding Brutalism brings together 150 of these photographs. The buildings pictured date from the 1950s to the 1980s, and are striking for how they juxtapose buildings and architectural fragments, evoking the distinct atmosphere of brutalism. Rounding out the book is an essay that situates brutalism within the context of British architecture and recognizes Phipps's own contribution to its reception."