Powerhouse Company reveals design for IBM Headquarters in Amsterdam
Powerhouse Company has revealed design for the new IBM Headquarters in Amsterdam, the Netherlands.
The 35,000-square-meter multi-tenant office building is set to be built within the Amsterdam Think District, offering its users a sustainable, vibrant, and healthy workplace.
Derived from IBM's philosophy, "Let's Create", Powerhouse Company conceives the building as a living lab with a large, beating heart – dynamic and open - that works as a vertical city ripe for innovation and collaboration.
The new new HQ is aimed at both benefit and contribute to this area that integrates work, living, and leisure set within a lush green landscape.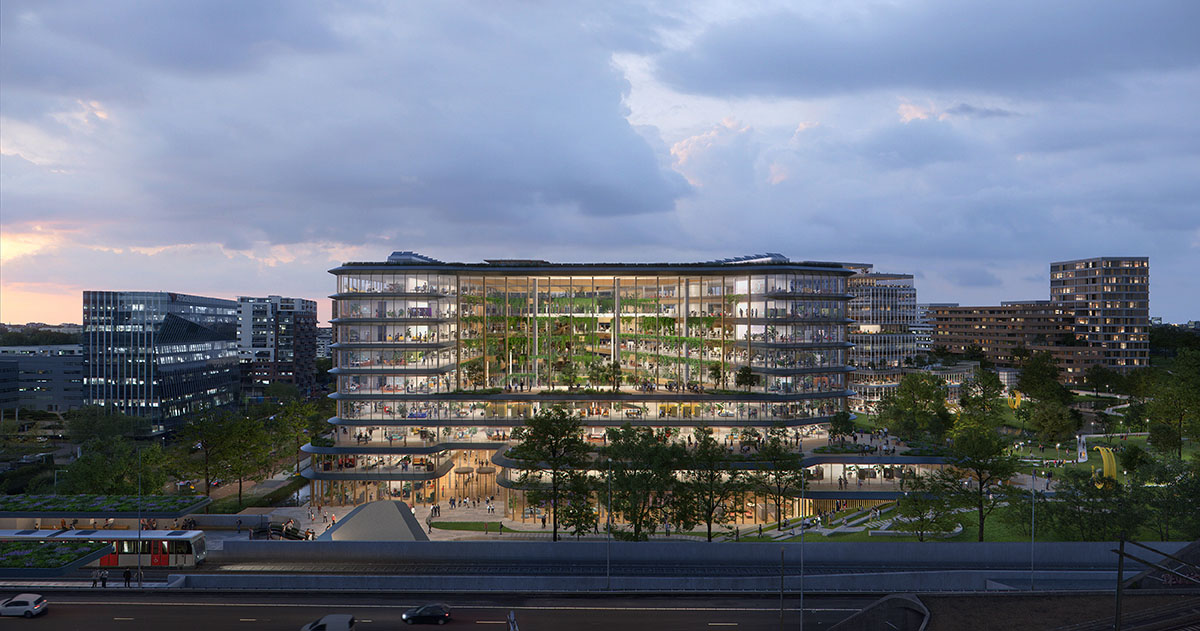 Image © Plomp, RED Company
Placing the motto of "innovation" to the center of design, the studio designs a building where it stimulates new ideas by focusing on connectivity and user well-being, where work, life, nature, exploration, and innovation continuously intertwine.
The multi-tenant office building will house startups and scale-ups to live harmoniously in a shared building while keeping their separate entities within, like friendly neighbors living around a bustling town square.
"We questioned ourselves how IBM can innovate its iconic presence and seize the right opportunities in this thriving district," said Nanne de Ru, Founder Architect at Powerhouse Company.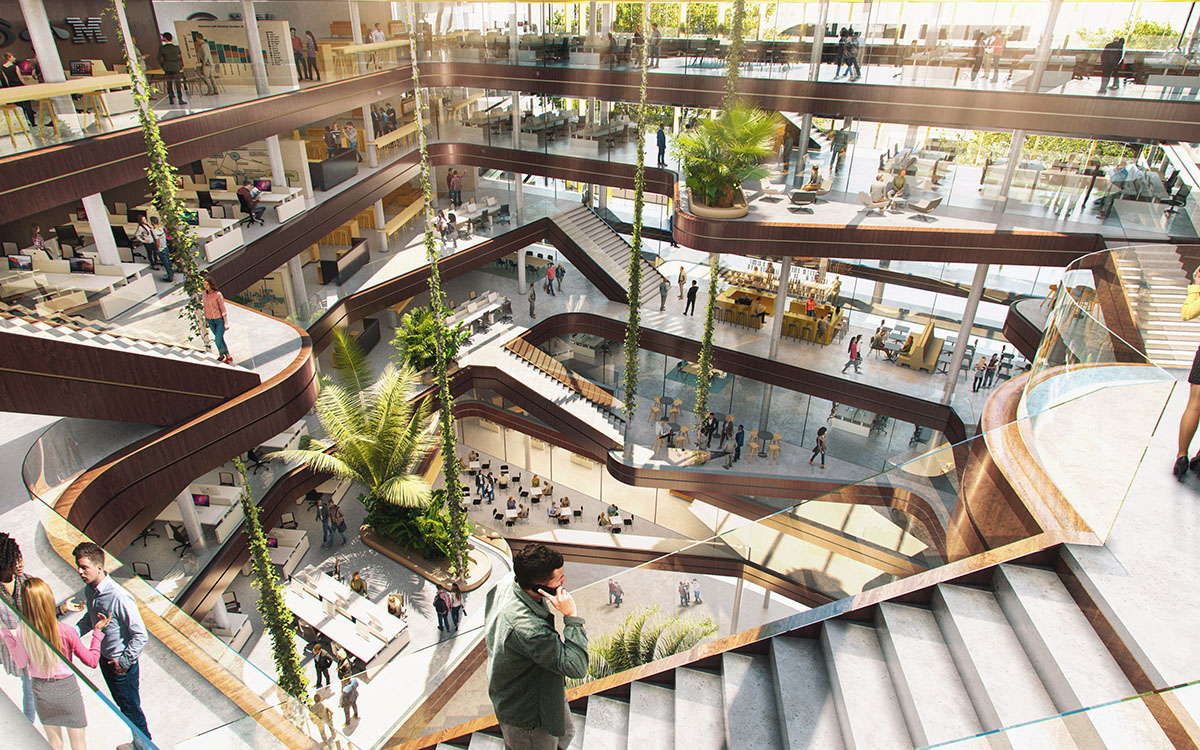 Image courtesy of Powerhouse Company
Although the building is solid but open, it features a large atrium as the alluring green, beating heart of this new iconic office building.
The fluid relationship between the outside and the inside is merged seamlessly with an inviting atmosphere.
The atrium is the social hub where people come together, and co-creation is stimulated by various facilities and collective spaces, such as an executive meeting center, coffee bar, restaurant, lecture hall, exercise facilities, and other social functions.
In addition to a workplace, the office becomes a place for health and sustainability in the broadest sense of the word, coinciding in one coherent and dynamic building.
Atrium view. Image courtesy of Powerhouse Company
"We believe in an integral vision on sustainability and well-being. To encourage employees moving throughout the day, the atrium promotes using the stairs instead of the elevators," said Powerhouse Company.
Fitness area, running and yoga classes are arranged on the ground floor. The ceilings, controlled by smart technology, provide filtered fresh air.
The office uses greenery as a powerful and natural element to enhance well-being, collaborating with Steven Delva of Delva Landscape Architecture & Urbanism to weave the surrounding lush green city park into and throughout the new building.
Creating a series of landscape terraces on the exterior roof terraces, the studio also distributes greenery throughout the inside of the atrium and connecting all levels.
Image © Plomp, RED Company
"We want to realize a state-of-the-art, sustainable and healthy building for the new IBM office. These ambitions fit in seamlessly with the pursuit of WELL Platinum and BREEAM Outstanding certification, which makes the building not only healthy but also very sustainable," the office added.
"Though challenging, the architecture is timeless and contemporary by being sustainable and not just trendy. It is reliable and cheerful, making it comfortable and attractive," said Emma Scholten, Project Leader Architect at Powerhouse Company.
Powerhouse Company believes that the project is based on "a centric work and living environment" principles and "will boost the well- being of its employees and residents, stimulate engagement, increase productivity, and provide convenience and inspiration."
The new icon of IBM will be nestled in a large mixed-use city development as a hub within the city's plan to densify the area. The masterplan concept includes three landmarks that work perfectly together.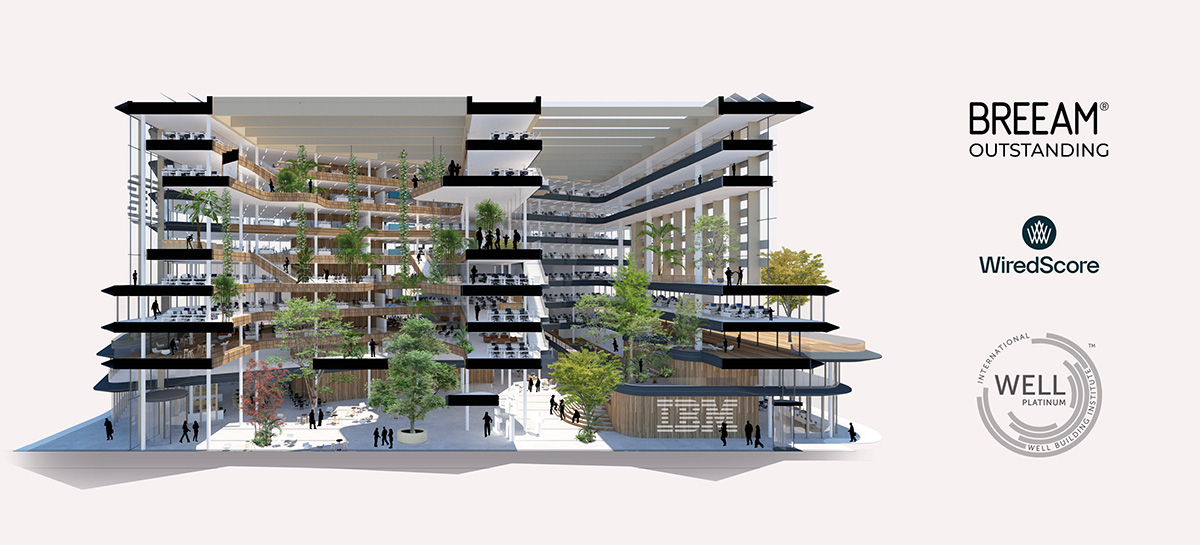 Image courtesy of RED Company
The IBM monument is the anchor, representing its rich legacy in the Riekerpolder area. The new office represents the future in which IBM welcomes the city to participate and collaborate, embedded in a lush green park.
A residential icon will be overlooking the office buildings, providing a vibrant view of the dynamic Think District life.
Powerhouse Company will work with Delva Landscape Architecture & Urbanism, DVP, DGMR, Van Rossum, DVP Smart Concepts, Build in Amsterdam, Concept Curator Anne van der Zwaag and George&Harrison on the project.
Construction is expected to start in 2023.
Powerhouse Company is an award-winning architecture office based in Rotterdam, the Netherlands. The firm was founded by Nanne de Ru in 2005. The firm has offices in Rotterdam, Beijing, Oslo and Munich.
The studio is designing a university building for Tilburg University on the campus in the Netherlands. The firm is also working on a unique floating office building in Rotterdam, which will made entirely out of timber as a self-sufficient structure.
Project facts
Architect: Powerhouse Company
Developer: RED Company
Advisor IBM: CBRE
Legal Advisor: Allen & Overy, DLA Piper (RED Company), Loyens Loeff (IBM)
Financing: ABN Amro
Masterplan: Powerhouse Company
Project management: DVP
Architect redevelopment: Office Winhov
Landscape architect: Delva Landscape Architecture & Urbanism
Structural engineer: Van Rossum, BREED Integrated Design
Advisor MEP: DVP Smart Concepts, Roodenburg
Advisor building physics, sustainability & health: DGMR
Branding: Build in Amsterdam
Graphic Design: George & Harrison
Concept & Placemaker: Anne van der Zwaag
Advisor spatial planning: Mees Ruimte & Milieu
Advisor RED Company: Shamrock Vastgoed
Top image © Plomp, RED Company.
> via Powerhouse Company