Half-arched walls and warm tones form interiors of restaurant by AD ARCHITECTURE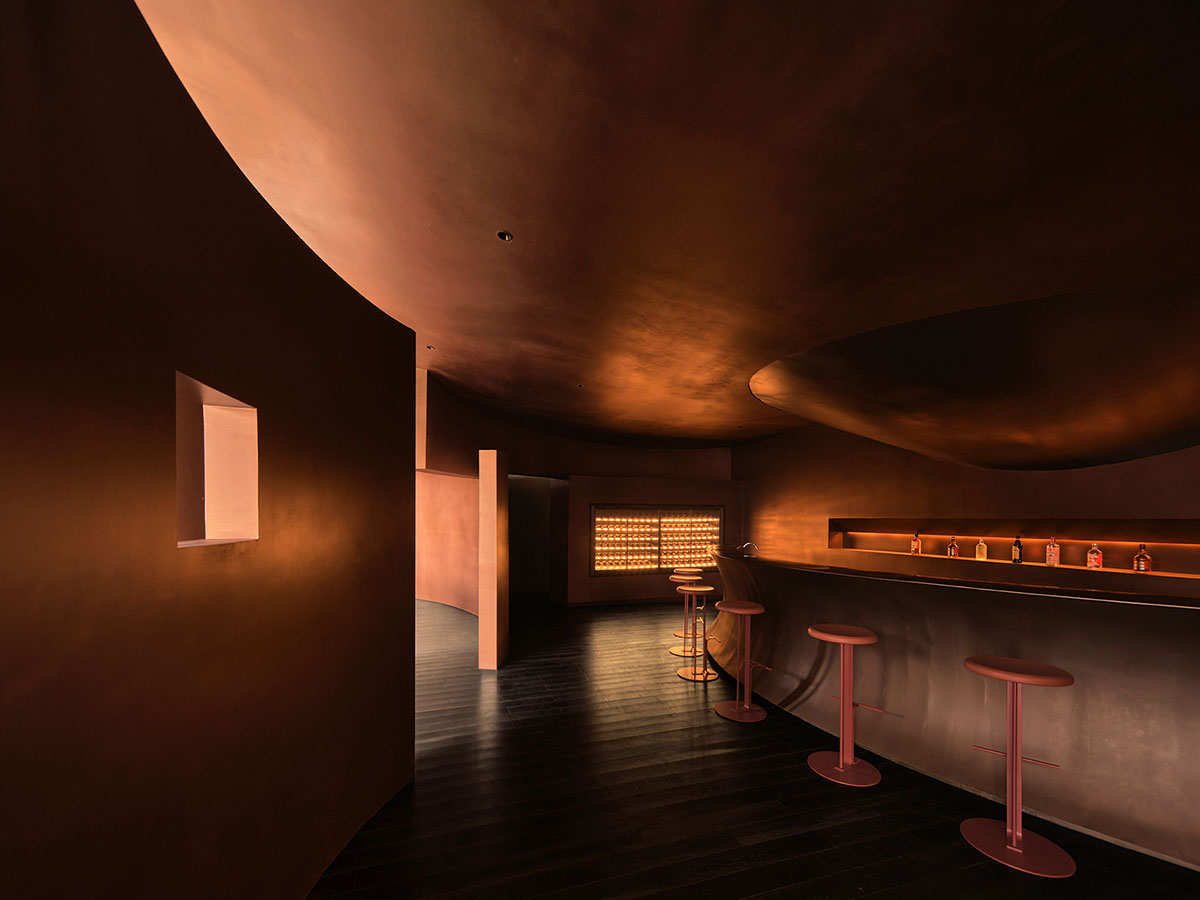 Half-arched walls, warm and red tones have formed the interiors of a restaurant designed by AD ARCHITECTURE.
Named Black Diamond, the 700-square-metre restaurant features uncertain curved lines and soft space to produce an illusory feeling inside.
The French restaurant is located inside a waterfront building in the center of World Park City, located in Manfu New Area, Nanbu County, Nanchong, China.
Presented in a contemporary and artistic style, the restaurant has instructive and educational value for the county. To some extent, the design is creating future, whilst also showing the confidence and determination of both World Park City and AD ARCHITECTURE.
AD ARCHITECTURE won the WA Awards in the 40th Cycle with three projects in the Interior Design/Realised category: Taste Of Dadong · Rhapsody, Shanghai, Chasing Light and Da Dong Gastro Esthetics.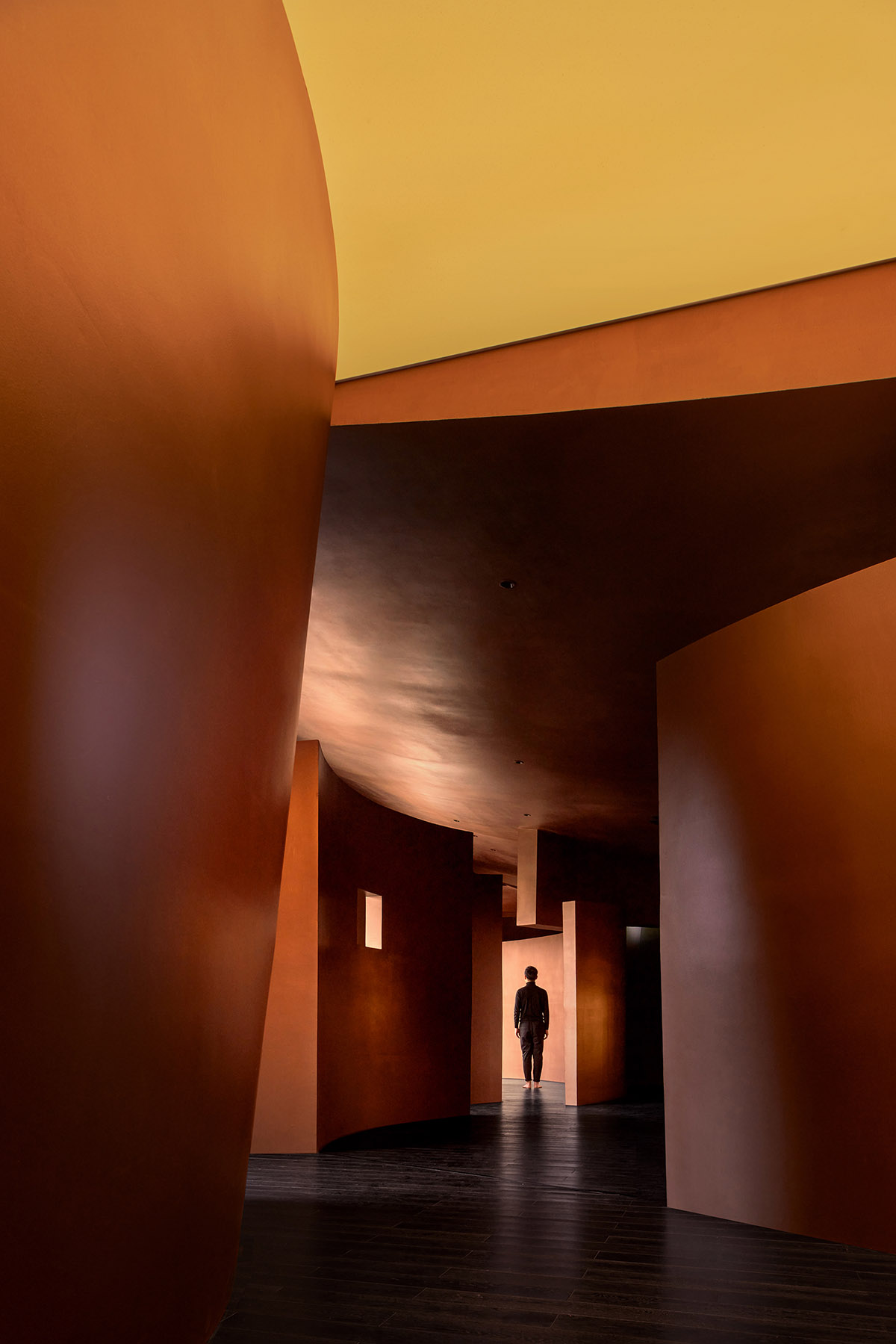 Flexible Space
The space features a sense of uncertainty. The fusion and separation of different areas give rise to tangled emotions. The combination of geometry and arc, free plane and broken arc constitute a flowing spatial scene. With suspended form and tilted structure, the space produces a sense of uncertainty, lightness and elegance, filled with fun.
Approaching this project, AD ARCHITECTURE did an experimental attempt, which subverts the conventional spatial form of Western restaurants, but still remains French elegance and romance. The design emphasizes the incorporation of behavioral and emotional experiences in the French dining environment, rather than spatial form.
All geometries, natural material textures, dim lighting and music are elaborately combined to respond to guests' elegant emotional demands. Experiencing the space is like listening to a wonderful music concert, which is mysterious and beautiful. The spatial emotion can be sensed and touched.
The bar area is set in the center of the restaurant, becoming the first visual focus. It can serve all tables, realizing the desired functionality and accentuating a romantic and naughty spatial emotion as well. Unlike many high-key and exciting bars, it is quiet and leisurely.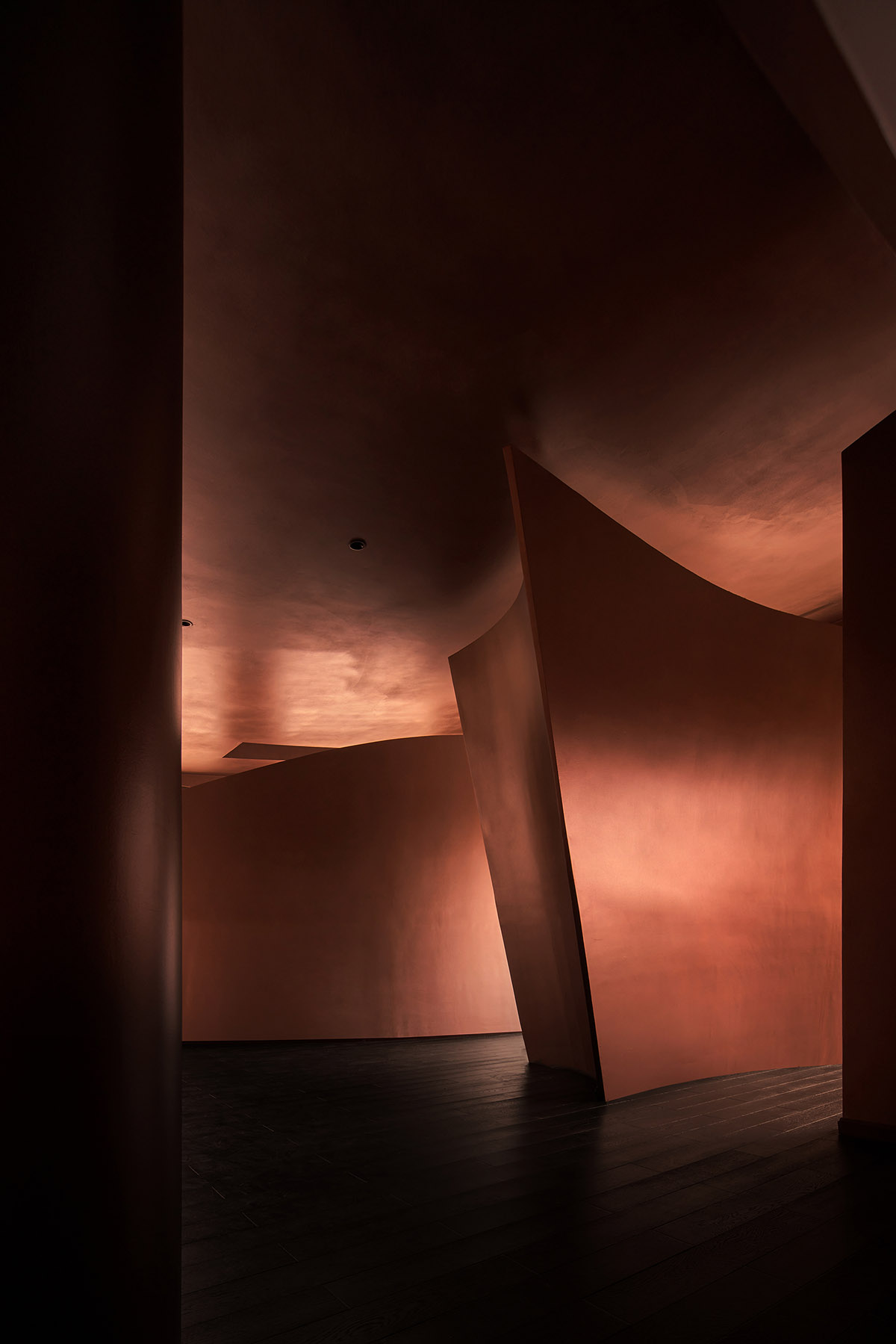 Restrained Freedom
The space is semi-closed, which not only enhances privacy, but also enables guests to enjoy varying scenes and emotions. Dim lighting environment highlights the protagonist of the space — people, subtly interpreting a new kind of hedonism.
Artificial techniques are employed to imitate natural textures. Structural aesthetics and natural materials collide with each other, generating arcane power. God requires that all things be as good as possible, and therefore nothing in the world is imperfect. He takes all visible things, which are not static but in an irregular and disorderly motion, and then changes them from disorder to order, for the reason that he considers order to be better than disorder.
Color & Texture
The space is unified by warm tones, showing a harmonious and gentle attitude. Through an innovative approach, the handmade paint is endowed with the matte texture of metal materials. It strikingly contrasts with wooden flooring, giving the space a warm yet futuristic touch.
The staircase awash with artistry is another visual highlight in the space. Shaped like an art sculpture, it makes the overall space more artistic and intriguing, stimulates the desire for exploration, and effectively plays a transitional role in guiding people to the mysterious and private second floor.
Light Shaped by Structures
Shaped by structures, light is transformed into an interior element. Structure, as the creator of light, connects with an immeasurable abstract world, emerging with daylight.
The interactive relationship among structure, light and people is full of poetry. Through spatial exploration, the design team created an illusory experience through real structures. Free lines generate "uncertain" romance and illusion, taking customers to a romantic, dreamy, ambiguous, tranquil and ritual journey.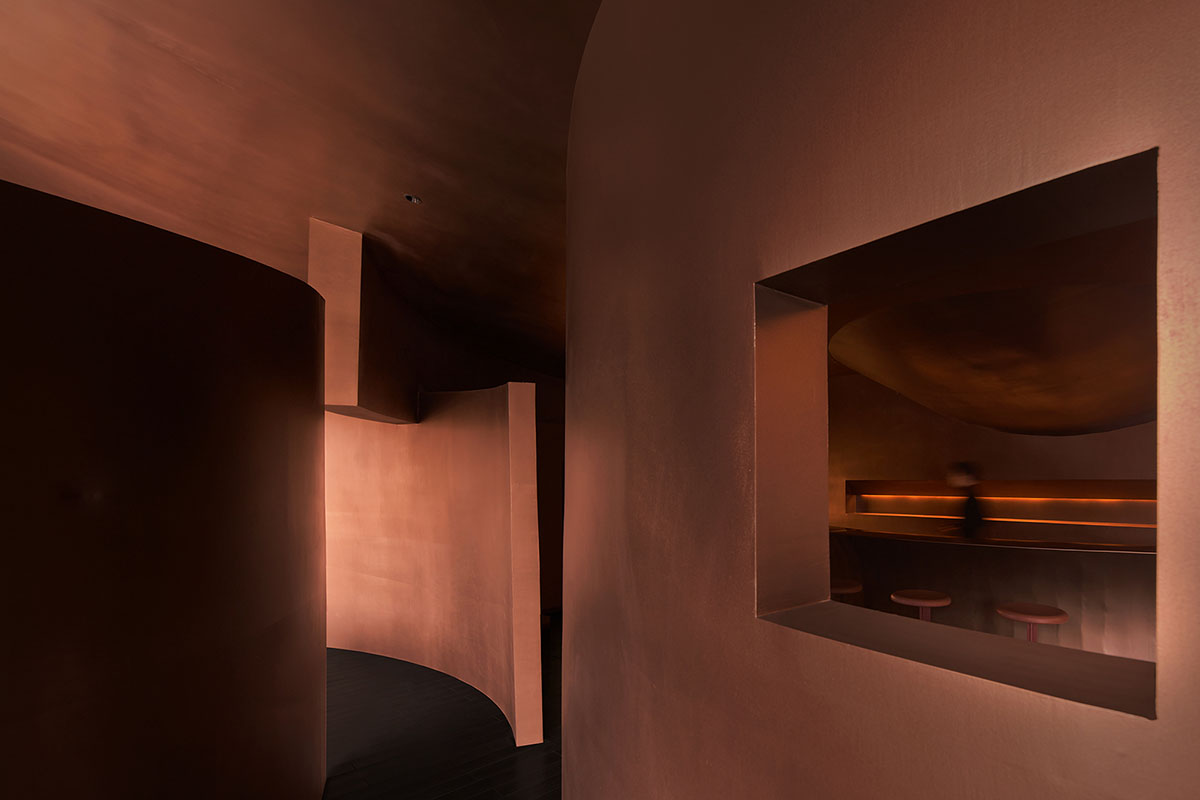 Oriental quintessence is incorporated into the space, which goes beyond superficial elements. Restrained free structural expressions run through the whole space, highlighting charming light and shadows.
Oriental aesthetics and spirit are perfectly blended into the mysterious spatial atmosphere, evoking unchained, quiet or secluded dining experiences.
The spatial design achieves a breakthrough, deviating from conventional aesthetic interpretation. In such a distinctive space, one table, two people coupled with a delicious meal are enough to create a storytelling, poetic scene. In such an illusory space, people can find themselves and leave their stories here.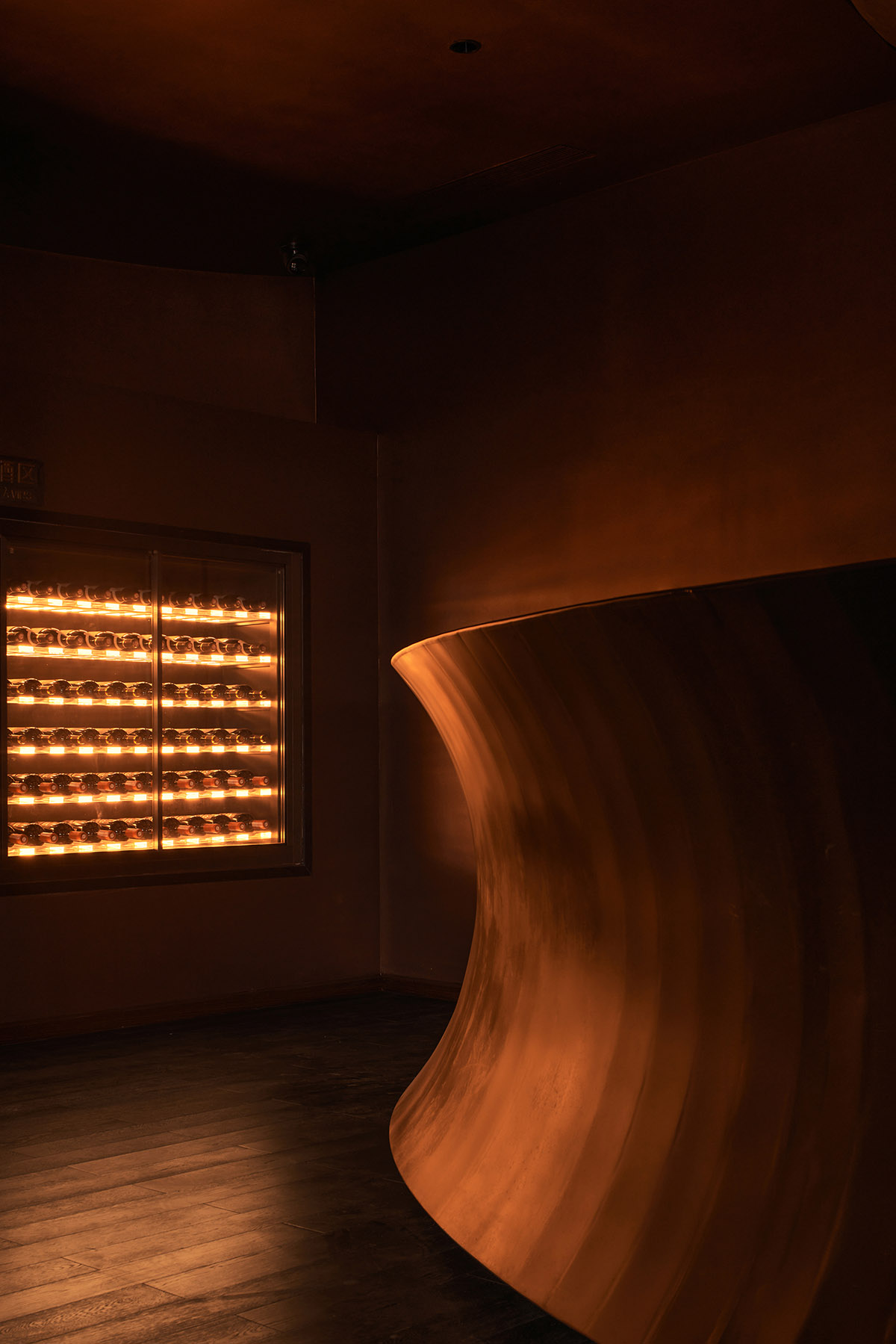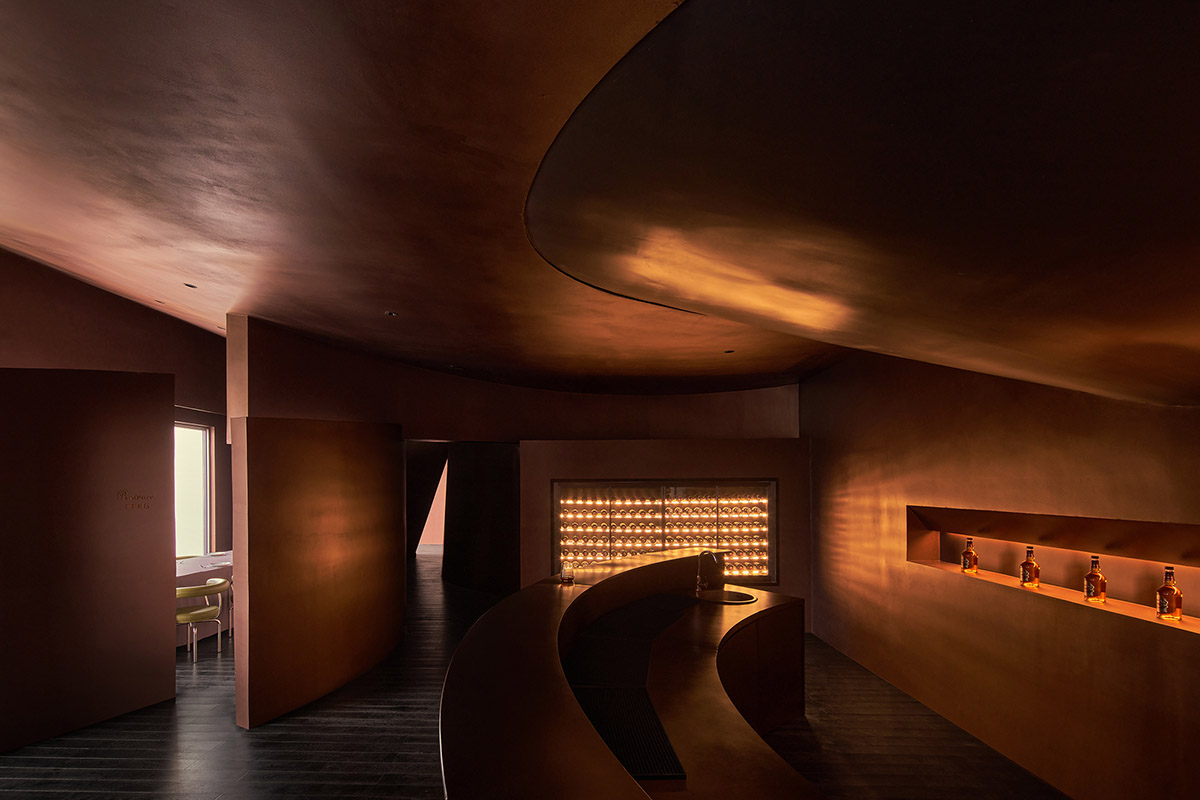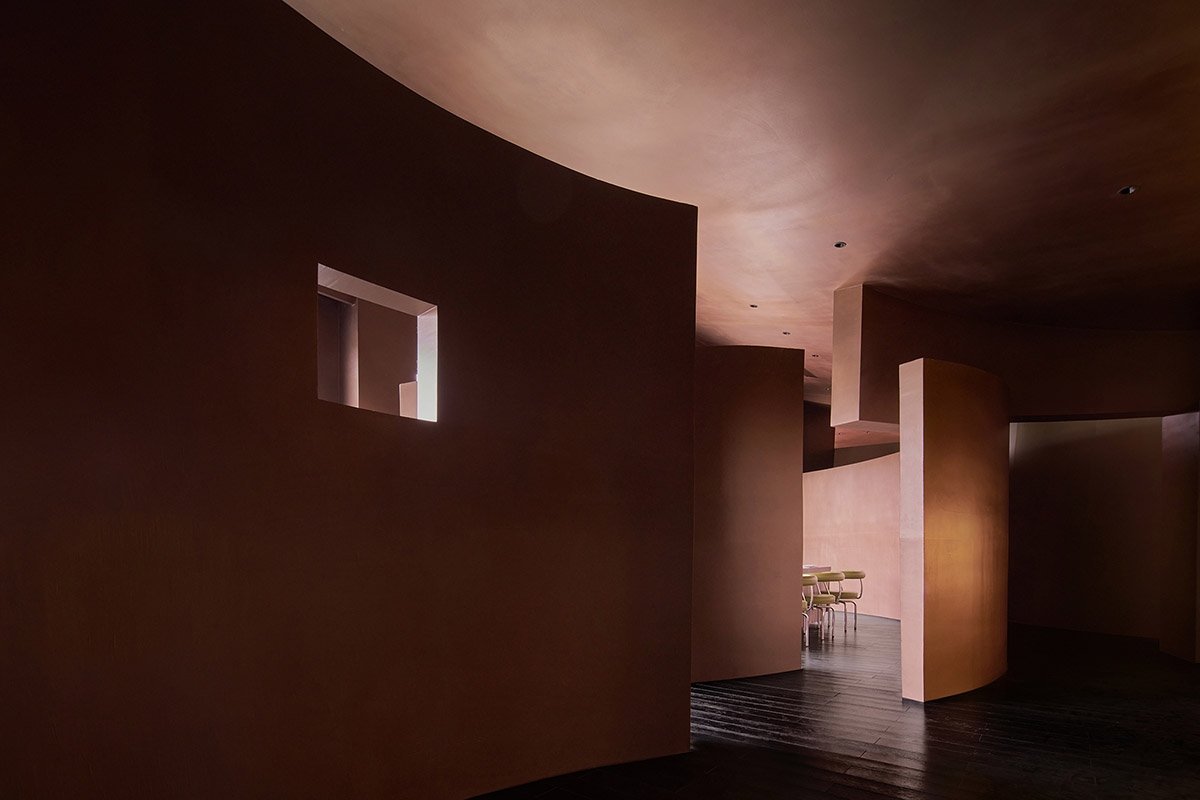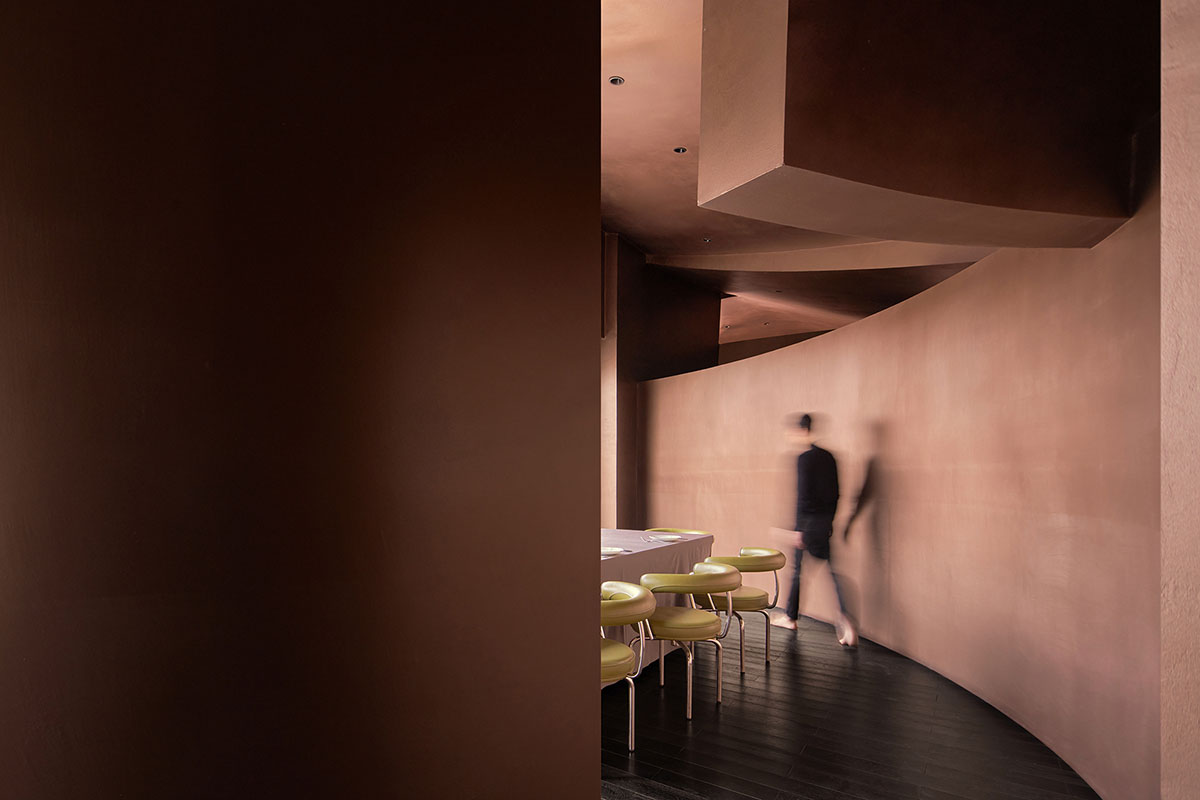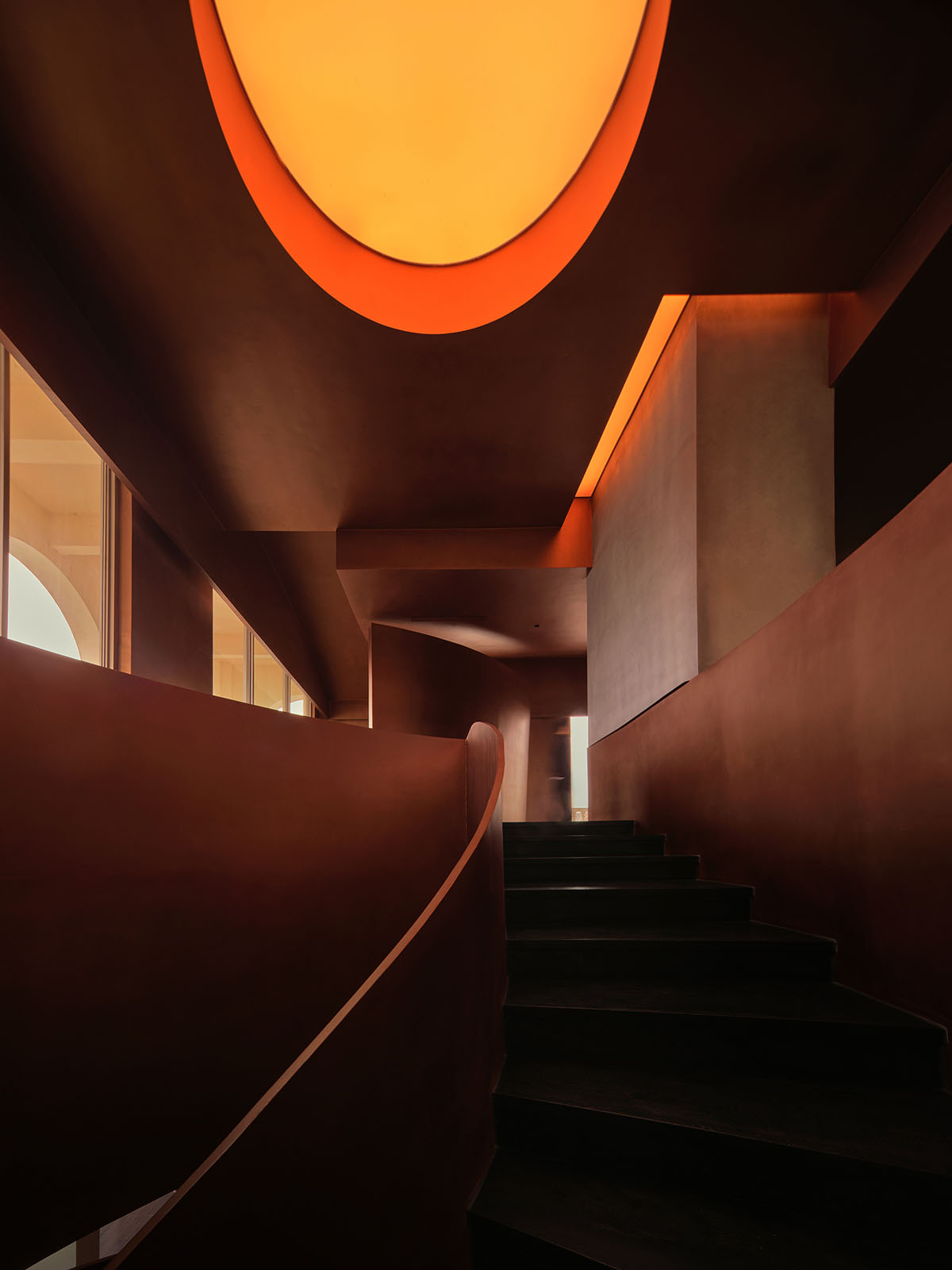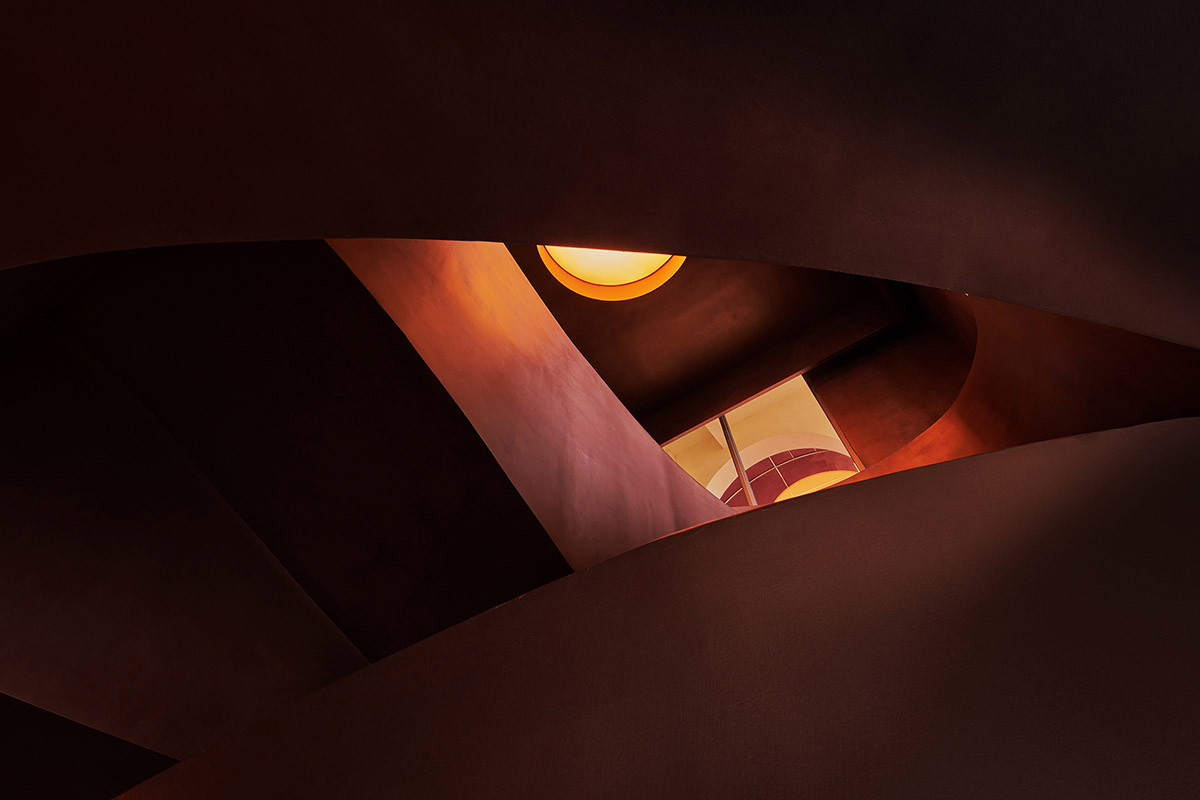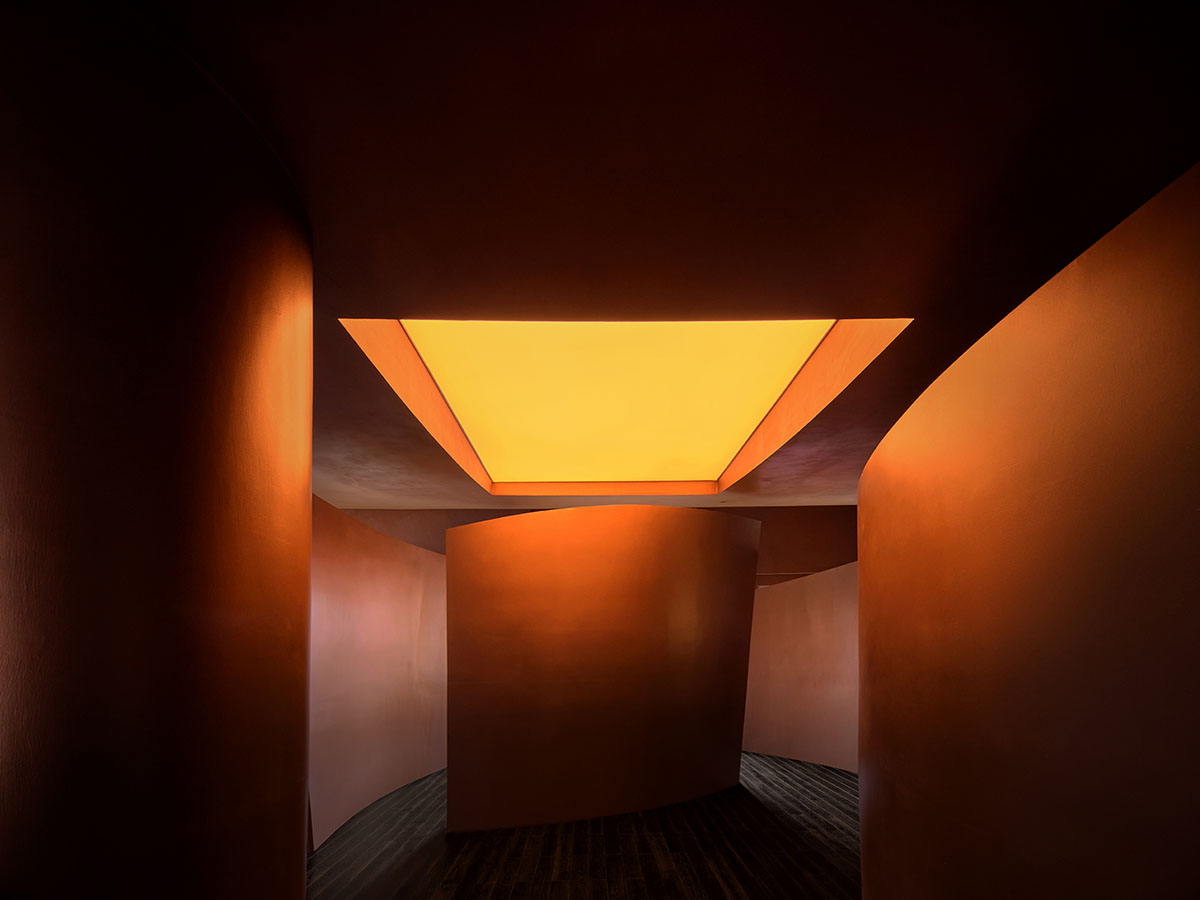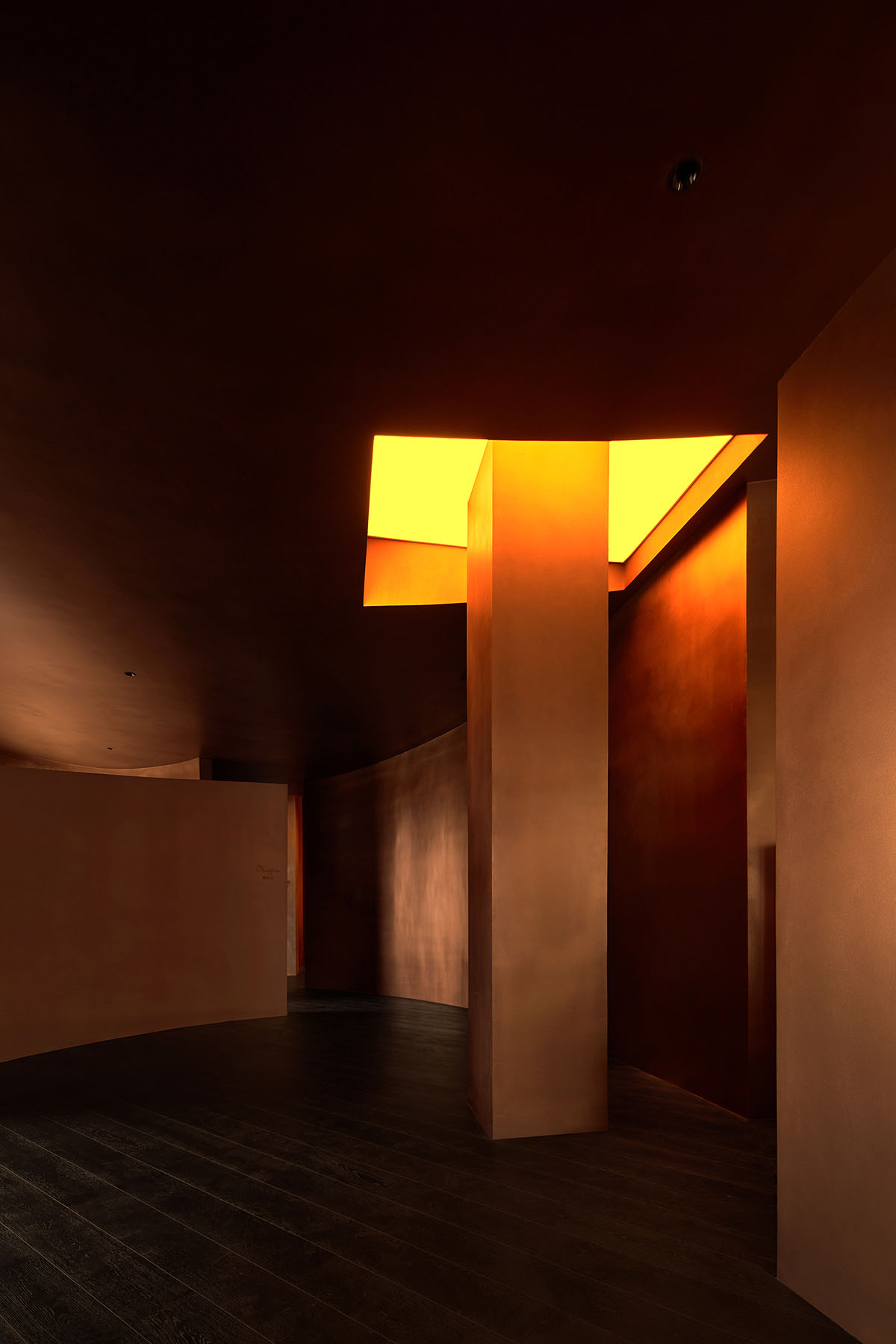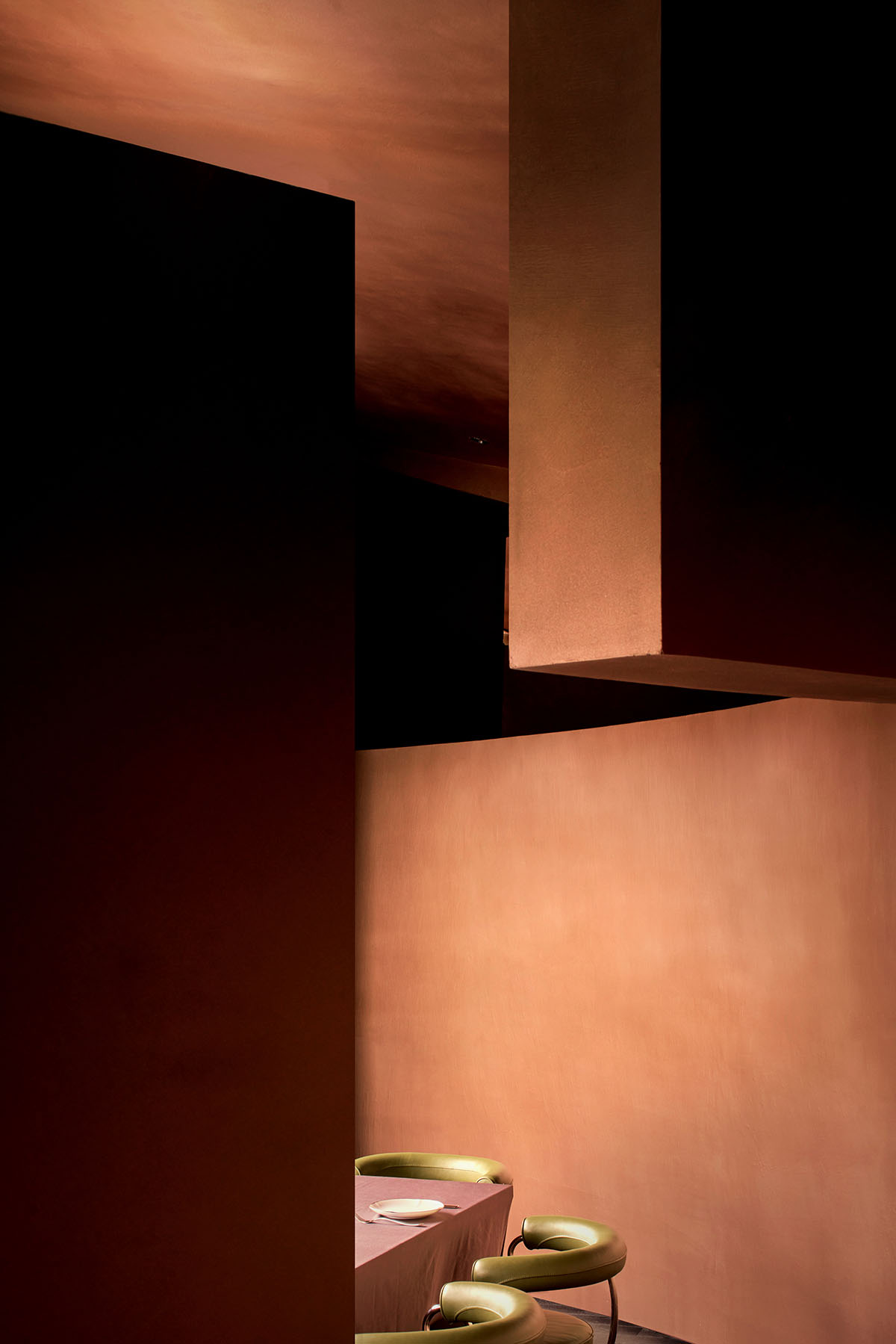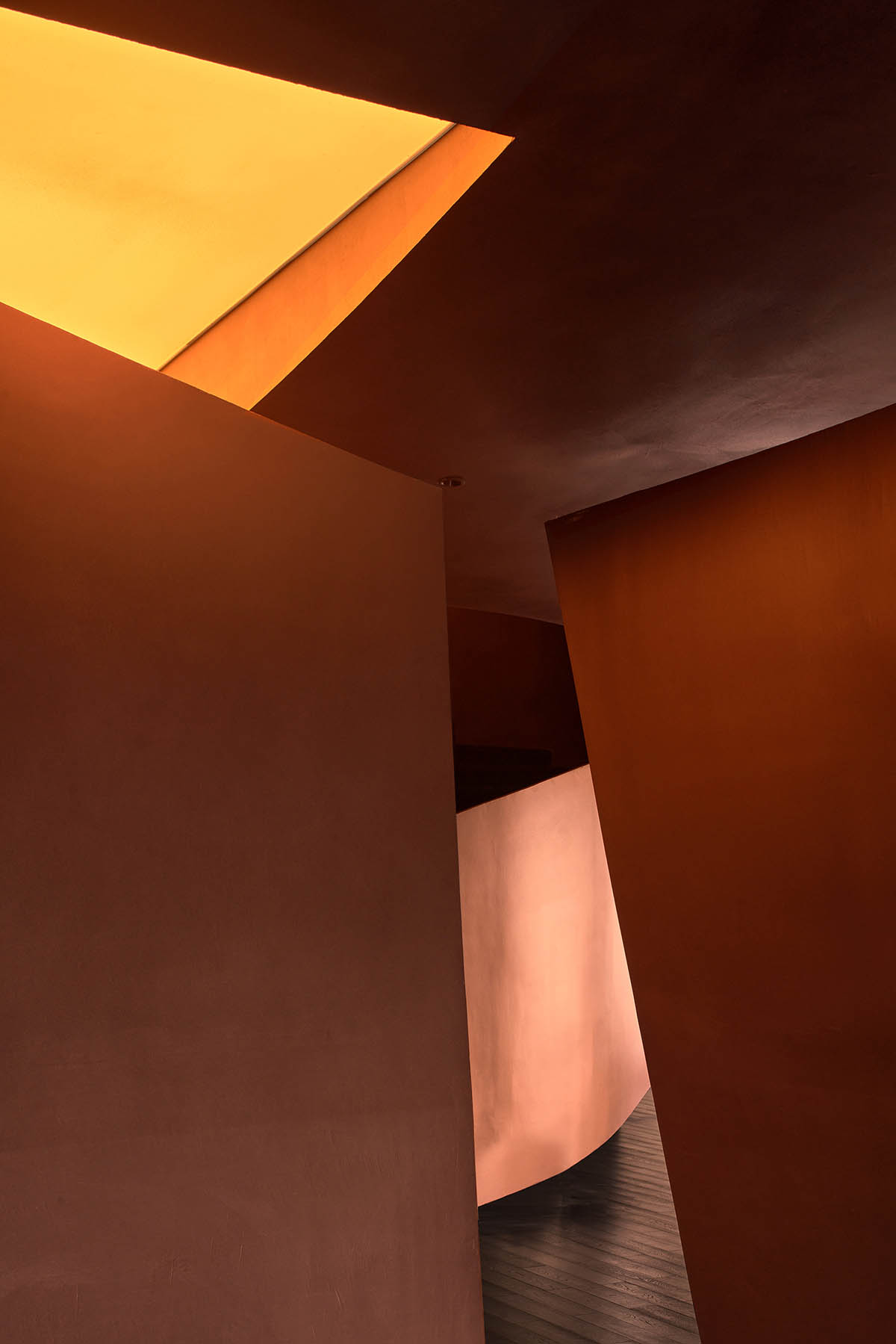 First floor plan
Second floor plan
Space construction
Project facts
Project name: Black Diamond
Client: Sichuan Laimeng Lishe Hospitality Management Co., Ltd.
Design firm: AD ARCHITECTURE
Chief designer: Xie Peihe
Design team: AD ARCHITECTURE
Lighting consultancy: Hesper Lighting Design (Guangzhou) Co., Ltd.
Construction firm: GOLD MANTIS
Location: Nanchong City, Sichuan Province
Area: 700 square meters
Main materials: wooden flooring, stainless steel, handmade paint, stone plate
Start time: September 2020
Completion time: September 2021
Video can be watched from here.
All images © YUUUUNSTUDIO
All drawings © AD ARCHITECTURE
> via AD ARCHITECTURE