Disney reveals designs for "incredible" amenities for its Cotino project in Coachella Valley
Multinational entertainment and media conglomerate Disney has revealed designs for its Cotino mixed-use community development in Rancho Mirage, California, United States.
The new visuals, released as part of its Storyliving by Disney venture, features a stunning collection of amenities that will be available with voluntary Artisan Club membership.
Called Cotino, Disney's new mixed-use neighborhood is part of a larger masterplan, which will be "Disney's first community project developed in Rancho Mirage, California."
Disney's new masterplan, aiming to bring Disney's vision of vibrant settings and magical possibilities, consists of 1,900 housing units - ranging from estates, single family homes to condominiums as well as several luxury amenities.
Preliminary masterplan scheme for Cotino community
Set to be built be built in the heart of Greater Palm Springs area, the renderings are "thoughtfully inspired by Disney Imagineers to foster community connections and encourage the pursuit of individual passions."
The visuals take cues from Disney's colorful and entertaining world. The buildings open the doors of a colorful and fun world that gives the impression of a cartoon to the communities.
Key feature of the mixed-use neighbourhood is the Artisan Club, where individuals will be able to purchase a membership and enjoy a dazzling array of offerings infused with unique Disney and Pixar touches.
As Disney stated, highlights include a one-of-a-kind gathering space inspired by an "incredible" location from a fan-favorite Pixar film, part of a vibrant club featuring a diverse range of leisure pursuits.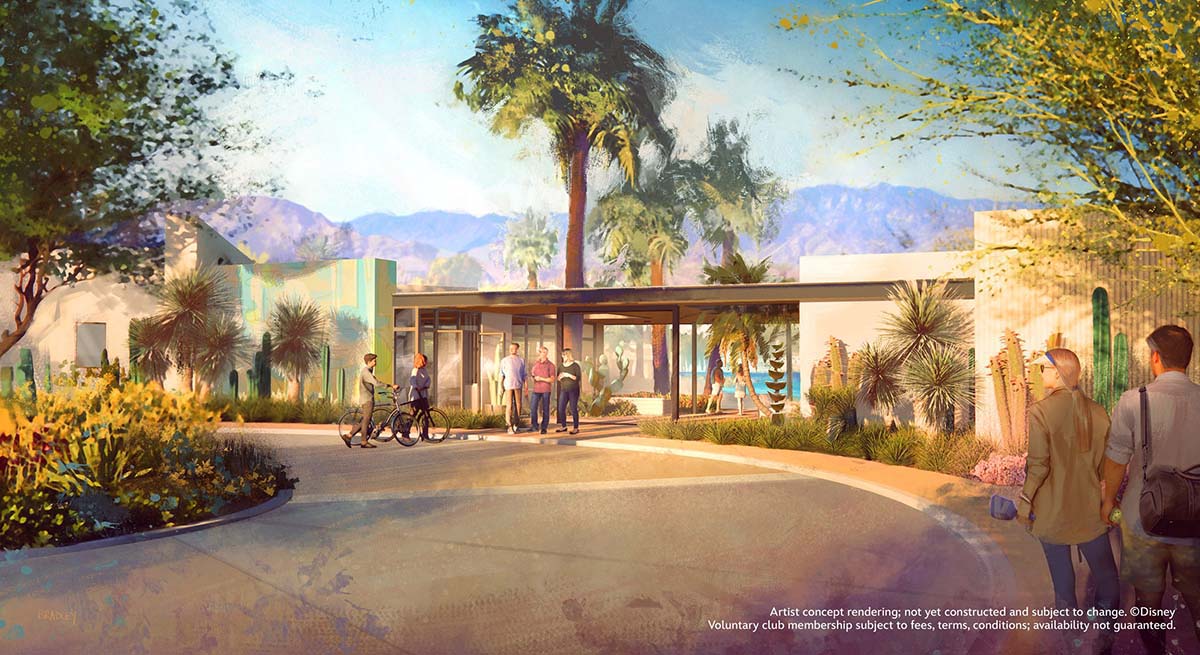 Artisan Clubhouse Entryway
Nestled along the shoreline of the grand oasis is Parr House, an upscale mansion - named for the Parr Family - is part of a fiction of Disney's The Incredibles movie.
The distinct location is inspired by the midcentury home of the famous family of super heroes from Disney and Pixar's "Incredibles 2."
Disney Imagineers reimagined this fictional space for the Artisan Club members as a "super" fun place for special events, celebrations and limited overnight accommodations - all subject to availability.
According to Disney, the Artisan Club members and their guests "will be immersed in an environment featuring iconic decor, curated art and rich colors from the film."
The main entertaining room will take inspiration from the movie and will feature a towering indoor/outdoor rockwork fireplace.
Grand Oasis
Additional spaces will include five bedrooms, a kitchen, dining room, boardroom and an art studio.
Along Parr House's exterior, an elevated patio will present stunning views of the grand oasis and the surrounding mountains.
"As the Cotino community continues to come to life, we are excited to share more information about the many opportunities Artisan Club members will have to experience Disney magic right outside their front door and down the block," said Claire Bilby, senior vice president and general manager of Disney Signature Experiences Emerging Businesses.
"From Disney entertainment and events to spaces inspired by Disney stories, club members will truly experience Disney story living," Bilby added.
Beach Bar
In addition to Parr House, club members will experience a touch of the Disney lifestyle in a clubhouse complex featuring distinct spaces for dining, wellness, art, recreation and entertainment.
The Artisan Club Lobby
All amenities "are being thoughtfully inspired by Disney Imagineers to foster community connections and encourage the pursuit of individual passions", said Disney.
The clubhouse is planned to be managed by Disney cast members.
The Artisan Club Restaurant
Disney emphasized that "Voluntary club membership will offer access to the waterfront clubhouse, club-only beach area and recreational water activities, as well as Disney entertainment, events and special excursions at an additional fee."
A professionally managed public beach park will be accessible to local area residents and visitors to the Greater Palm Springs area with the purchase of a day pass.
When complete, Artisan Club membership will be open to Cotino residents and nonresidents.
Aerial View of the grand oasis and the Artisan Club Complex
The residential areas within the Cotino community will welcome homeowners of all ages and will include at least one section expressly for 55+ residents.
Home buyers will select from a wide range of home types, from condominiums to cottages, grand and estate single-family homes.
The Cotino community is being developed in collaboration with DMB Development, which is highly regarded for its large-scale planned communities in the U.S.
"Storyliving by Disney master-planned communities are intended to inspire residents to foster new friendships, pursue their interests and write the next exciting chapter in their lives," according to Disney.
Disney also evaluates additional locations in the U.S. for future development.
All images and video courtesy of Disney Parks.
> via The Walt Disney Company