Johnston Architects embraces the local vernacular to Reimagine Winthrop Library
Winthrop, a town of 14,000 - 20,000 part-time and full-time residents nestled within Methow Valley of Washington State has lots to offer with its natural beauty and winter tourism making the area's population flourish up to 30,000 people. However, the incoming resident population has not been insufficiently supported by civic services; Especially the outdated library infrastructure, previously consisting of two - 2,000 SF facilities, both not sufficient to provide for its local population with its resources and services. Johnston Architects, working with Prentiss Balance Wickline Architects has aimed to remedy this with the direction and support of grassroots efforts like Friends of Winthrop Library.
The Architects have set out to create a 7,300 SF ( ~ 768 SQ MT) library, with potential expansion areas equaling almost more than double the extent provided by existing libraries in Winthrop. The library not only programmatically satisfies the requirements of the community but also responds to the site, with cues taken from the local vernacular. The result is a familiar, seemingly simple, intensely studied form with carefully constructed spaces. Like the open-air barn and farm buildings in the area, the Winthrop Library nestles its visitors with its generous overhangs and it awes the visitor's stay with its exposed trusses and visible structure.
Before arriving at the final iteration of the library, the architects exercised and studied daylighting and energy usage, to determine the location, size, and treatment of the window openings, doorways, overhangs, and slatted wooden scrim that controls heat gain, and glare caused by Methow Valley's arid summers.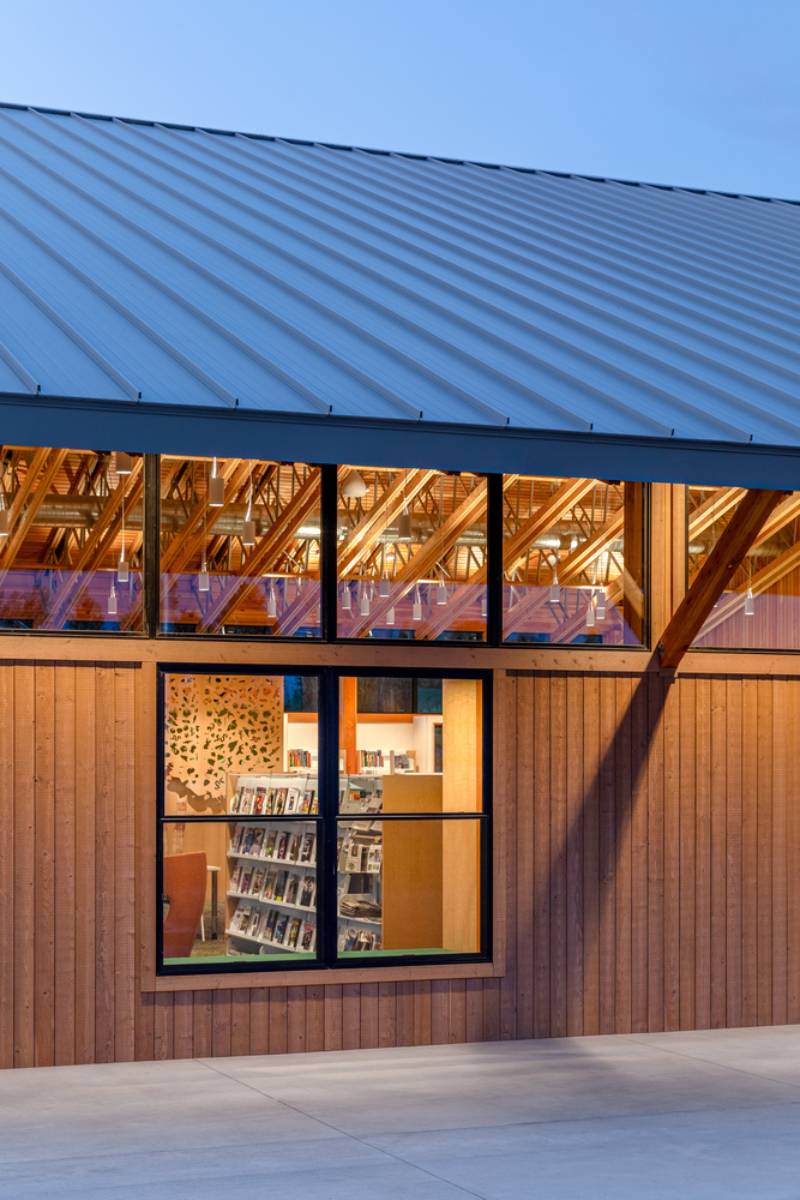 However, the forces that shaped the design and program of the building were not only the natural conditions; the design went through an extensive and collaborative charrette process by the local community, led by the Friends of Winthrop Library organization. The community outreach process, as named Hopes & Dreams by Johnston Architects, received hundreds of requests and comments which the design team was tasked to address with the library's design. As the design was finalized, Winthrop Library with its 7,300 SF of total space, was able to house over 20,000 materials. The common spaces include study tables, computers with internet access, and casual seating for study, work, or lounge. For a more individual and focused experience, 12 nooks were designed as window seats where the patrons can enjoy their quiet reading time. A fireplace pulls the visitors from the entrance, all the way to the far end of the library space, where they are greeted with expansive views of the unique landscape of Methow valley.
Project facts
Architects: Johnston Architects, Prentiss Balance Wickline Architects
Client: Friends of the Winthrop Library
General Contractors: Impel Construction
Electrical Engineers: AWA Electrical Consultants
Structural + Civil Engineers: Methow Engineering
Location: Winthrop, WA
Area:7300 ft²
Year: 2022
All photographs © Benjamin Drummond.
> via Johnston Architects