Lemay built waterproofing manufacturing plant setting new standards in green industrial building
Montreal-based architecture practice Lemay has built a new product manufacturing plant in Woodstock, Ontario, which has opened a new chapter for eco-conscious manufacturing.
The project, designed for waterproofing brand SOPREMA, includes working and resting areas for employees and visitors - which can be found all across the 10,015-square-metre site.
Integrating new facilities to the building, they help set new standards with its green building leadership in efficient carbon- and cost-savings, in addition to a focus on employee health and well-being.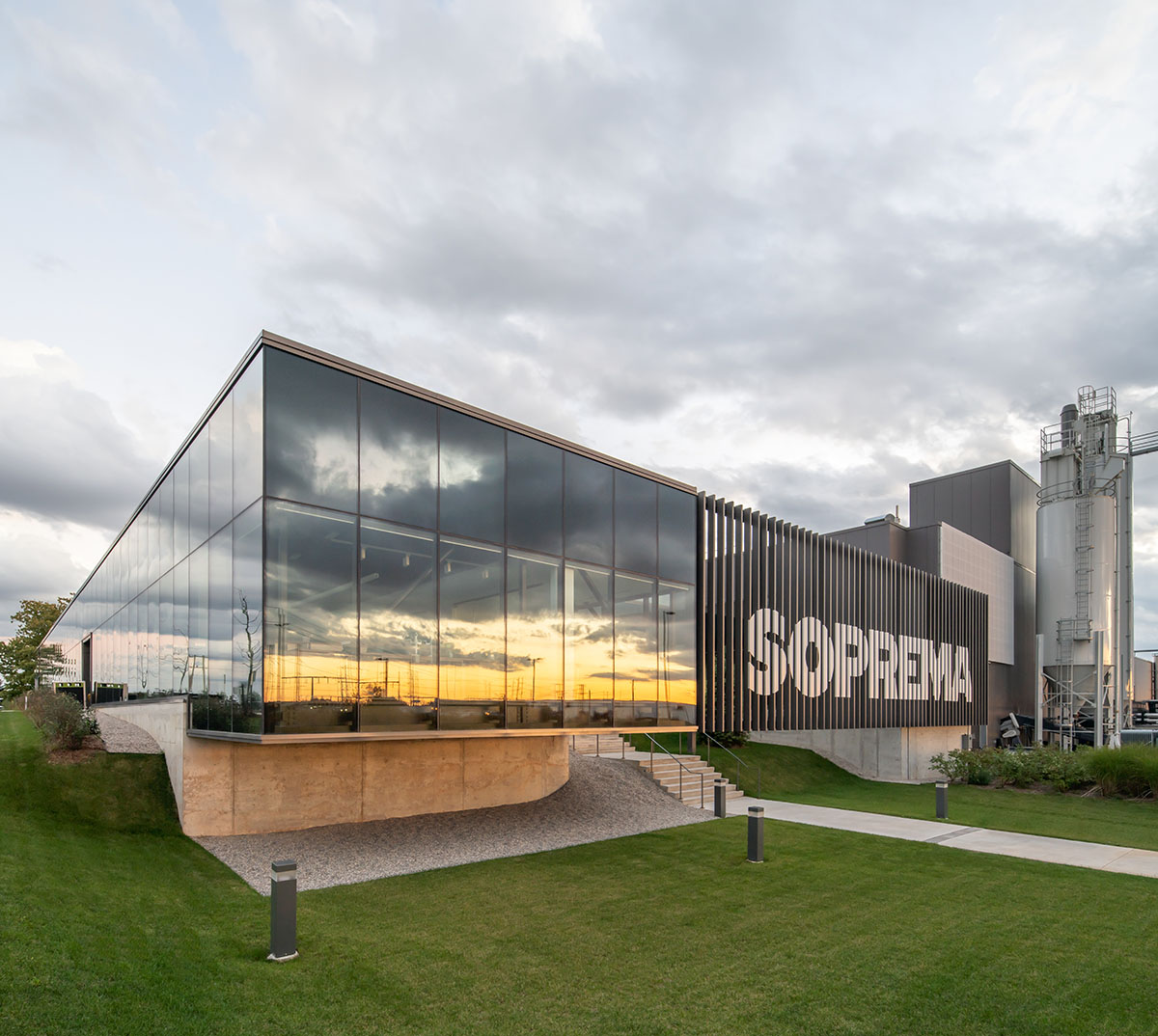 To achieve these standards, Lemay used its rigorous, award-winning NET POSITIVETM framework as a guidance, the design of this location makes leaps and bounds in Canada by making sustainability a core element of its conception and creation.
"Woodstock plant achieved a global standard of green building"
Following an in-depth lifecycle assessment that measured the facilities capabilities against the next 60 years of operation, SOPREMA's Woodstock plant achieved a global standard of green building with a LEED v4 certification, an internationally recognized symbol of sustainability excellence from the Canada Green Building Council.
Lemay has implemented numerous design principles to reduce the environmental impact of the plant.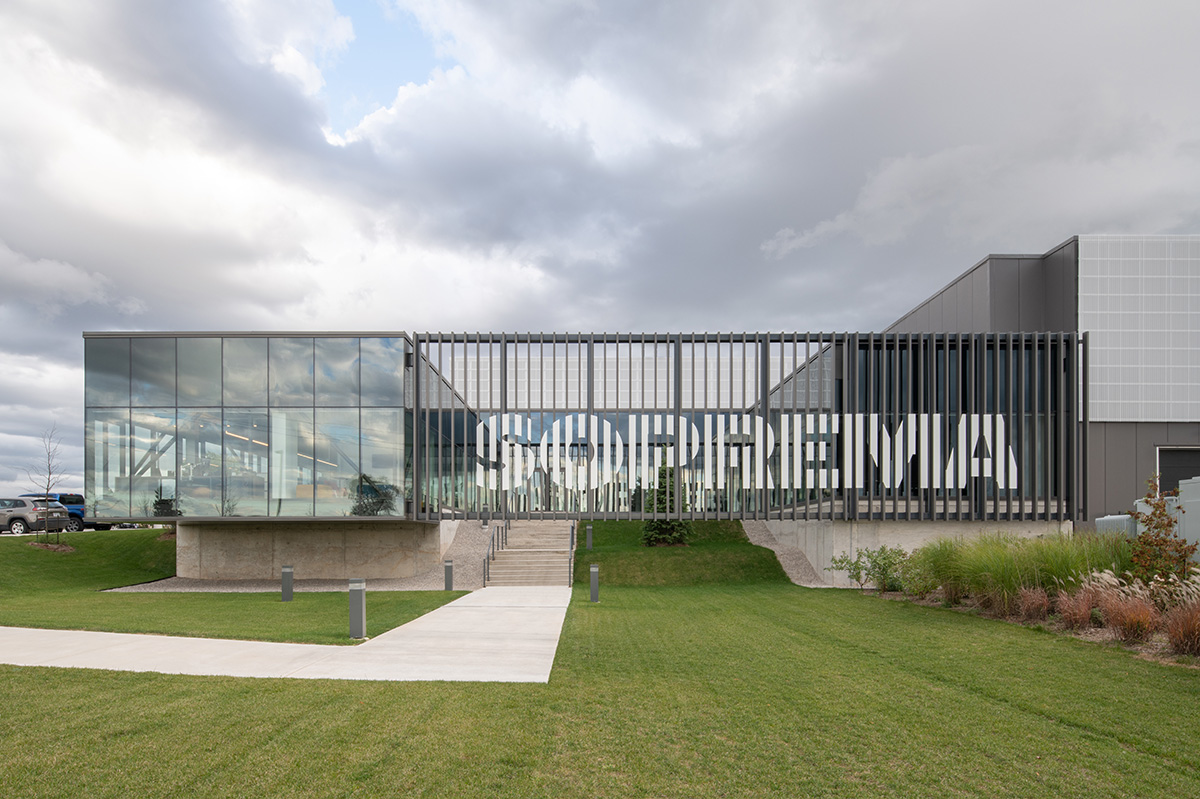 For instance, the studio explained that "the plant's construction local and recycled materials with 80 per cent of its construction's waste went to recycling, the Woodstock location's operations use 40 per cent less water and avoids the emission of approximately 505 tonnes of CO2, which is the equivalent of removing 153 vehicles from Canadian roads."
As a result, according to the studio, the plant's carbon footprint is 12 per cent lower than that of a comparable structure, resulting in 11 per cent less of an overall environmental impact.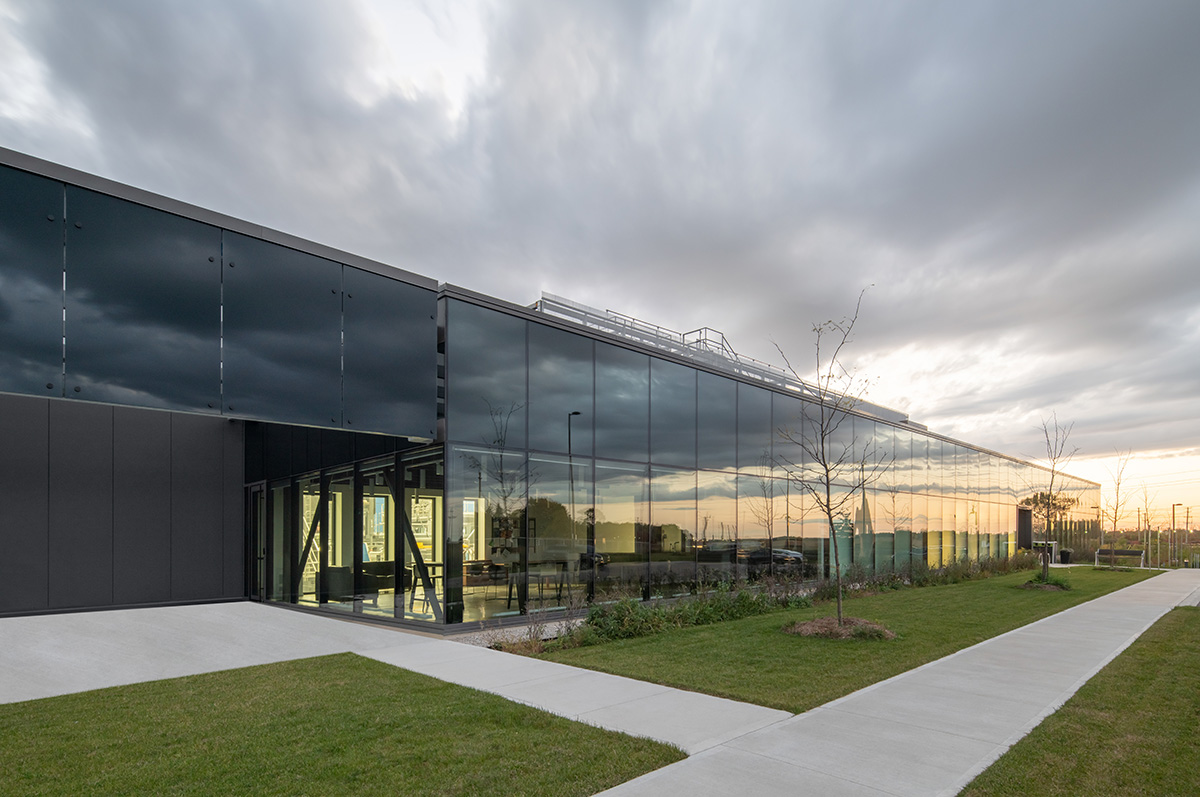 Environmental benefits with a striking design
These state-of-the-art facilities for waterproofing materials and sealant manufacturing demonstrate how a structure's industrial vocation doesn't need to be at odds with the environment, or with having a striking design.
Working with SOPREMA, Lemay has given shape to the company's identity and culture through spaces that place emphasis on both the environment and the comfort and well-being of its clients and employees through one innovative landmark project.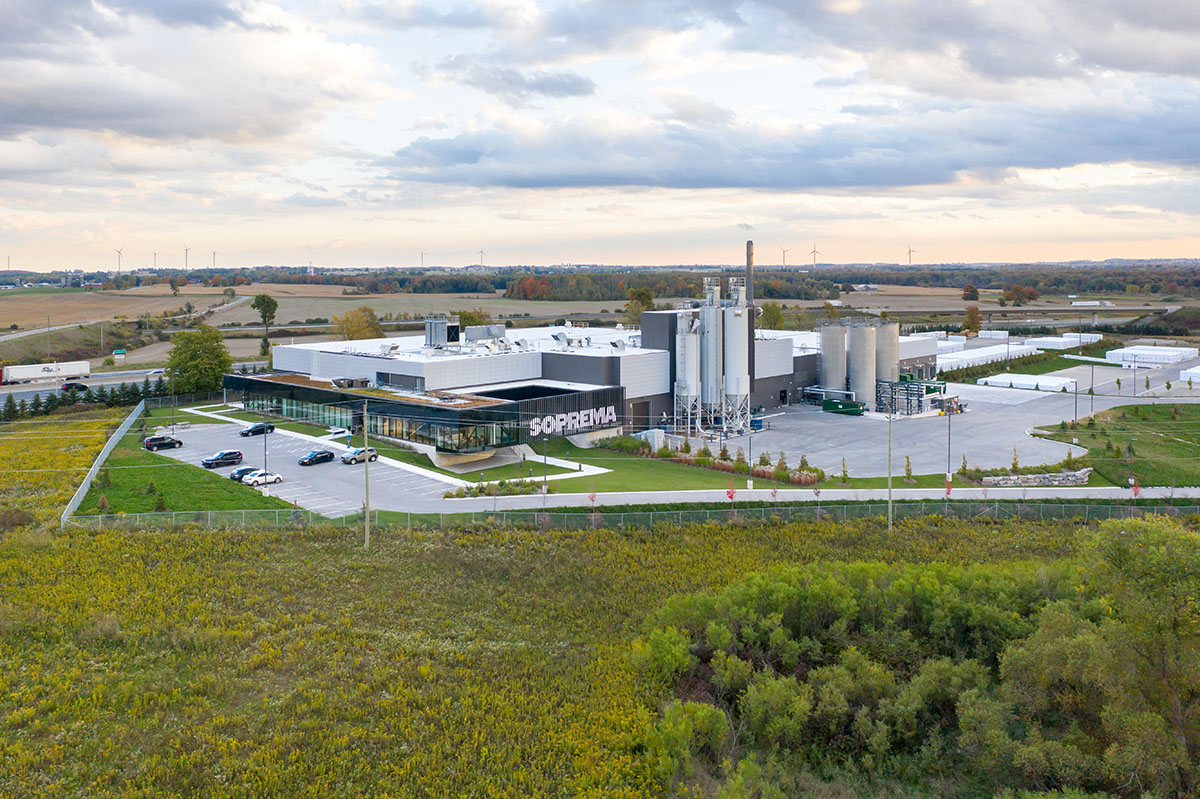 User-friendly vistas and rest areas for employees and visitors can be found all across the 10,015-square-metre site. Indoors, users benefit from common areas and exposed steel office spaces which sport floor-to-ceiling windows for ample diffusion of natural light and natural views.
Outside, local biodiversity is promoted through abundant greenspace, which includes planted trees, ponds for stormwater management, a green inner courtyard, and a hybrid reflective-green roof with terrace and garden components.
"This plant is not only one of the few industrial projects to have obtained the prestigious LEED v4 certification in Canada"
"This plant is not only one of the few industrial projects to have obtained the prestigious LEED v4 certification in Canada, but it also demonstrates that it is possible to create comfortable, sustainable, and inspiring industrial work environments," said Loïc Angot, Associate and Sustainability Practice Leader at Lemay.
"In embodying Lemay's Net PositiveTM approach to create positive impacts for the client, as well as their plant's users and community, this project transforms the image of Woodstock's industrial park with the quality of the environment it offers," Angot added.
An in-depth case study of the SOPREMA Woodstock plant
Following on the collaborative achievement of all parties involved in the project's design, construction, and certification, Loïc Angot joined Pomerleau Project Director, Alexandre Bernard, and SOPREMA Woodstock plant's Director, Florent Bellini, to discuss a case study of the LEED v4-certification of SOPREMA's Woodstock plant and the intricacies behind it in a virtual panel discussion moderated by SOPREMA's Director of Standards and Scientific Affairs, Dr. Jean-François Côté.
In this extensive dialogue, the participants discuss how the building not only demonstrates new possibilities in the construction of manufacturing facilities, but also how it acts as a tool for SOPREMA's continued sustainable development strategy, benefitting employees' health and safety as well as the environment, while having deep positive impacts on the future.
Lemay and Canadian architect Douglas Cardinal are also designing a new mixed-use scheme in Old Montreal, Canada.
Founded in 1957, Lemay is a Canadian architecture firm that has been imagining new ways to create spaces that engage users and bring people together.
The firm has over 450 architects, designers, industry leaders, and change-makers and works tirelessly to cultivate innovation in their own backyards and in communities around the world.
Project facts
Client: SOPREMA
Architecture: Lemay
Sustainability: Lemay
Structural Engineering: Elema
General Contractor: Pomerleau
All images © David Boyer
> via Lemay