Carlo Ratti Associati unveils Urban Program and Urban Vision for Manifesta 14 in Prishtina, Kosovo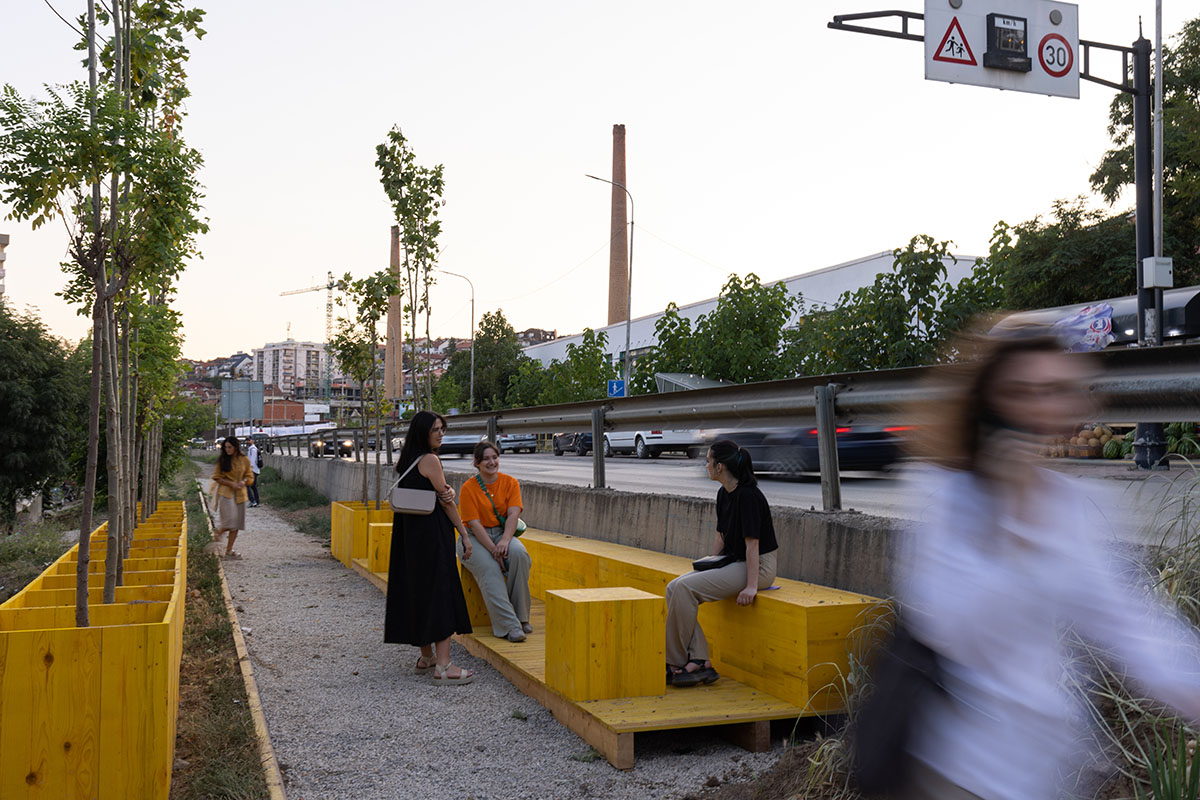 International design and innovation office Carlo Ratti Associati has unveiled urban program and urban vision for the 14th edition of Manifesta, the European Nomadic Biennial, in the city of Prishtina, Kosovo.
Manifesta 14 is taking place in Prishtina between July 22 and October 30, 2022 and acts as a multilayered and inclusive instrument of civic engagement projects.
This year, Manifesta 14 Prishtina's urban vision is conducted by Carlo Ratti Associati founder and MIT professor Carlo Ratti.
The firm released details about its contribution, featuring the Urban Vision, titled Commons Sense, and a series of design interventions across the city, which puts forward an experimental, evolutionary methodology to reclaim public space.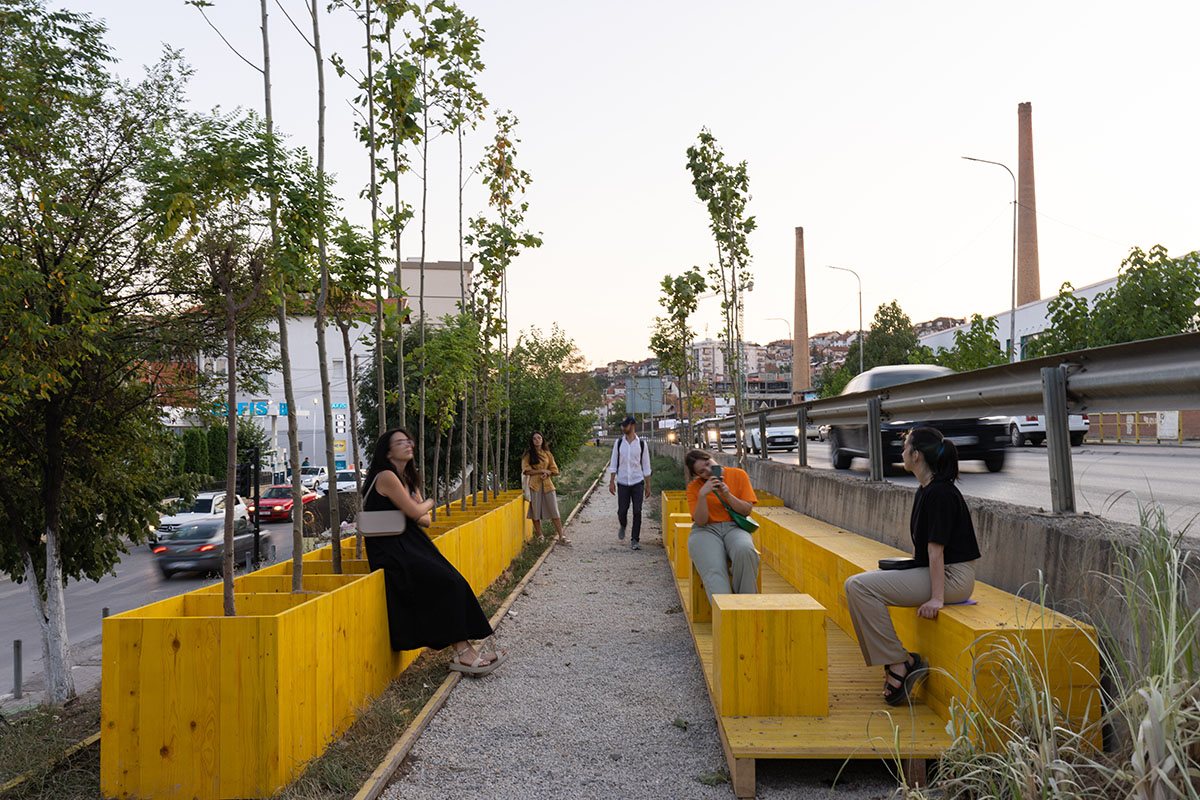 Image © Ivan Erofeev
CRA's project suggests a new methodology to reclaim public space in the city, starting with a series of temporary, open-ended design interventions and leveraging artificial intelligence for urban analysis.
CRA's Urban Vision, Commons Sense, newly published as a book, casts citizens as key drivers of the evolution of the built environment, fostering feedback loops to effect long-term urban innovation.
Image © Ivan Erofeev
During the 20th century, regime changes and political clashes brought considerable turbulence to Kosovo and its cities. As a result, Prishtina currently suffers from a substantial shortage of public space. A large group of disenfranchised local residents are eager to reverse this situation, described by the city's former mayor Shpend Ahmeti as an ongoing "battle for public space".
CRA and Manifesta 14 put forward an innovative methodology to create an inclusive urban innovation in response to this situation. The team will showcase initial results in Prishtina during the biennial.
Image © Ivan Erofeev
This experimental "open-source urbanism" methodology is based on a series of temporary to permanent interventions developed with a participatory approach based on citizen feedback.
In the first stage, CRA mapped the city to identify a wide range of socially and culturally significant sites. Despite many of them being in compromised conditions, these locations have the potential to trigger an urban renaissance.
Image © Ivan Erofeev
In this phase, the studio teamed up with MIT Senseable City Lab to use artificial intelligence analysis to form a digital streetscape of the city.
"The findings were subsequently realized in collaboration with students from the architecture faculty of the University of Prishtina," said CRA in its project description.
"The related data can be accessed on request by researchers, in the spirit of open-source urbanism."
Image © Ivan Erofeev
In the second stage, the studio set up temporary renovations, or Urban Interventions to demonstrate how the same locations can be reclaimed by and for Prishtina's citizens.
The team installed these works with a low cost budget in a short period of time, with a clear speculative orientation. Then, they invited local residents to "vote with their feet", deciding whether these interventions should be made permanent, or be modified or discarded.
"Finally, evaluation sessions will be held to facilitate the accelerated evolution of the city," said CRA.
Image © Ivan Erofeev
"Prishtina is one of Europe's most promising 'living labs'"
"Cities around the world are currently going through an extraordinary time marked by crises, but also potential for renaissance. Faced with an unprecedented situation during the first outbreak of the Covid-19 pandemic, local government officials were forced to make bold urban experiments to respond more efficiently to people's needs," says Carlo Ratti, founding partner of CRA and director of the MIT Senseable City Lab.
"Due to its history and social makeup, Prishtina is one of Europe's most promising 'living labs'. Our Urban Vision for Manifesta 14 strives to channel the city's collective energy into accelerating its evolution."
"We are grateful to Manifesta 14's director Hedwig Fijen, the Municipality of Prishtina and mayor Përparim Rama for this fruitful collaboration," Ratti added.
Image © Ivan Erofeev
"Commons Sense advocates for the Commons"
"Commons Sense advocates for the Commons as the key for any positive transformation of the built environment," said Daniele Belleri, partner at CRA in charge of curatorial projects.
"Working with local associations, students, and citizens, we have been experimenting with a rapid, participatory approach to reclaim the public space."
"It is the first step of a wider process of urban change and inclusion that we call the Prishtina Model," Belleri added.
Image © Ivan Erofeev
The CRA team applied this methodology to build the Green Corridor, a 1.3-kilometer former railway track, which used to be filled with abandoned cars and trash, has now been transformed into a pedestrian path with seating and plants.
In addition, it links up two main locations of Manifesta 14: the Palace of Youth and Sports and the Brick Factory.
Image © Ivan Erofeev
The walkway, redeveloped in just twenty days of work, addresses the debate about how to remedy Prishtina's problem of low pedestrian accessibility, and provides a leisure space for residents and exhibition-goers.
A circular approach ensures that all the elements of the corridor are easily removable and reusable in other locations.
Visitors can reach the Green Corridor independently, or through the mediated tours organized by the biennial.
2021 Urban Intervention, Brick Factory. Image © Atdhe Mulla
Other Urban Interventions were realized by CRA back in 2021, and have been integrated into Prishtina's social fabric in different ways. For instance, the former Hivzi Sulejmani Library, whose external gates were reclaimed from an illegal parking lot in June of last year, was turned into a permanent cultural institution, the Centre for Narrative Practice, by Manifesta 14 Prishtina.
2021 Urban Intervention, Brick Factory. Image © Atdhe Mulla
The former Brick Factory, first converted into a 'urban living room' by CRA in summer 2021, was transformed by German architectural practice raumlabor into a temporary Eco Urban Learning Center opened along with the Biennial.
These projects show how "open-source urbanism" can enact change within different time frames. Working with Kosovo's Ministry of Culture, Youth and Sport, CRA also helped pedestrianize 2 Korriku street, a vibrant alley that is known to locals as Kafet e Rakis (Rakia's cafes).
Public After All book. Image © Atdhe Mulla
CRA was first commissioned by Manifesta 14 to conduct the Urban Vision in March 2021. The entire working process is detailed in the publication of the Manifesta 14 pre-biennial process titled Public After All.
The project was developed in collaboration with the MIT Senseable City Lab and the Kosovo Architecture Foundation. It ultimately shaped the biennial's overall approach, with Carlo Ratti named as Creative Mediator of the Urban Program, alongside Catherine Nichols, the Creative Mediator of the Artistic Program
In the last decade, CRA has been involved in the curatorship of major art and design events to advocate for more equitable urban processes. In 2012, the studio published an "Open Source Architecture Manifesto" at the Istanbul Design Biennale, and was chief curator of the "Eyes of the City" exhibition at the 2019 Bi-City Biennale of Urbanism/Architecture in Shenzhen.
The latter project included many installations hypothesizing how to democratize digital technologies in the social space. Ratti also curated the BMW Guggenheim Pavilion in Berlin in 2012, the Future Food District at Milan's 2015 World Expo, and co-curated the 2021 Porto Design Biennale.
Urban Vision Credits
Commons Sense: an Urban Program and Urban Vision for Manifesta 14 Prishtina
Project: developed by CRA-Carlo Ratti Associati, in collaboration with Kosovo Architecture Foundation and MIT Senseable City Lab
CRA-Carlo Ratti Associati Team: Carlo Ratti, Daniele Belleri (Partner in charge), Emma Greer, Erzë Dinarama, Juan Carlos Romero
MIT Senseable City Lab Team: Fabio Duarte, Fan Zhang, Yuhao Kang
Kosovo Architecture Foundation Team: Bekim Ramku, Zana Bokshi, Gresa Morina, Bardha Meta, Marigona Dërguti
Special thanks to:
University of Prishtina, Faculty of Architecture: Ilir Gjinolli, Ardita Byci, Rron Beqiri, Anita Shatri, Rreze Kurteshi, Vanesa Orana, Elitë Morina, Endrit Mecini, Gjelil Gashi, Tringa Krasniqi, Valza Berisha, Lira Avdiu, Lea Hoxha, Kosovare Hulaj, Valesa Jahmurataj, Edon Millaku, Faik Beqiri.
Prishtina current mayor Përparim Rama and former mayor Shpend Ahmeti, Kosovo Agency of Statistics, Ministry of Environment and Spatial Planning of Kosovo, CHwB Kosovo – Cultural Heritage without Borders, FLOSSK – Free Libre Open Source Software, Kosova Foundation 17, HEJ Taxi, Millennium Foundation Kosovo, UMBO NetCab, Termokiss, Michael Baick, Mark Heller, Ondrej Kokes, Mott MacDonald, Ertan Keci, Gulsen Bolukbasi, Gent Beqiri, Martina Culaj, Iacopo Neri, Genc Demiraj.
Green Corridor Credits
CRA design team members: Carlo Ratti, Andrea Cassi, Alberto Benetti, Erzë Dinarama, Stephanie Lee, Iratxe De Dios
Creative lead: Italo Rota
The Green Corridor is commissioned by Manifesta 14 Prishtina and designed by CRA-Carlo Ratti Associati. It is developed by Manifesta 14 Prishtina together with UN Habitat and supported by the Embassy of Sweden in Prishtina, Municipality of Prishtina, GCF | Generale Costruzioni Ferroviarie, KFOS | Kosovo Foundation for Open Society, Block by Block Foundation, Embassy of Italy in Prishtina and the Italian Institute of Culture Tirana.
Top image © Ivan Erofeev
> via Carlo Ratti Associati