Folded concrete structure forms chapel in Spain designed by Sancho Madridejos
Folded concrete and angular walls form this chapel in hilly site of Spain, the chapel emerges with its sculptural structure in the site without making a sharp façade description.
Named Chapel in Sierra La Villa, the chapel, designed by Madrid-based architecture practice Sancho Madridejos, is located on a hilly site in Cuenca, in a rural estate with centenary holm oaks and truffle cultivation.
In addition to the chapel, the studio jointly designed a chapel and a house for the owning family.
Image © Hisao Suzuki
The studio uses a single curved fold to design the chapel, conceptually and in its approach related to the Chapel in Valleacerón.
These folds are made of by using reinforced concrete so that the walls may work in a single appearance. The architects follows the same principle for structure, shape, and space so that every component can act holistically.
Thanks to the angular walls, the walls allow penetration for light that defines the use and character of the chapel.
Image © Hisao Suzuki
To give this specific form, the studio created a curved fold which is "a response to complex external stresses of a topological action."
According to the studio, it was not created by using an origami technique, its formal appearance is a reinterpretation of topological expression - also reflecting a structural equilibrium - that responds to these outer strains.
Image © Hisao Suzuki
"It is conceived with an ample entrance, that welcomes, that leads towards a compressed end," said Sancho Madridejos.
"A big hanging cross in concrete pierces the fold and creates light openings facing certain directions, casting different lights throughout the day, modifying the space inside bit by bit, continuously."
The spatial experience is provided in the opposite direction to the one conveyed in the Chapel in Valleacerón.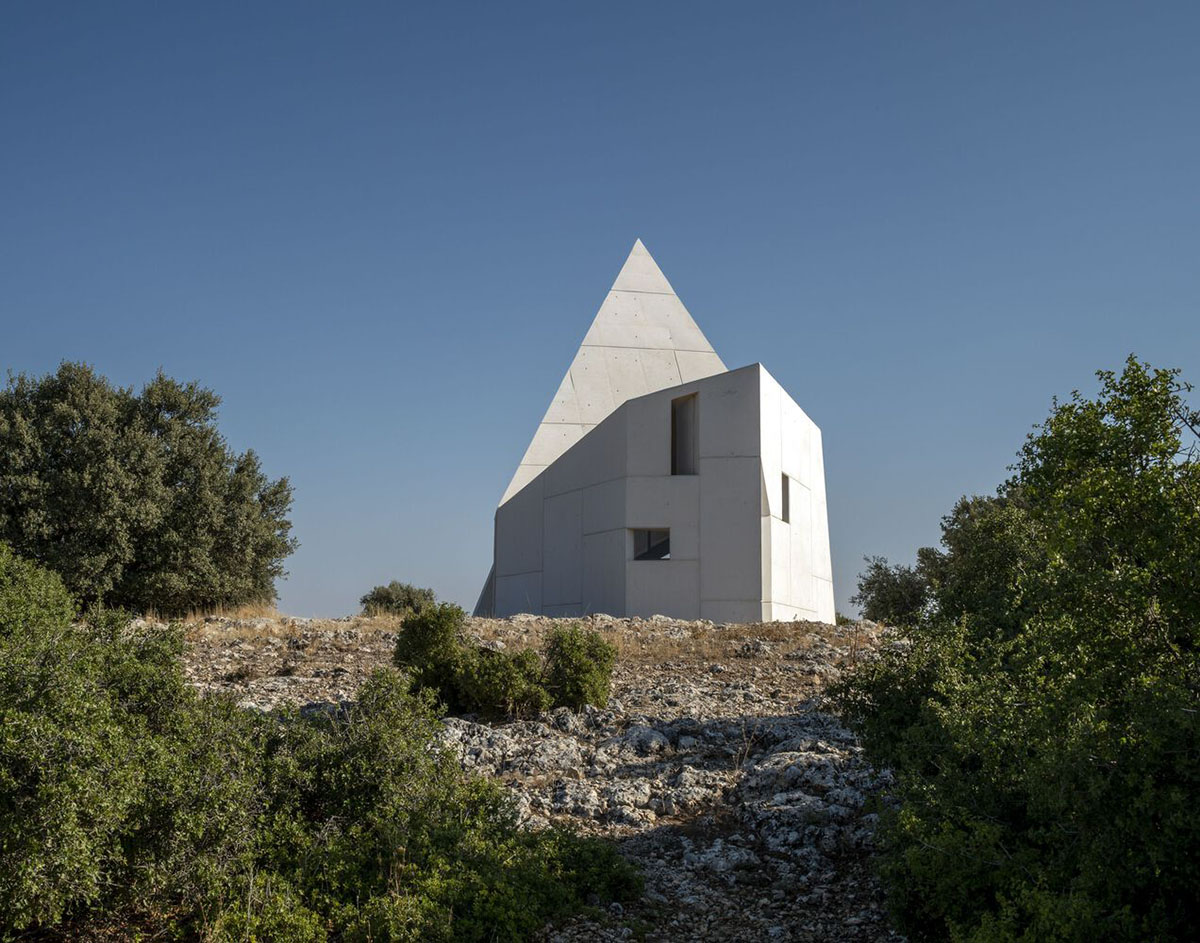 Image © Hisao Suzuki
The architects stated that "We chose the specific location of the chapel so that it becomes a reference point both from the access of the estate and from the road towards it, that spins and circles around it when approaching."
When visitors look at the chapel from all sides, it gives no clue as to where the entrance is due to its introverted structure. The magnificent entrance of the chapel is defined by the extension of the curved section in front.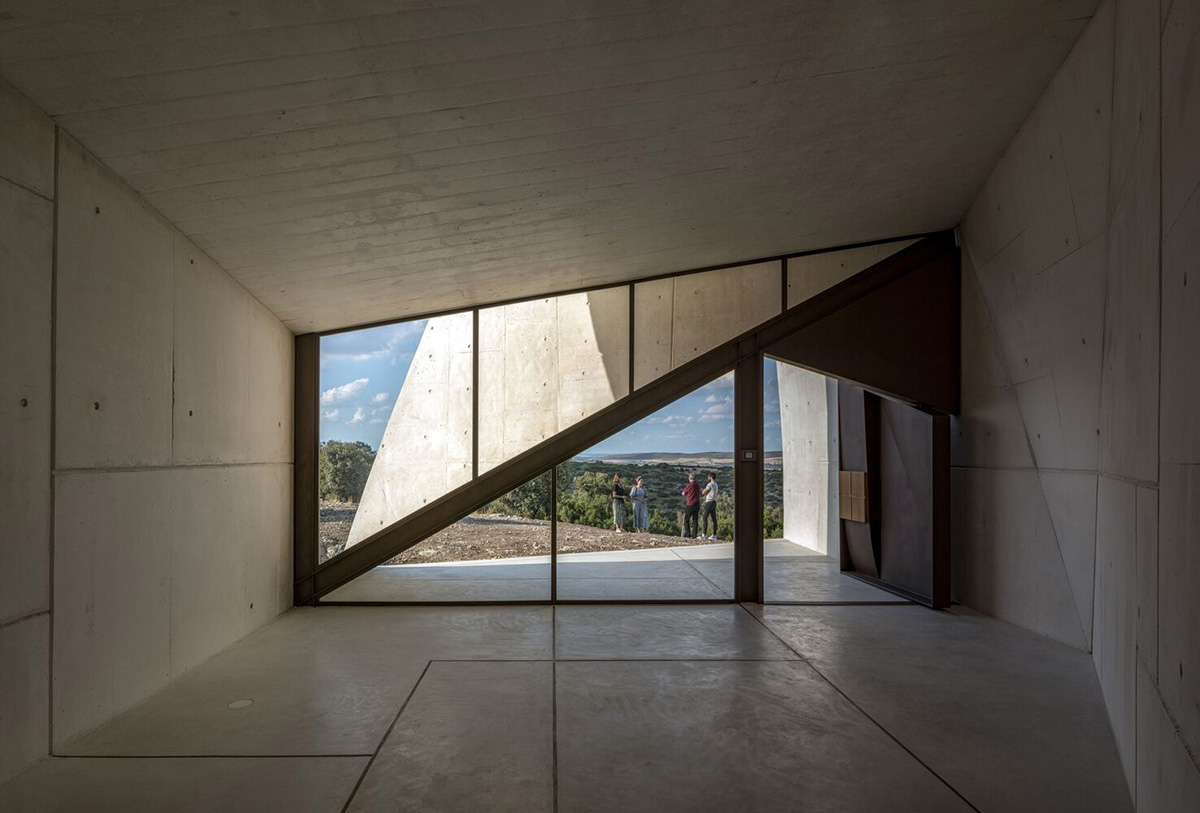 Image © Hisao Suzuki
Image © Hisao Suzuki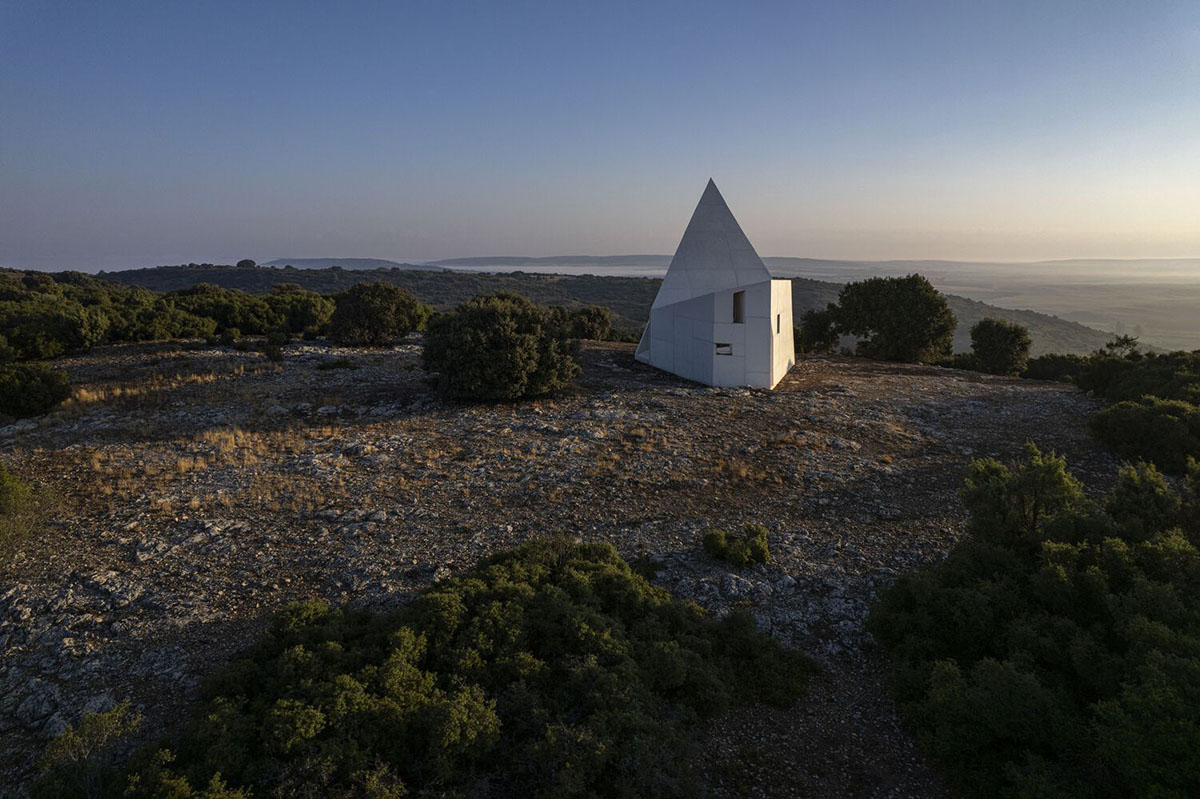 Image © Hisao Suzuki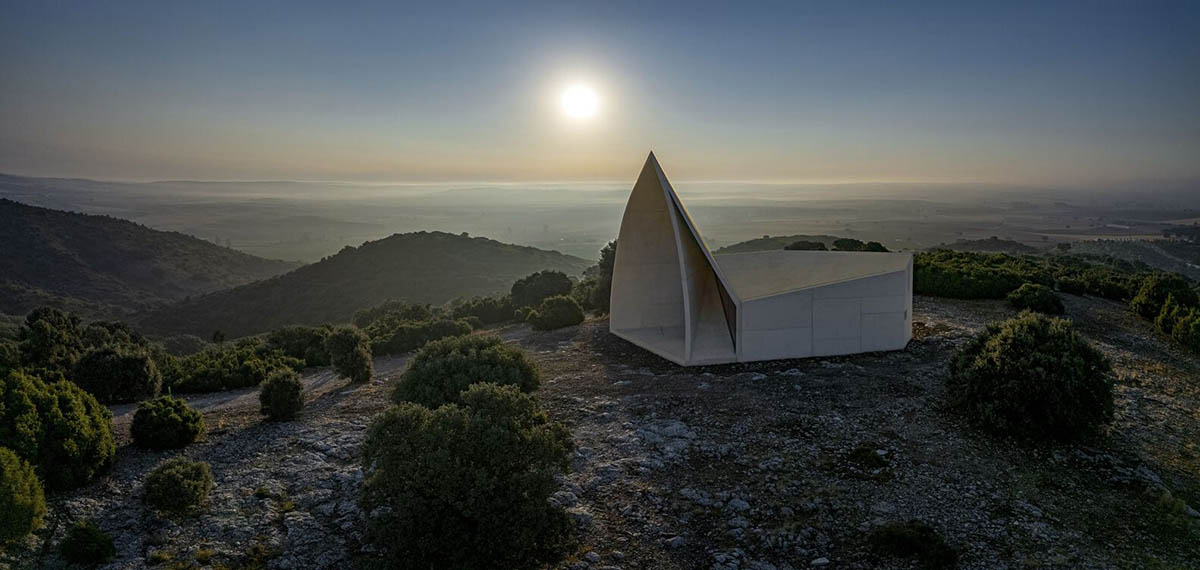 Image © Hisao Suzuki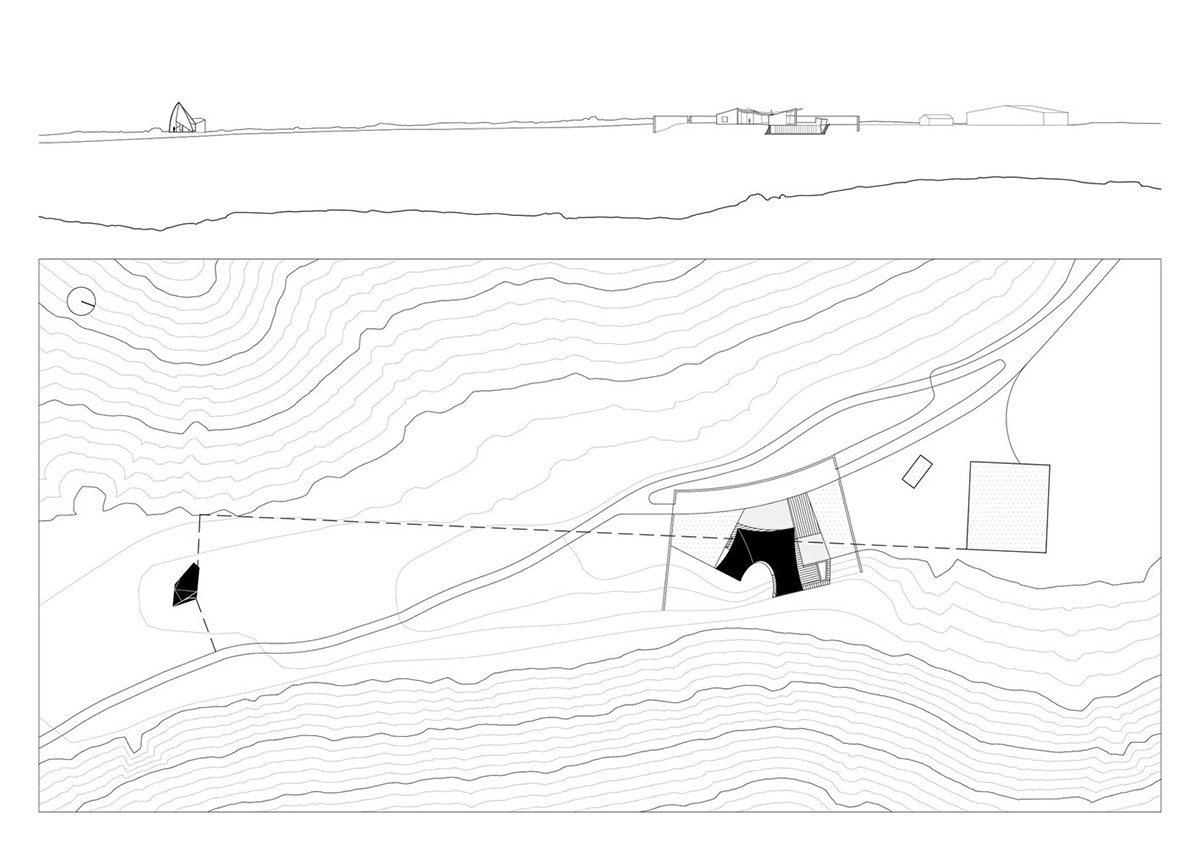 Situation plan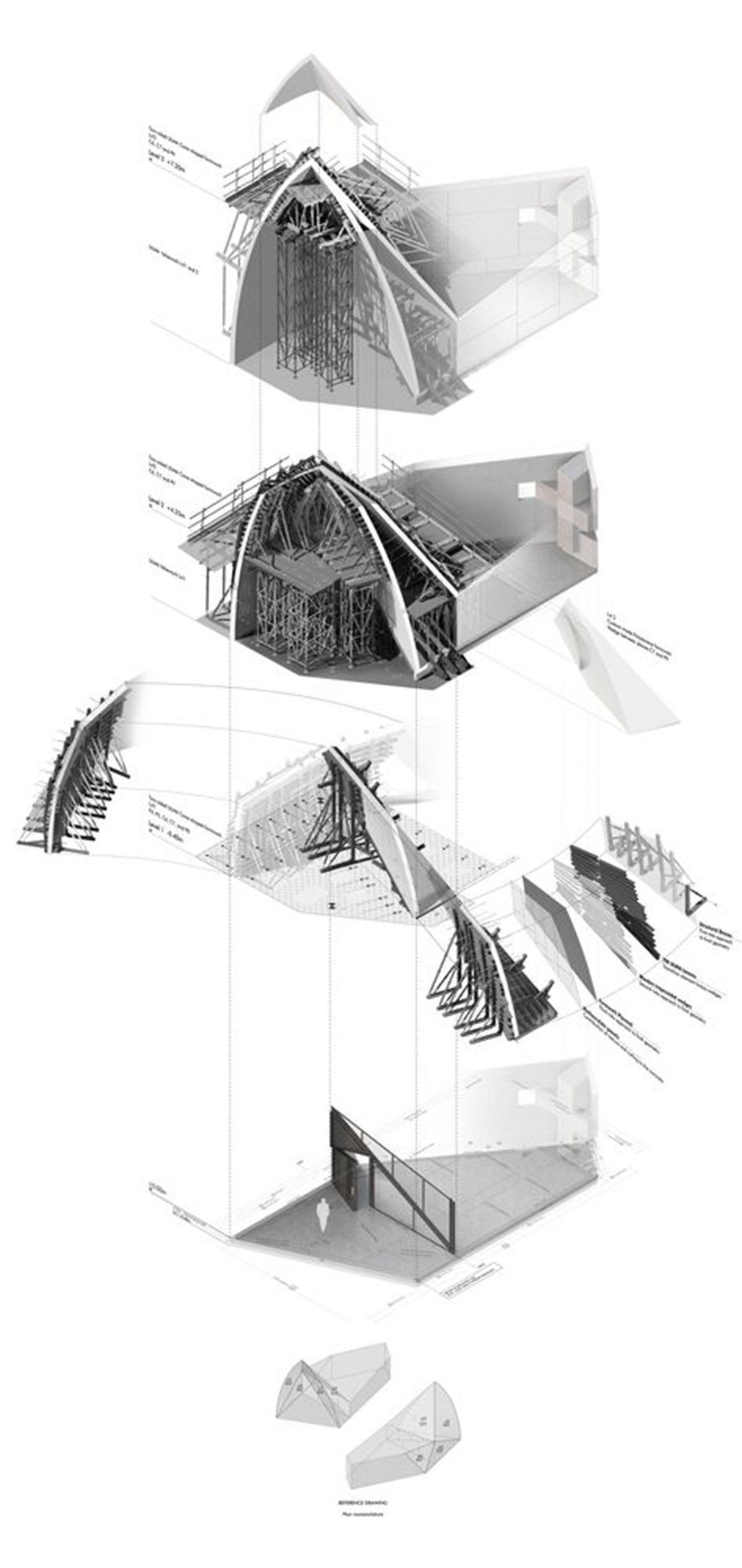 Axonometric drawing
Plans
Folds - diagrams
Folds - diagrams
The house is located at the end of the path of access towards the chapel, in the summit of a small hill, facing towards a valley with cherry trees and crop fields, with an ample view of the surrounding area.
Project facts
Project name: Chapel in Sierra La Villa
Architects: Sancho Madridejos
Location: Cuenca, Spain
Date: 2021
Top image © J.C. Sancho
All images © Hisao Suzuki and J.C. Sancho.
All drawings © Sancho Madridejos
> via Sancho Madridejos