maria araujo arquitetura reveals Gourmet Space for Casa cor Brasilia 2021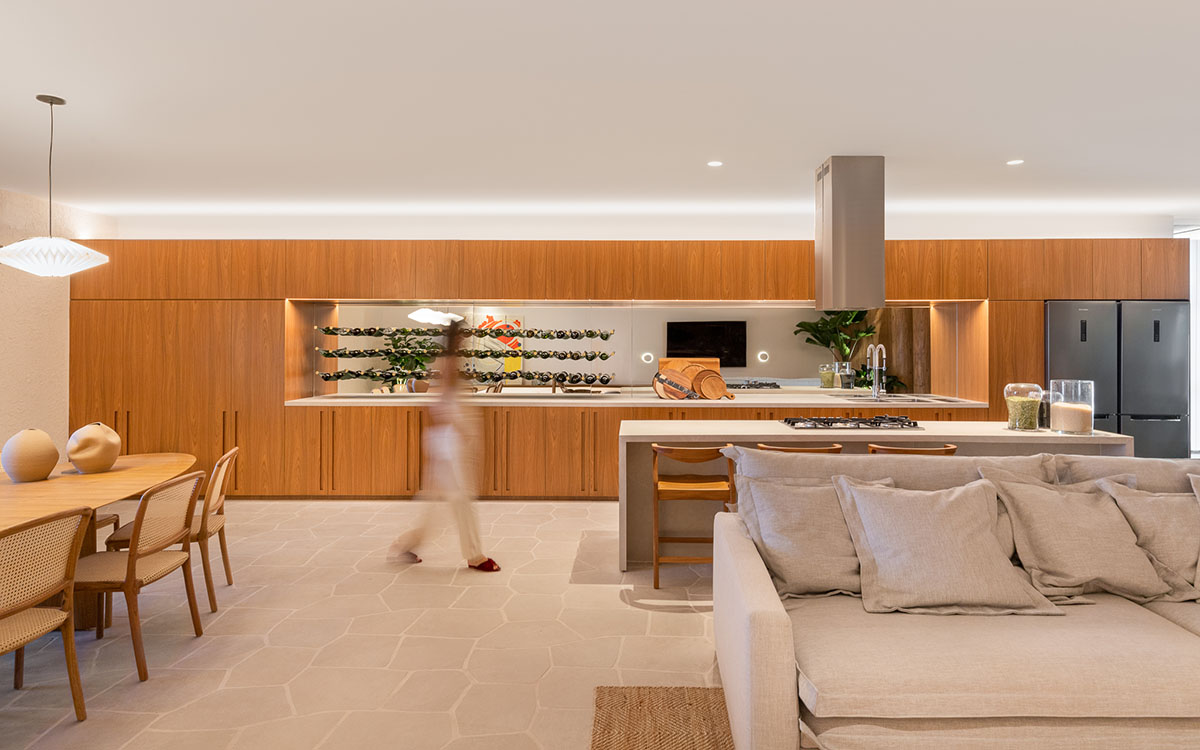 Brazilian architecture practice maria araujo arquitetura has designed the Gourmet Space for the 2021 edition of Casa cor Brasilia, one of Brazil's leading architecture and interiors exhibitions held annually.
The theme of the 2021 edition of Casa cor Brasilia was "Original House". The theme proposed for Casa Cor Brasília 2021 made the studio reflects on what would be essential and during this reflection nothing made more sense to the architects than an integrated space, where shapes and materials are the protagonists.
The orange color material palette and wooden cabinets dominate the interiors with warm tones and intimate atmosphere. A place of coexistence where the furniture stands out and the vegetation permeates the entire environment.
Covering a total of 106 square meters, the project began with a fluid stroke, a free gesture on paper: our Gourmet Space was born from the curved panel of natural wood, as the architects explained.
The space has 3 moments: kitchen, living room and dining room, which were joined by the linear furniture in joinery that sometimes is bench, sometimes is cellar and sometimes is cupboard.
The choice of materials was also the result of a reflection on the essential, the studio chose to use them in their purest and most natural forms.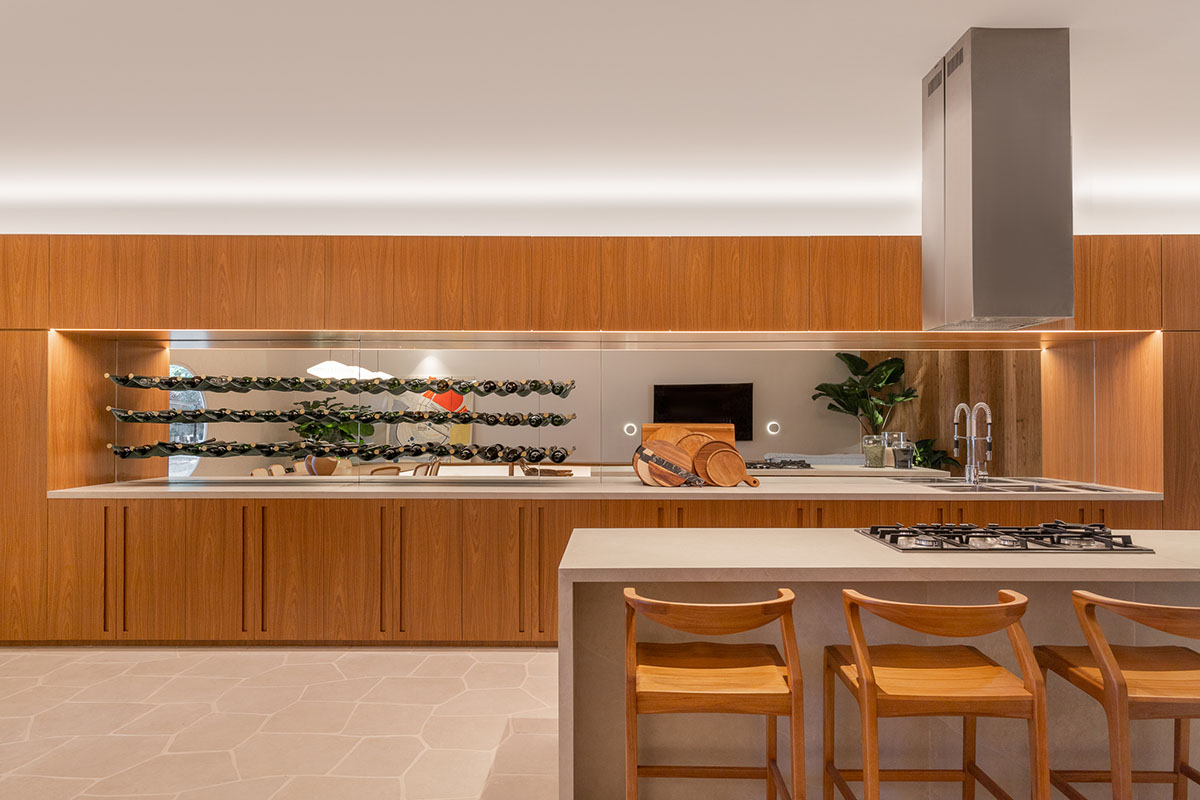 From the floor in organic format, the island countertop is born in the same material, to allow the integration of the kitchen with the living room. The walls in rustic texture were cut in a circular shape in order to frame the landscape.
The interiors of Gourmet Space are filled with important furniture from Brazilian design, including the Jangada Armchair by Jean Gillon, the Arcos coffee table by Ricardo Fasanello and the Paulistano Armchair by Paulo Mendes da Rocha are highlighted with lighting designed to demonstrate what was essential in the project.
The interiors still have the Duda stools by Aristeu Pires and the Marina Bank by Lucas Bond, in addition to the painting by the artist Sando Goés in a position with the cellar suspended on green leather straps that bring a point of color to the environment.
The Gourmet Space was awarded the "Dream of living room" in Casa cor Brasilia 2021.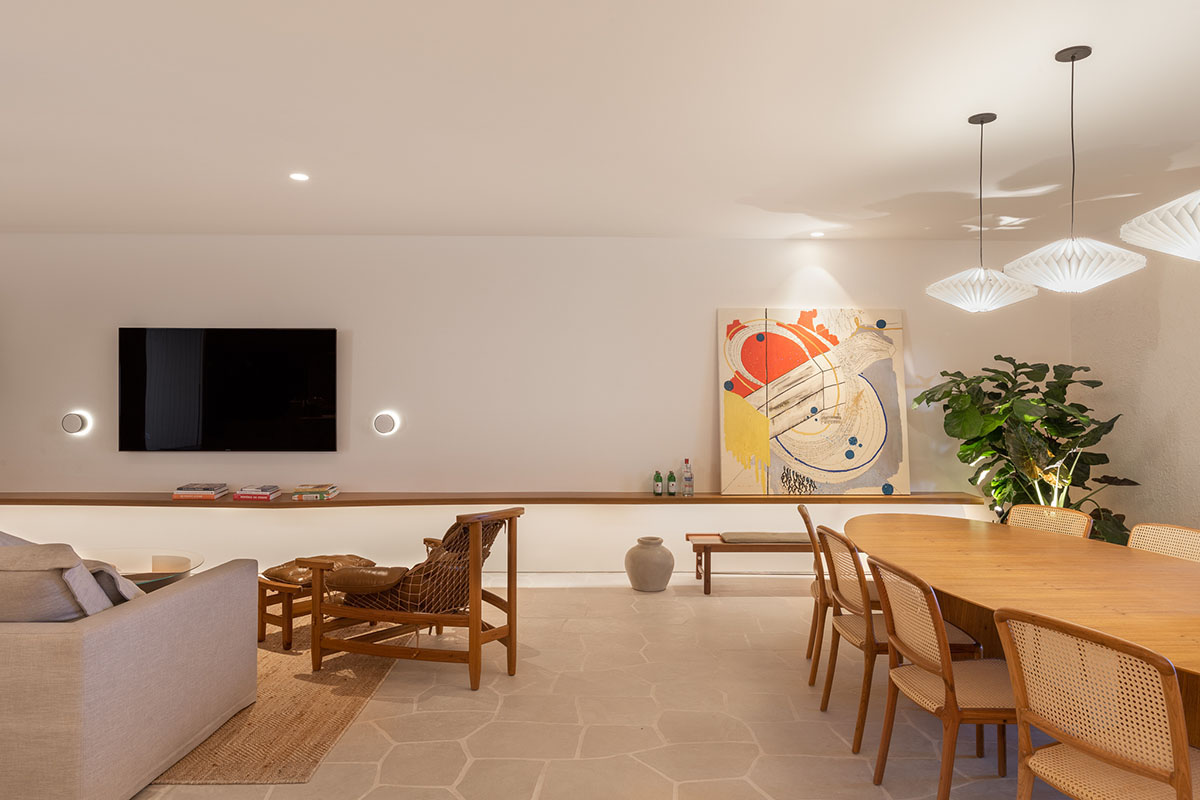 Similar projects for Casa cor Brasilia include The Roots House by Triplex Arquitetura in Cidade Jardim, Olaria House by NJ+ Arquitetos Associados and a small and compact home by Ticiane Lima Arquitetura & Interiores.
All images © Júlia Tótoli
> via maria araujo arquitetura