Highlights from Designart Tokyo 2021 featuring challenging artworks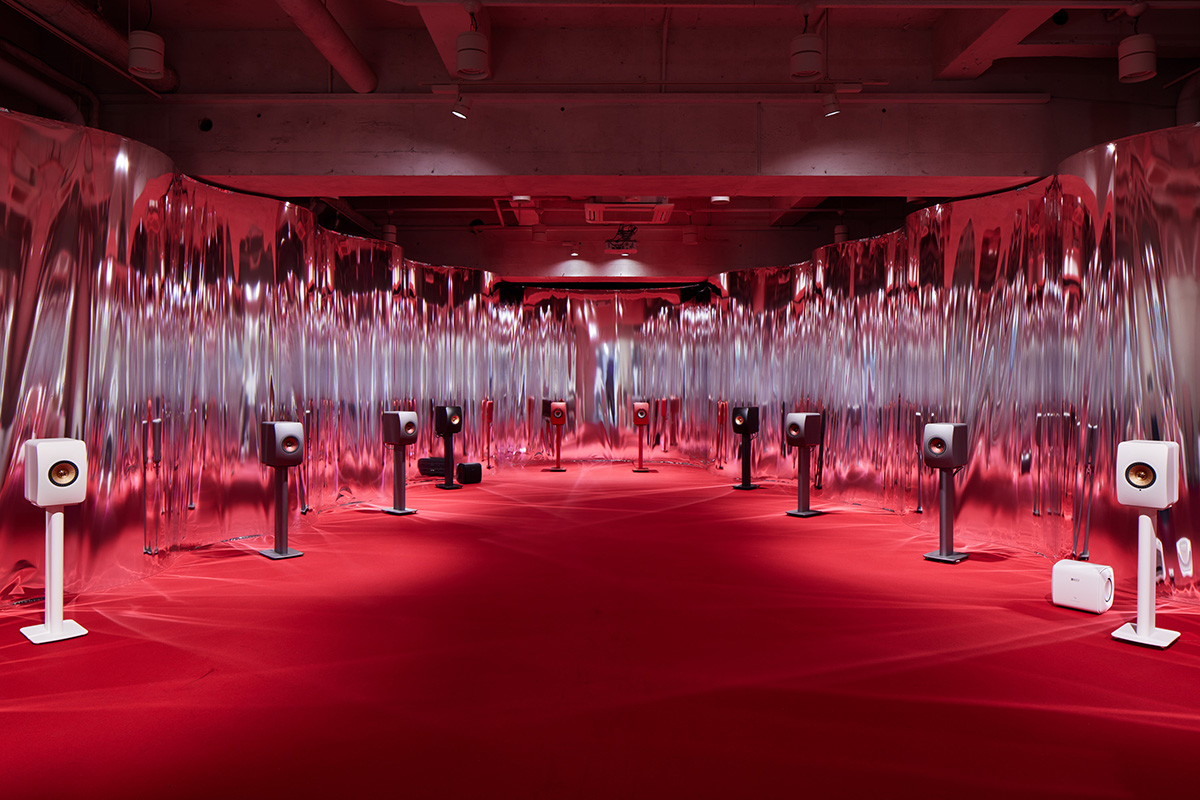 Designart Tokyo 2021, one of Japan's largest design and art festivals, took place from October 22 to October 31 in Tokyo, one of the world's most culturally diverse cities, bringing together various genres of art, design, interior design and fashion from around the world.
This year's theme, "CHANCE!", has been challenged by creators, companies, and brands from all over the world, bringing together a wealth of unique design and art.
The event was filled with encounters and excitement through challenging artworks, reaching over 180,000 visitors for 10 days. Designart Tokyo 2021 welcomed 300 creators and brands including artists, designers and architects in 84 venues.
Below are the highlights of the ten days when the city of Tokyo became an art museum and provided us with encounters and excitement through resumed physical exhibitions.
World Architecture Community is official media partner of Designart Tokyo 2021 and bringing to you the latest news from this year's festival. You can see WAC's previous coverage on this page.
This year's event was curated by designer Jin Kuramoto, whose designs includes all kinds of products such as furniture, home appliances, eyewear, and automobiles with the belief that the form of things each tell a different story.
KURADASHI / WORLD Kita-Aoyama Building. Image courtesy of Designart Tokyo 2021
KURADASHI -the archetypes – Crowdfunding sales achieved 240%(*) of the Goal
KURADASHI is a new creative market planned and developed by DESIGNART TOKYO together with designer Jin Kuramoto and ubgoe, Inc, the crowdfunding service.
Thanks to the invitations from Kuramoto, who participated as a curator, 30 teams of creators from Japan and overseas participated, including young designers and famous designers. It offered an opportunity to view firsthand and purchase valuable, commercially unavailable archetypes that are sources of the creators' inspirations.
More than half of the works were sold out within hours of the start of sales by ubgoe, attracting attention for its unprecedented content that allows visitors to actually see the exhibits and purchase them through crowdfunding, achieving 240% of its original goal at the end.
String Furniture / Kazunori Matsumura. Image courtesy of Designart Tokyo 2021
"SAISEI"(*) Installation by String® and Spatial Designer Kazunori Matsumura at the Information Center to Welcome Visitors
DESIGNART TOKYO's first-time exhibition at the Information Center—the festival's entrance to welcome visitors—was created by Swedish furniture brand, String®, which has been loved worldwide for more than 70 years, and spatial designer Kazunori Matsumura.
The installation by String® demonstrated excellent functionality and versatility to fit in various locations and spaces, a sophisticated design compatible with various styles, and abundant color variations, impressing the visitors.
Artworks and Installations to View, Listen, and Experience at Designart Tokyo 2021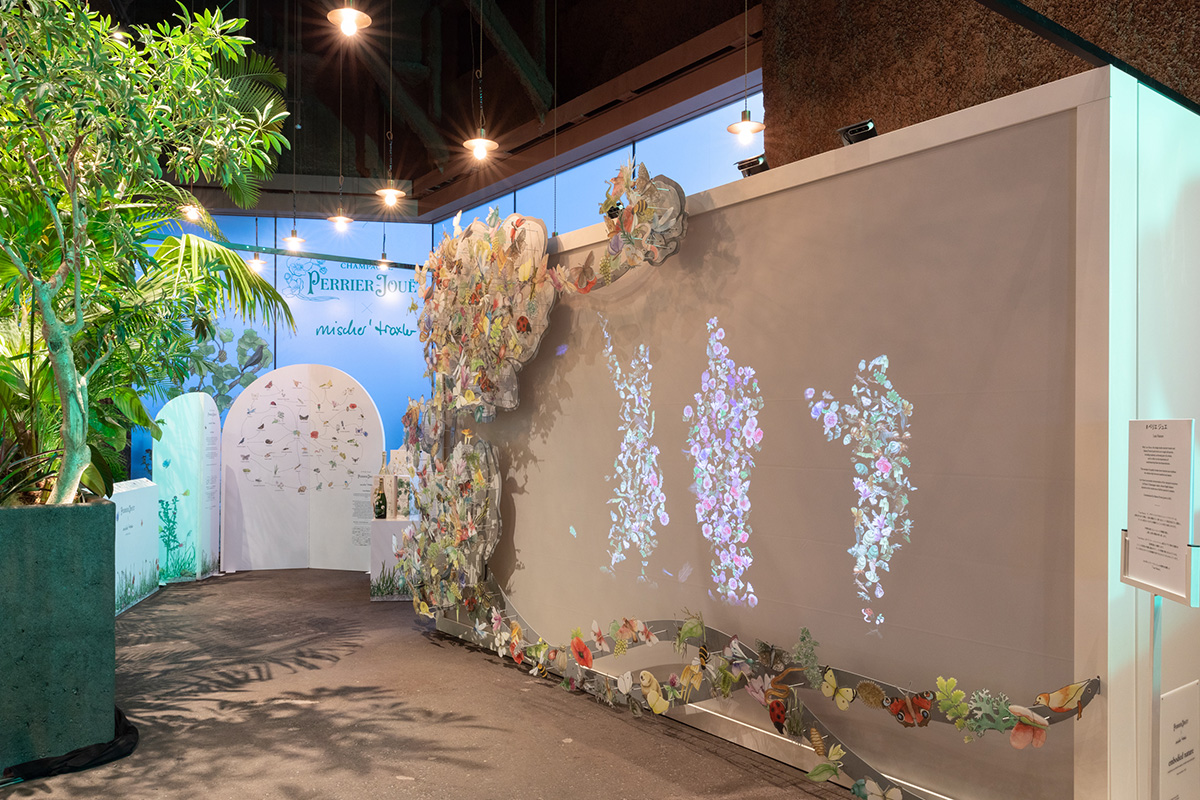 Perrier-Jouët & mischer'traxler - I am Nature. Image courtesy of Designart Tokyo 2021
Perrier-Jouët & mischer'traxler - I am Nature
Maison Perrier-Jouët and Austrian designer duo, mischer'traxler, unveiled their new collaboration artwork "I am Nature" premiering in Japan. The world premiere in Japan of a new interactive art piece using digital technology.
Hand-drawn natural environment motifs are digitally converted and move gorgeously corresponding to the movements of the person standing in front of the work. It embodies the respect towards biodiversity, which both Perrier-Jouët and mischer'traxler share. The viewers approach the work, the replicas of insects in the bulbs "wake up" and start to fly corresponding to the movement of people around.
These interactive art pieces with the latest technologies remind us of the interdependency between humans and the natural environment.
KEF 60 YEARS - Listen & Believe. Image courtesy of Designart Tokyo 2021
KEF 60 YEARS - Listen & Believe – Welcome to the Wireless High-Fidelity Experience
KEF, a leader in the wireless HiFi speaker market, celebrates its 60th anniversary this year.
The latest model to the iconic LS50 series, the wireless Hi-Fi speaker "LS50 Wireless II", was the main feature of the installation to experience the brand's uncompromising development capabilities and commitment to the reproduction of original sound.
One-of-a-kind Space Made by Fusion of Fashion and Art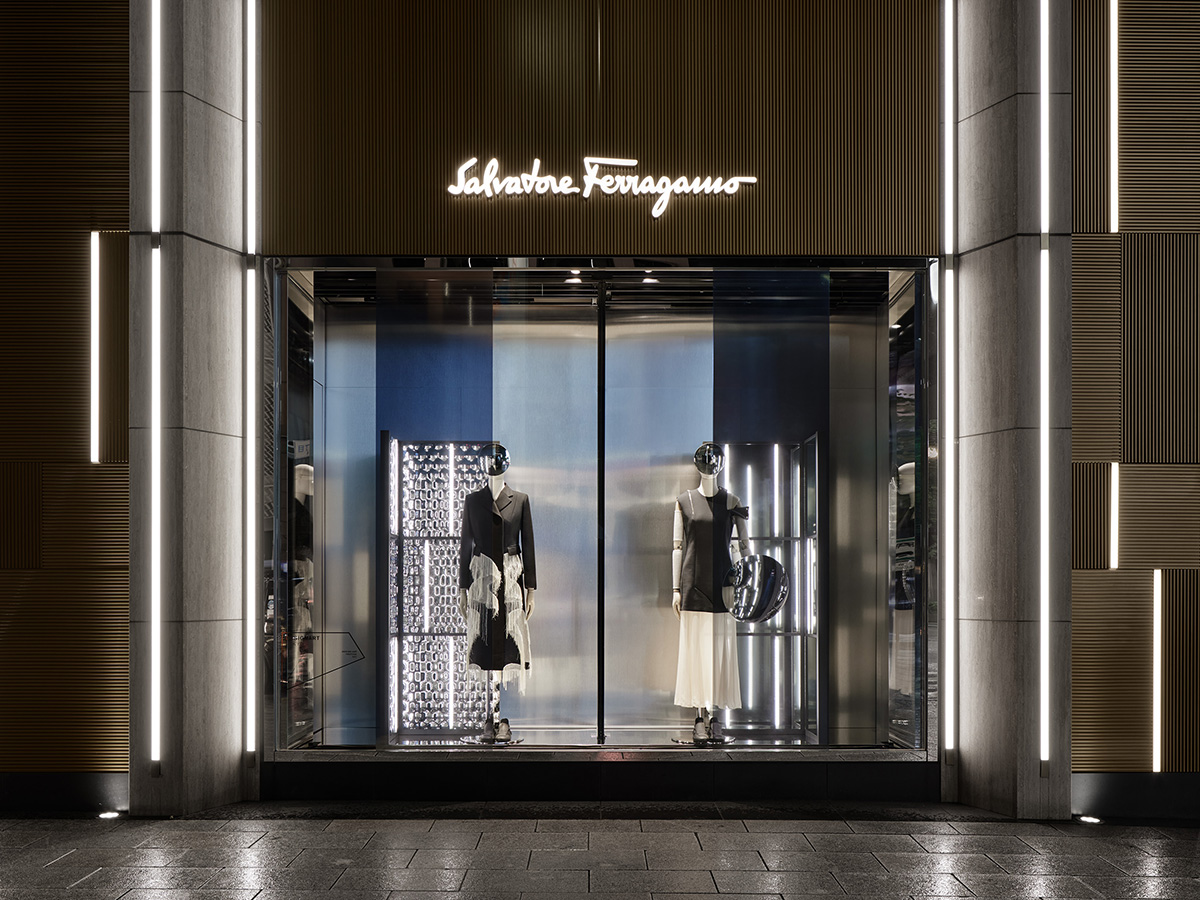 Salvatore Ferragamo - Kazuto Imura. Image courtesy of Designart Tokyo 2021
Salvatore Ferragamo - Kazuto Imura
In "opticalverse" by young contemporary artist Kazuto Imura, held at Salvatore Ferragamo Ginza Flagship Store, the windows were regarded as works of art, by extending Imura's own art pieces. In each window, art pieces were selected to match Ferragamo's collection under the theme "Future Positive," and the exhibition was designed to resonate with the works and the clothes.
2021 Designart Spotlighted Young Talents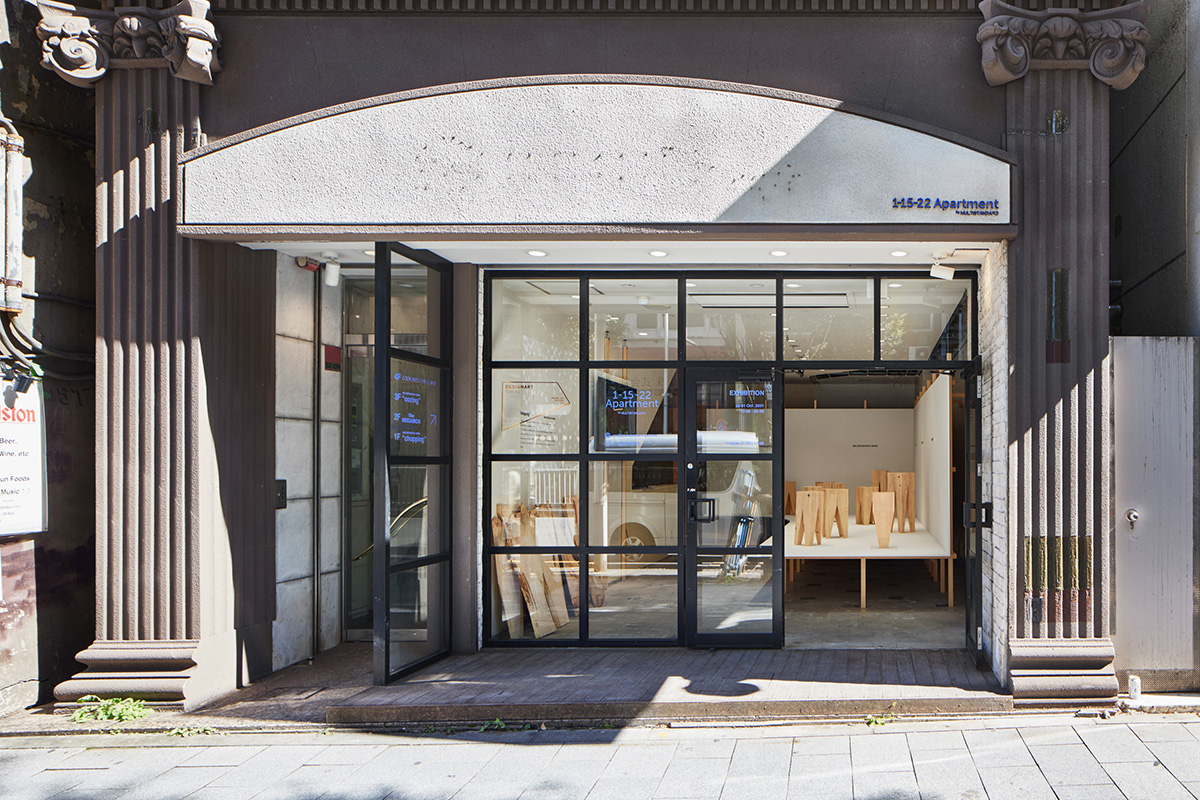 1-15-22 Apartment entrance. Image courtesy of Designart Tokyo 2021
1-15-22 Apartment entrance. Image courtesy of Designart Tokyo 2021
1-15-22 Apartment entrance. Image courtesy of Designart Tokyo 2021
MULTISTANDARD, a group of creators who garnered attention was convened in an abandoned building in Shibuya for the exhibit 1-15- 22 Apartment, bringing together creators of the same generation to continue crafting the experimental.
MULTISTANDARD exhibited "chopping," which makes the most of the gnarls and curvy wood grains of individual pieces of chopped wood, and "oozing," a new work that elevates glue into a means of decoration.
UNDER 30 Program for Supporting Young Creators has Continued since the First Year of DESIGNART TOKYO. Five International Groups of Creators Presented Outstanding Fresh Talent for a Promising Future
ATSUSHI SHINDO. Image courtesy of Designart Tokyo 2021
AROUNDANT. Image courtesy of Designart Tokyo 2021
AROUNDANT, a design unit by Kentaro Takagi and Soichiro Tanaka, exhibited two works under the common theme of "purism": "W-M project" that produces a new textile, and the "Less than instrument" lighting work.
Kathleen Reilly, a Scottish artist, and metalworker based in Tsubame City, Niigata Prefecture, collaborated with a local cutlery manufacturer to create a new knife design "Oku", which was exhibited at the official cafe Blue Bottle Coffee in Roppongi.
Spaces and Works created through Collaborations between Creators in Japan and Abroad
The FLEXFORM TOKYO showroom. Image courtesy of Designart Tokyo 2021
The FLEXFORM TOKYO
The FLEXFORM TOKYO showroom with new products introduced in Milano Salone, hosted an installation by architect Kentaro Ishida and a contemporary art exhibition curated by Maho Kubota Gallery.
As the exhibition title "Velocity of Colours" suggests, the theme of the space is colors, inspired by the beautiful natural scenery of Italian landscape.
The space contains up to 12m translucent fabrics with digitally printed color gradations and artworks selected for the space, coordinated with FLEXFORM 2021 collection, stimulating imaginations for a life enriched with art (until 30 November).
BLOOM Johnny Chiu X KOBE LEATHER. Image courtesy of Designart Tokyo 2021
BLOOM Johnny Chiu X KOBE LEATHER
The luxury outdoor chair "BLOOM" by Taiwanese architect Johnny Chiu and Japanese meister group "KOBE LEATHER" was unveiled for the first time. The collaboration between Asian creators and craftsmen has created a new value for "Cow leather".
Participation of Distinctive Galleries that Lead Contemporary Art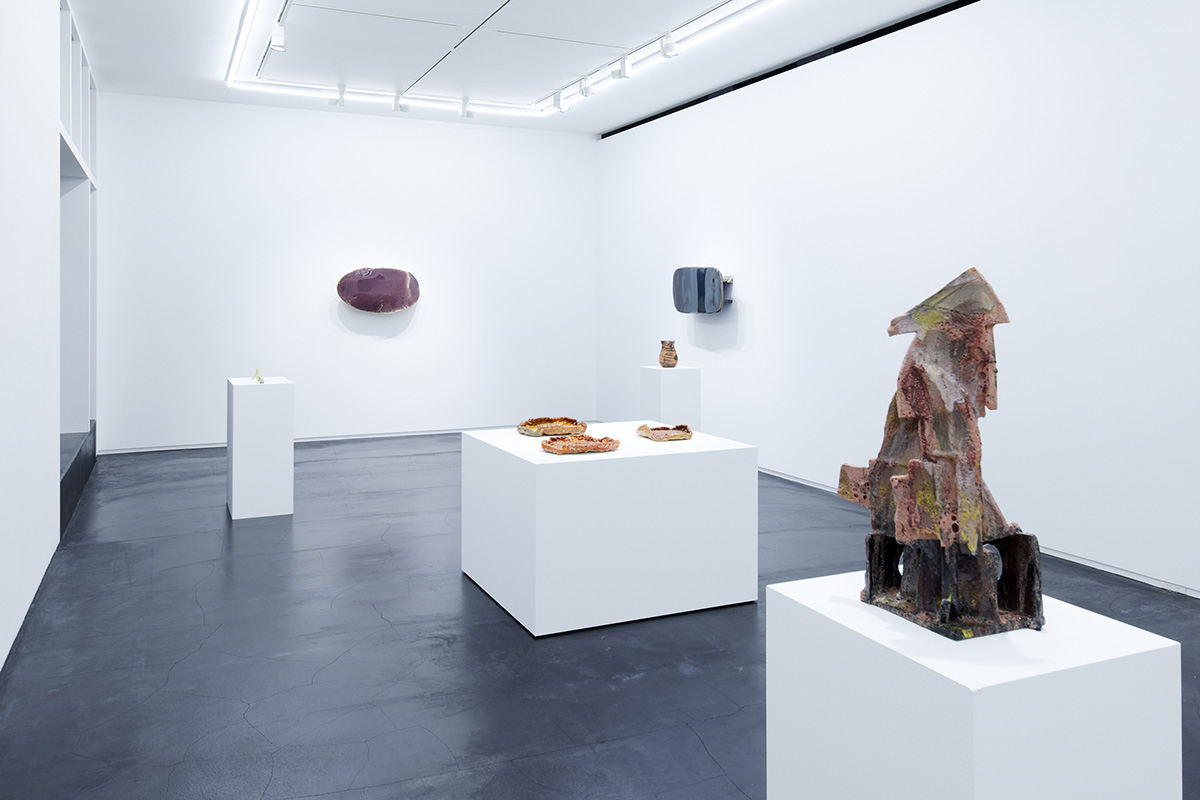 Taka Ishii Gallery "YAKIMONO". Image courtesy of Designart Tokyo 2021
Taka Ishii Gallery "YAKIMONO"
Designart triggered people who are unfamiliar with art galleries to look around with a guide map. At PERROTIN TOKYO in Piramide Building, a solo exhibition by French artist JR - "Contretemps" - was held until November 20.
Taka Ishii Gallery in complex665 presented the "YAKIMONO" (meaning "fired things" in Japanese) exhibition featuring ceramic works by Shio Kusaka, Liz Larner, and others.
Designart Tokyo 2021 held offline and online events during the festival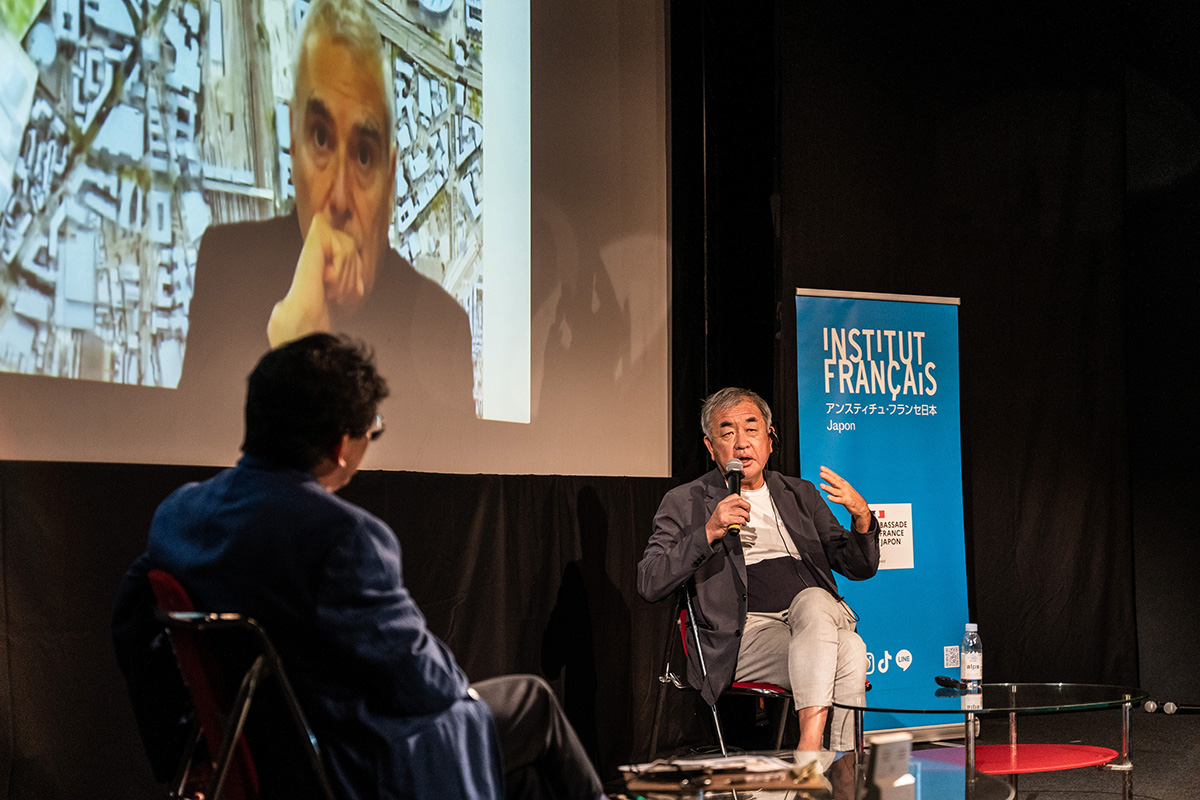 Kengo Kuma at the conference. Image courtesy of Designart Tokyo 2021
Just like last year, Designart Tokyo was held as a design and art festival that offered opportunities to see and experience artworks in both physical and virtual settings. The range of communication was significantly expanded by increasing touch points to encounter works and brands, such as the online talk event "Creative Conference Bridge," enhanced uses of social networking services, the KURADASHI project using an online sales platform, and virtual exhibitions.
In particular, the conference co-hosted by the Institut français du Japon received a strong response and became a hot topic.
Kengo Kuma spoke at the Creative Conference Bridge 2021, themed as "Co-Circulation". Dominique Perrault, leading architects in Japan and France, had a lively conversation about the Paris Olympics and other future-oriented topics.
> via Designart Tokyo