Designart Tokyo 2021 unveils its theme CHANCE! and details from the exhibition
Designart Tokyo, one of Japan's largest design and art festivals, will be held between October 22 to October 31 in Tokyo, Japan.
Designart Tokyo is one of the world's most culturally diverse cities, bringing together various genres of art, design, interior design and fashion from around the world.
With one month to go until the exhibitions finally open, the organizers of Designart Tokyo has revealed details and highlights from the exhibitors and information about their works.
World Architecture Community is official media partner of Designart Tokyo 2021 and will be bringing you the latest news from this year's festival. Ahead of its opening, we have picked up the most interesting works from different themes from the upcoming Designart Tokyo 2021 exhibition.
Curator Jin Kuramoto. Image courtesy of Designart Tokyo
This year's event, themed as CHANCE!, is curated by designer Jin Kuramoto, whose designs includes all kinds of products such as furniture, home appliances, eyewear, and automobiles with the belief that the form of things each tell a different story. After 10 years of R&D in Japan Creative, Kuramoto was appointed as a board member in 2021. Through projects in Japan and abroad, he has a network with a wide range of creators.
While the pandemic keeps limiting the opportunities for creators and users to meet, Designart Tokyo, together with the Crowdfunding service "ubgoe", will hold "KURADASHI", an exhibition where visitors can actually see and purchase valuable works by creators that are not yet available on the market.
Designart Tokyo 2021 will include various works and artists such as Jo Nagasaka, Fumie SHIBATA, Teruhiro Yanagihara, Kazuhiro Yamanaka, Yusuke Seki, Daisuke Motogi, Norihiko Terayama, Baku Maeda, GELCHOP, we+, Satoshi Itasaka, Ryota Akiyama, Yoshiki Matsuyama, minä perhonen, Sho Ota, YOY, Gen Suzuki, Ryohei Yoshiyuki, shigeki fujishiro, TOMOKO AZUMI, and more.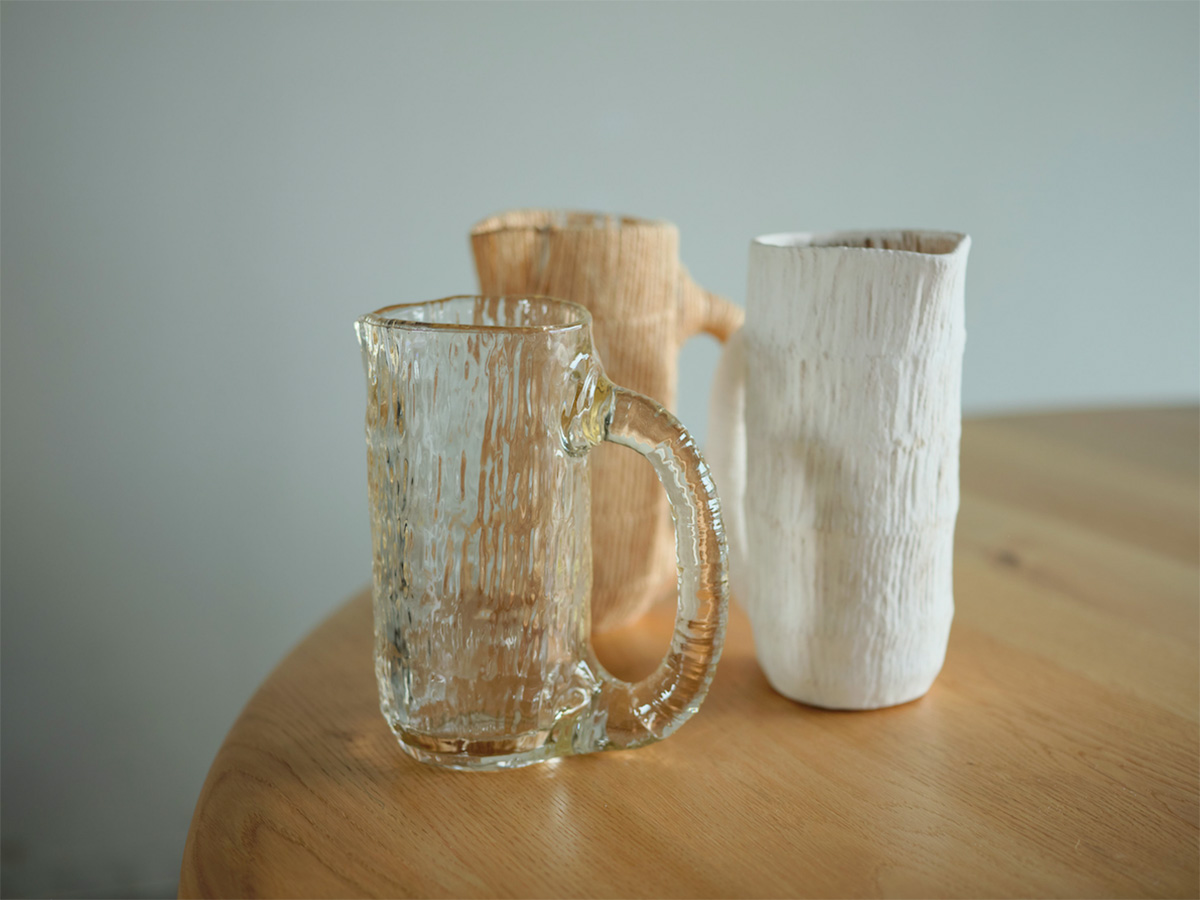 Vannfall / Nedre Foss JIN KURAMOTO STUDIO. Image courtesy of Designart Tokyo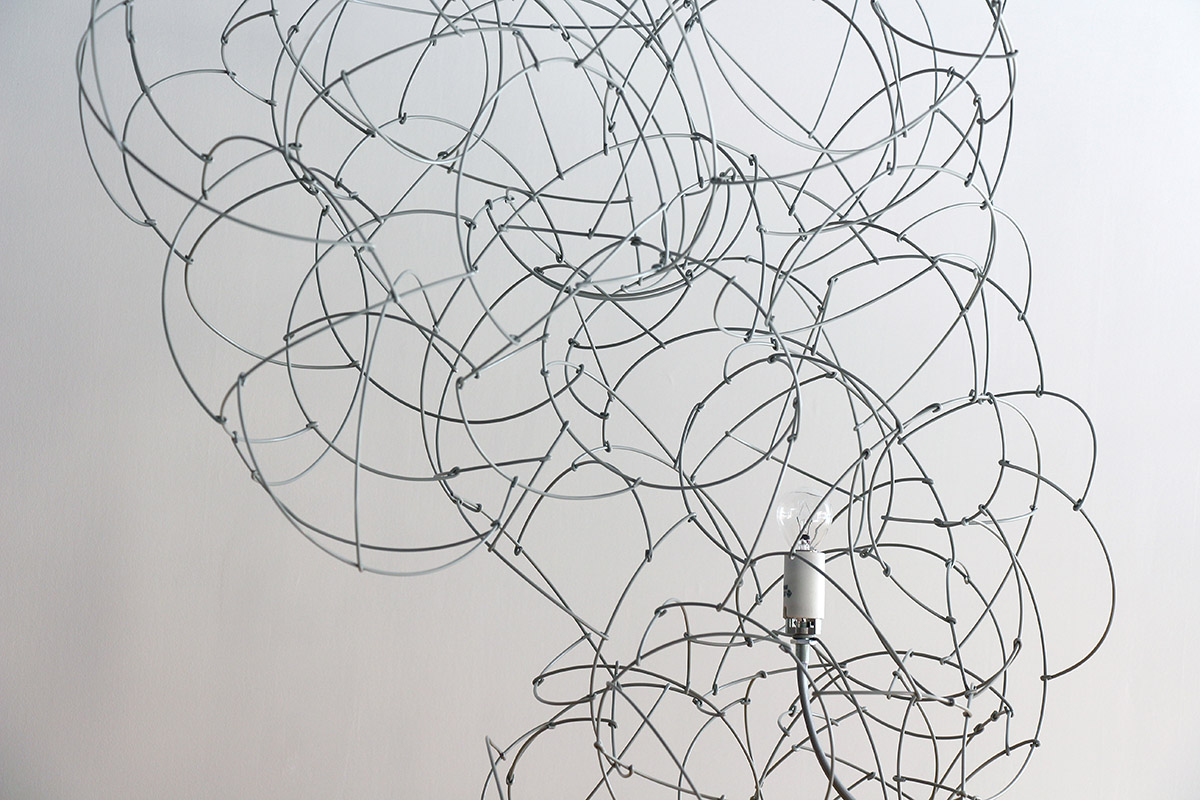 Bulge lines / gray _ Norihiko Terayama. Image courtesy of Designart Tokyo
The designer Jin Kuramoto as the curator, many creators from Japan and abroad, from young to established, will participate.
The rare selection of works will be exhibited and sold – the prototypes as results of their trials and errors during their creation process, or the treasured works that have been stored in their ateliers for various reasons, and never reached the market.
This is a creative market with a new concept, where works that are not usually available are delivered to users who share their values. In addition, by connecting online product sales through the crowdfunding service "ubgoe" with the actual exhibition, we will deliver encounters to many people as a new "platform to connect artworks and users" by utilizing the characteristics of each.
The venue for the festival, the WORLD Kita-Aoyama Building, is known as an incubation space and will again serve as the information center this year. One of the event's highlights is the contrast it offers between the neutral space, with its all-glass façade overlooking Aoyama Dori (Route 246), and the art pieces serving as the origin of creators' ideas.
I am Nature. Image courtesy of Designart Tokyo
Perrier-Jouët & mischer'traxler: New artwork, "I am Nature", making its world premiere in Japan
Maison Perrier-Jouët continues its years of collaboration with Austrian designer duo, mischer'traxler, unveiling their new artwork "I am Nature" premiering in Japan.
"I am Nature" is the first artwork that mischer'traxler used digital technology, inviting us to reconsider how humans coexist with nature.
The motifs of the natural environment, initially hand-drawn sketches turned to water-color drawings, have developed into digital work. It embodies the respect towards biodiversity that both Perrier-Jouët and mischer'traxler share. Additionally, "Curiosity Cloud Mobile" will be exhibited at the same time
Venue: GYRE.FOOD (uni / bonélan) 5-10-1 Jingumae, Shibuya-ku, Tokyo GYRE 4F.
HIBIYA OKUROJI. Image courtesy of Designart Tokyo
HIBIYA OKUROJI
Designart Tokyo will also showcase a group exhibition where you can find the next talents. HIBIYA OKUROJI, pairing the century-old space above a viaduct with various artworks, is one of them.
Modeled after the elevated railways of Berlin, the viaduct in question was built by hand under the guidance of German engineers. The brick arches deep in Hibiya-Ginza continue to serve their original purpose one hundred years after they were built. Last year, the archways were transformed into a sophisticated corridor, HIBIYA OKUROJI.
The 300-meter- long space is home to a motley series of exhibits: KARAKURI used digital technology to turn interior products developed from ceramic designs into an interactive exhibit, with the cooperation of the Arita-ware-producing Fukujugama.
1-15-22 Apartment. Image courtesy of Designart Tokyo
1-15-22 Apartment
MULTISTANDARD and other young creators' works will convene in an abandoned building.
Exhibition works / Artists will include MULTISTANDARD, Hikari Yamaguchi, Leo Koda, messagingleaving, Nobuaki Sato, pan_object, Sera Yanagisawa, Tamako Yamada, Yurika Tanaka.
MULTISTANDARD, a group of creators who garnered attention at last year's event, will convene in an abandoned building in Shibuya for the exhibit 1-15-22 Apartment, bringing together creators of the same generation to continue crafting the experimental. A variety of cross-disciplinary creations will gather in Shibuya, including MULTISTANDARD presenting chopping exhibited in the spring and new works; LOOK INTO THE CURVE, featuring both domestic and international up-and-coming artists; and the NEIGHBOR, a group exhibition formed by creators currently enrolled in art school.
Venue: shibuya serumo building 1-15-22 Shibuya, Shibuya-ku, Tokyo 1-15-22.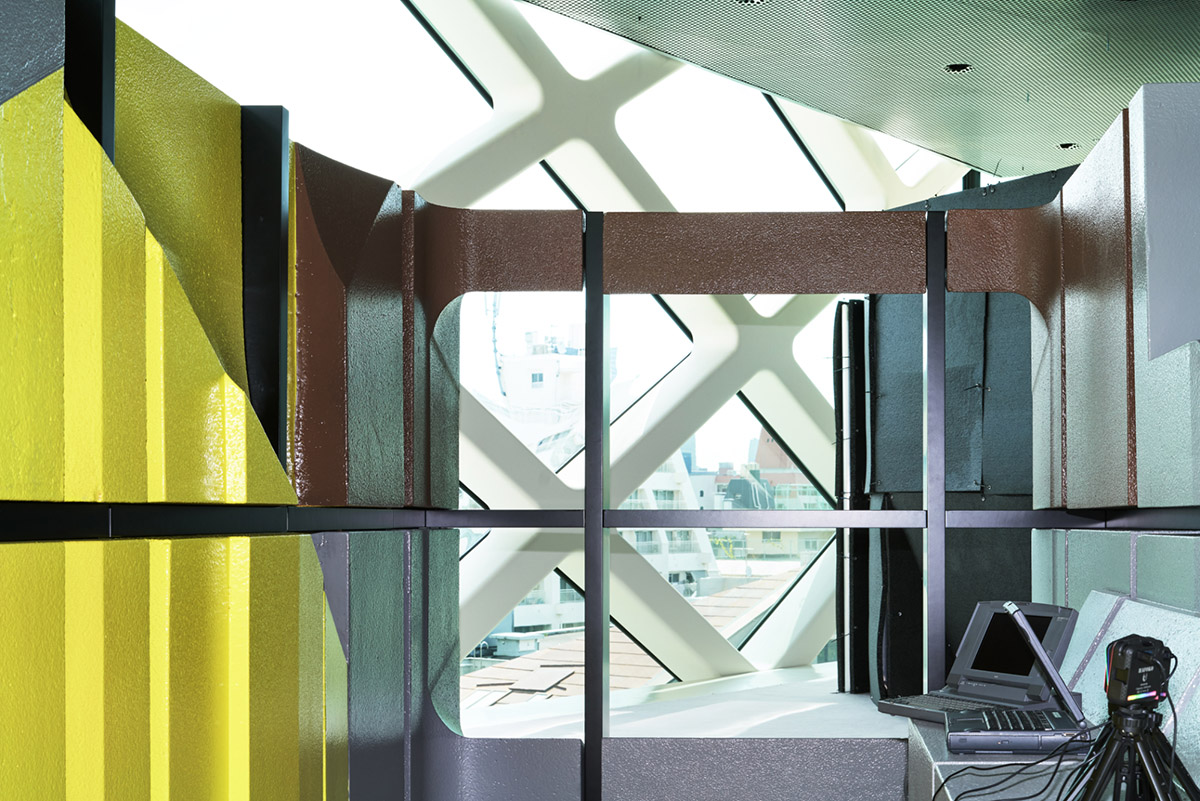 "Sturm & Drang Preview Service" Supported by Fondazione Prada. Image courtesy of Designart Tokyo.
"Sturm & Drang Preview Service"
The festival will also be a space where fashion and art blend with each other. The Aoyama store of Prada, one of Italy's leading luxury fashion brands, created by the Swiss architectural unit Herzog & de Meuron, will host the exhibition "Sturm & Drang Preview Service" curated by Luigi Alberto Cippini (Armature Globale), Freddy Fischli and Niels Olsen (gta exhibitions, ETH Zurich). The exhibition "Sturm&Drang" looks directly at the preliminary non- digital processes in use in computer-generated imagery (CGI). (Reservation required)
Venue: PRADA AOYAMA 5-2-6, Minami-Aoyama, Minato-Ku, Tokyo.
Salvatore Ferragamo × IMURA Kazuto. Image courtesy of Designart Tokyo
Salvatore Ferragamo × IMURA Kazuto
The theme of Salvatore Ferragamo's AUTUMN WINTER 2021 collection is FUTURE POSITIVE. Kazuto Imura, who resonates with Ferragamo's proudest innovation and message of taking a step into the future, will exhibit his work titled "opticalverse" together with Salvatore Ferragamo collection. The optical universe in the "The mirror that doesn't reflect you." created by his unique technique using half mirrors and spherical mirrors will be exhibited. Material and technical cooperation UNOU JUKU AGC Inc.
Venue: Salvatore Ferragamo GINZA FLAGSHIP STORE 7-8-2 Ginza, Chuo-ku, Tokyo
YKK AP & Keita Suzuki 「 Window on the Future—Gaudí Meets 3D Printing. Image courtesy of Designart Tokyo.
YKK AP & Keita Suzuki 「 Window on the Future—Gaudí Meets 3D Printing 」
Design and inspiration enriching our lifestyle, according to Designart Tokyo. YKK AP is always thinking of ways to make new kinds of windows that can bring more freedom and happiness to architecture and people's everyday lives. This particular exhibit will showcase prototypes of windows created with cutting-edge 3D-printing technology, designed with various forms and functions that resonate with the natural environment and inspired by the windows of world-renowned architect Antoni Gaudí, realized with the Special Collaboration of Gaudí-designed UNESCO World Heritage Sites such as Casa Batlló and Casa Milà.
Venue: TOKYO MIDTOWN, Galleria B1 Atrium 9-7-1, Akasaka, Minato-ku,Tokyo Period : 10/15 (Fri.) ~11/3 (Wed. Holiday)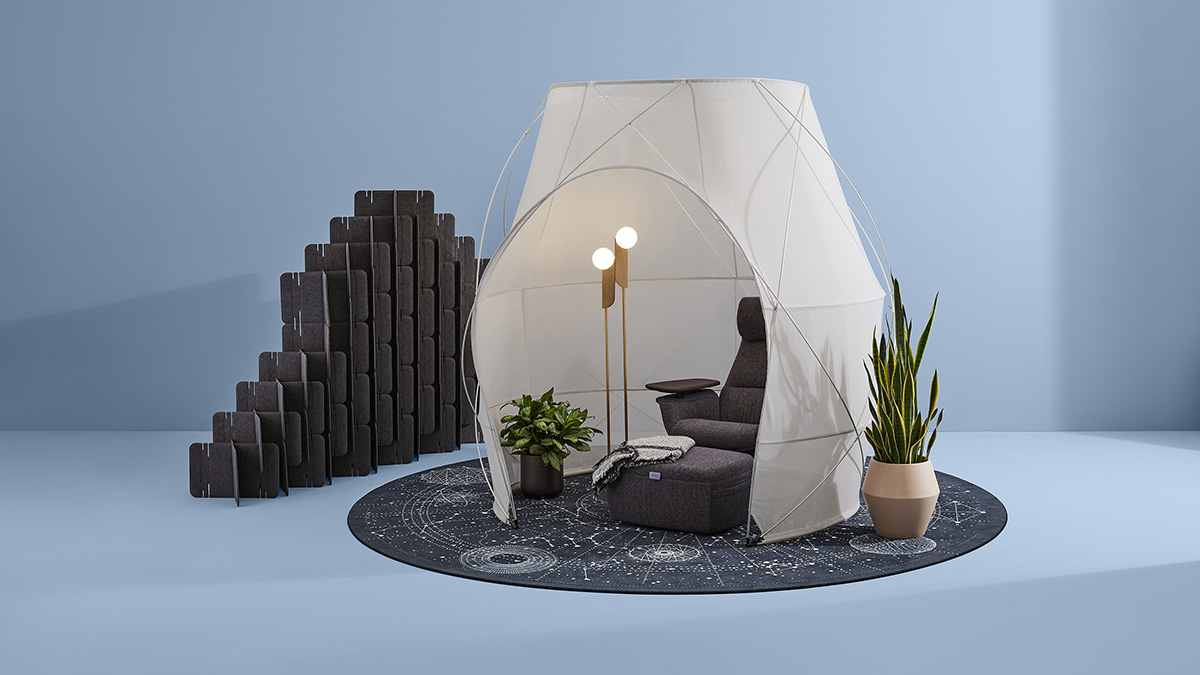 Tents At Work_ The "Steelcase Work Tent" . Image courtesy of Designart Tokyo
Tents At Work_ The "Steelcase Work Tent"
Designart Tokyo's Interior section presents new collections and presentations by interior brands.
The pandemic has impacted every aspect of our lives — how we live, learn and how we work. Steelcase, an insight lead industry leading office furniture manufacturer, has launched the "Steelcase Work Tents Collection" as a versatile privacy solution. The Work Tent, which is designed in collaboration with a world- class tent designer and inspired by the iconic Gherkin Building in London, will be showcased for the first time in Japan. Recreational tents provide safety and a haven of security in uncertain outdoor conditions, and now Work Tents provide people in the office with the same shelter and protection they crave.
Venue: Steelcase | WSI WorkLife Tokyo 4F Kowa Hiroo building, 5-2-32,Minami-Azabu, Minato-ku, Tokyo
ARIAKE COLLECTION. Image courtesy of Designart Tokyo
ARIAKE New Collection Show 2021 Comes to Japan
Ariake, a furniture brand founded by the two factories Legnatec and Hirata Chair Manufacture from the furniture-producing town of Morodomi in Saga prefecture brings the exhibition Ariake Collection to Japan for the first time. Named after the Ariake Sea
in Southern Japan, Ariake means daybreak in Japanese. It symbolizes a new chapter for the two factories as they embark on a collaboration with international designers for the global market.
Venue: UNKNOWN HARAJUKU 6-5-10 Jingumae , Shibuya-ku, Tokyo.
Kohei Nawa at GINZA SIX "Metamorphosis Garden". Image courtesy of Designart Tokyo
Kohei Nawa at GINZA SIX "Metamorphosis Garden"
Designart Tokyo's Art section presents works from the unique galleries to large-scale work.
Metamorphosis Garden is an installation with the theme of life, matter, and a world in which ambiguous entities coexist on the boundary between the two. Expressing the emergence of a new narrative out of chaos, it is a development from the Biota (Fauna/Flora) installation (2013) on Inujima island in the Seto Inland Sea.
Ether and Trans-Deer emerge as symbols of life from irregularly shaped islands and droplets in a group of sculptures covered with alumina and microbeads floating in the atrium space. An augmented reality performance created in collaboration with choreographer Damien Jalet creates a constantly changing world in which real objects and images of augmented reality overlap.
Venue: 2F central atrium, 6-10-1 Ginza, Chuo-ku, Tokyo Period: ~ April 2022 (Dates to be confirmed.)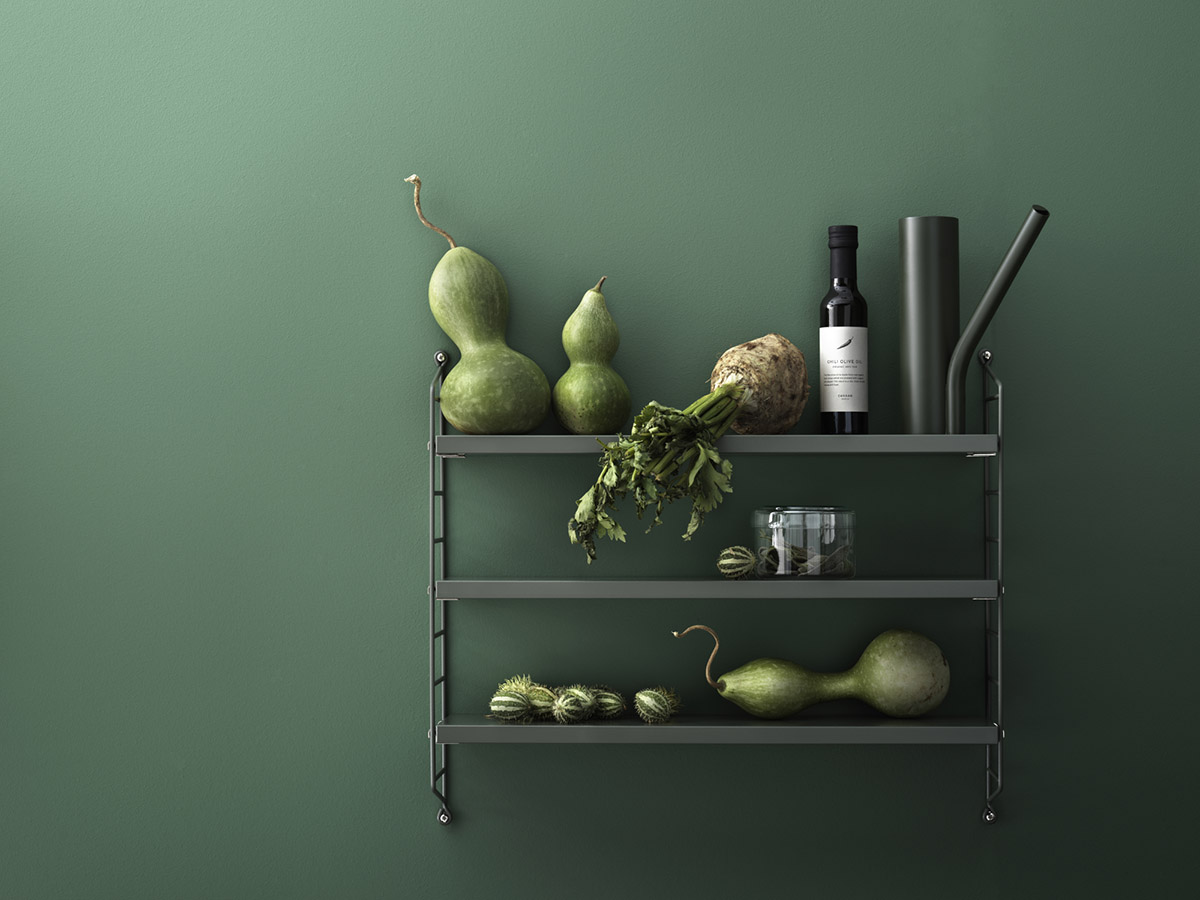 String Furniture. Image courtesy of Designart Tokyo
The Swedish furniture brand String®, an indispensable part of Scandinavian furniture is exhibited at the World Kita Aoyama Building
String®, a Swedish furniture brand that has been loved around the world for more than 70 years, will be exhibited at the World Kita Aoyama Building in the Designart Tokyo 2021 Information Center. It has functionality and an excellent storage system that can be used in a variety of places, such as homes, public environments, and offices. Its sophisticated design fits in with a variety of styles and a wide range of colors. The String® Pocket which uses for the exhibition will also be featured in the "Best Report Challenge" (See Designart Tokyo website and Social Media), in which anyone can participate and win luxurious prizes.
Online Conference is themed as "Co-Circulation"
Designart Tokyo 2021 will also hold an online conference under the theme of "Co-Circulation". Persons active in the fields of art and design in Japan and abroad will talk about their visions for expanding the circle of "Co-Circulation" and connecting it to actions for the future. Details will be released in early October.
Presentation videos
Releasing video presentations about the works and the venues on our official YouTube channel. Official social media (Facebook, Instagram, etc.) will also actively introduce the messages of the brands and works to wider audience.
Social Media live streaming
The exhibitions and the artworks will be presented online on the official social media channel (Instagram). Those who are unable to visit the venues will also be able to enjoy the events. Do not miss this rare opportunity to see live presentations of the artists and brands.
Designart Tokyo 2021
Period: October 22nd (Fri) ~ October 31st (Sun)
Press day: October 22nd (Fri)
Area: Omotesando, Gaien-mae / Harajuku, Meiji-jingu-mae / Shibuya, Ebisu / Daikanyama / Roppongi / Ginza / ONLINE
Organizer: DESIGNART TOKYO Committee
The founders of DESIGNART: Akio Aoki (MIRU DESIGN), Shun Kawakami (artless Inc.), Hiroshi Koike (NON-GRID), Okisato Nagata (TIMELESS), Astrid Klein & Mark Dytham (Klein Dytham Architecture).
> via Designart Tokyo