Kengo Kuma and Associates designs commercial building covered by plants in downtown San Jose
Kengo Kuma and Associates is designing a commercial building covered by vegetative elements on its façade, which will be built in downtown San Jose in the middle of Silicon Valley, California, United States.
Named Park Habitat, the 1.3 million-square-feet is developed as part of The Silicon Valley initiative which will be an overall campus masterplan developed in partnership by Westbank, Urban Community, Peterson and OPTrust.
Within the campus, other buildings include designs Bjarke Ingels Group, Studio Gang, James K.M. Cheng Architects and WRNS Studio. The Westbank Campus will comprise seven buildings that will be led by high-profile international architects.
With a collection of seven buildings, the Westbank Campus aims to achieve net zero carbon lifecycle for both operational and embodied carbon.
Southeast view
Kengo Kuma's building will be located at 180 Park Avenue in downtown San Jose and will be a commercial building with retail spaces at grade and an expansion space for the adjacent Tech Interactive as well as office above grade with an amenity rooftop.
The 20-storey Park Habitat has begun construction On Earth Day and broken ground as the first project of the campus masterplan to be constructed in a largescale net zero initiative in downtown San Jose.
Rendering © Hayes Davidson, courtesy of Westbank
Park Habitat project will create a low-carbon workspace and retail, as well as an expansion space for the adjacent Tech Interactive. Kuma's design, which is described as "the most sustainable buildings of its kind", aims to achieve net zero carbon across its lifecycle.
The design is distinguished with its high-performance façade, water reuse, landscape and wetland integration and features a "green-lung" atrium for natural ventilation and light throughout.
The architect creates a responsive and a living facade integrating extensive vertical vegetation as well as sun-shading louvers.
The team uses plantings including vegetated walls mounted directly to the glass curtain wall as well as window box-style planters with vines on vertical wire trellises.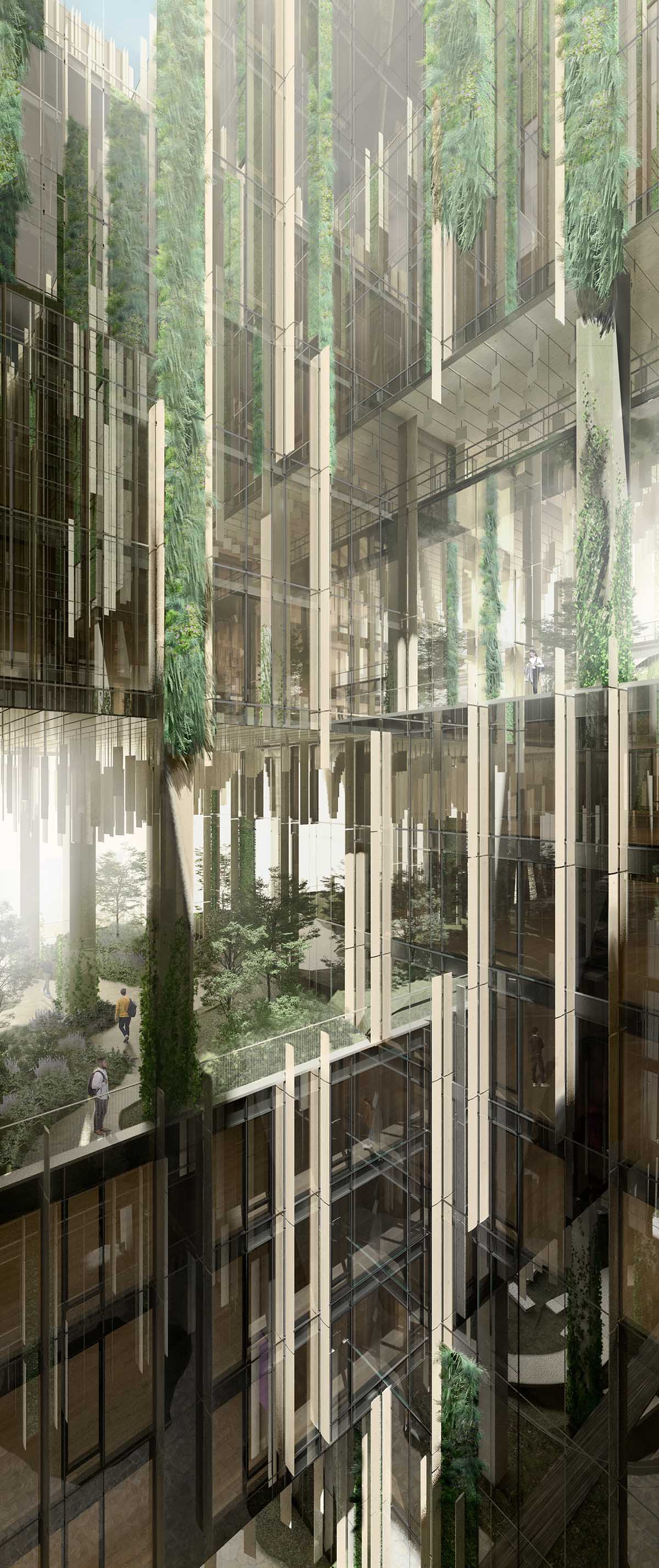 Green Lung-atrium
"The vegetation in these planters acts as sun shading for the glass behind and is visible to the building occupants as a biophilic amenity for enhanced air quality inside the building," stated a project description on the Westbank Campus' website.
"To reduce embodied and operational carbon to the greatest extent possible, the project will leverage low-carbon building materials, and connect to an all-electric district energy system developed by Creative Energy," described in a project description.
"Any remaining carbon emissions will be mitigated through on-site renewable energy generation and local, high-quality offsets. From an emissions perspective, it will be as if Park Habitat was never constructed," added the press release.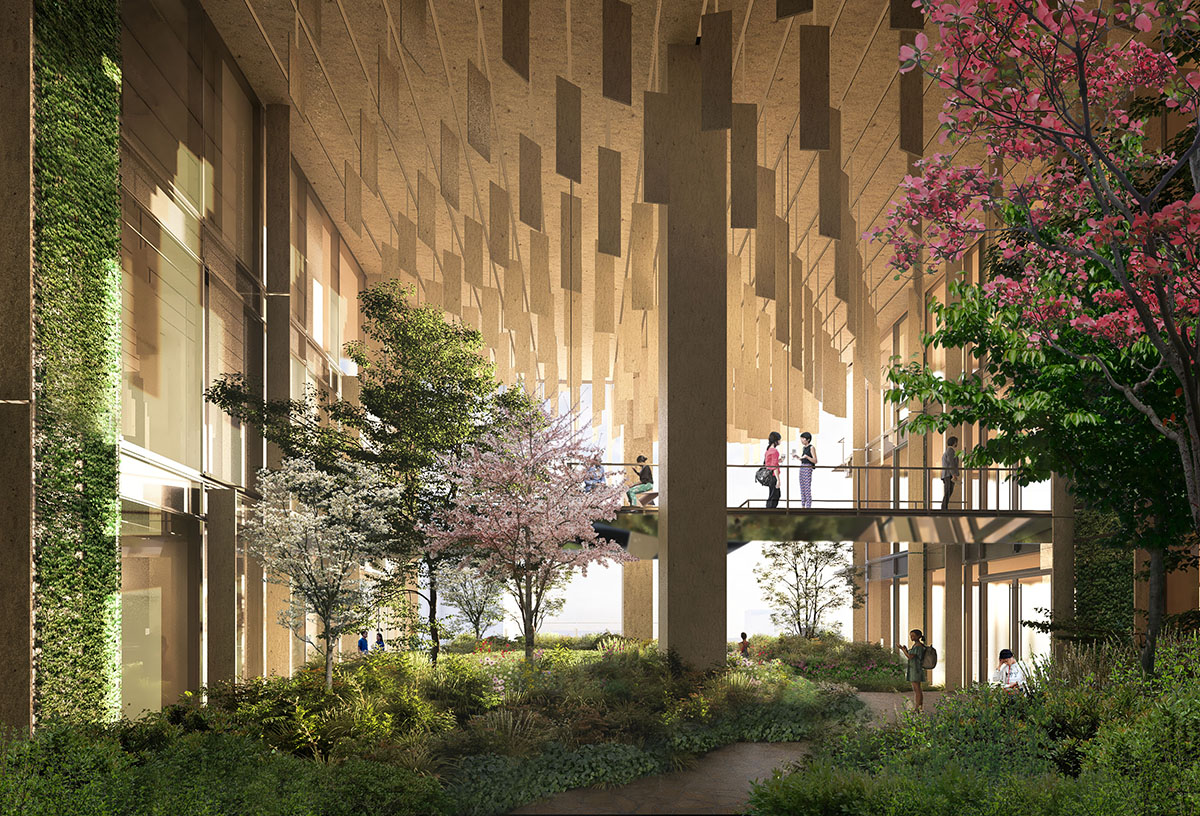 East pocket
The window-to-wall ratio is approximately 60 per cent on the project and spacing of the louvers, extents of the planters and extents of the media wall are changing across the facade according to the solar exposure of each aspect of the building.
For instance, the exposed south facade includes denser louvers, less vision glass and more sun-shading vines, rather than the shaded north facade.
The facade also features frequent operable windows, allowing the natural ventilation and "night flush" heat-release temperature control strategies and the overall health of the office space.
"San Jose has emerged as the natural future hub for Silicon Valley and the ingredients needed for intelligent city-building have converged there, creating the opportunity for a new typology," said Westbank founder, Ian Gillespie.
Roof top garden
"At this moment in history, it's time we question the basic building blocks of our communities."
"We are destroying the environment we depend on, we are spending hours a day commuting, our work environments are uninspiring and unhealthy and so is much of our housing."
"Our initiative in San Jose is part of our commitment to cities and to creating healthier, more sustainable communities within them. We believe this has never been more important and that all of us have a role to play in this endeavor," Ian Gillespie added.
Sunken garden - bottom
"Kengo Kuma's practice is dedicated to making buildings less definitive or solid"
"San Jose presents the opportunity to demonstrate to the world that the solutions to our greatest challenges can be achieved by helping our cities live up to their full potential. Our Park Habitat project marks a starting point in what we hope will become a broader contribution to Silicon Valley as a whole," Ian Gillespie continued.
"At Park Habitat, the intent was clear from the onset. For our first significant project in Silicon Valley I chose Kengo Kuma for a very deliberate reason: Kuma-San has risen to the pinnacle of his profession by blurring the lines between nature and the built environment."
"His practice is dedicated to making buildings less definitive or solid and more ephemeral. In essence, creating a particular condition more than a particular architecture," Gillespie explained.
Sunken garden - top
The project is described as a living structure, incorporating deep sustainability and natural elements with workspace, public realm space and cultural programming.
The project is aimed to "breathe" with an outsized vertical courtyard, called the Green Lung, which will provide natural ventilation and cooling.
Aerial - north view at night
Other natural design elements include pockets gardens, a rooftop forest and a unique vegetative façade giving life to the building, while providing access to nature and the outdoors to occupants.
Construction on Park Habitat has commenced, and the project is set to be completed in 2025. Adamson Associates Architects will serve as the executive architect on the project.
All renderings by Kengo Kuma and Associates, courtesy of Westbank unless otherwise stated.
> via Westbank