One Fine Day Studio & Partners designs pet store addressing to space age
Chinese design studio One Fine Day Studio & Partners has designed a pet store that combines the elements of space age in the core area of Guangzhou, Gaode Mansion is adjacent to K11 Art Mall and International Financial Centre, China, as well as are renowned cultural venues such as Guangdong Museum and Guangzhou Opera House.
An ark built in the city for you to wander in a dream. However vast the darkness, we must supply our own light. — Stanley Kubrick. Driven by young consumers, China's pet industry has been booming and thriving in recent years.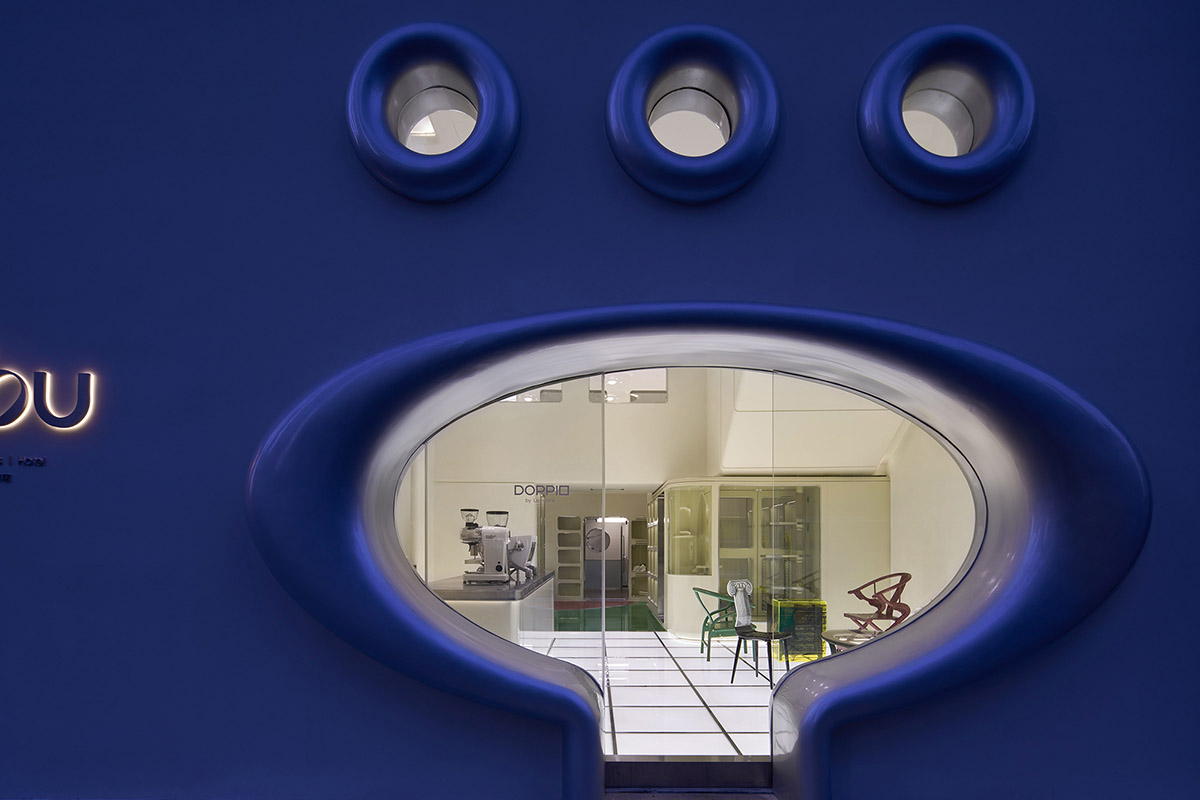 Claw-shaped cafe entrance on ground floor
Especially in the time of pandemic, the emotional value of pets has been increasingly recognized. On the other hand, the Millennial and Gen Z, who are leading today's consumer trends, are more individuality-oriented and leaning into bricks-and-mortar shops which could represent their cultural identity. Both paved a strong demand for pet boutiques.
BIBU pet store, a new project of One Fine Day Studio & Partners (refer to as ofD), is set within a high-end condo Gaode Mansion. Located in the core area of Guangzhou, Gaode Mansion is adjacent to K11 Art Mall and International Financial Centre, as well as renowned cultural venues such as Guangdong Museum and Guangzhou Opera House.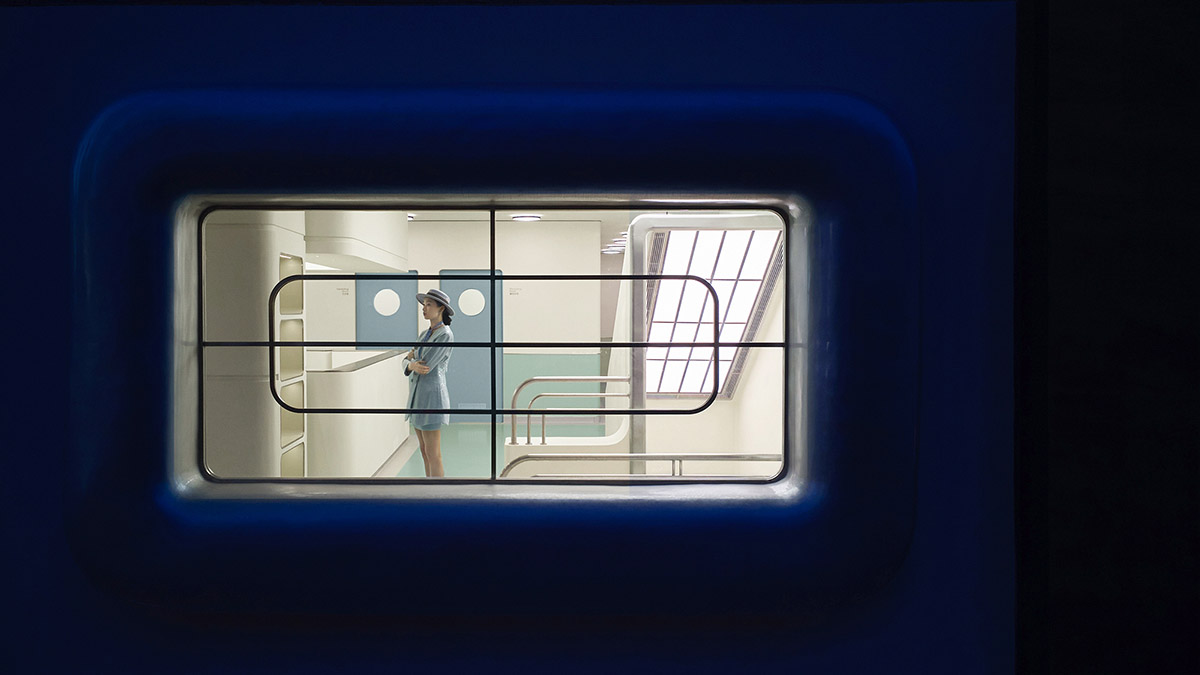 Second-floor external facade, a story within a window
Respecting the celebrated community which gathers commercial, living, fashion and cultural landmarks, the primary challenge for ofD is to highlight the uniqueness and aesthetic of BIBU, while also meet its functional demands of space.
Pet products retail area on the ground floor
An Ark
ofD intended to create a "groundbreaking" pet space. The aim was not only to make a striking contrast with previous functionalism confined design approaches for pet shops, but also to inform our considerations on current issues through spatial expression: post-pandemic world, zero-sum race, Tiangong space station, SpaceX… The road ahead of us is fogged with uncertainties. ofD hopes to look beyond current time and space spectrum, and connects with the past through a retrospect of the Space Age, to seek new hopes for the future.
Pet products retail area on the ground floor
Introducing "Space Age" as the design motif, ofD deployed "Ark" — a symbolic spatial structure concept to plan internal layout. Within its two-storey structure and 600-square-meter volume, ofD carefully divided the venue into multiple zones for pet food and supplies retail, boarding and caring, training and vet clinic, all based on functional purposes and spatial logic of each space.
More than being a full-equipped pet service center, BIBU has been slotted with a semi-enclosed cafe DOPPIO on its ground floor. DOPPIO is next to display area where guests could interact with cute pets, and opens for anyone who wants to enjoy coffee and play with their cats or dogs. The idea is to connect "Pet" with "Ark" notion for expanding BIBU into a "P+ark" by transforming parts of its private commercial area into a community platform for more interpersonal communication.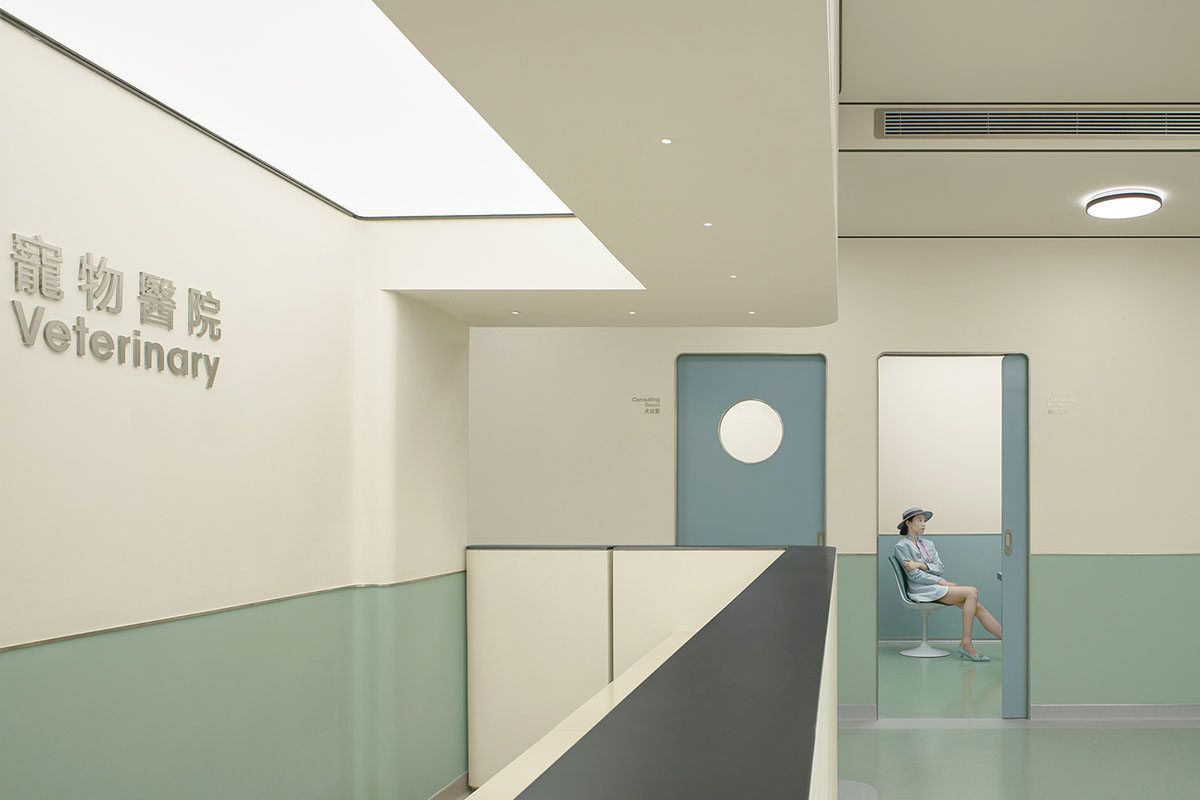 An Odyssey
Consumption space should enchant guests with a rich and inviting journey. This is a design essence for ofD. Walk into BIBU, perceptible design details and subtle story lines reveal that a time and space odyssey will be unfolded inside.
The sci-fi classic "2001: A Space Odyssey" is the main inspiration for ofD to set a theatrical atmosphere for the venue. Some visual elements serve as conjunctions to the spatial narrative. For instance, LED lights with a nod to the iconic glowing floor in the film, stretch out from the first floor, sprawl through the stairway, and finally reach the ceiling on the top floor, linking the entire venue. Meanwhile, ofD also explored the masterpiece's spatial aesthetic: colliding and melding of classic and modern, using reinterpreted vintage tables and chairs as insertions — which may leave people with a chaotic space-time impression — to create a poetic setting.
Pet and coffee, modern urban social companion
If "the curved line belongs to God", the precept matches with people's imagination of the future in the Space Age as well. Arcs and circular forms are symbols of the universe. Architecture on earth could be also free from constraints of frames, evolving into irregular and curved shapes.
Pet and coffee, modern urban social companion
Hence, ofD deployed monolithic dome lights to symbolize interstellar orbits. A spiral staircase, which is a blend of brutalist style and symmetrical aesthetics, anchors the focal point of the atrium.
In regards of details, ofD avoided visual-oppressive sharp corners, instead drawing upon ergonomically rounded corners and anti-collision soft convex surfaces. Naturally, those designs are also pet-friendly.
Details - porthole, saucer-shaped lighting, ladder
An Ode
Before space exploration in the 20th century achieving a "small step", the butterfly effect deriving from it had already triggered continual movements in culture.
Retrofuturism is one of those aesthetic movements flourished in the Space Age. Defining the style of the venue as "looking back to see how yesterday viewed tomorrow", ofD sought to reimagine the aesthetic looks of that period.
Details - porthole, saucer-shaped lighting, ladder
Basic tone of the site is defined by color. Various bright and dark hues weave into a rhythmic trio, imbuing the venue in a nostalgic mood. On the first floor, herringbone tile floor syncing with multi-layered forest green, renders a classic atmosphere resembling European upmarket department stores. Moving upward, there is the eggshell white mezzanine consisting of a hallway and meeting rooms. While a touch of grey-tone-blue has been added in the second floor to fit with the quietness and cleanliness that a pet hospital requests.
Metallic lines in matte texture serve as a dynamic bond that brings all spaces together, outlining futuristic frame of the venue. And spaces are accessorized by arranged square compartments, slim leg tables and the tulip chairs which are often featured in sci-fi films. Those minimalistic and streamlined forms, which fascinated mid-century designers, have been captured by ofD, being combined with functional purposes and integrating into each area.
Advanced by pioneering imagination, the Space Age aesthetic holds a timeless appealing. Through the BIBU project, ofD has brought a mixed space-time "ark" into reality and a brand new vision of pet commercial space to fruition. Juxtaposing old and new, past and future, BIBU is designed as a sustainable container which could store memories and good times for visitors.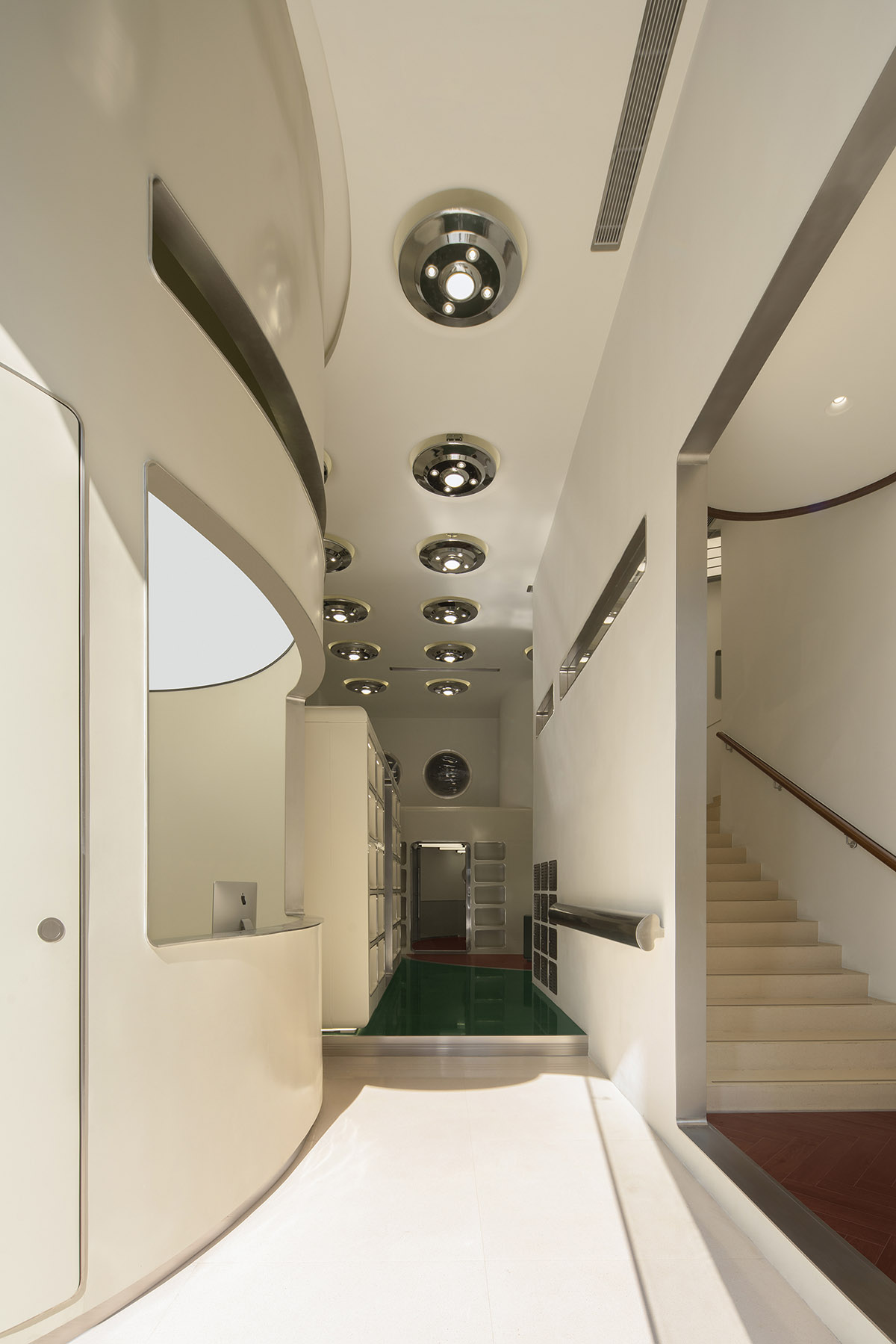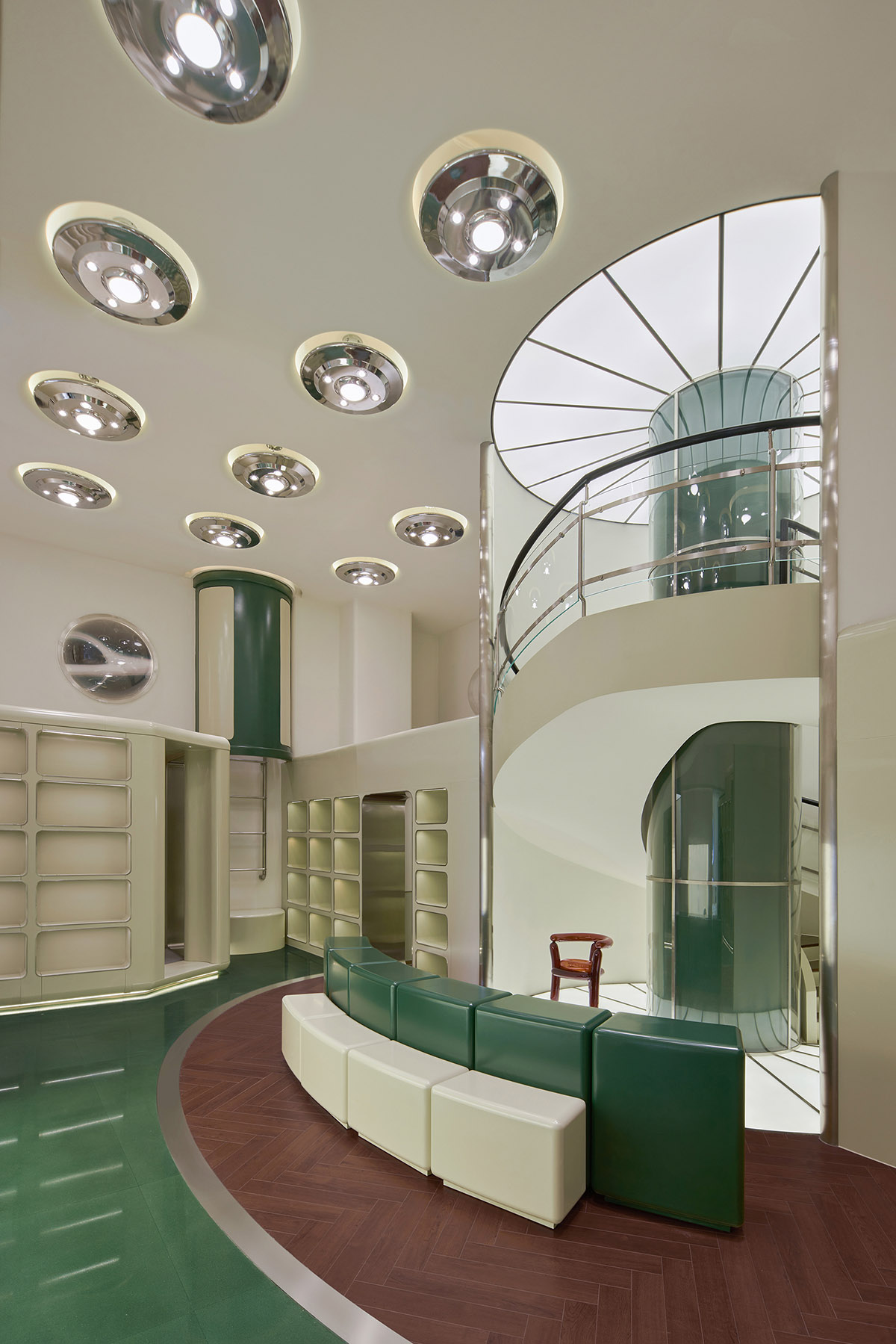 An eye-catching spiral staircase in the atrium
Monolithic dome light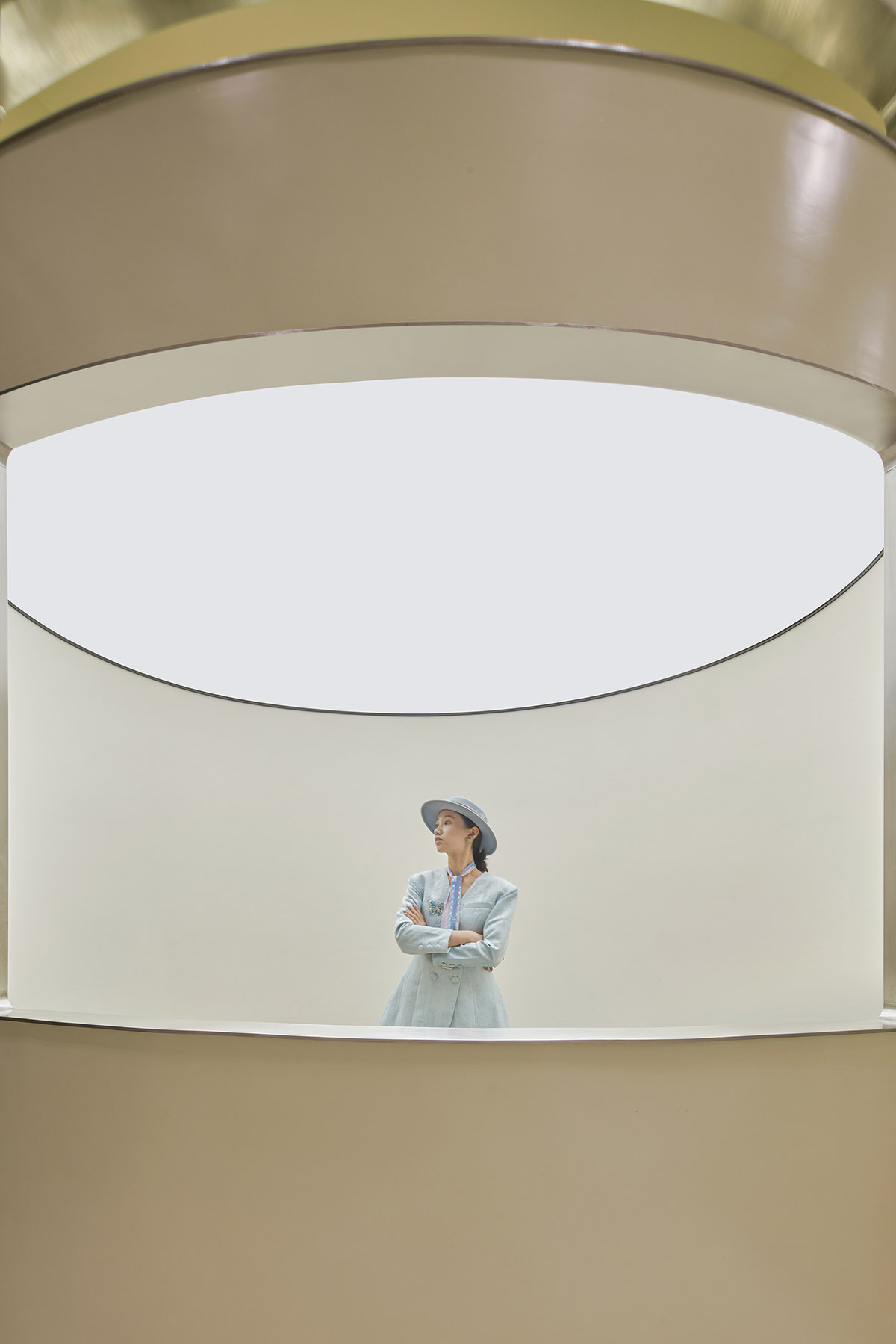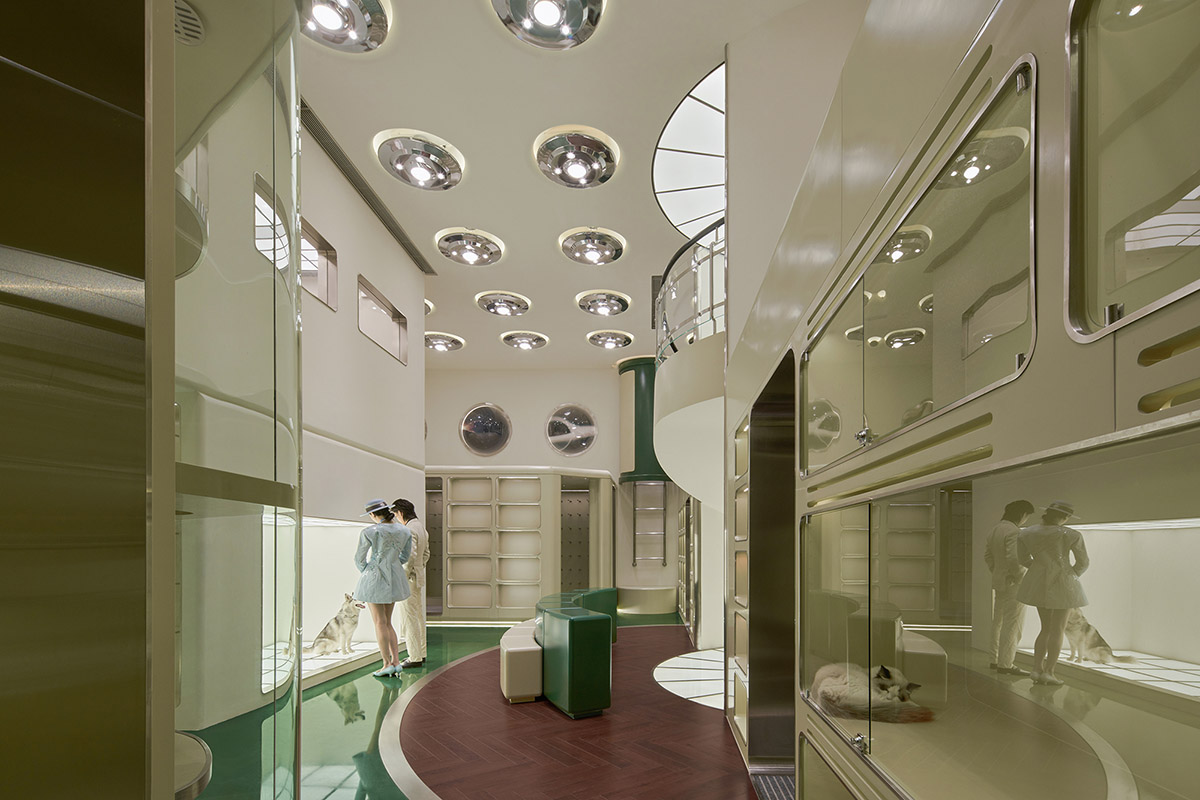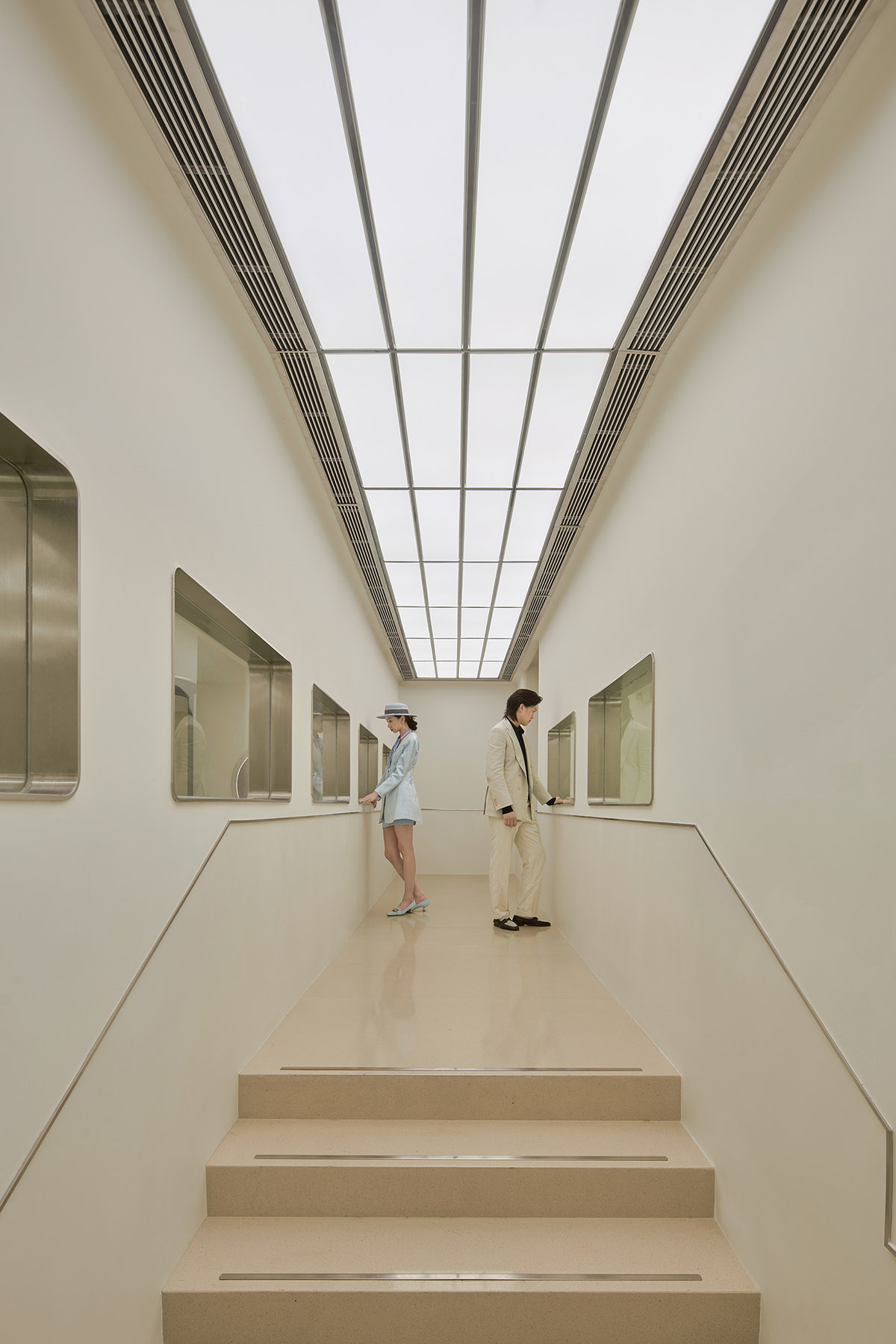 Custom compartments and shelving in caring and retail area
Custom compartments and shelving in caring and retail area
First floor plan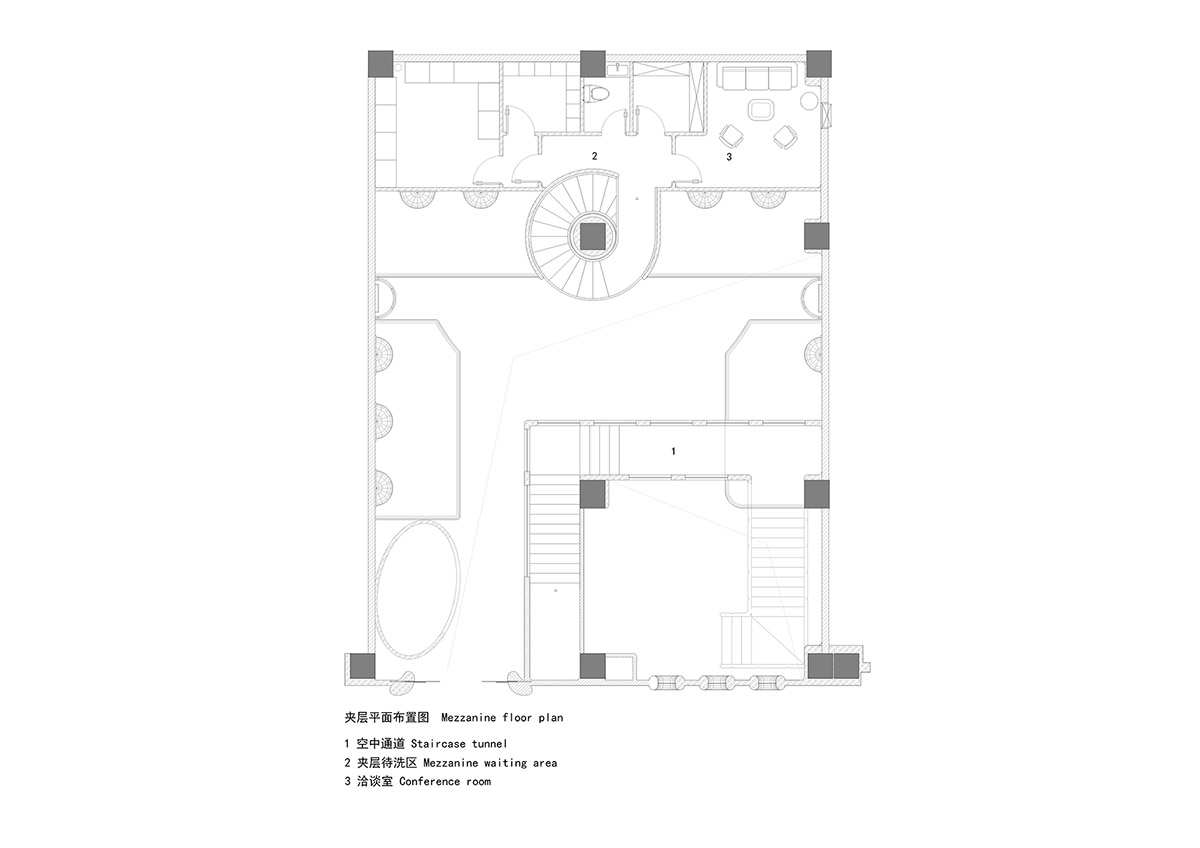 Mezzanine floor plan
Second floor plan
Project facts
Project: BIBU Pet Store
Location: Ground Floor Gaode Mansion, No.53 Huacheng Road, Guangzhou, China
Year: 2021
Area: 630 Square Meters
Architects: One Fine Day Studio & Partners
Lead Architect: Jump LEE
Design Team: Chun-jie HE, Yong-jie LAO
All images © yuuuunstudio
All drawings © One Fine Day Studio & Partners