Heatherwick Studio designs undulating plant-shaped pier to revive Seoul's waterfront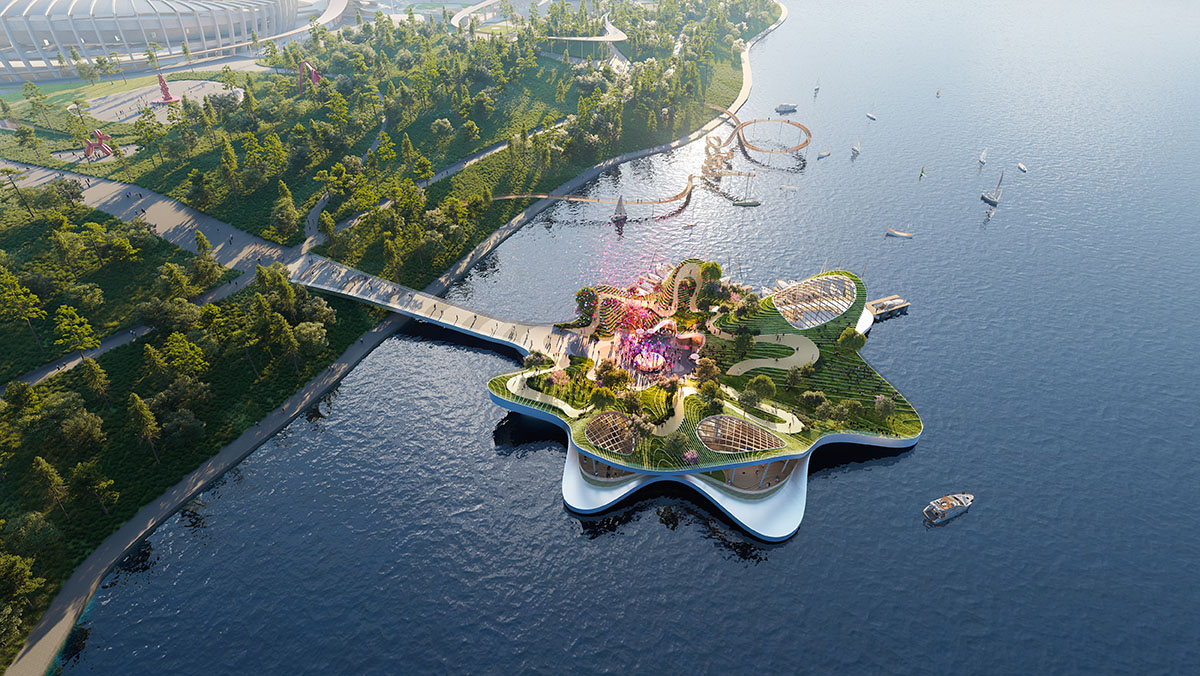 An undulating, plant-shaped pier designed by Heatherwick Studio will connect the Han River to the waterfront near Seoul's iconic Olympic stadium in South Korea.
Called The Leaf, the project is developed as part of rejuvenation plans by the Seoul Metropolitan Government to create a new sports and cultural district for the city.
Heatherwick Studio's scheme is envisioned as a dynamic open and public space on the waterfront to promote "ideas of community spirit, activity, equality, play and togetherness."
The new plans include redevelopment plans of the city's iconic Jamsil Sports–MICE Complex which is set to be renovated by a consortium, led by Hanwha Group, HDC Group, and Hana Financial Investment, and also featuring design firms Benoy, Populous, dA Architecture Group and NOW Architects.
"This to be a refreshing and dynamic new civic space where people come to laugh, explore and connect"
The Leaf is a flowing, multi-level pier with undulating and dynamic surfaces that rise and fall to create a walkable roofscape. The structure features winding trails meandering across, around and above-water gardens, play areas, observation points, a flexible event space and auditorium. A marina is planned to be built alongside the structure for water taxis and leisure craft.
With its intriguing form under the roof, a flexible event space and auditorium will be placed under the roof.
"At the heart of our project is the idea of playful togetherness," said Stuart Wood, Partner and Group Leader at Heatherwick Studio.
"We want this to be a refreshing and dynamic new civic space for the city of Seoul where people come to laugh, explore and connect. Somewhere joyful and restorative for everyone," Wood added.

Heatherwick Studio previously completed Little Island, a 2.4-acre urban park and performance venue situated above the Hudson River in New York, which opened to the public in 2021.
In 2020, the studio proposed The Cove – a conceptual vision for San Francisco's Piers 30-32, incorporating a new waterfront ecological park and community hub.
All images © Devisual
> via Heatherwick Studio