Five architects design aggressively five facades of a parking garage in Miami's Design District
Five façades of simple car-parking garage have been "aggressively" elaborated by five architects in Miami's Design District, including WORKac, Nicolas Buffe, Clavel Arquitectos, K/R Architects and Jürgen Mayer.
After more than a two-year of planning and construction period, the seven-story garage has been opened to use to attract people's attention directly from the street with its varied, colourful, vivid and bursting façade design.
Titled Museum Garage, the building was designed to accommodate 800 cars and different façade sections of the building attribute different meanings to the building.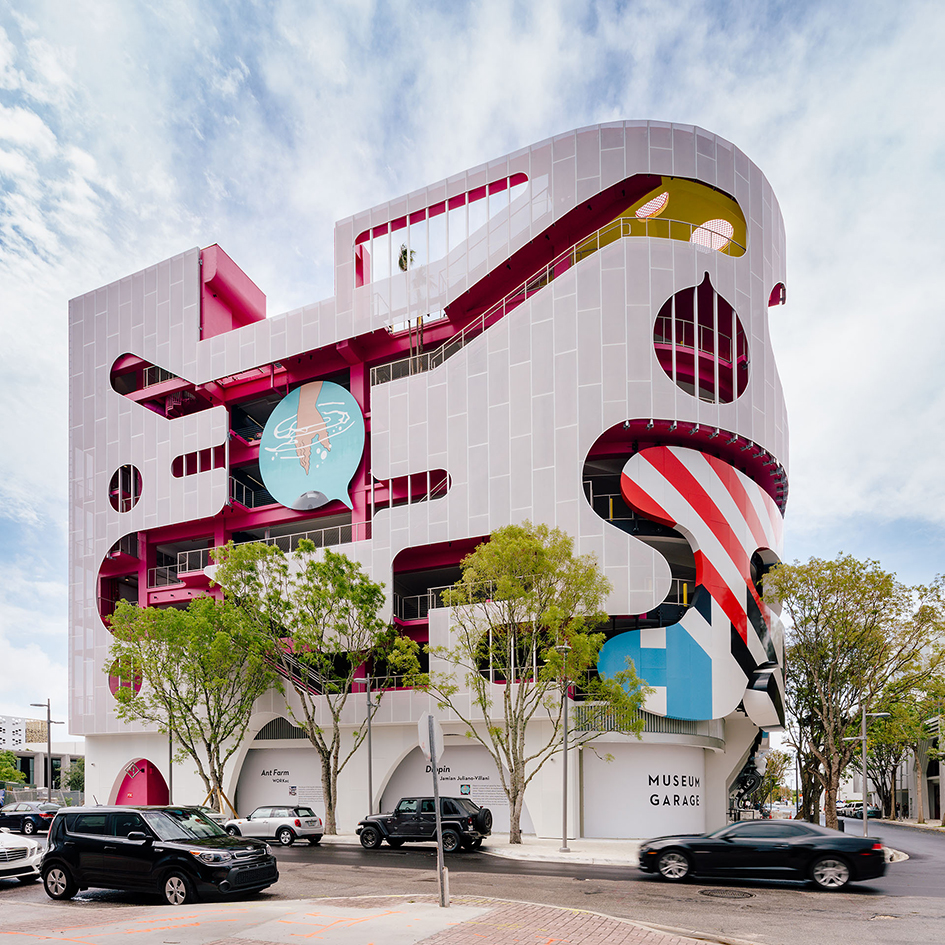 Craig Robins, the CEO of Dacra Development and the visionary behind the Design District, an art, fashion, and architectural playground near Downtown Miami, hired Terence Riley, a former chief curator of architecture and design at MoMA, to oversee the project.
At first, Riley was quite inspired by an old parlor game invented by the Surrealists in the 1920s, according to the game, called Cadavre Exquis, or Exquisite Corpse, one artist draws something on a piece of paper, folds it back, and then passes it on to the next but none of the artists know what the prior has done, nor do they know what the next in the circle will do.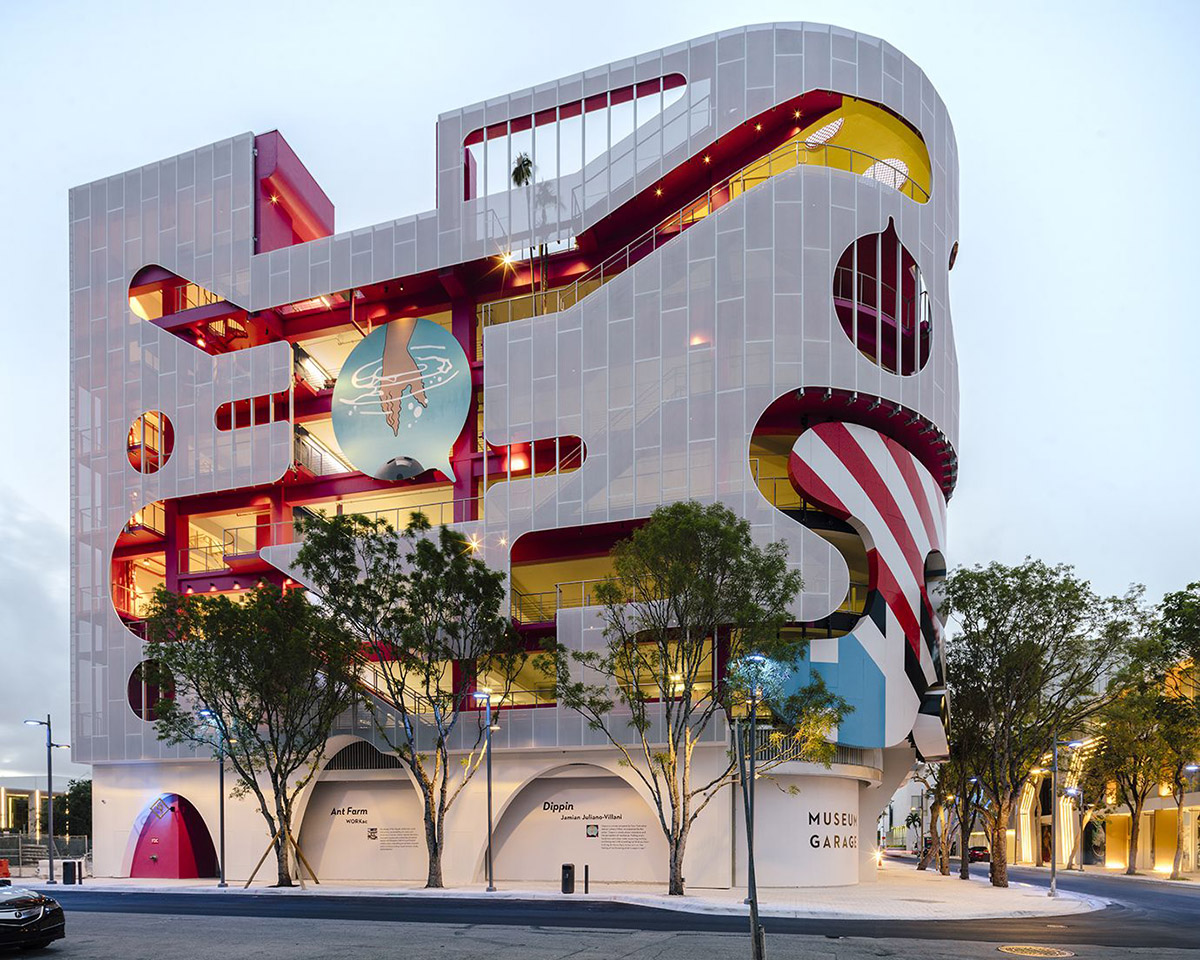 Following the commission, Riley invited four different architects, including his own firm K/R, to create their individual portions on the building, without allowing to anyone to know their designs in the whole building or even who their work would be placed next to.
The result, for the building, was quite paintful and attractive to be inviting to everyone and five architecture studios reflected their approach with varied vertical landscapes.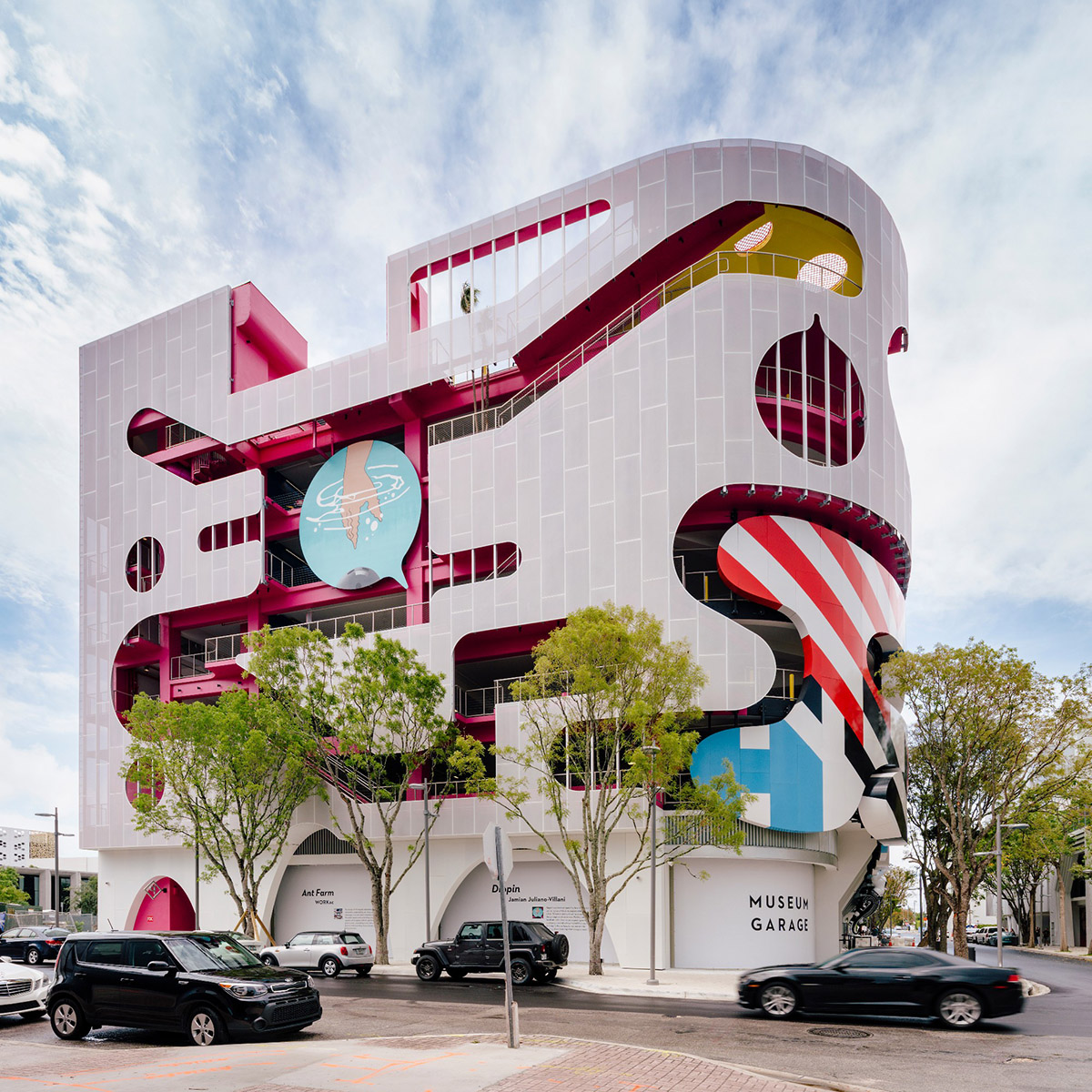 New-York based firm WORKac designed "a vast vertical field of public space", by exploring what was a very thin site for architecture and proposed a very deep programmatic exploration. Instead of a purely aesthetic intervention, WORKac converted their section into a vertical ground plane meant to be experienced from within – broadcasting this vitality and diversity of activities to the street. Their work is called "Ant Farm."
"As a result, the everyday reality of parking a car or walking past a parking structure becomes an opportunity for an unexpected celebration of social interaction, sustainability, art, music, and landscape," said WORKac.
Clavel Arquitectos created an Urban Jam by using 45 metallic cars on the building's facade to transform it into a vertical traffic jam. Clavel takes cues from the mind-bending Christopher Nolan movie Inception and explains his desire "to make a bad commute more bearable by turning a driver's final destination, the garage, into a happier place."
K/R's striped "Barricades" are made of mirrored stainless steel and concrete planters. The façade features painted aluminum extrusions. The design is inspired by orange- and white-striped traffic barriers that are ever present in Miami. The façade has fifteen "windows" framed in mirror stainless steel, through which concrete planters pop out above the sidewalk.
Nicolas Buffe's work called "Serious Play" offers the actual entrance and exit to the parking garage this facade features a variety of diverse 2D and 3D elements crafted from laser-cut metals and fiber resin plastic.
J.Mayer.H. created "XOX, which means "Hugs and Kisses", a gigantic interlocking puzzle pieces nestle at the corner with the forms of WORKac's façade.
"XOX's enigmatic forms, emblazoned with stripes and bright colors, recall the aerodynamic forms of automotive design and appear to float above the sidewalk below. Smaller volumes, covered in metal screens project outward and are activated with embedded light at night," said the architect.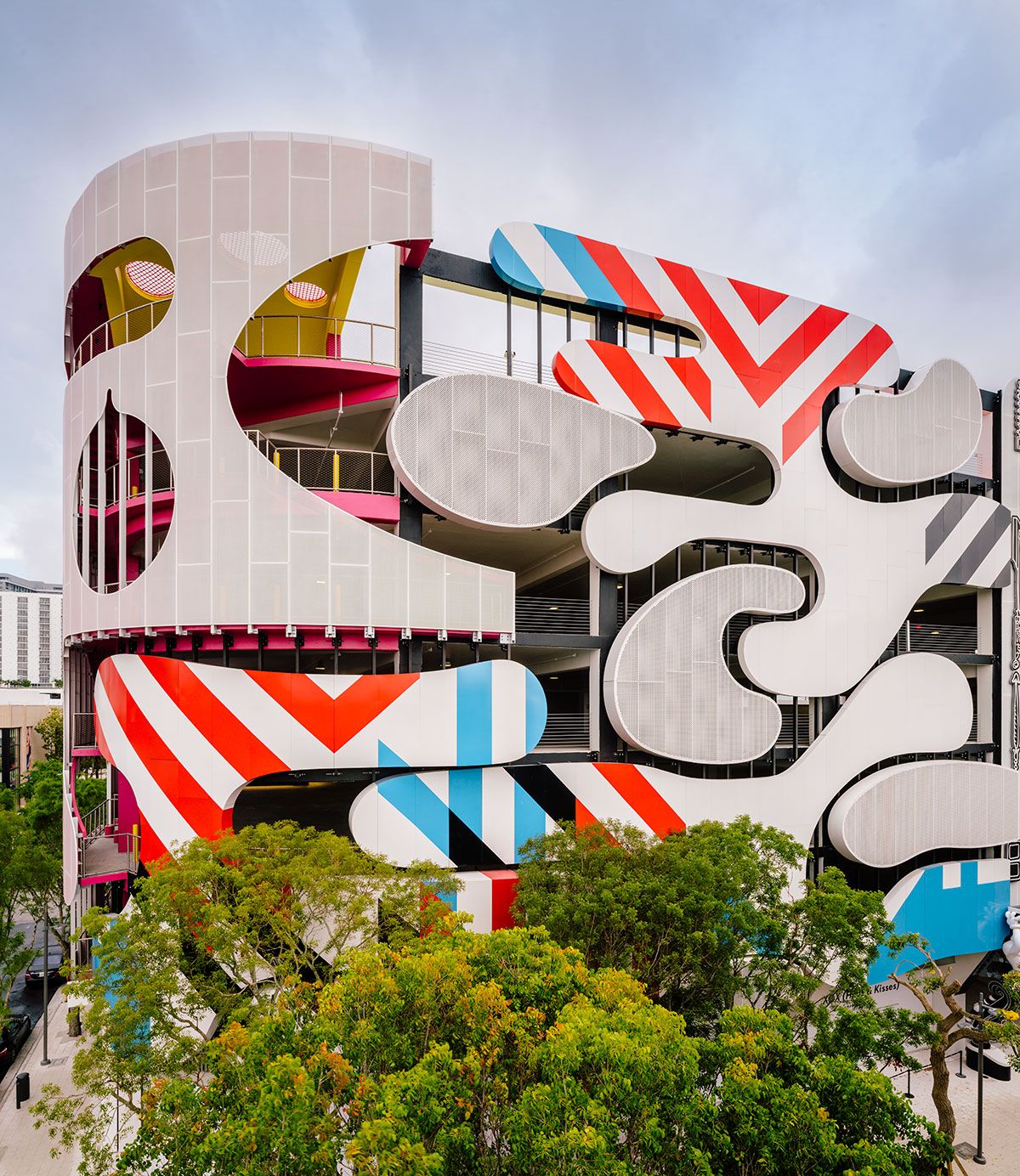 "Call it the most beautiful form of multple personalities, Museum Garage's five different facades fits perfectly into the neighborhood and each has custom lighting to enhance its uniqueness under the night sky," stated in a press release by Miami Design District.
Museum Garage will not only serve as a parking structure, but the mixed-use space will welcome more retailers to the District. Parking at Museum Garage starts at $3.00 for every 4 hours and will open to the public in the next few weeks.
All images © Miguel de Guzman
> via Miami Design District