Johnny Miller documents "social inequalities" with drone photos from the air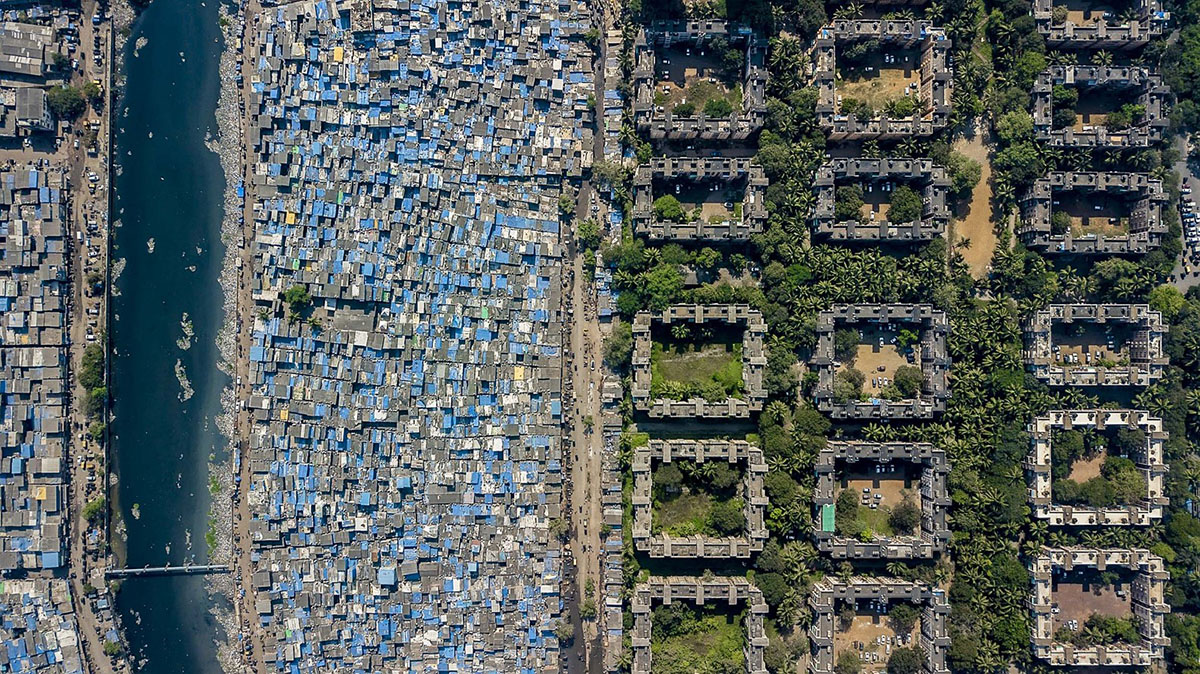 Photographer Johnny Miller has documented social inequalities with a series of drone photographs from the air, showing how unnoticed daily realities are reflected onto spatial urban segregation that makes these communities more visible through infrastructure.
Miller's website, called "Unequal Scenes", presents a multi-layered infrastructural segregation across the world, starting from Johannesburg, South Africa, where he started his project by capturing the scars of apartheid.
"Discrepancies in how people live are sometimes hard to see from the ground. The beauty of being able to fly is to see things from a new perspective - to see things as they really are," said Johnny Miller in his website.
"Looking straight down from a height of several hundred meters, incredible scenes of inequality emerge. Some communities have been expressly designed with separation in mind, and some have grown more or less organically."
A gated housing estate in the Ixtapalapa neighborhood sits next to a classic concrete low-income area.
"Mexico City is a bustling, enormous, modern city, one of the largest in the world. Triple-decker highways and gigantic tunnels bore through the mountainous terrain. Towering skyscrapers, enormous cathedrals and one of the world's largest squares sit impressively atop a gigantic drained lake. Everywhere there are signs of the Aztec empire which came before - in the street names, the festivals, the food, and the eyes and skin of the population. It is truly one of the most fascinating cities I've ever been to."
In Santa Fe, land is at such a premium that developers have begun to carve out housing estates from the surrounding slum areas.
"Mexico is also one of the most unequal countries in the world. At one point, the world's wealthiest man was a Mexican. The wealthiest 1% of the population earns 21% of the nation's total income, a percentage higher than any other country in the world. Significantly, much of that wealth is concentrated in just a few multimillionaires. By some measures, the top 4 richest men in Mexico concentrate 9% of the wealth, a staggering amount in a country this large."
Extreme wealth inequality in Mexico City's Santa Fe neighborhood.
Recently expanding his routes to other cities like the United States, Mexico, Tanzania, Kenya, and India, Miller continues his documentary to reveal morphological differences, which are specific to their contexts, to enhance social-political dimensions and new urban policies.
In the area of La Malinche, the barrio meets the wealthy areas next door. This private school offers tennis, basketball, and a well maintained pool, whereas next door the barrio only has a misshapen soccer pitch.
"During apartheid, segregation of urban spaces was instituted as policy. Roads, rivers, "buffer zones" of empty land, and other barriers were constructed and modified to keep people separate," Miller continued.
"22 years after the end of apartheid, many of these barriers, and the inequalities they have engendered, still exist. Oftentimes, communities of extreme wealth and privilege will exist just meters from squalid conditions and shack dwellings."
The exceedingly sharp contrast between single-story slums and developed areas is stark.
"Simply put, Mumbai is...fascinating."
"It's built on a slender, impossibly crowded peninsula surrounded on three sides by water. It contains the heart of India's most powerful industries, and some of its poorest slums - it's an urban jungle, a vertical aerie for the superrich, and a fragile marine ecosystem. Billion-dollar houses in the form of skyscrapers exist next to vast slums covered in blue tarps against the monsoon rains."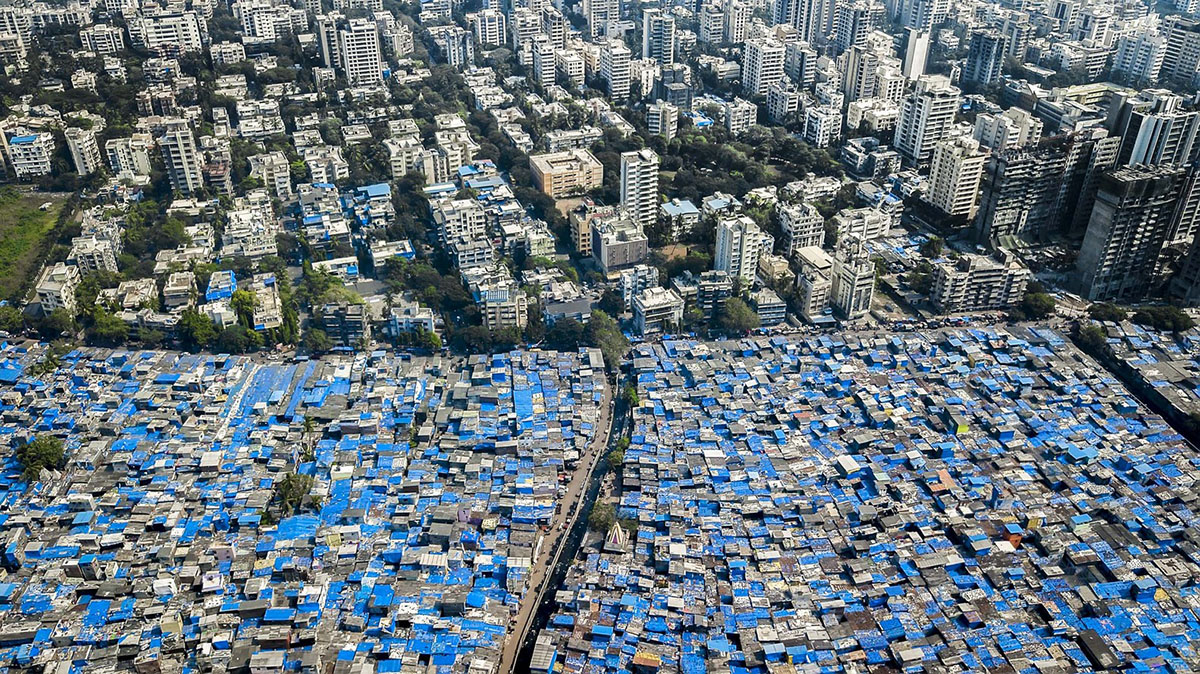 Mumbai, India in 3D
"My desire with this project is to portray the most Unequal Scenes in South Africa as objectively as possible. By providing a new perspective on an old problem, I hope to provoke a dialogue which can begin to address the issues of inequality and disenfranchisement in a constructive and peaceful way," he added.
Slums line a branch of the Mithi River near the National Stock Exchange.
"Informal recyclers in Dharavi exist within sight of the National Stock Exchange, traditional fishermen moor their boats in the shadows of skyscrapers in Worli, and leopards prowl the Sanjay Ghandi National Park on the city's northern flank. In short, it's a city of contradictions," added Miller.
Kya Sands, Johannesburg, South Africa
"The story of Kya Sands is a story of ash, smoke, and broken promises. Search for the informal settlement on Google and you will find many articles relating to fires; including one that burned over 200 shacks in November 2015. Search a little more and you will find a list of protests and claims that formal housing that was promised but never forthcoming. A little bit more, and you'll find accounts of the army being mobilized after xenophobic violence erupted."
Johannesburg, South Africa in 3D
Johannesburg, South Africa
"Across the street, among leafy trees, shady street corners and swimming pools, you find the middle-class suburb of Bloubosrand. A quick search on Property24 shows that many houses are worth over 1 million rand. Across the street, tin shacks with car tires on their roof extend into the distance. If you look even closer, the main thoroughfares in Kya Sands are actually drainages for the black, filthy water emanating from the nearby creek."
These barriers, whether concrete or imaginary, represent an entire class separation, one that may not be surmounted for generations to come.
"The Unequal Scenes I have found in Nairobi are a mixture of traditional "rich vs. poor" housing images, but also depictions of how infrastructure constrains, divides, and facilitates city growth, almost always at the expense of the poorest classes. During my time there, I focused on a planned road that will bisect Kibera, Nairobi's largest slum."
The Royal Nairobi Golf Club sits directly adjacent to Kibera slum. Twice a day, a passenger train barrels through the slum, less than a meter away from people's homes and businesses. Next door, people play the game surrounded by greenery.
"In Nairobi, a city of chaos, dynamism, and incredible unequal growth, this is even more difficult to portray. Yes, it has easily the poorest urban slums I've ever visited. In Kibera, a hilly community, every drainage is choked with tons of raw sewage and rubbish. Children play on live train tracks, running through the middle of the slum. Government services, aside from electricity, are nonexistent. The houses are made from a mixture of mud, sticks, and tin."
Amazing geometric patterns emerge from the air. "Straight" lines become slightly curved.
"But also, yes, the wealthy parts of Nairobi are more difficult to see. They are hidden behind gated communities, ensconced in shopping malls, or wrapped in dingy-looking apartment buildings. Moreover, researching these inequalities is made difficult by the lack of searchable data sets, a draconian drone flying environment, and Nairobi's infamous traffic problems," added Miller.
Papwa Sewgolum Golf Course, Durban, South Africa
"Papwa Sewgolum Golf Course is located along the lush green slopes of the Umgeni River in Durban. Almost unbelievably, a sprawling informal settlement exists just meters from the tee for the 6 hole. A low-slung concrete fence separates the tin shacks from the carefully manicured fairways."
You can see more countries on Johnny Miller's website.
Top image: The area surrounding the Bandra Kurla complex is a mixture of extreme wealth and extreme poverty, including the consulate generals of several countries, corporate headquarters, and the National Stock Exchange.
> via Unequal Scenes