BIG's new Produce Center Complex raised on thin stilts on an industrial area in Miami
BIG's new plans for a Miami Produce Center complex raised on thin stilts have been released. BIG teams up with Miami Beach developer Robert Wennett for this mega mixed-use project in the city's Allapattah neighborhood, first reported by The Real Deal.
The jenga-like complex will include residential units, office, hotel, retail, educational space and parking spaces, according to a Special Area Plan recently filed to the City of Miami.
The eight-building complex will cover an 8.54-acre (34,560-square-metre) block at 12th Avenue and 21st Street and all of which was purchased for a grand total of $16 million by the Miami Produce Center LLC in 2016, according to Property Records.
In recent years, Wennett's LLC purchased old buildings and some warehouses by $20.6 million in the industrial area, where is situated in west of Wynwood and east of Miami International Airport. Currently, the area has attracted investors like Wennett, the Rubell family, Michael Simkins and Lyle Stern.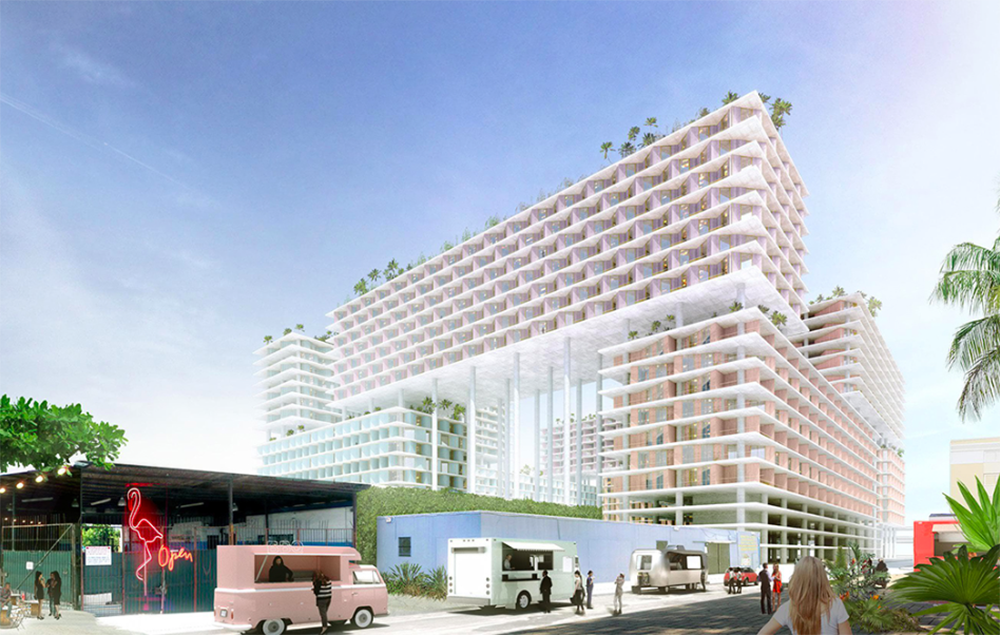 BIG's new design scheme is composed of eight buildings that are connected to each other horizontally and raised on thin stilts to protect industrial area underneath and propose a multi-leveled landscape. The area allows to design buildings up to 48 stories with bonuses, 1,237 residential units and nearly 1,500 parking spaces.
The initial renderings show that the jenga-like development will be rising up to 19 stories with about 1,200 residential units and 1,149 parking spaces. In order to differentiate the blocks from each perspective, BIG adds much colorful units in between these thin floor slabs and triangular-shaped balconies will make the blocks make visible and perceptible from bottom-to-up.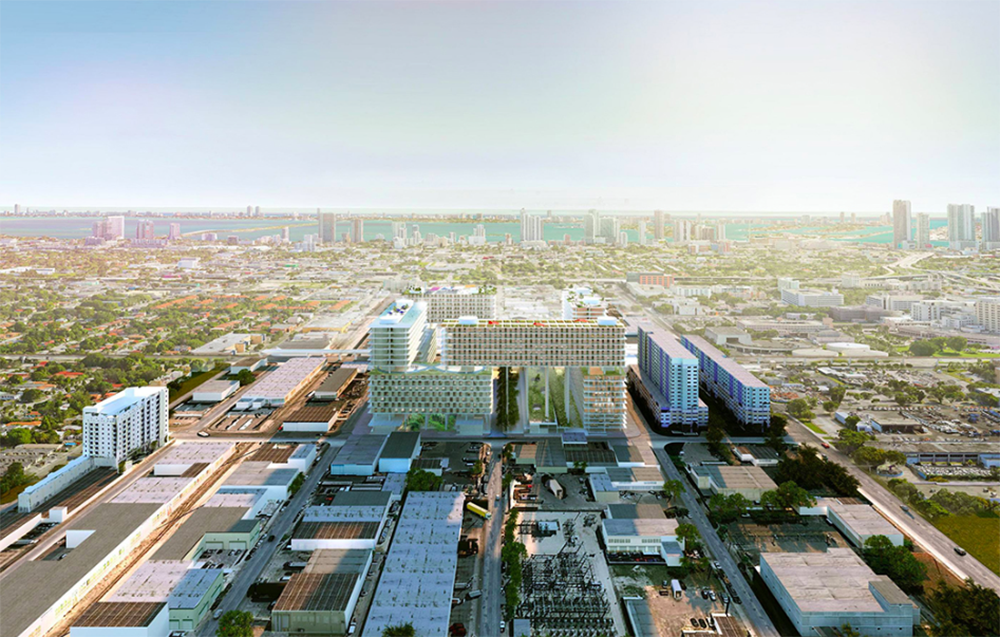 On the other hand, BIG's Miami Produce Center shows some similarities to the new "Horizontal Skyscrapers" of Herzog & de Meuron proposed for Moscow's Historic Brewery.
The buildings will include 860,000 square feet of residential space, 231,000 square feet of office, about 114,000 square feet of hotel, a 76,000-square-foot school and nearly 75,000 square feet of retail space.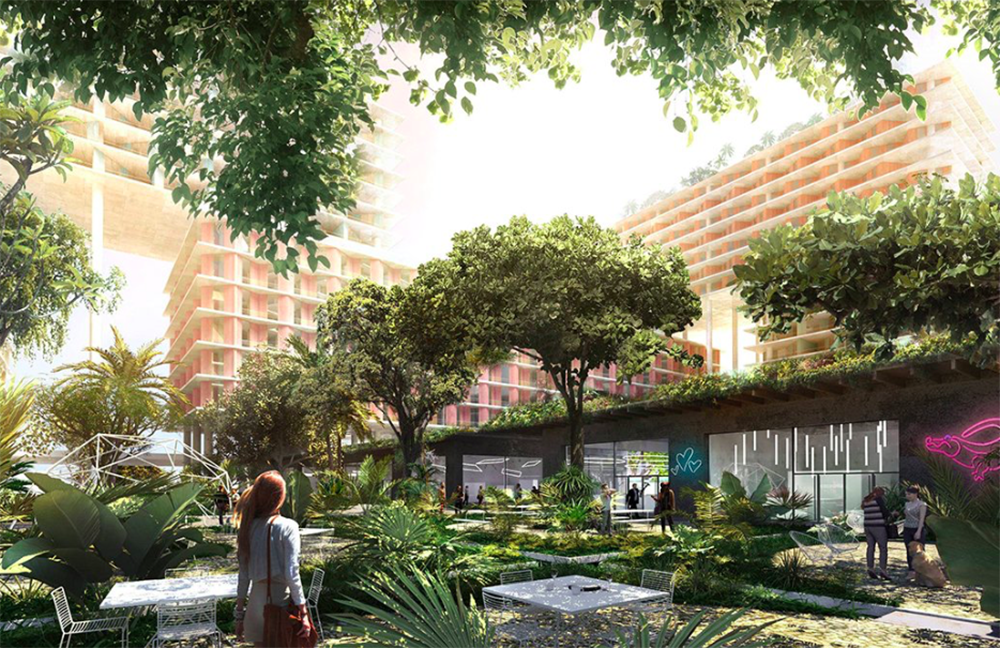 In total, the project is expected to cover a 1.36 million-square-feet (126,348 square meters) with ground floor retail units and a school components.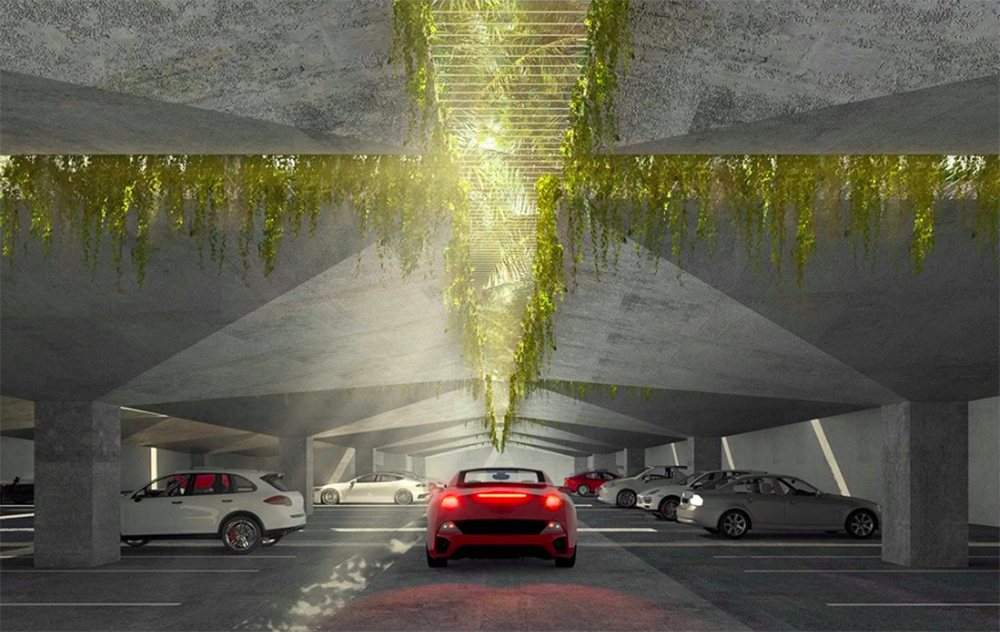 Robert Wennett is best-known for his 1111 Lincoln Road, an award-winning, mixed-use garage designed by Herzog & de Meuron Architects. Wennett sold the building about a year ago to German investment fund Bayerische Versorgungskammer for $283 million.
BIG's other twin Miami Towers, called Grove, is located at Grand Bay in Coconut Grove. The towers rise up to 20 stories over Biscayne Bay and twist to optimize panoramic views from its 96 residences.
All images courtesy of The Real Deal
> via The Real Deal