Richard England on the 2018 Venice Architecture Biennale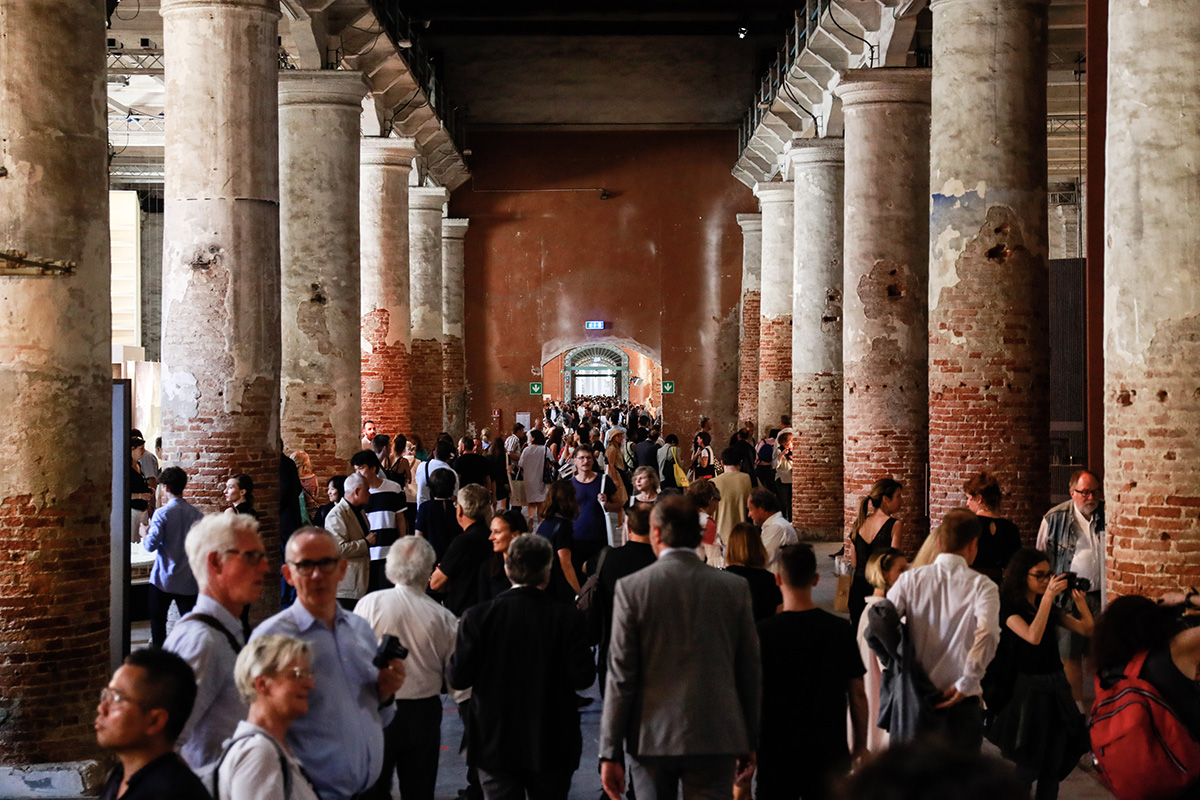 Maltese architect, writer, artist, academic and Honorary Member of World Architecture Community Richard England, reviews the 2018 Venice Architecture Biennale with in-depth observations and analyses, ranging from pavilions at the Giardini to some specific installations at the Arsenale. The 2018 Venice Architecture Biennale is curated by Yvonne Farrell and Shelley McNamara of Grafton Architects under the theme of "Freespace". The exhibition can still be visited until November 25, 2018 in Venice.
---
Text by Prof. Richard England
The 16th Venice Architecture Biennale was inaugurated on the 24thand 25thof May 2018. This year's edition was curated by Irish architects Yvonne Farrell and Shelly Mc Namara (Grafton Architects) on the nebulous and not easily definable theme of 'FREESPACE'. The water-city of Venice offers one of the world's most splendid architectural panoramas with superb edifices such as Santa Maria della Salute, San Giorgio Maggiore, St Mark and its splendid "drawing room of Europe" square, the Doge's Palace, the Ca d'Oro, and the endless array of water fronted palazzi. In this city of mirages and aqueous dreams, it is a hard act for contemporary architecture to hold its own. Yet despite the complexity of adhering to the chosen theme, there are examples in the various pavilions, if perhaps not many, which, bearing in mind that architecture these days tends to be more alienating rather than friendly, still demonstrate that architecture can, in some instances, measure positively against historical masterpieces.
A five-day arduous tour of the Biennale venues, in sweltering heat, in overcrowded vaporettos, constantly accosted by swarming iPhone hooked tourists, did yield some soul-lifting architectural experiences. In the Giardini the outstanding exhibit was the interior of the Swiss pavilion (Bosshard, Tavor, Van der Ploeg and Vihervaara) providing a superb interactive haptic joy-ride. One has to stretch, squeeze and contort oneself in a false-scale, Alice-in-Wonderland, surreal, mind-boggling labyrinth as if to prove once again how mood manipulative architectural space can be. This ubiquitous warren-like structure was justly awarded the Golden Lion for the best Biennale pavilion. At the central pavilion of the Giardini, the outstanding exhibit was undoubtedly that of master architect Peter Zumthor; a workshop presentation, with an array of superbly crafted models revealing the process of making in the hands of a true master. Especially stunning are the styrofoam, charcoal and clay model of the architect's Zinc-Mine museum in Norway and the delicate sand and wax model of his Tea Chapel project in South Korea. Fascinating to see real architecture in the making in contrast to the Biennale's perhaps too many ephemeral installations and video projections.
"I was particularly struck by the Argentinian pavilion which of all the exhibits managed perhaps best to reflect the Biennale's theme"
In the Arsenale I was particularly struck by the Argentinian pavilion which of all the exhibits managed perhaps best to reflect the Biennale's theme. A vast planted earth-platform carried by mirrors into infinity evokes the endless pampas of the country. The exhibit is externally surrounded by a vast collection of freehand sketches as if to emphasise that despite advanced information technology, the bridge between mind and paper is still best crossed by the hand. The exhibit is a timely reminder to ensure that the mouse does not kill the pencil.
The Indonesian intervention entitled "The Poetics of Emptiness" by architect Ary Indrayanto, with its cascading undulating synthetic fibre sails, is a strong manifestation attempting to prove that "emptiness is also something"; also a fascinating and interactive exhibit. Equally impressive is Eliza Hoxha's Kosovo pavilion, despite its strong ethnic political overtones. The space, surrounded by mirrors, creates the effect of endlessness, perhaps as a metaphor for Kosovo's now attained political and psychological freedom. In the Corderie-Artiglierie, African architect Paul Rich's drawings is a must visit for all architectural students to remind them of the beauty, fluidity and importance of freehand drawing.
Niall Mc Laughlin's mechanical installation, a timber hand-operated sundial almost reads as a contemporary Leonardo da Vinci machine. Also impressive are his featured beautiful architectural models. O'Donnell + Tuomey's "Folding Landscape" provides a wonderful interactional walk-through with two excellent and exquisitely rendered projects. Matharoo's steel-house stands out, as also does Weiss & Manfredi's curvilinear pavilion with models, both of the firm's work and a selection of iconic 20th century buildings.
At Palazzo Mora, in a vast array of exhibits by architects invited by the European Cultural Centre, what stands out are the super models of a number of SOM towers beautifully crafted; perhaps even better than the completed buildings. Also of interest (opposite my own exhibit) is the Argos Hotel in Cappadocia; a valid lesson in sensitive restoration and reuse of old buildings.
However, the outstanding exhibit of the whole Biennale is surely that presented by the Holy See; consisting of ten chapels located in the gardens of the Isola di San Giorgio. This is the first time that the Church, as history's most powerful patron, has participated in the Biennale and as Norman Foster has commented "it is exactly what architecture needs". Nestled between the trees behind Palladio's superb Basilica, curator Francesco Dal Co commissioned ten architects to tackle the task of bringing edifices of sacrality into the 21stcentury, not all well-known and in reality a strange choice in view of the fact that few, if any of the architects chosen have actually designed any sacred space. Why for example not Botta, Ando, Moneo or Meier? Tackling sacral spaces in today's de-spoiled, materialistic, mammon-focused world is not an easy task; as still, this typology faces the arduous task of measuring against the immeasurable. Two projects stand out above the others; Norman Foster's geometric skeletal chapel, with its three consecutive crosses looking out onto the lagoon, uses steel and timber to provide an impressive and meditative arena. In contrast to the cables and masts of Foster's elegant scheme is Eduardo Souto de Moura's sturdy, heavy megalithic stone shrine, a timeless sanctuary of the soul with a serene, if rather tomb-like (despite the architect's denial) interior; a locus in which to be still and unspoken to and perhaps contemplate on one's afterlife. Also impressive are Terunobo Fujimori's charcoaled freckled interior and certainly worth visiting is Francesco Magnani and Traudy Pelzel's Asplund pavilion, for its architecture and more so for its interior with beautiful reproductions of Asplund's original drawings of his 1920 woodland Stockholm cemetery chapel. However, the ten works in their lush wooded location hardly manifest the words of Cardinal Gianfranco Ravasi as "retreats where one can rediscover beauty, silence and hear interior transcendent voices", as nearly all the works lack the essential quality of spirituality. The combination of architecture and nature does however provide needed havens and antidotes to the 'notopia' of contemporary urbanity.
"The experience of the 2018 Biennale, its festivities, exhibits and personalities serves to prove that architecture still matters and that architectural space has a paramount influence on our lives"
I also attended the unveiling of maverick architect Daniel Libeskind's twelve metre high pillar "Facing Gaia" at the Giardini Marinaressa. The monolith stands as an apt reminder that living earth is facing a fragile and precarious future. In today's greedy and money-oriented world, Libeskind's excellently designed monument is a timely reminder that when the last river runs dry and the last patch of soil goes barren, we will not be able to eat our money.
The experience of the 2018 Biennale, its festivities, exhibits and personalities serves to prove that architecture still matters and that architectural space has a paramount influence on our lives. It also serves to remind architects of the onus that we carry, more so in today's current turbulent and volatile ambiance and that our job remains that of creating spaces which provide psychological well-being while also enhancing human life.
---
Richard England was born in Malta and graduated in Architecture at the University of Malta continuing his studies in Italy at the Milan Polytechnic and also worked as a student - architect in the studio of the Italian architect-designer Gio Ponti. He is also a sculptor, photographer, poet, artist and the author of several books. His architectural works have been published in leading international journals. Richard England is a Visiting Professor at the University of Malta, having acted as Dean of the Faculty of Architecture between 1987 and 1989.
His buildings and designs have earned him numerous awards, including ten International Academy of Architecture Awards and two Commonwealth Association of Architects Regional awards. He was also awarded the Grand Prix of the International Academy of Architecture in 2006 and 2015 and the 2012 International Academy of Architecture Annual Award. In 2016 he was one of the winners of the European Architectural Awards. Richard England has lectured and worked in the following countries: USA, UK, Ex-Yugoslavia, Saudi Arabia, Iraq, Iran, Italy, Argentina, Poland, Bulgaria, Russia, Kazakhstan and his native Malta.
Top image © Jacopo Salvi, courtesy of La Biennale di Venezia