Kanye West to launch his own architecture firm
World-renowned rapper and producer Kanye West has announced plans to establish his own architecture firm as an extension of his fashion brand Yeezy.
The famous hip-hop artist is well known with his passion about design, product design and architecture, and West is starting to set up a new architecture arm of Yeezy, the new firm will be dubbed as Yeezy Home, proves West's recent twit.
Reportedly, West's new architecture brand Yeezy Home will produce architectural projects and industrial products, as a form of his fashion company Yeezy. West has already started calls to involve architects and industrial designers on his Twitter account "to make the world better."
"We're starting a Yeezy architecture arm called Yeezy home. We're looking for architects and industrial designers who want to make the world better," West tweeted.
Kanye West's Yeezus stage at the Staples Center, LA. Image courtesy of LA Music Blog
Yeezy was set up in collaboration with sportswear company Adidas in 2015, and according to West's claims, the company is "the 2nd fastest growing company in history," mentioned in an article in The Guardian newspaper. West also added: "We have 160 positions to fill by the end of the year. Yeezy will hit a billion dollars this year."
"Design is at its best when it's collaborative. I'm interested in pushing the boundaries of what architecture can do," he had said as related to his Yeezus stage designed by Oana Stanescu and Kanye West.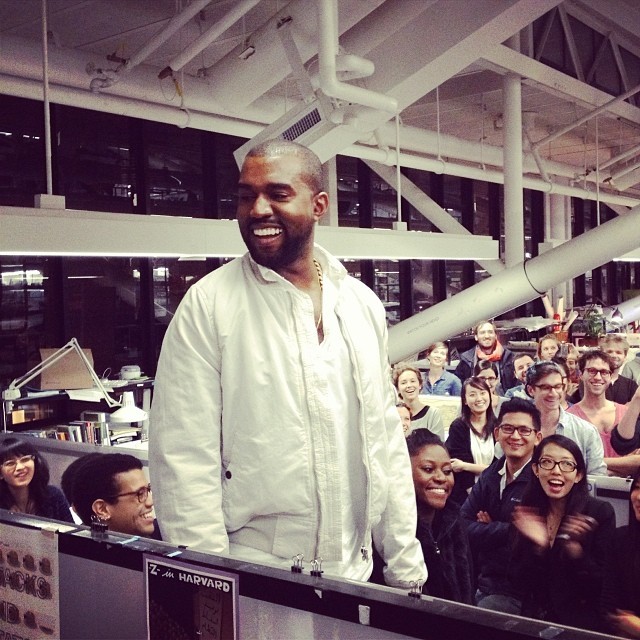 Kanye West at the Harvard GSD. Image courtesy of Instagram user/dvirnm
In 2012, Kanye West also collaborated with Shohei Shigematsu of OMA for the design of a pavilion, allowing a screening of Kanye West's debut short film Cruel Summer - which was inaugurated at the Cannes Film Festival. In 2013, West also visited the Harvard Graduate School of Design (GSD) to give "an impromptu talk" to Harvard GSD's African American Student Union.
Kanye West visits SCI-Arc on April 30, 3018. Image via IG/ninjainthebox
West's love of architecture does not end here. The rapper recently visited the Southern California Institute of Architecture (SCI-Arc) to visit the school's Spring Show 2018 - which is still open to the public.
Kanye West shared his comments on his Twitter account once more and added: "I'm at Sci-arc and just learned about desalination looking at a project by Ashley Morgan Hastings. But I can't tweet the photos there's a lot of great projects here."
Recently, West had announced his ambitions to design for Ikea on a new range of furniture and Ikea's Australia branch had responded West positively for a possible collaboration in the future.
Last but not least, West opened his first exhibition at the LA gallery Blum & Poe including naked bodies of pop icons inspired by his "famous" video.
Top image: Kanye West's Saint Pablo floating stage. Image courtesy of Rolling Stone
> via Kanye West/Twitter