COVID Classroom by Murray Legge Architecture Creates a Safer Education Environment for Kids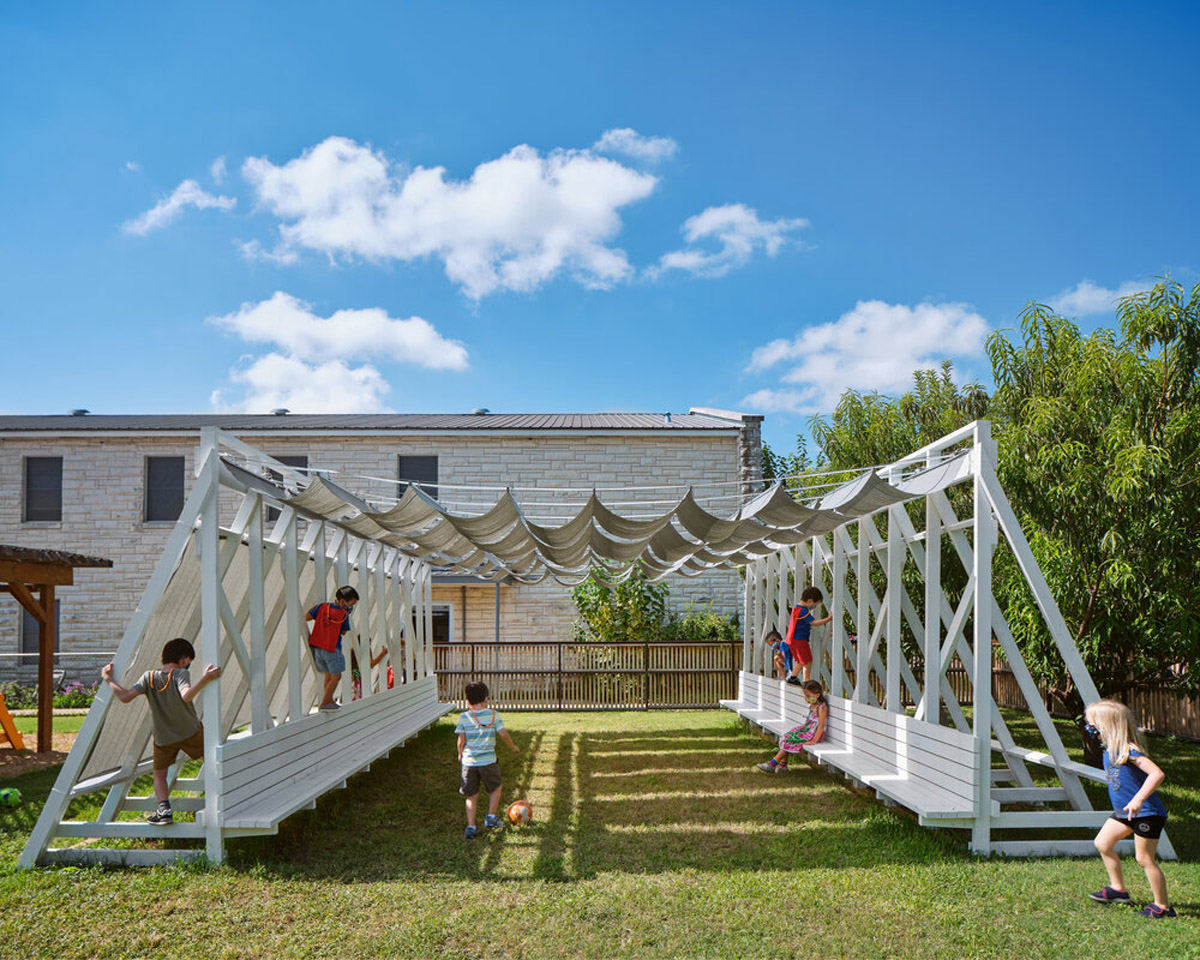 As many schools struggle around the world, Little Tiger Chinese Immersion School also faced challenges of providing a safe education environment for the students. Deciding to take their large portion of their classes outdoors, they worked with Murray Legge Architecture to design an outdoor classroom that could be built swiftly, affordably to be ready for students coming for the Fall 2020 school year. The Texan sun, making many outdoor spaces challenging to spend time, was the biggest concern for the school.
The structure composed mainly of wood 2x4 members cost less than $6000 USD and took a week to construct. The wood members are secured to the ground using threaded pile anchors, which can be easily removed if the school wishes to take the structure down in the future, and leaves no trace. The A-frame structure using conventional wooden members resulted in a structure that was affordable and fast to build, just as the client wanted. The structure also allows a linear bench to be included on the sides where students can sit.
The ubiquitous stick-built members, when done masterfully can open doors to playful architectural expressions. With this outdoor classroom, the design figure, strengthened by the repetition of the members allows students to explore the spaces created within the diagonal supports, adding to the experience of this humble intervention.
The glare of the low-sun, during the morning classes, are managed by the east-facing wall. A shade cloth spans along with the A-frame, further protecting students from midday heat without blocking air circulation. The students are encouraged to occupy and play in the structure also when the classes are not in session. Unlike many places, in this classroom, climbing the walls is encouraged. Time will tell how kids of the Little Tiger will find new ways to have fun with this classroom, until then the clean white frame continues to provide the students with a safer space to learn.
Project facts
Architects: Murray Legge Architecture
Location: Austin, United States
Area: 500 m2
Year: 2020
Design Team: Murray Legge, Travis Avery, Lincoln Davidson
Clients: Little Tiger Chinese Immersion School, Mike Osborne & Meggie Chou
Contractor: Mike Osborne (client also constructed the project)
Engineering: Fort Structures
All Photographs © Leonid Furmansky
The drawings © Murray Legge Architecture