David Adjaye and Aston Martin design five homes for the architect's first skyscraper in New York
David Adjaye and luxury British sports car manufacturer Aston Martin have collaborated to design five luxury residences for David Adjaye's first skyscraper 130 William in New York, the United States.
The residences, located on the 59th and 60th floors of the skyscraper, will be a limited-edition collection of five one-of-a-kind luxury homes in New York City - each home will be accompanied by a Special Edition Aston Martin DBX custom-designed by Sir David Adjaye.
Aston Martin, visionary architect Sir David Adjaye and Lightstone have come together to create one-of-a-kind luxury homes which are available for purchase at 130 William, New York City's premier new luxury residential development.
The designs will combine the ethos of Aston Martin's elegant design and dedicated craftmanship for130 William's custom architecture and handcrafted interiors, while the interiors blend Adjaye's bold vision in every detail.
Reaching at 244-metre height, Ghanian-British architect is responsible for designing its iconic exterior architecture, as well as all of the building's interiors - the tower includes 242 residences, over 20,000-square-feet of amenities (1,858-square-metre), and a new plaza park.
Developed by Lightstone Group, the 66-storey skyscraper is David Adjaye's first tower which will be built in New York developed in collaboration with local architects Hill West Architects.
For the design of the skyscraper, Adjaye was inspired to craft a building that embraces New York's history of masonry architecture.
The skyscraper features a custom hand-cast façade with refined bronze detailing, a contemporary interpretation of the stonework that characterized classic Manhattan architecture.
Another signature feature is the silhouette of rhythmic, large-scale arched windows that draw inspiration from the beloved lofts that once populated the area.
"It was exciting to find an opportunity to collaborate with the Aston Martin team. The 130 William Aston Martin homes have been touched in a very particular way that merges our design sensibilities," said Sir David Adjaye.
"Together with the limited edition SUVs that come with these units, we've created a truly unique signature that blends our two disciplines."
"This is a fascinating project for the Aston Martin design team to work on and a great opportunity to collaborate with Sir David. It is our first real estate project in New York City but our second collaboration in real estate design after the Aston Martin Residences in Miami," said said Aston Martin Chief Creative Officer, Marek Reichman.
"We can apply what we have learnt in Miami and also bring our unique automotive design skills to these beautiful luxury homes."
Each home features a private, expansive outdoor loggia spanning the entire length of residence and is set behind the unique rhythms of the hand cast building façade, with bespoke screens dividing the balconies into a series of distinct zones for dining and relaxing.
The residences are fully furnished, with unique visual elements and accessories, hand-crafted materials and textiles and furniture from the acclaimed Aston Martin Home Collection by the Italian manufacturer Formitalia.
When residents first step off the elevator, they will see interior design elements featuring Aston Martin's signature crosshatch pattern in a bronze finish.
Beneath the bronze detailing is wallpaper designed by Adjaye Associates, while a bespoke smoked glass mirror created by Aston Martin Design reflects the skyline view in a distinctive arched form which is a nod to the arches on the façade.
Within each home, residents are presented with a grand living and dining room, featuring furnishings, textiles and fittings curated by Marek Reichman and Sir David Adjaye.
The living room offers city-wide views, clean lines and sleek furnishings from the Aston Martin Home Collection by Formitalia, with every piece made in Italy.
The sofas and armchairs combine elements of leather, metal and fabric, as well as beautiful detailing, to evoke the richly crafted and tactile qualities of Aston Martin's automotive interiors.
The living room provides direct access to the outdoor loggia which blends indoor and outdoor spaces, a rare and precious amenity in New York.
Alternatively, one of the rooms could be turned into a private office and library space designed for working and relaxing. It features classic contemporary designs and bespoke elements.
A custom-designed desk is paired with a classic Eames chair and the room also features a lounge chair by Swoon and stool by Space Copenhagen. The office provides generous storage and display spaces, including black wood shelves and cabinets with smoked glass placed alongside textured Salvatori marble walls.
Bathrooms include textured Italian Salvtori marble throughout. In the master bathroom, a Salvatori solid carved marble soaking tub and carved marble double vanity sinks are paired with a spacious walk-in shower and private water closet. Secondary bathrooms incorporate Grigio Versilia marble and Bianco Carrera marble and powder rooms include a bamboo textured Grigia Versilia marble.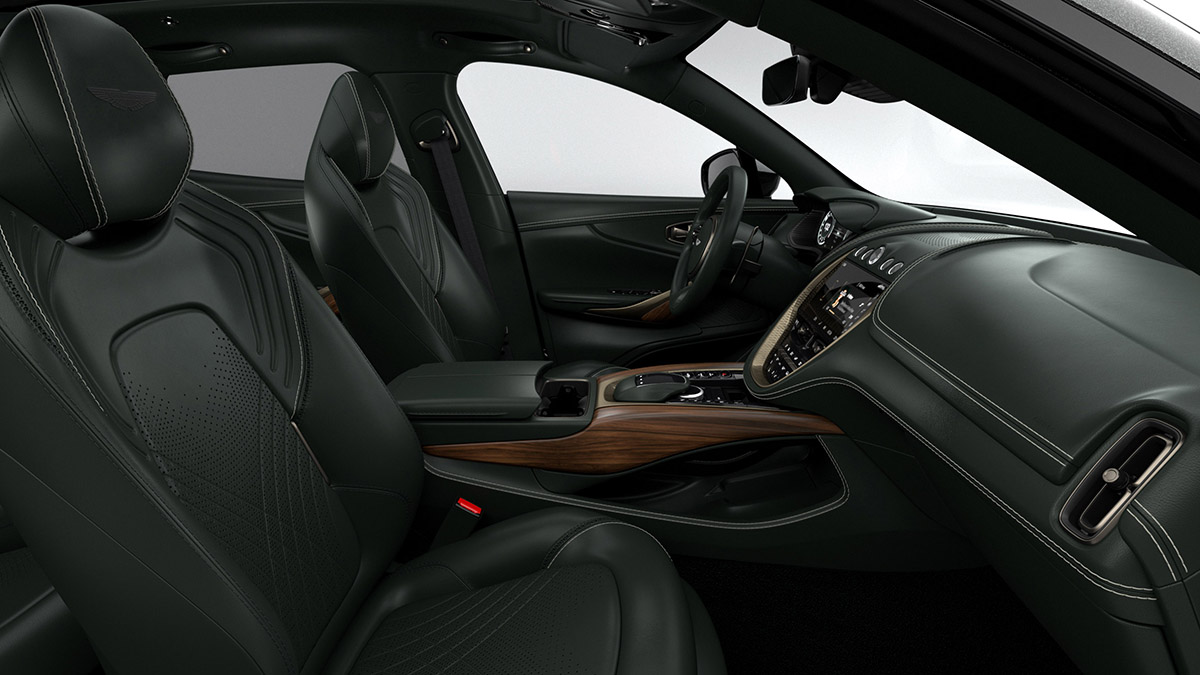 The five homes include two penthouses, priced at $11,500,000 for PH60A, $10,500,000 for PH60B, and three loggia residences L59A, L59B and L59C, priced from $3,985,000, $5,985,000 and $10,000,000.
All images courtesy of Aston Martin
> via Aston Martin