PRODUCTORA covers rooftop of historical palace with lightweight, continuous canopy in Mexico
Mexican architecture practice PRODUCTORA has covered the rooftop of a historical palace with a lightweight and continuous canopy in the center of Mexico city.
Named Rooftop Prim, the 870-square-metre structure was placed on the rooftop of an early 20th-century palace where cultural and festive events are held in the city center.
The client commissioned the studio to design a structure to cover the three existing patios in order to prevent the building from the occasional rains not to interrupt the activities organized in the courtyards.
However, instead of creating three independent interventions, the architects designed a continuous roof structure that extends more than 50 meters in length.
Conceived as a unified canopy, it connects the three patios in a straight line, and generates new covered surfaces in between the patios.
Designed as a lightweight roof system, the structure consists of 45 lightweight metal trusses, each 1.2 m apart, dividing the weight evenly over the existing construction and accentuating rhythm and perspective along the roof.
"The triangular roof section is designed asymmetrically so that one side could incorporate a covered circulation," said PRODUCTORA.
The studio used light and industrialized synthetic materials, such as the PVC deck, polycarbonate sheets, or the railings made of nylon nets, which seek to reduce the weight of the construction and generate a strong contrast with the materiality of the historic building.
The architects used two different types of polycarbonate materials during construction: translucent and transparent, the materials help to filter the sunlight, while allowing to see the sky from the courtyards.
Further, the studio used textile screens, borrowed from the agricultural industry, that have been integrated into specific places to mitigate solar incidence.
"The geometric rhythm of the structure is complemented by another series of elements such as the planters that overflow the patios and delimit the new terraces or the light fixtures that highlight the intervention in the city's skyline," the architects continued.
According to the architects, instead of demolishing historic structures - but often not registered – in Mexico City, this project shows "how valuable structures can be re-used and adapted in an intelligent way when the financing for a full-scale restoration is not (or not yet available)."
As they summarize, it explores the esthetic quality of the building "as found "– and enhances that experience by contrasting it with a contemporary intervention.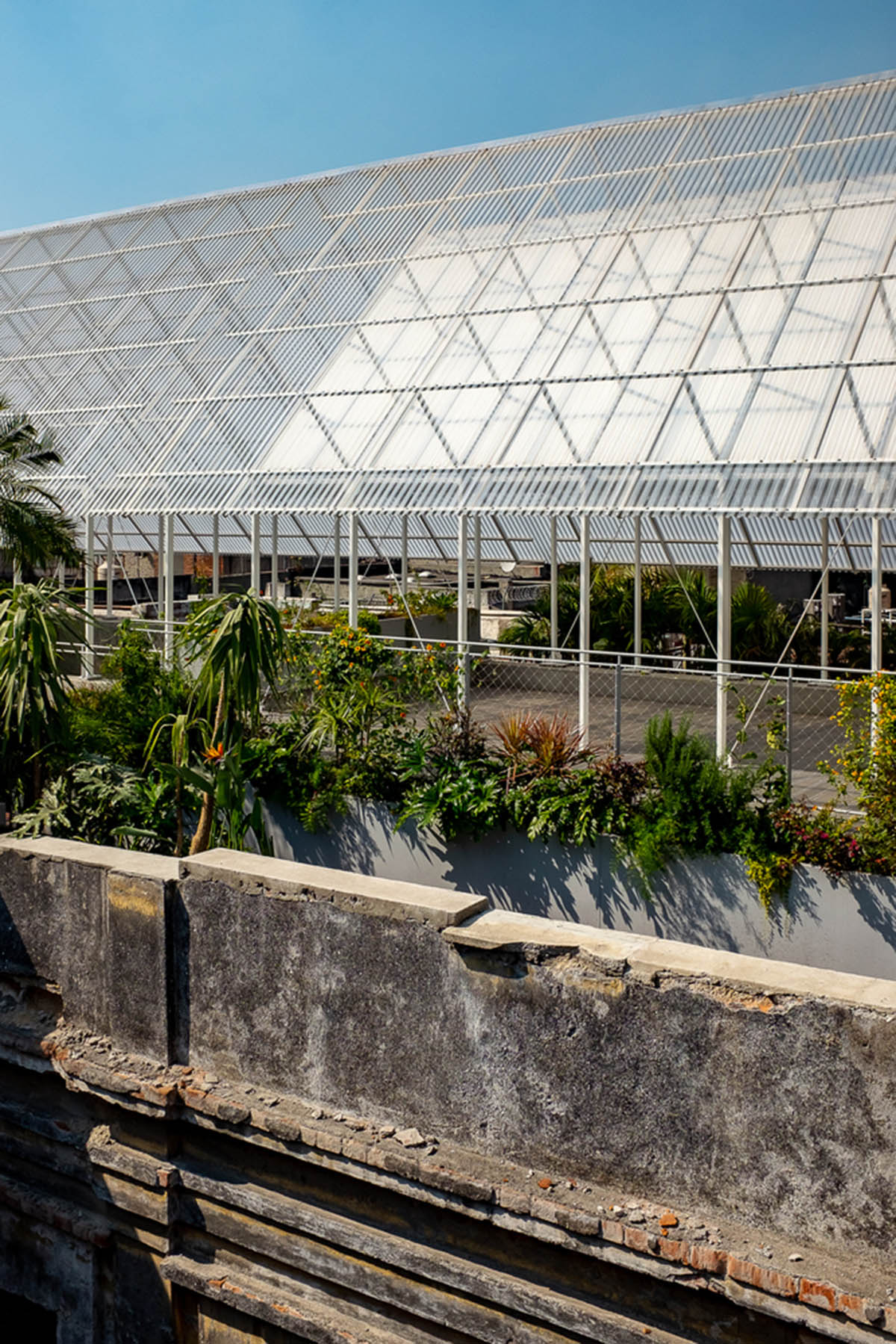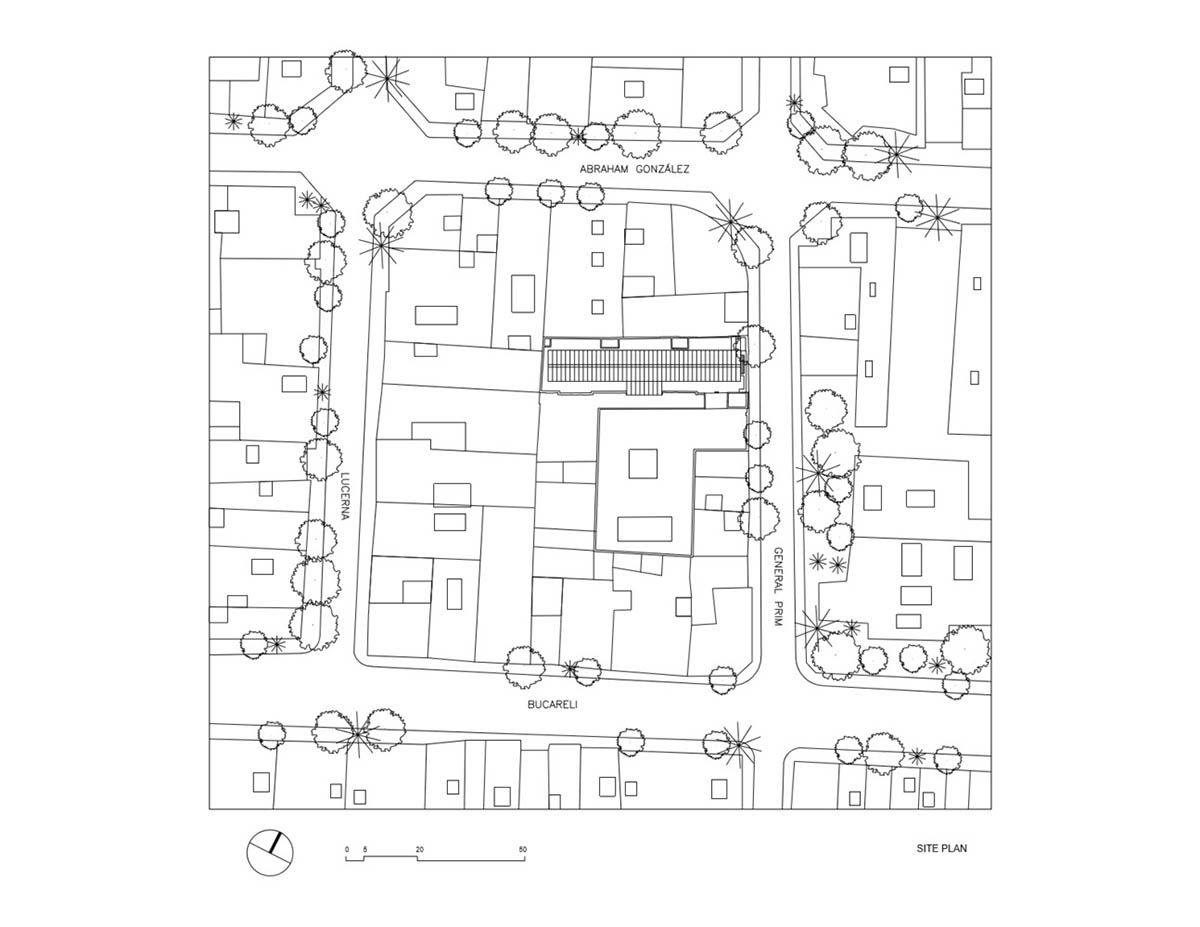 Site plan
Plan
Roof plan
Sections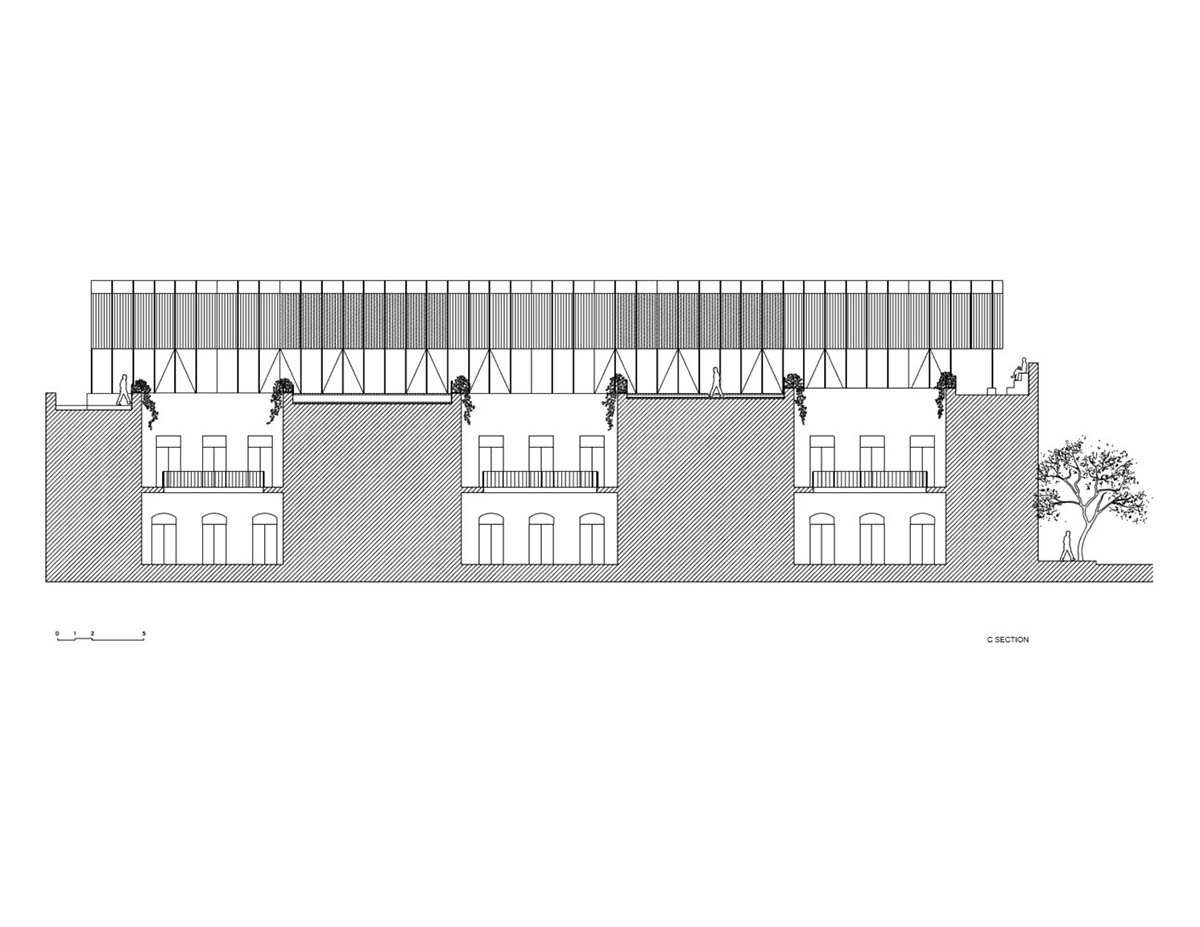 Section
PRODUCTORA is a Mexico City based architectural studio founded by Abel Perles, Carlos Bedoya, Victor Jaime and Wonne Ickx. PRODUCTORA completed Bautista House in the Mexican jungle as well as two urban parks in Mexico.
Project facts
Project name: Rooftop Prim
Architects: PRODUCTORA
Location: Mexico
Size: 870m2
Date: 2020
All images © Onnis Luque
All drawings © PRODUCTORA
> via PRODUCTORA