PRODUCTORA revives two urban parks in Mexico with pink-colored concrete playful elements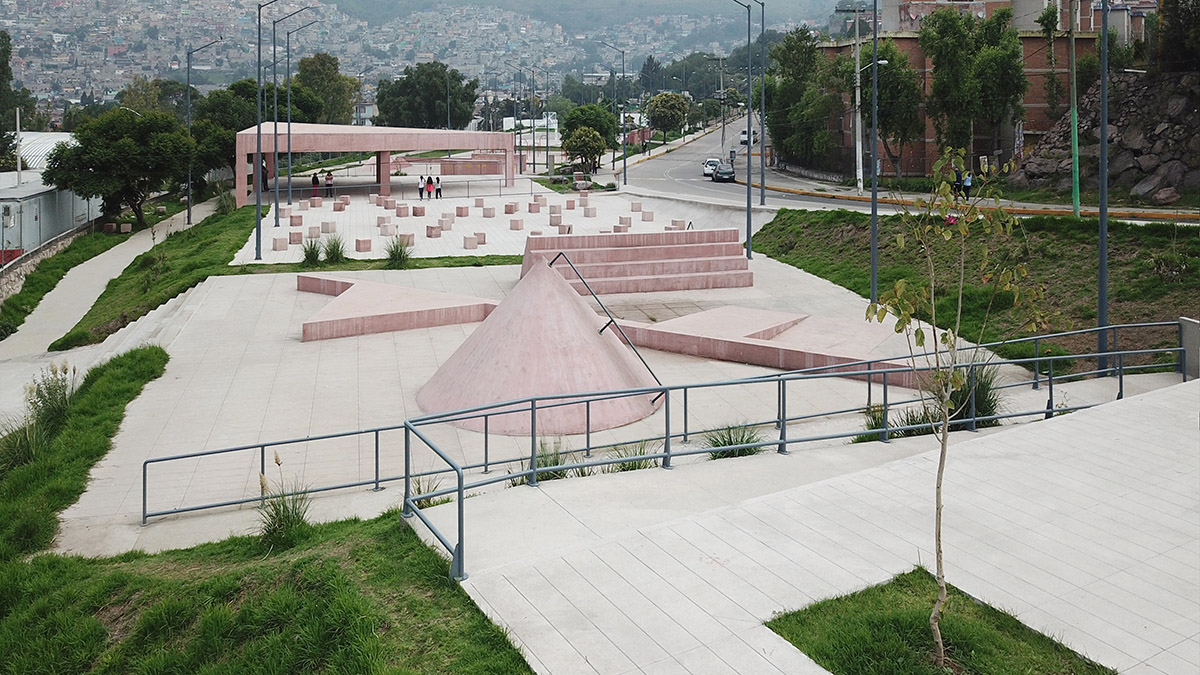 Mexican architecture practice PRODUCTORA has revived two plots in Mexico with pink-colored concrete elements, comprising of triangular climbing wall, triangular pavilion, concrete cube, circular platform and standalone staircase.
The two plots, situated in Tlalnepantla de Baz and Tultitlán of Mexico, form a narrow strip that extends throughout the city integrated with landscape areas which create a harmony its users.
The two urban parks were designed for Infonavit (Institute of the National Housing Fund for Workers) in the State of Mexico, which is a federal organization that was established in 1972 and provides housing for workers and other individuals employed in the formal sector contributing to Mexico's economy.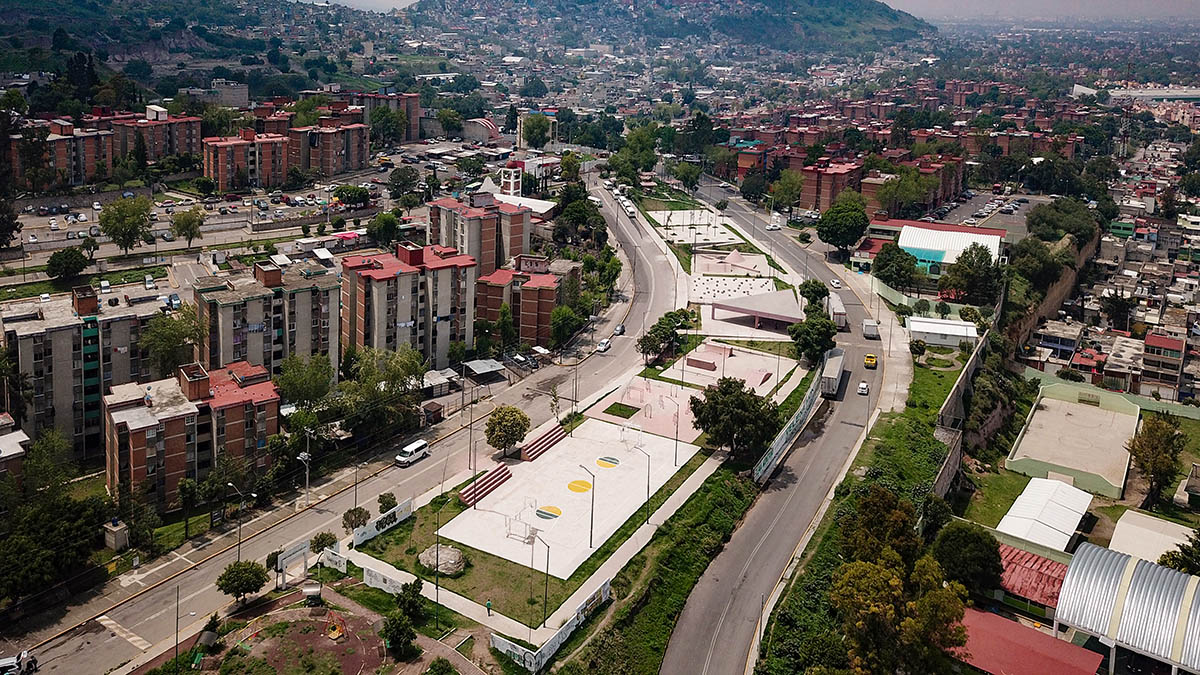 Urban Park in Tlalnepantla
The first public park in Tlalnepantla is located at the El Tenayo Housing Unit area, in the Municipality of Tlanepantla de Baz. The proposal consists in the rehabilitation of a large existing ridge, which worked as an open public space.
The intervention proposes a set of 9 squares, each measuring 20x20 m, which are arranged on the plot, following the existing topography.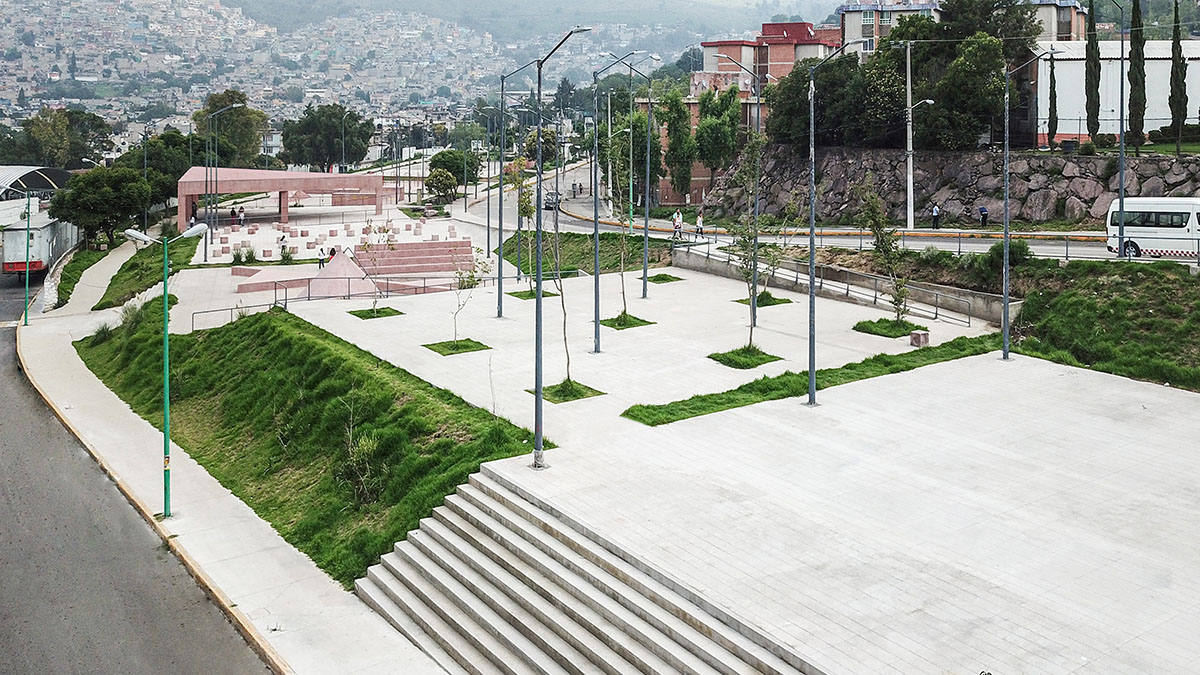 Urban Park in Tlalnepantla
Each of the squares contains a specific program: a civic square with a flagpole, a tree-lined square, a square with children's game infrastructure, a square with square benches, a multi-purpose triangular pavilion, a Skate Park, an outdoor gym, and two multipurpose courts with stands.
The whole property is enclosed by a perimeter of sidewalk and a 2.50m wide running track.
Urban Park in Tlalnepantla
The link between each of the squares and the sidewalk is achieved by the use of stairs and ramps, in such a way that all of them meet the accessibility requirements.
Urban Park in Tlalnepantla
The intervention also includes the improvements of sidewalks, street lighting, gardening and street furniture.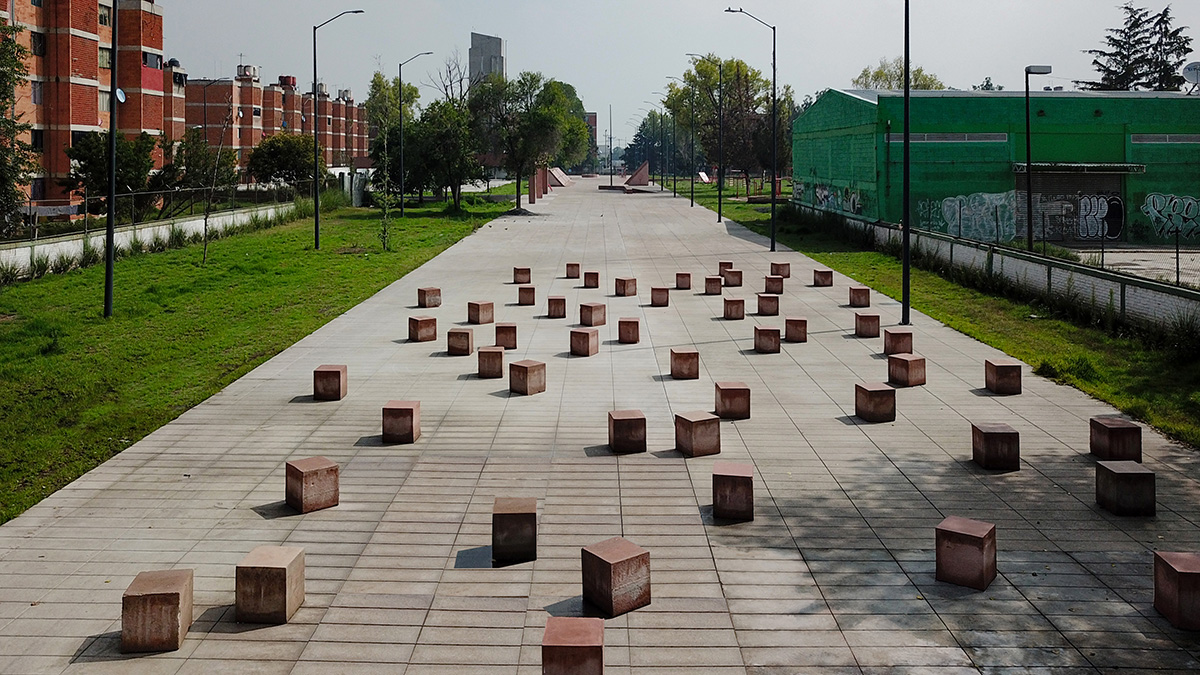 Public Park in Tultitlán
The second project, Public Park in Tultitlán, is located in the Hogares Castera housing unit in the Municipality of Tultitlán. It mainly consists of a 15-m wide by 200m long concrete corridor, along which various elements built in concrete with integral color that make up recreation spaces are grouped together.
The first of the elements is a set of 50x50cms cubes spread on the lineal corridor delimiting a meeting point. Succeeding, visitors find a multi-purpose triangular pavilion.
Public Park in Tultitlán
More recreational elements complement the trajectory, such as: an element for civil events with a flagpole; a triangular-shaped walls game; a longitudinal element which functions as both a climbing device and a grandstand; a small circular platform; and a small platform that occupies part of the corridor's surface and another of a garden attached to it.
Public Park in Tultitlán
Surrounding the corridor is a wooded area with multipurpose courts, an outdoor gym and a series of children's games are available.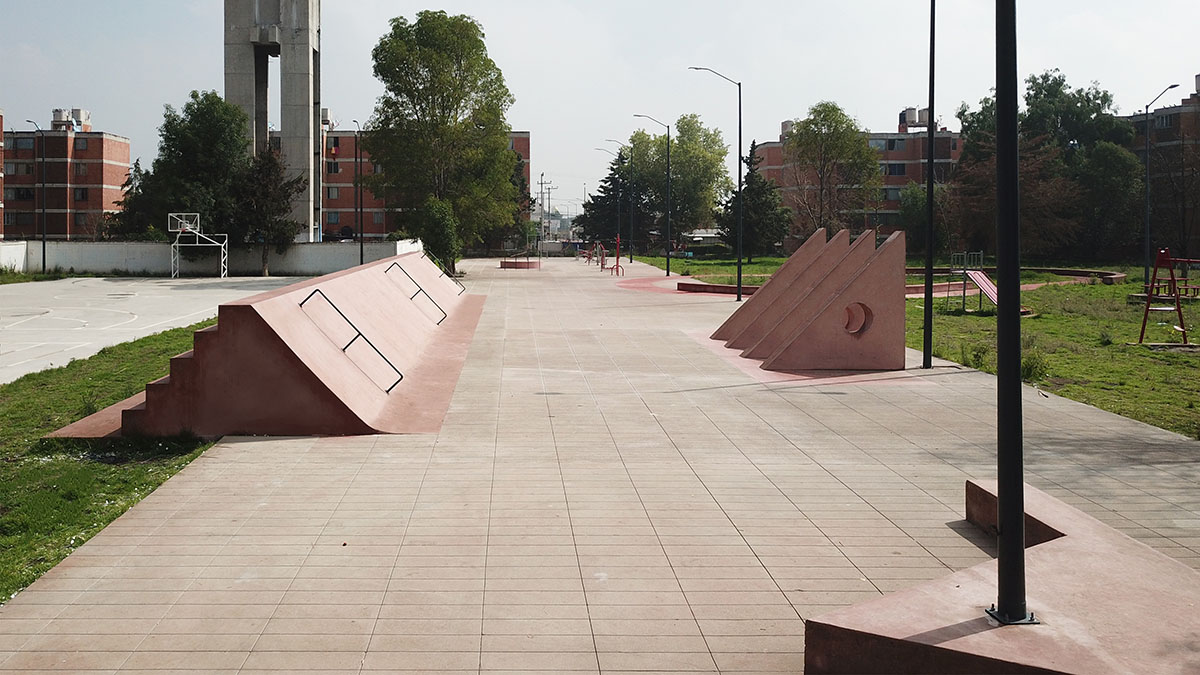 Public Park in Tultitlán
Public Park in Tultitlán
Public Park in Tultitlán
Site plan of Public Park in Tultitlán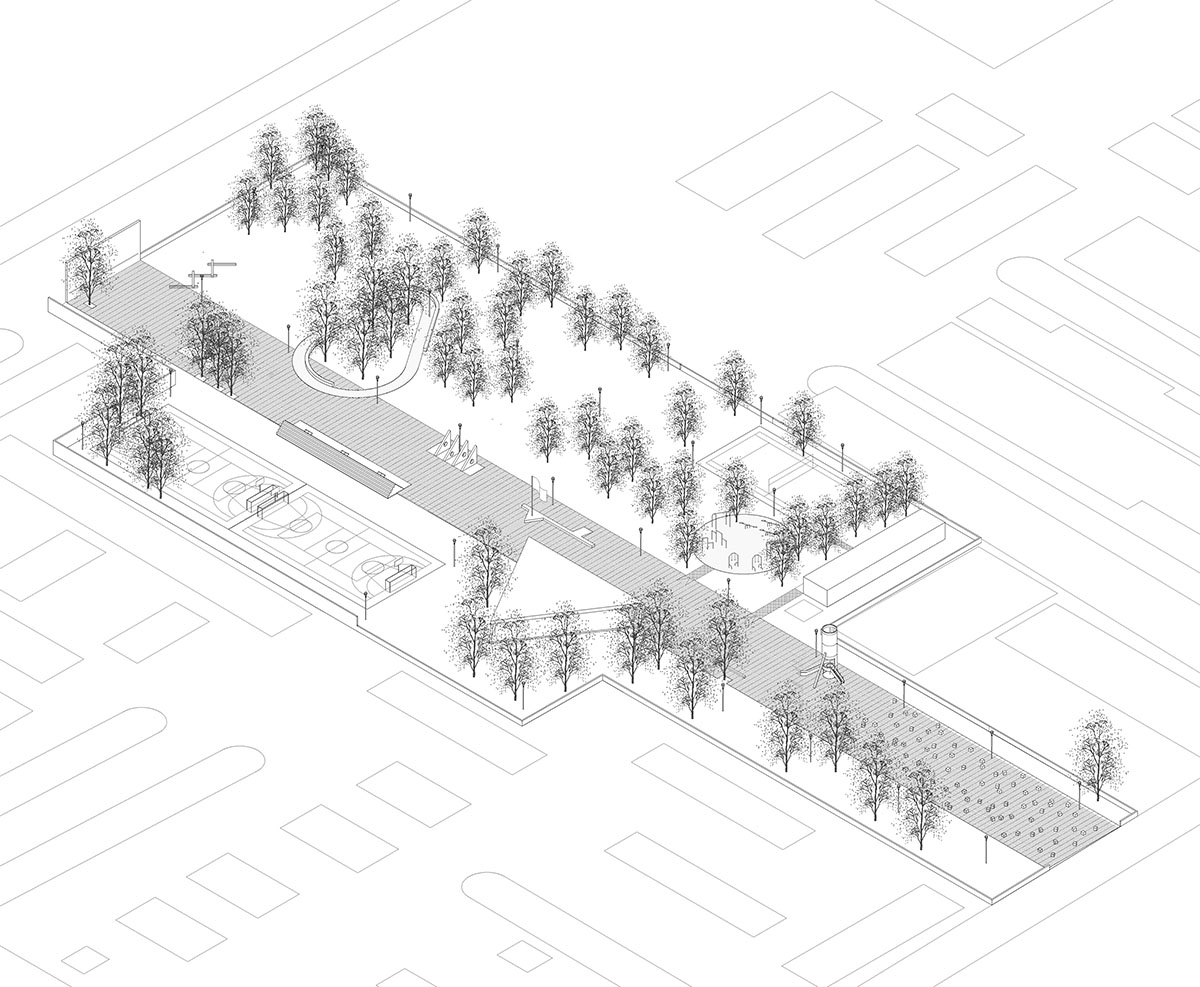 Axometric plan of Public Park in Tultitlán
Plan of Public Park in Tultitlán
Site plan of Urban Park in Tlalnepantla
Axonometric site plan of Urban Park in Tlalnepantla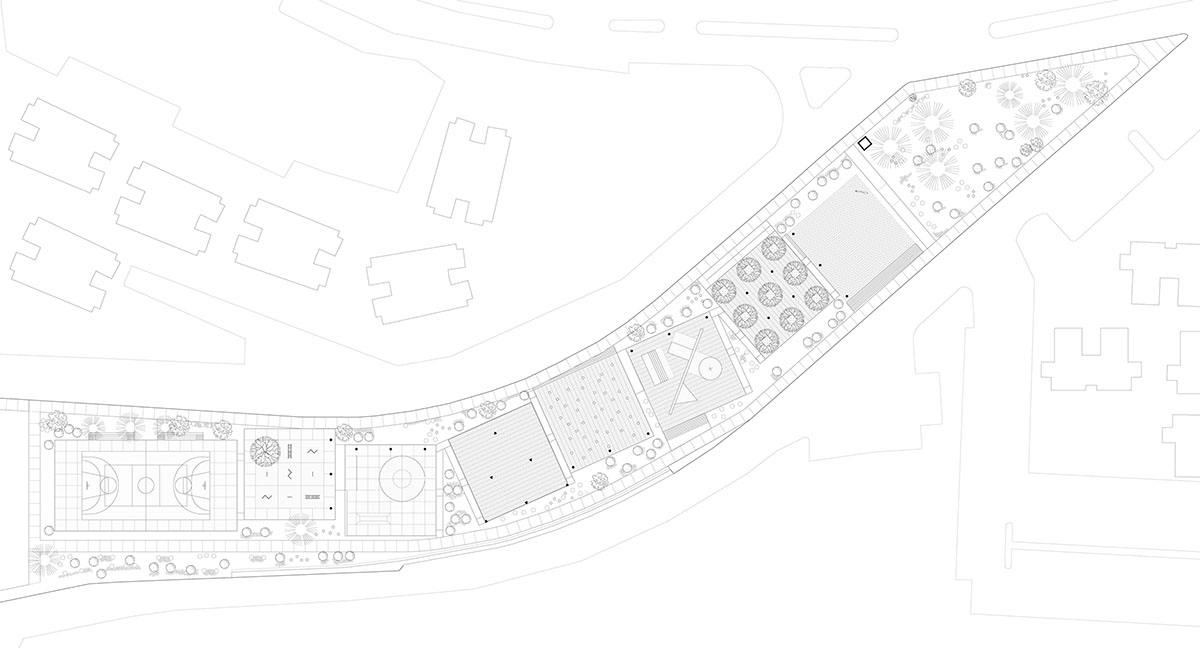 Site plan of Urban Park in Tlalnepantla
Project facts
Public Park in Tultitlan and Tlalnepantla
Architectural Design: PRODUCTORA (Carlos Bedoya, Víctor Jaime, Wonne Ickx, Abel Perles)
Collaborators: Daniela Diaz, Natalia Echeverri, Alonso Sanchez, Diego Velazquez
Location: Unidad Habitacional Hogares Castera, Municipality of Tultitlán, State of Mexico
Typology: Public Infrastructure
Area: 9,800 m2
Client: INFONAVIT (Instituto del Fondo Nacional de la Vivienda)
All images © Erick Mendez
> via PRODUCTORA