POLITICS, PROTESTS + PLACE - The Role of Inclusion Urbanism in Civic Activism - Webinar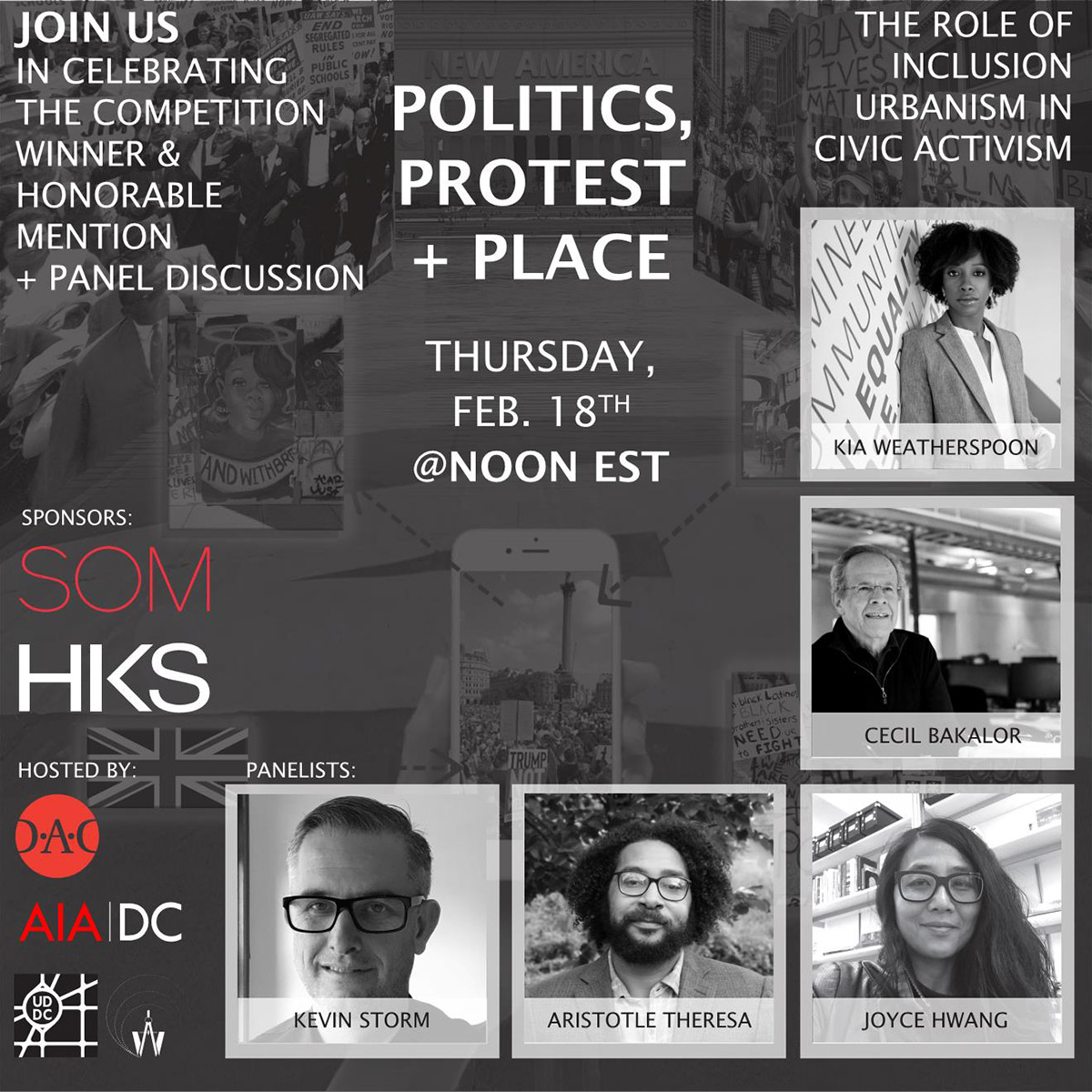 This program continues the dialog about designing an inclusive urban realm. Join a panel of interdisciplinary experts and explore how we can influence change towards a more equitable built environment.
The winning entry and runner-up of the 2020 AIA|DC Politics, Protest, and Place – A call for an Inclusive Urban Realm Competition will be virtually exhibited, followed by a panel discussion and Q+A session.
The competition focused on the 2020 committee theme of authenticity and equity, asking the following questions and more:
Should we design spaces in our urban fabric and typology specifically for protesting?
How can space be transformed to take on meaning in yet to be determined ways?
How can space be co-opted as a form of protest or collective expression?
How can design interventions make activism more inclusive and safer for all?
How can unintended spaces be more welcoming to activism and civic engagement to more diverse groups?
How can urban spaces reframe community gathering spaces to highlight commonalities?
How can existing urban forms be leveraged to promote participation for inclusive public protest?
How can these spaces participate in the act of protest spontaneously, temporarily, or permanently?
How can places enable civil dissent and promote change through design?
How can place bolster the voices of all of our neighbors, whether embedded in DC's residential communities, situated alongside sites of American history, or by confronting the symbols of our democracy?
What is the role of place and the public realm in either facilitating or restricting protest and dissent in the District? How can it be the voice of the public?
How can space be transformed to take on meaning in yet to be determined ways?
How can space be co-opted as a form of protest, or as personal or collective expression? Temporarily? Spontaneously?
Presented by:
Saakshi Terway, Assoc AIA, NCARB, LEED Green Associate, Designer, Wiencek+Associates
Nishu Sinha, AIA, NCARB, LEED AP BD+C, Project Architect, HOK
Moderated by:
Autumn Wines, Medical Planner, LEED Green Associate, HOK
Kim Coates, Executive Administrative Assistant, HKS
Panelists:
Aristotle Theresa, Civil Rights Attorney, Principal partner of "Stoop Law"
Cecil Bakalor, Associate Principal, HKS; Adjunct Professor, Fordham University
Joyce Hwang, Associate Professor and Associate Chair of Architecture at the University at Buffalo, State University of New York; Founder of Ants of the Prairie
Kia Weatherspoon, NCIDQ, ASID, Founder, Principal, Determined by Design
Kevin Storm, AIA AICP, Associate Director, Urban Design, DC Office of Planning
Learning Objectives:
Discuss innovative design solutions regarding inclusive urban realms.
Describe how architects, urban designers, and other city-engaged citizens are approaching complex issues today.
Identify issues and solutions surrounding spatial equity in cities; and
Discuss how inclusive and non-inclusive realms affect the lives of citizens that live in towns and cities around the world.
Organized by: AIA|DC Urban Design Committee + Equity Committee by WIELD
Questions? Contact from here: [email protected].
Price: FREE
Registration required.
Webinar viewing details are in the confirmation email.
Top image courtesy of AIA|DC
> via AIA|DC