Winners announced for LAGOS: CITY OF WATER architecture competition 2020
The Eddy Eguavoen Foundation (established on 11 January 2020) is a non-governmental organization that encourages innovation in Nigerian architecture through an annual design competition, the establishment of design workshops, and the construction of buildings for communities in need. The organization is named after the late Edwin Ehi Eguavoen, an accomplished Nigerian architect who ran his architectural practice, Voen Associates, for over 30 years. Voen Associates is still active and the establishment of this organization is a way of honoring his legacy while advancing the progress of Nigerian architecture.
Currently, Voen Associates aims to focus on poor communities in Lagos. This year's target community was Makoko. Known as the largest floating slum, Makoko is subject to many threats from both man (local authorities) and nature (climate change).
So for the design competition, it was asked to use its creativity to design a building, structure, or master plan that helps to envision a future for Lagos on the water. Your project must make significant use of aquatic space, whether it is floating, submerged, and/or built on water. You can focus on an architectural theme such as affordable housing, sustainable cities, or others as a starting point for your project. At the end of the competition, we count, 1st international prize, 1st national prize, 2nd prize, 3rd prize, choice of foundation, 10 honorable mentions, 20 finalists.
1st Prize international: Water no get enemy by Lloyd Martin
Image courtesy of the artist
Due to the impact of climate change, rising sea levels, increased rainfall and flooding are becoming a day-to-day reality for people in Lagos. The proposal embraces this inevitable future. Envisioning a new form of urbanism that enhances a symbiotic relationship between man and water. Adopting the monopile construction system that is utilized in offshore wind farms. The sturdy nature of the pile provides a secure and solid base for clustered communities to flourish, free from flooding. Each community cluster is supported by Service Platforms, Biorefineries, and Market/Sports fields.
Image courtesy of the artist
The Clusters grow organically over time, adapting to the ever-increasing demand for housing in Lagos. Each home is envisioned as an enclosed loop, in which the circular economy and metabolism of the home is of primary importance.
"Live in harmony with nature, and you will live longer and wiser. Be as inevitable and indispensable as water, because of water..... "WATER NO GET ENEMY" - Fela Kuti.
Image courtesy of the artist
1st Prize Nigerian: The sea stars by Shola Ashogbon, Sanniramat Sodiq, Adedokun Jamiu, Daniel Olufemi
Image courtesy of the artist
"As a response to the envisaged up-rise in water level, we have adopted the concept of a Sea star because of its unique adaptability qualities. Under a difficult condition of a possible flood, as opposed to moving into the uplands (mainland) and abandoning the Island, a birth of city on the water came forth which flows with nature. Our Proposed design is a prototype modular structure, which focuses majorly on affordable housing and also aims at solving the housing deficit in Lagos state Nigeria. The prototype structure embodies a five-unit apartment designed in a form of compound settlement with a central Pavilion, this can be traced back to the Yoruba style of Architecture. Each unit can easily be converted for different purposes with the use of movable walls. In achieving this, sustainable and local materials have been adopted in our proposal."
Image courtesy of the artist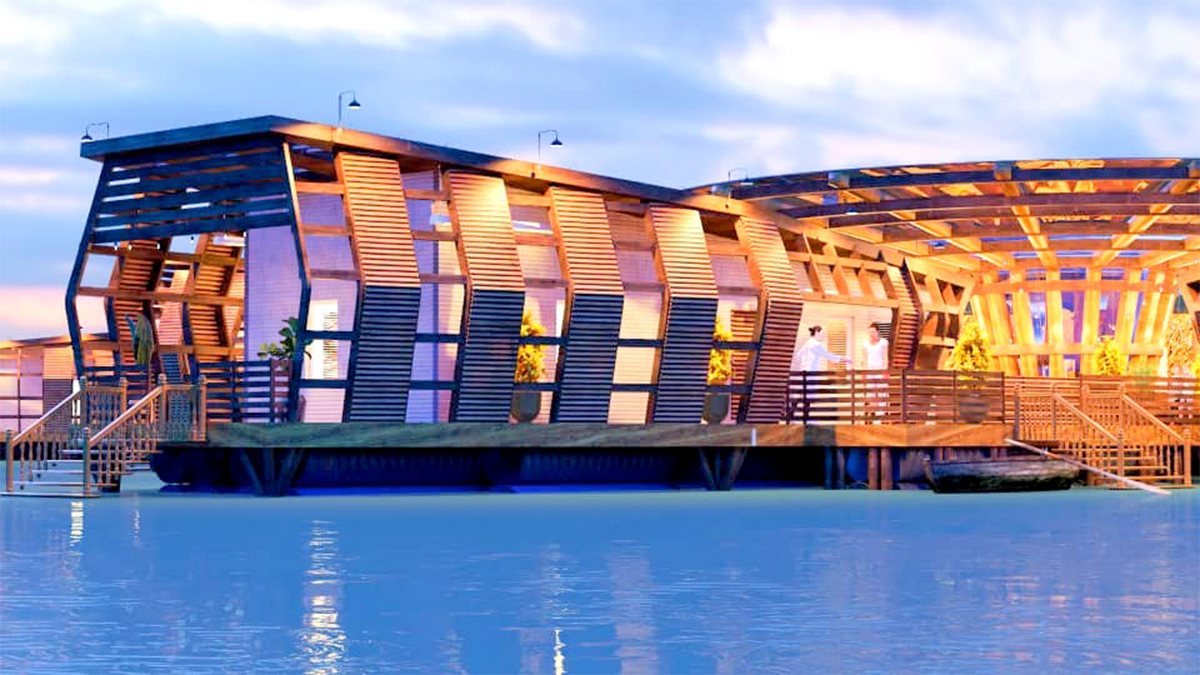 Image courtesy of the artist
2nd Prize: Bio-shelter floating city by Mekemta Jodel Bismarc, Takam Kenmogne Sidoine Constant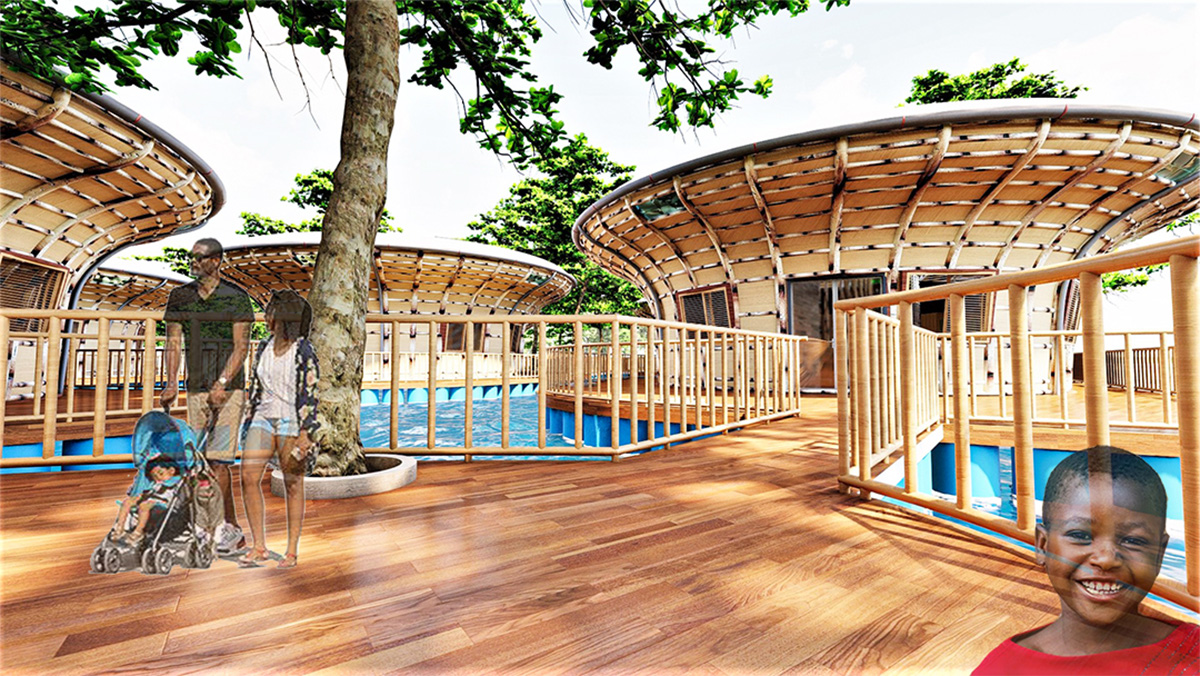 Image courtesy of the artist
The population explosion and rising water levels are problems that are undermining the city of Lagos. BIO-SHELTER FLOATING CITY is a project that seeks to restore the unstable ecosystem to give future generations the opportunity to return in harmony with nature.
The approach is not only a global approach to protection and prevention against rising waters, but also to show new perspectives of habitat on the water through the creation of a floating city combining bio-mimicry with the traditional architecture of the Yoruba people.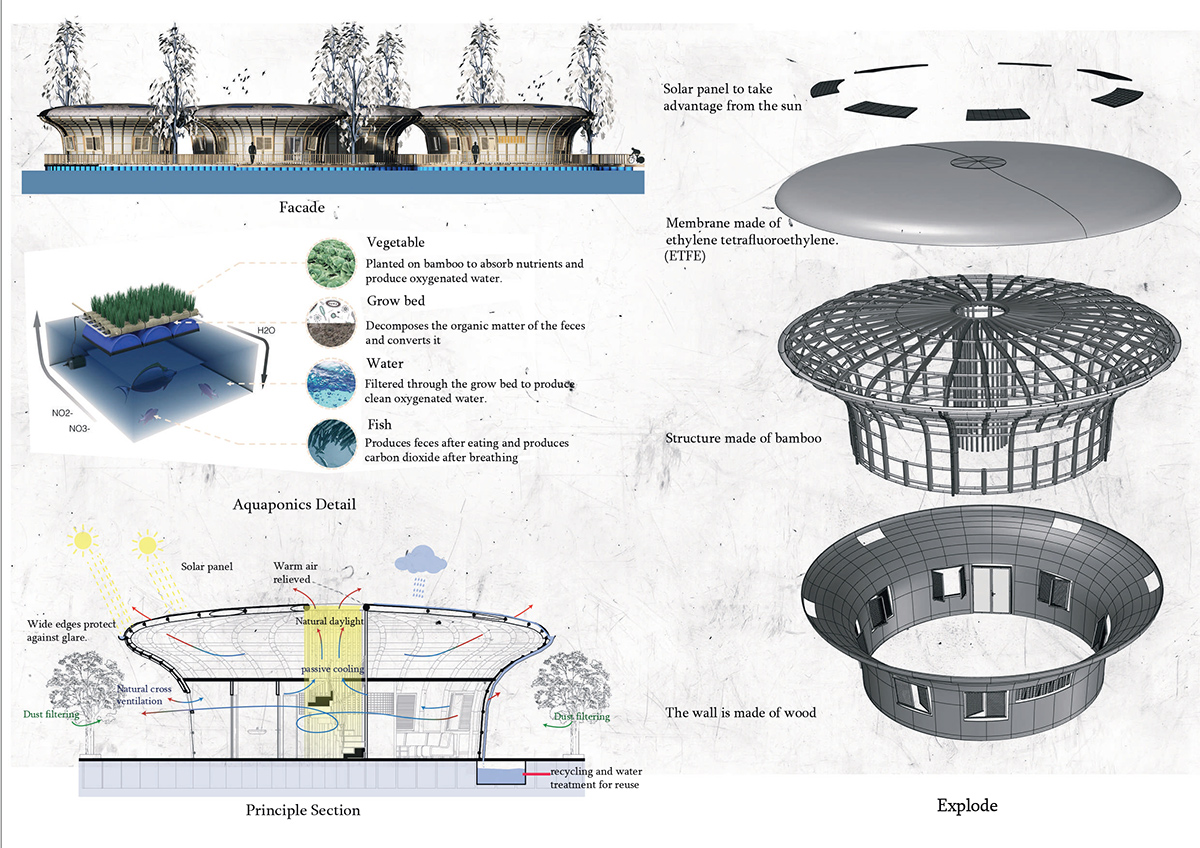 Image courtesy of the artist
The project gives access to basic services such as education, health, community spaces, food. Thus it was a question of protecting the coastline by installing dikes, mangroves, a barrier dune, trees, and palm trees. The project itself on the water consists of floats made from recyclable materials from the barrels. The structure of the housing is made of bamboo and wood with an ETFE cover.
Image courtesy of the artist
3rd Prize: Circles of hope by Masoud Abedimoghadam, Zahra Fattahi
Image courtesy of the artist
This proposal seeks to design communities that meet the demands and problems of the people that live in this context. In Makoko, there is a lack of health centers, efficient schools, green spaces, fish farms, and several spaces for gardening. Hence, for this proposal, all of these factors were taken into consideration. Besides that, creating sustainable communities was another main point in the design process, which means that residents can harvest organic fruits and foods through the aquaponic system and their farms. Also, The community is capable of affording its energy and electricity using the solar panel. Furthermore, human waste can be recycled and used as fertilizer through the barrels that not only work as a structure for floating each building but also can be a container for collecting human waste and use it as fertilizer over time.
Image courtesy of the artist
Image courtesy of the artist
Foundation's choice: Eko gbemi by Samuel Etopidiok, Oliyide Abdulrahman, Chigozie Wokomaty
Image courtesy of the artist
Eko Gbemi of a floating structure is one that addresses different issues regarding flooding, poor building structures, and human living. The project will also provide flexible use of space and materials for everyone in the community. Facilities like school, residential facilities, town hall, hospital, sporting center, and the farming area will be catered for in our design. The main material used for this project is wood. Our design for the floating buildings will be one that is self-sustaining and adaptable for other coastal communities around the world. Readily available materials, flexible construction methodology, and flexible platform design that can house other building typologies - homes, community centers, sports arena, etc. With this approach, we will improve the quality of living amongst the occupants of the community.
Image courtesy of the artist
Image courtesy of the artist
Top image © Lloyd Martin, courtesy of Voen foundation.
You can read more about the other winners and virtual exhibition on Voen associate's website.
> via VOEN associates