3XN to design for new hub for Danish robot developers
3XN has won the competition to design a new hub to provide a home to the Universal Robots (UR) and Mobile Industrial Robots (MiR) in Odense, Denmark.
Called Cobot Hub, the new 20,000-square-metre hub for robotics is designed to enhance collaboration and employee well-being, while offering highly specialised environments for robot research and development.
UR and MiR specialise in "cobots" – collaborative robots that share their workspaces with humans. After significant growth in recent years, the new hub will be instrumental in the two companies' continued development.
3XN's designs scheme is planned in a gridded layout with cubic volumes that can be scaled up according to the future needs. Each volume will feature green rooftops.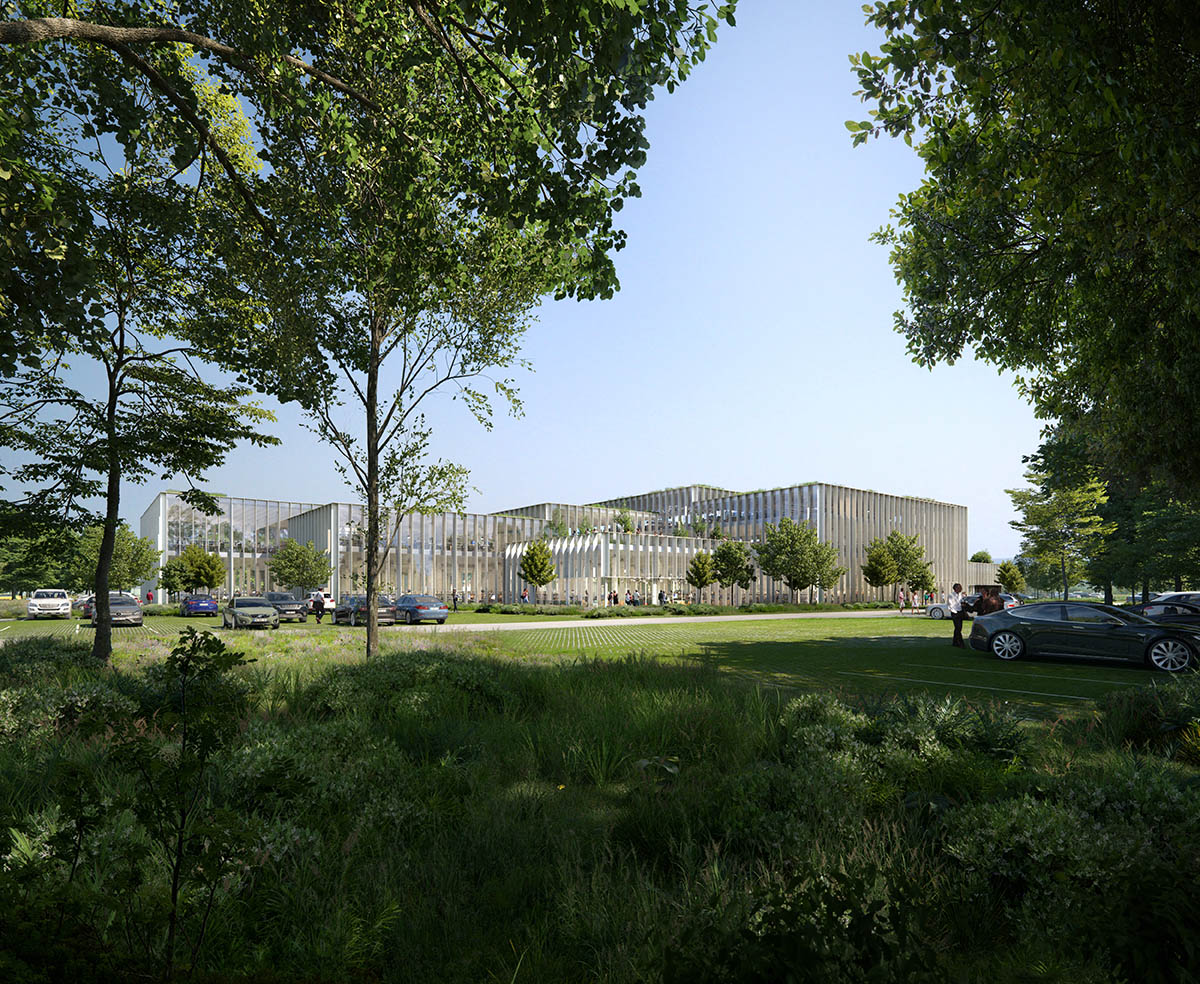 The state-of-the-art facilities will support their high growth ambitions and help to attract and develop highly skilled employees. Odense is known as the 'cobot capital' and is home to Odense Robotics – one of Europe's leading robotic clusters.
Cobot Hub will be made up of flexible modules tailored to the two robotics companies and their differing specialised needs. The concept is driven by the building's modular approach, the cubic volumes form a strong architectural expression and provide a flexible framework so that the building can be scaled up or down according to future needs.
Adopting a circular design approach, significant parts of the building's structure and materials can be reshaped and reused.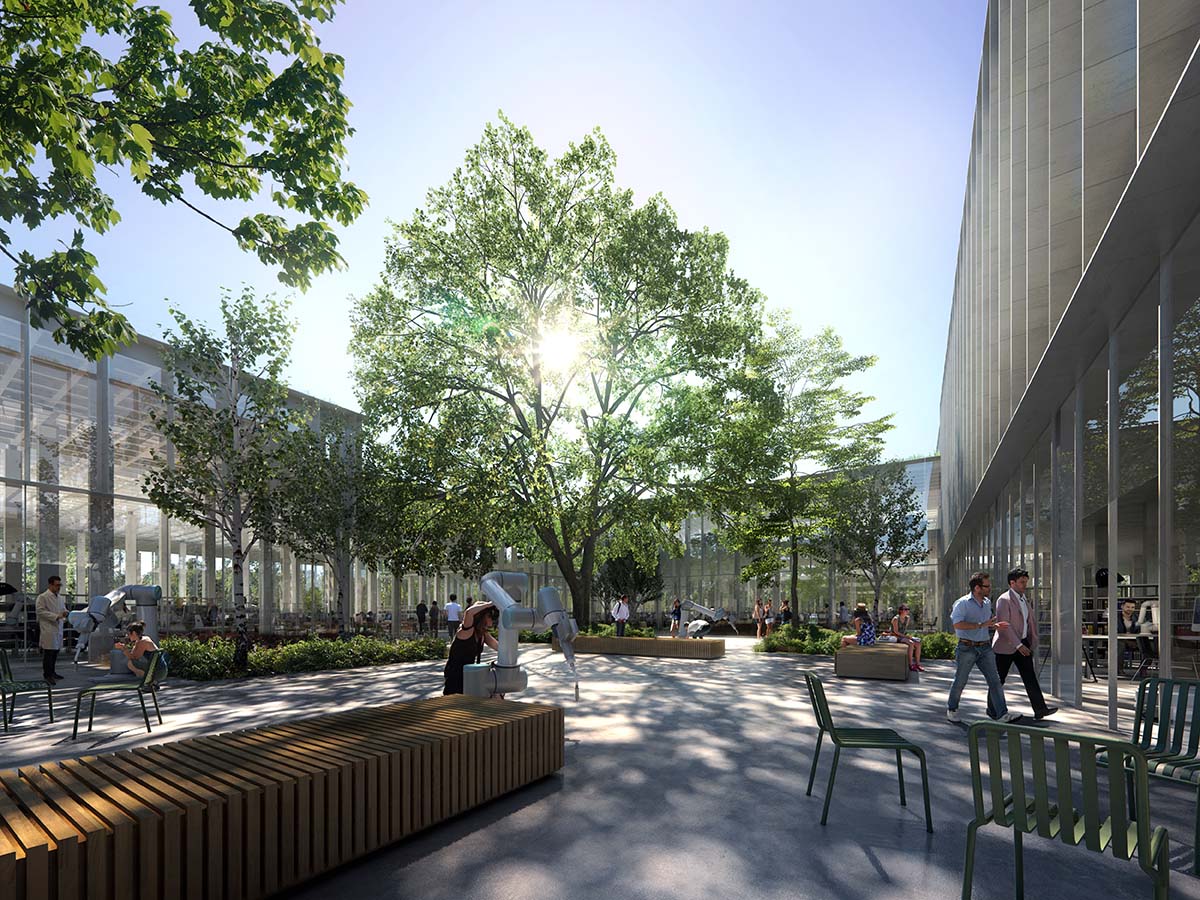 The design team has developed a wooden construction with potential for future recycling. In addition to being aesthetically beautiful and a living material, wood is great for indoor climate as it stores CO2 throughout its life.
"The design of Cobot Hub is based on the idea of a campus that includes open office landscapes as well as common areas and amenity spaces where employees can meet informally across the two organisations," said 3XN.
"The purpose is to create spaces which improve employee well-being and where exchanges of knowledge, innovation, and creativity can flourish."
"We have worked closely with the users of the building since the beginning of the process, and we have conducted many interviews to outline what the new building needs to deliver," said Audun Opdal, Architect and Senior Partner at 3XN.
"A lot of different elements had to come together. The new building will house two independent companies that need everything from traditional office space to workshops, laboratories, and creative robot 'playrooms', where the robots of the future are developed."
Regarding creating flexible spaces in working areas, Audun Opdal said: "This have been solved by prioritising a number of common areas and atriums that open the building up and create visibility and transparency and encourage social interaction and cooperation between people and departments. Spatial qualities such as daylight and green areas also contribute to employee well-being."
The name Cobot Hub derives from the robotics term 'cobot' – a contraction of 'collaborative' and 'robots' – the type of robots that work in collaboration or interaction with humans.
The construction work is expected to start in 2023.
Kim Herforth Nielsen, founder and principal of 3XN, spoke to WAC's the Netherlands Reporter Lola Kleindouwel as part of WAC's Live Interview Series about the main principles of 3XN, and connection to GXN.
Watch WAC's live talk with Kim Herforth Nielsen on IGTV.
Project facts
Project: Cobot Hub
Team: 3XN
Collaborators: MOE and HJ Landskab
Place: Odense, Denmark
Client: Universal Robots and Mobile Industrial Robots
Size: 20,000 m2
Expected completion: 2023
All images © 3XN
> via 3XN