Courses: Academic Writing, Lateral Thinking, Journalism & Bauhaus Pedagogy floated by AJC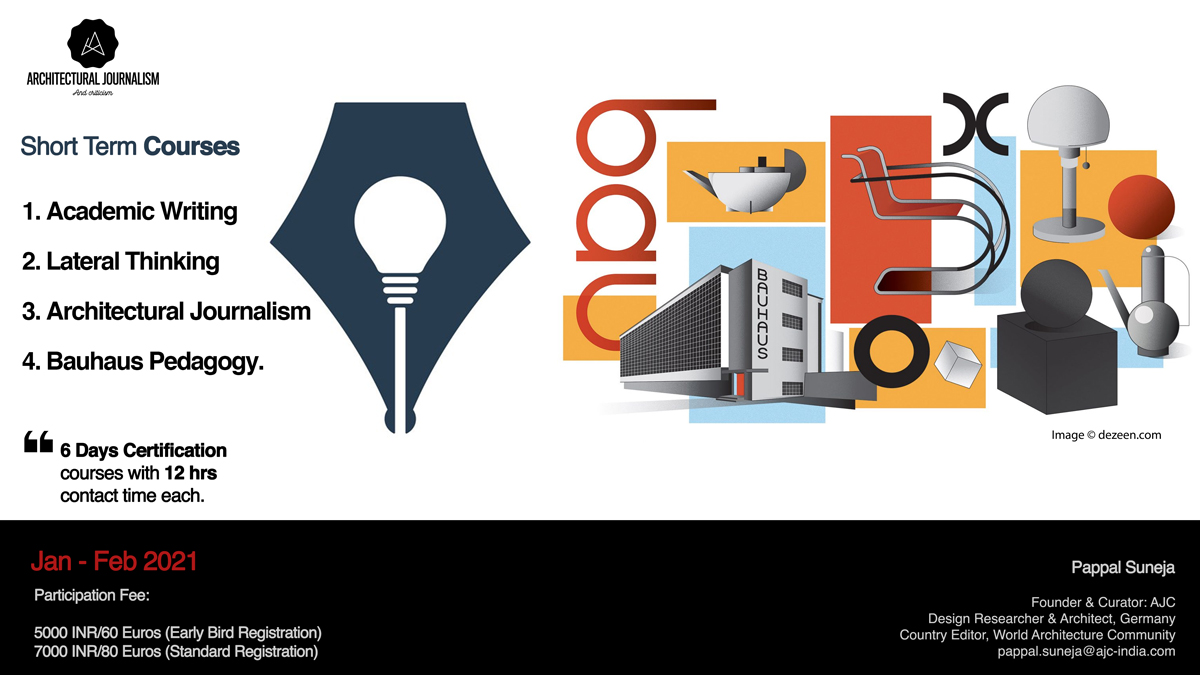 "Short Term Courses" (Academic Writing, Lateral Thinking, Architectural Journalism & Bauhaus Pedagogy) is the fourteenth initiative of the Architectural Journalism & Criticism Organization founded by architect and Design Researcher Pappal Suneja to spread awareness about this subject and sow the seeds of inspiration to explore, think and express about Architecture and allied fields from a critical perspective.
These 6 days Short Term Virtual Courses are being organized from Jan – Feb 2021.
Here is the brief structure and details for the same.
1. Academic Writing : it shall cover Technical Writing- Report, Thesis & Dissertation, How to write an abstract, Paper Writing - Review Papers; Referencing and Citation systems.
2. Lateral Thinking : it shall cover Brain Storming Design exercises with respect to Cross Stimulation (Fractionation technique for getting ideas moving), Suspended Judgment (Suggestions by participants with no attempt at evaluation of ideas) and The formality of the Setting (Dividing things into sub-categories and put them together in new ways)
3. Architectural Journalism : it shall cover Interpretation of Design, Preparation for Viva Voce, Knowledge of Arch Vocabulary, Need, and Importance of Architectural Journalism and Creative Writing: Articles, Essays, and Blogs etc.
4. Bauhaus Pedagogy : it shall cover Bauhaus - Humble Beginnings, Knowledge of Curriculum, Object Biography and Preliminary Bauhaus Exercises related to Design & Architectural Spaces.
Timings: Every Friday, Saturday & Sunday from 6:30 pm IST/2:00 pm CET onwards.
Detailed schedule and material shall be shared with registrants before the commencement of the courses.
Total Contact Time: 12 Hours for each Course.
Target Group : Students, teachers, Professionals, Designers and Architects.
Fee & Registration Schedule
Early Bird Registration Fee: 5000 INR/60 Euros (until 13th Jan 2021)
Indian Participants can follow the link to register and International Participants can enter here.
After registration, email your name in full, name of your Institution or the affiliated organization/place of work and payment receipt to [email protected] with the subject line AJC Short Term Course – Name of the Course that you wish to attend (Academic Writing, Lateral Thinking, Architectural Journalism or Bauhaus Pedagogy)
Standard Registration : 7000 INR/ 80 Euros (until 18th Jan 2021)
For other specific queries and concerns, feel free to write at [email protected]
Head Image: Poster Creative by Saurav Bavalekar