Anupama Kundoo – Taking Time exhibition reveals the architect's art of making in Louisiana Museum
A new exhibition, named Anupama Kundoo – Taking Time, has revealed the Indian architect Anupama Kundoo's material investigations, design processes and architectural works that showcase Kundoo's special art of making on her projects.
Opened at Louisiana Museum of Modern Art in Denmark on October 8, the new exhibition was opened as the fourth exhibition in the series, The Architect's Studio, Anupama Kundoo's exhibition will be on view until February 28, 2021 at Louisiana Museum of Modern Art in Denmark.
Anupama Kundoo – Taking Time features 1:1 models of projects, drawings, mini-format materials, constructions tools and a series of architectural models as well as Kundoo's own house "Wall House" - which opens up the architect's archive and processes in detail.
Image courtesy of Louisiana Museum of Modern Art
The exhibition, curated by Kjeld Kjeldsen and Mette Marie Kallehauge, with exhibition architect Brian Lottenburger, it reveals the handmade processes of Kundoo, alongside her sustainable, social, economic and environment-friendly approach with the new ways of the craft traditions she rethinks.
"Anupama Kundoo, 53, is a keen advocate of the idea that the architect – contrary to mantras about optimization and timesaving processes – should invest more time in thinking, researching, sharing knowledge and building, because this provides a deeper understanding of context, materiality, function and sustainability," stated in an exhibition description.
Image courtesy of Louisiana Museum of Modern Art
"And consequently in better architecture. We cannot make time, but we can take time, according to Kundoo, and this is a practice she lives by."
"At close quarters, Anupama Kundoo has studied the craft traditions she rethinks. She has followed Indian craftsmen, learned from them, discussed the development of their craft and built with them. She has designed both her own homes to be built by hand without using machinery and with local materials," stated the description.
"Alongside her work in the field, Kundoo has applied her knowledge and developed techniques that extend the life of traditions – in modern forms. Her home Wall House is an outstanding example. In the building of the Voluntariat Homes for Homeless Children in Pondicherry in India, she tried out the potter Ray Meeker's methods with a project created 100% in situ."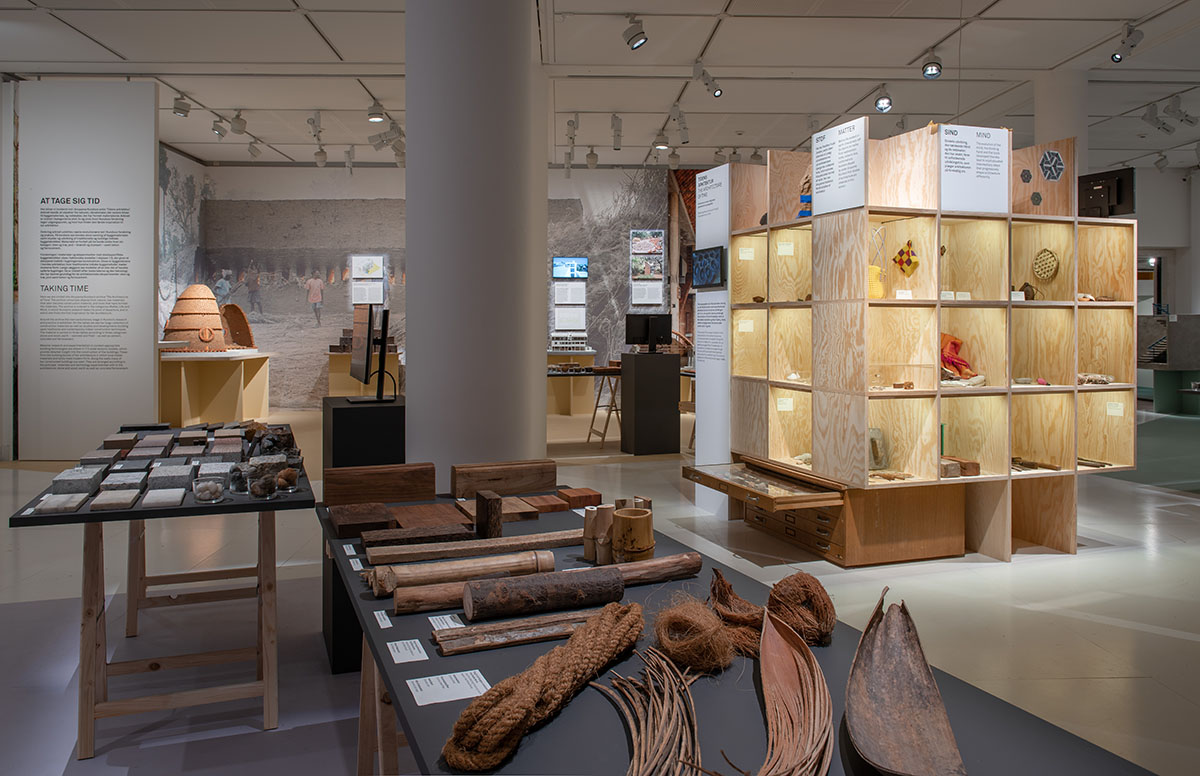 "Houses are built of hand-made, unfired bricks of clay from the local environment and filled with more bricks. All of this is fired. The house functions as a kiln, which hardens its own walls and bricks. The surplus bricks can be used to fund new projects or complete the rest of the architecture on the site," added a statement.
"Anupama Kundoo divides her time equally between drawing architecture, doing research and teach- ing. She gives priority to learning from earlier architects and building further on the ideas that are relevant today."
Image courtesy of Louisiana Museum of Modern Art
"It is essential for her to pass on her knowledge to the younger generations, but also to draw inspiration and learn from them, because architecture did not start with her, and will stand long after her, as she herself puts it. Architecture is an art that functions in and through time, and as an architect one must be aware of this."
"Time is important both as an understanding of evolution and development, as attention to personal time and as engagement in the everyday life."
The exhibition is divided into two sections: the main room is called "The Architecture Of Time", in this room the visitor has access to Anupama Kundoo's research archives, which include the first sources of inspiration, processed materials and architectural works.
Anupama Kundoo, Shah House, 2003, Brahmangarh, India. Image © Javier Callejas
This is a presentation of her research on and rethinking of Indian building traditions – an evolutionary journey from the first natural building materials – stone types and clay polished by the forces of nature – through mussel shells and butterflies to simple tools and handmade bricks.
Anupama Kundoo, Multipurpose Hall S.A.W.C.H.U., 2000, Auroville, India. Image © Javier Callejas
Under the categories "Life, Mind and Matter" the exhibition presents Kundoo's investigations of the nature of materials, the tectonics of earliest living beings, and mankind's ways of processing the material, which she calls "the thinking hand".
The collection of processed materials and tools falls into three categories: Stone and Wood, Earth, and Ferrocement and Concrete.
Image courtesy of Louisiana Museum of Modern
Within these categories, 13 models (1:50 scale) of her projects are presented. A number of details of the projects are shown by a series of models in 1:5 specifying their specific tectonics.
These models are built of among other things thousands of hand-made Indian bricks in mini-format.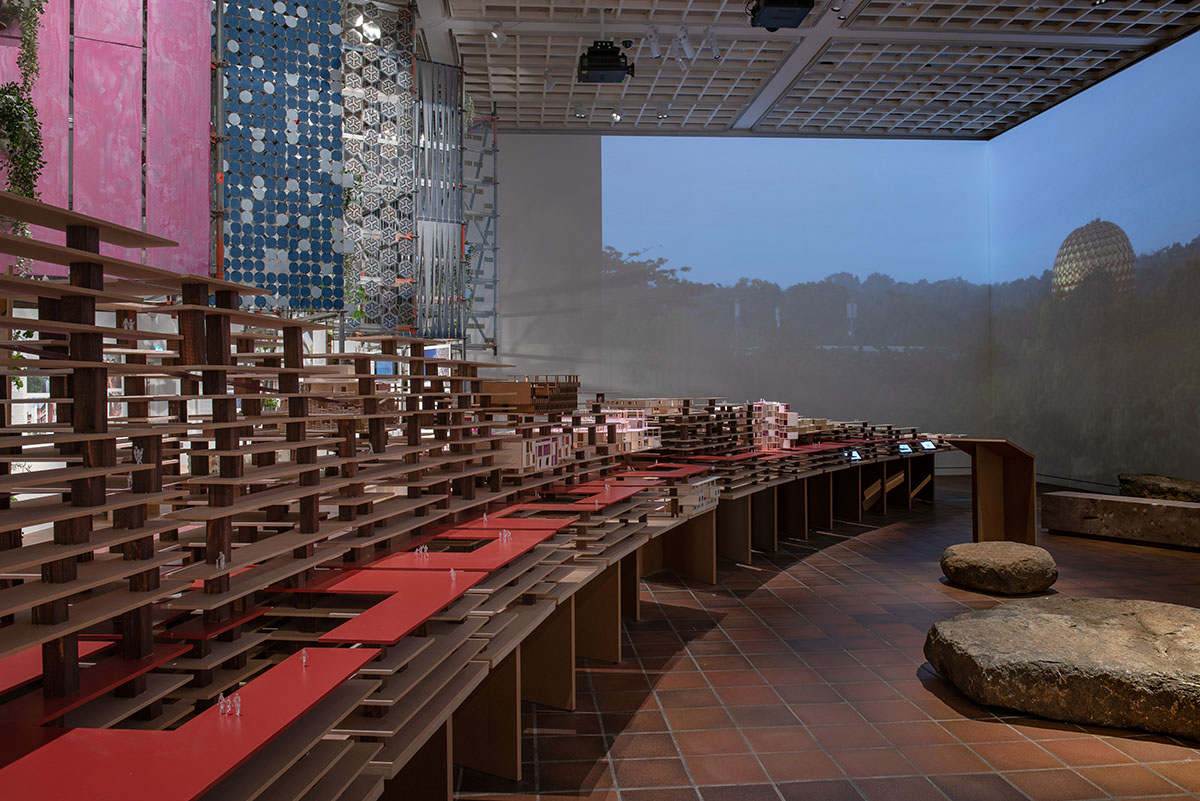 Anupama Kundoo's masterplan for Lines of Goodwill in Auroville. Image courtesy of Louisiana Museum of Modern
On the balcony between the two large rooms of the exhibition, visitors will find a 1:1 construction of Kundoo's single cell that forms the basis of her Co-housing project envisaged for Auroville.
This is based on her past research of the Full Fill Home prototype, conceived keeping the rapid urbanization and resulting housing shortage in India in mind.
Kundoo's affordable housing concept, Full Fill Home. Image courtesy of Louisiana Museum of Modern
A single house can be built in seven days by the homeowner-to-be using simple crates cast in ferrocement – a material Kundoo has studied and researched.
Built-in storage systems reduce the need for furniture, and the system can be used as a permanent or temporary home and be built anywhere in the world with a minimum of building experience.
Image courtesy of Louisiana Museum of Modern
The second room is called "Co-Creation" and it presents Kundoo's latest and so far biggest project – the town and housing development project "Line of Goodwill" for the city of Auroville.
The project not only builds further on original concepts for the city from 1968, but also on the spirit of Auroville, that is the tradition of cooperation across types of expertise.
Line of Goodwill has arisen in a collaboration with climate engineers from among others the German firms Transsolar, Amour Group and Bau Kunst Erfinden, and with students from three schools of architecture – The School of Architecture of the Academy of Fine Arts in Copenhagen, the Yale School of Architecture in New Haven and the Fachhochschule in Potsdam.
A model (1:50) of the 240,000-square-metre project is shown in the exhibition, and part of the facade is built up in 1:1 as an example of Kundoo's work with the development of intelligent facades.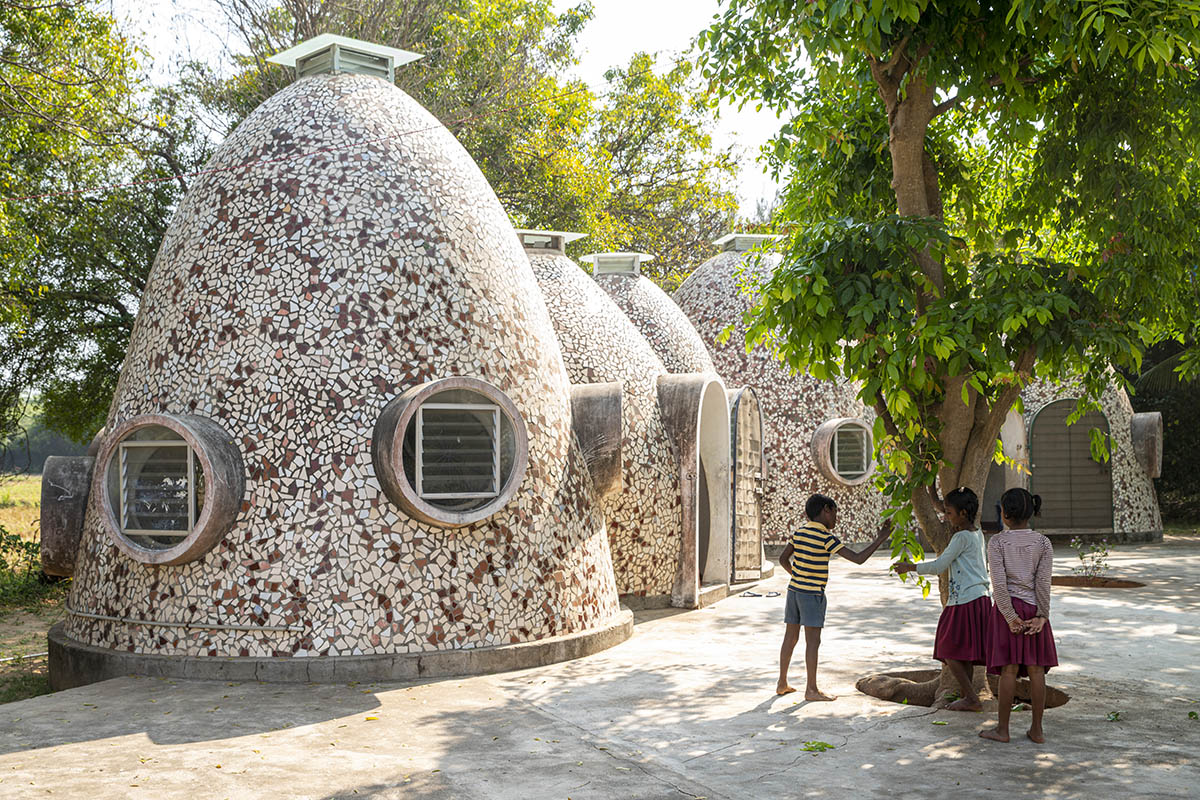 Anupama Kundoo, Voluntariat Homes for Homeless Children, 2008, Pondicherry, India. Image © Javier Callejas
Kundoo thinks sustainably, socially, economically and environmentally, and the facades must all save or generate energy while providing climatic comfort.
She works with three facade elements: Green Screens, which through the use of plants as part of the facade will bring the residents closer to nature, provide urban farming opportunities and create a better climate; Urban Surplus Recycled, where remains from denim factories in India are converted into facade cladding; and finally Energy Harvesting, where she collaborates with climate engineers on brand new energy-generating facade strategies.
Anupama Kundoo was born in Pune in India in 1967, graduated as an architect at the Sir JJ College of Architecture, University of Mumbai in 1989.
In 2008, she took her PhD from TU Berlin with the research project BUILDING WITH FIRE - Baked in-situ Mud Houses of India: Evolution and Analysis of Ray Meeker's Experiments.
Anupama Kundoo, Wall House, 2000, Auroville, India. Image © Javier Callejas
It is characteristic of her work that the knowledge she acquires at the university and in the field is passed on to the younger generation of architects through continuous training and workshops associated with the projects she is working on.
The exhibition of Anupama Kundoo – Taking Time is the fourth in Louisiana's series of monographic architectural exhibitions. These exhibitions enable the visitor to get closer to the working process of the studio and offer insight into how ideas become form.
Anupama Kundoo, Wall House, 2000, Auroville, India. Image © Javier Callejas
Anupama Kundoo also published her new book "Anupama Kundoo: Taking Time: The Architect's Studio".
Previously architects Wang Shu, Chilean architect Alejandro Aravena and Mexican architect Tatiana Bilbao exhibited their works at Louisiana Museum of Modern Art in Denmark.
Top image: Anupama Kundoo, Wall House, 2000, Auroville, India. Image © Javier Callejas