Studio Summary Designed Flexible Modular Project at the Foot of a Mountain
Summary, a young architecture studio based in Porto, designed and built VLC, a modular housing project in Portugal's Vale de Cambria, using their prefab concrete modular building system after the release of a prototype at La Biennale di Venezia -the Venice Architecture Biennale 2016.
Video © Building Pictures
Set on a sloping site at the foot of a beautiful mountain range the 1000 square meter project took shape; Summary's idea behind the design is based on repetition and replication –kind of architecture as "industrial assembly line".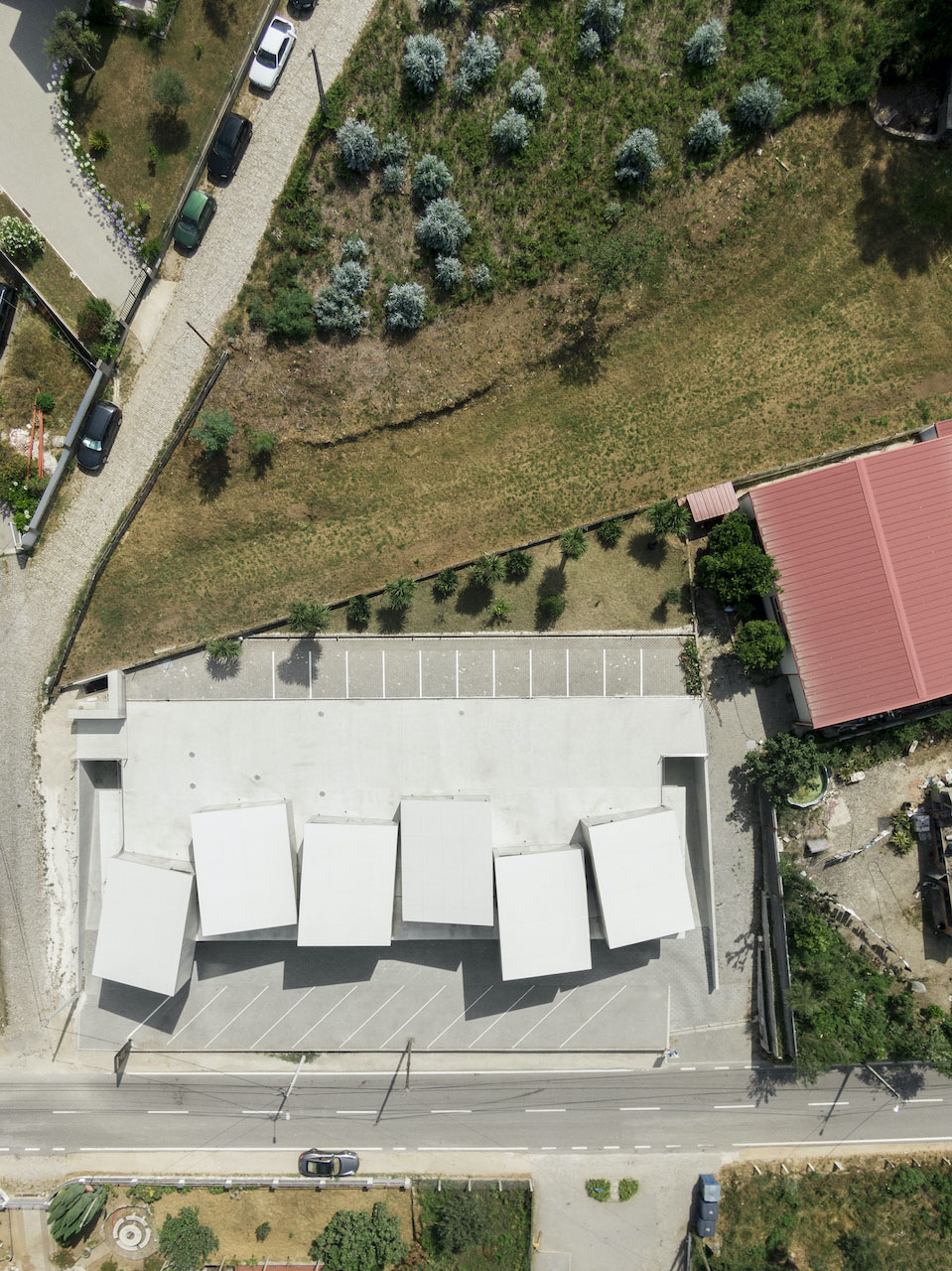 The strategy was clear, six (45 square meter each) cabin-style homes and a communal terrace sit atop a mixed-use building which connects to the ground public space. Given the differences between these two programs, each has an independent access while taking advantage of the natural ground's slope.
Inspired by the prefabricated modules used in sewers, the units are made of precast concrete sections that can be joined together to create a continuous shell of any size, all its components fully prepared in factory and quickly assembled in situ, performing at once as structure, insulation and cladding elements that were redesigned in order to make them "habitable" by changing the shape and adding the insolation layer. In order to optimise and speed up the process, the ground floor was built exclusively with prefabricated slabs and structural panels in the external perimeter, composed of Gomos System units. Required open space was used to separate the housing units as the maximum building area allowed by law was quite small.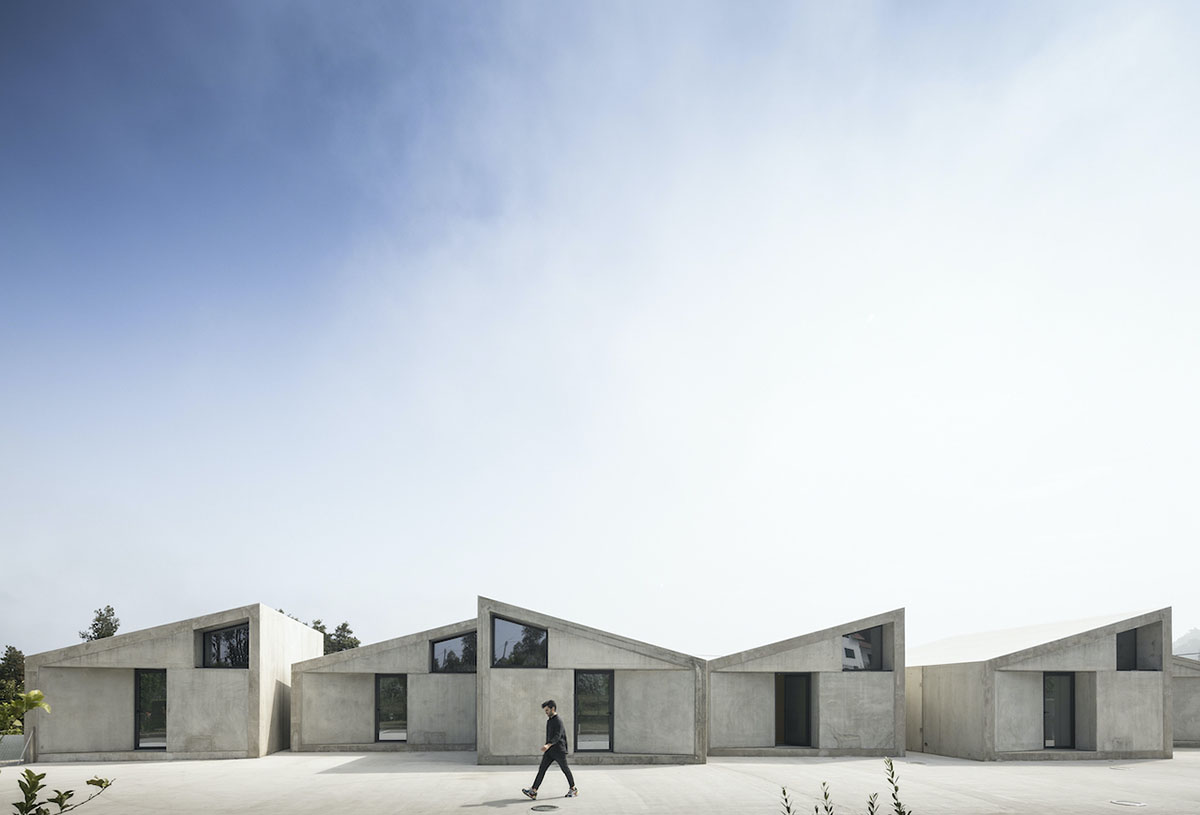 Designed -and licensed- as a collective housing structure, this project offers the main advantages of single homes with individual entrances and full acoustic separation between the different units. Their client, a private developer who wanted to develop a multifunctional space with retail offices on the ground floor and small apartments above, and whose main requests were time and cost efficiency prompting the architects to use exposed prefab precast concrete elements.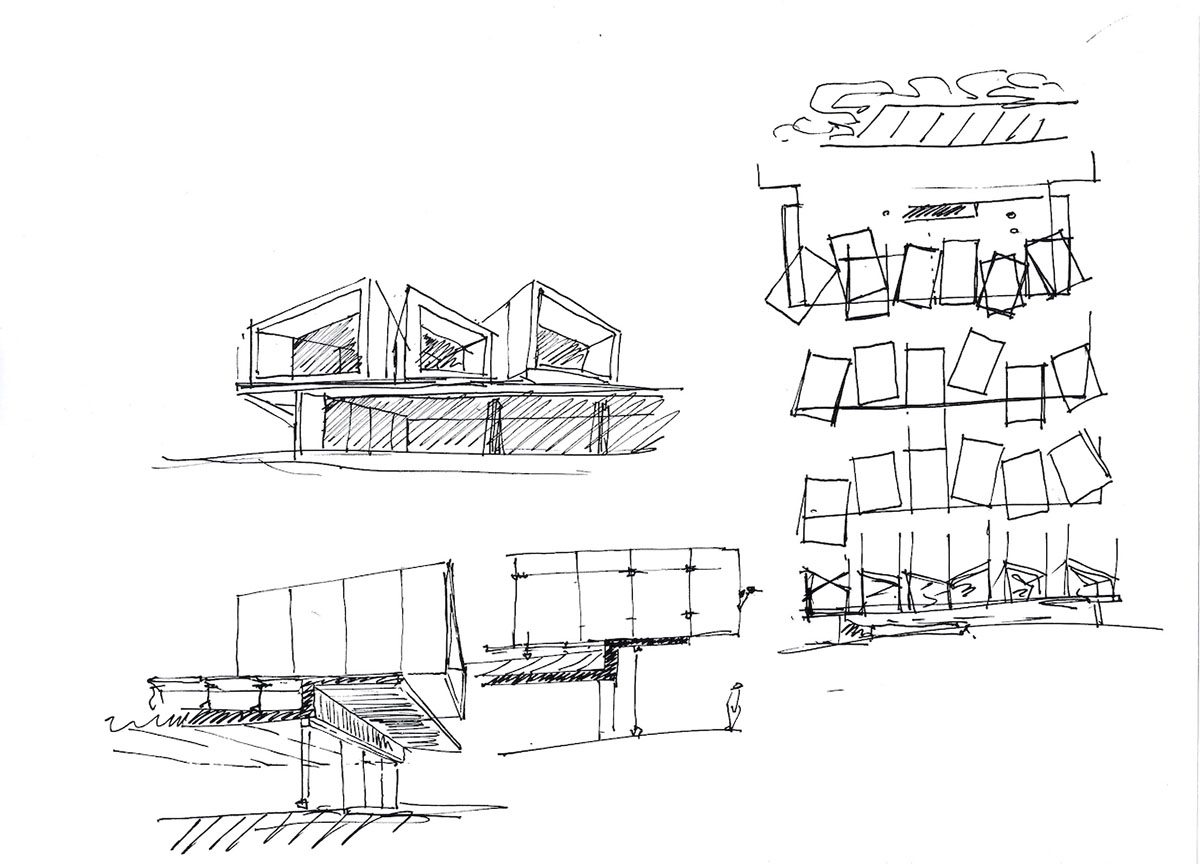 Image © Summary
Image © Summary
These were left exposed both in the interior as well as the building's exterior, no additional finishes or cladding was used thus reducing construction manpower which resulted in an attractive time and money saving solution. Raw concrete structure has been left bare to continue to minimise costs, yet bright yellow interior elements, such as doors and room dividers, and powder-blue built-in kitchens add colour to the homes' interiors. Sliding doors save on space, a table on casters can be stored in under the counter as a breakfast bar or be rolled out to be used for more formal dining.
The client's other priority was to make the building as flexible as possible. The ground floor, which opens to the public space, is a large space of over 700 square meters that can be either subdivided making it possible to add or remove compartments or let the whole floor function as one big open space, "users may adapt the space according to their needs," says Summary. The ground floor is now divided in half, occupied by a bakery and a small market. For the second floor which houses the six apartments, the program is not strictly defined –the point was to design spaces that could host several uses, that may change overtime; three of them are to be long-term low-rent units and the remaining three, given that the area is a popular hiking and mountain biking destination, as short-term vacation rentals.
In the end the design team's main constraint was logistics as Samuel Gonçalves, the studio founder explains explains; as opposed from many Soviet prefab cities, where the streets had specific dimensions so to allow the total rotation of the cranes and the proper handling of the modules, here they needed to improvise solutions for each step of the assembling process. They had to manually lift electrical and street lighting cables in the street, so the trucks could maneuver underneath, they also had to create space to park the crane to assemble the buildings' modules without interfering with the traffic were major challenges that the apparent simplicity of the prefab systems hides a lot of groundwork in preparation to make it work.

Video stills of the building process. Image © Building Pictures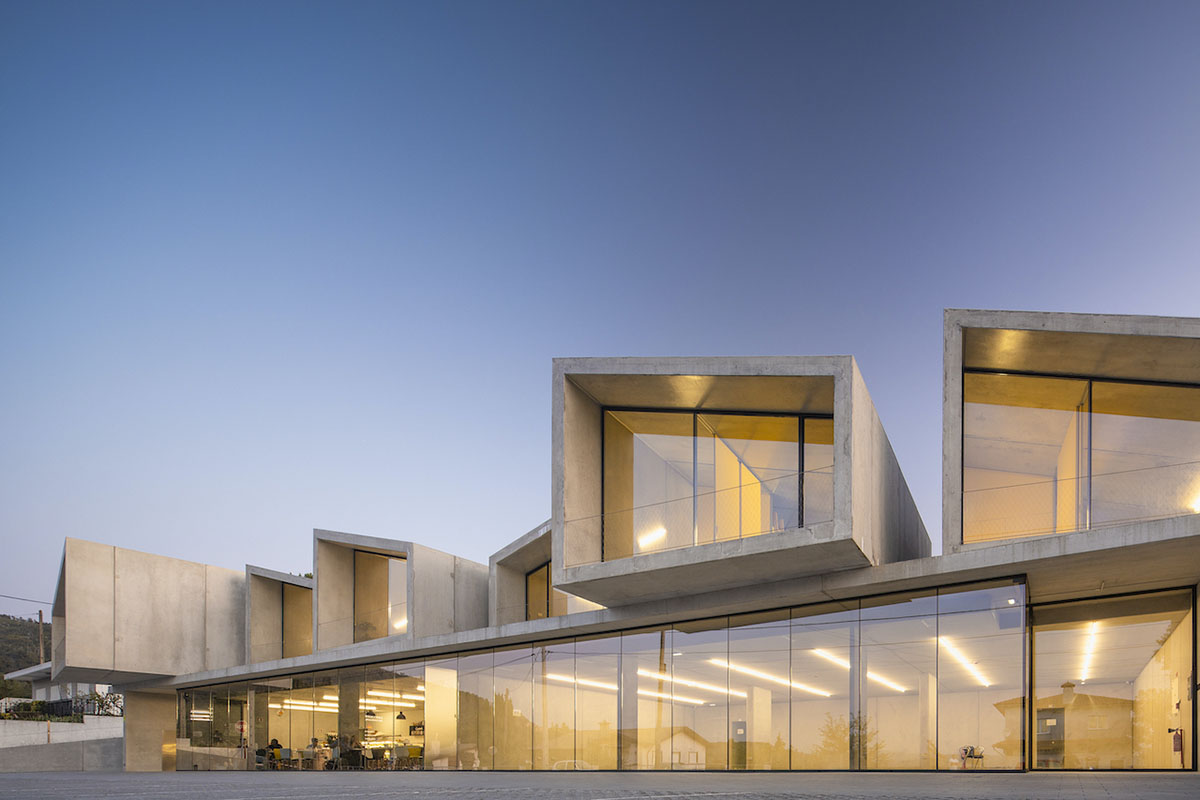 A young design team seeking a balance between pragmatism and experimentation is set in addressing a challenge in contemporary architecture: to accelerate and simplify the building process.
Project facts
Architecture: SUMMARY
Team: Project Leader - Samuel Gonçalves Architects - Samuel Gonçalves, Inês Rodrigues, João Meira, Gonçalo Vaz de Carvalho
Engineering: FTS, Technical Solutions
Prefabrication and Assembly: Farcimar, Soluções em Pré-Fabricados de Betão
Category: Multi-services + Housing
Status: Built
Construction Area: 998 m2
Predominant Material: Reinforced concrete
Location: Vale de Cambra, Portugal
All images © Fernando Guerra | FG+SG unless otherwise stated.
> via SUMMARY