Construction begins on Henning Larsen Architects' Forum Medicum at Lund University in Sweden
Construction work begins on Henning Larsen Architects-designed Forum Medicum, a new building at Lund University in Sweden.
Called Forum Medicum, the new Forum Medicum, covering approximately 16,000-square-metre area, involves an addition to and renovation of the Biomedical Centre (BMC) on Sölvegatan in Lund.
Named Forum Medicum, the project marks an 820 million SEK investment by the university and Akademiska Hus, a public Swedish enterprise focusing on research and educational facilities.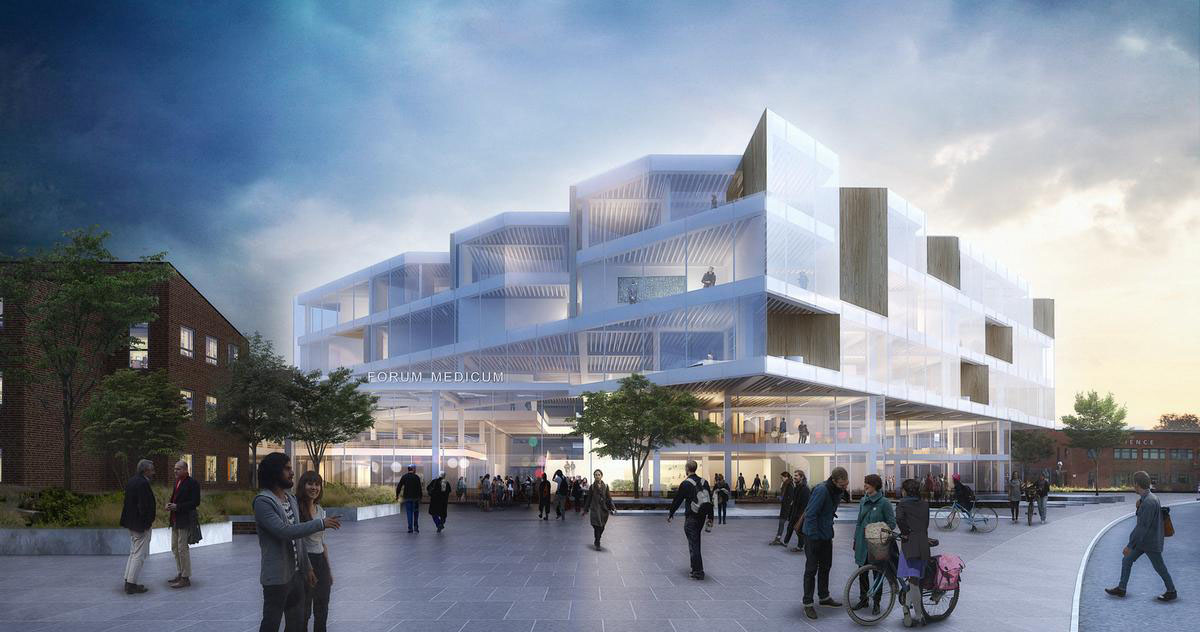 Henning Larsen Architects' design was selected from a competition shortlist of three in 2015, and includes (in addition to its main educational and research program) space for the public, a café, restaurant, exhibition space, and informal learning spaces.
"We are very happy that the Forum Medicum project will finally be realized, a project that combines joint research and learning facilities for medicine and health sciences, with open public programs in the center of the University Campus plan," said Ingela Larsson, Partner at Henning Larsen.
"The project, a joint investment by the University and Akademiska Hus, demonstrates the excellence that can be achieved through close collaboration."
The studio's vision for the project hinges on a concept of rotation; the top floors are spun by 45 degrees to juxtapose with the ground level. This results in a light, visually active mass that provides ample space for the niches and spaces ideal for informal study.
The design joins together medical and health science faculties, previously housed in separate buildings. The intermingling of the facilities allows for interaction between courses and the cross-pollination of ideas.
"Forum Medicum is an exciting project in many ways," said Åsa Henninge, Market Area Director for Akademiska Hus.
"The new building will provide a cohesive medical and health science knowledge centre that meets future needs for flexible, activity-based environments for research and education. At the same time, we will make the entire building and the location at Sölvegatan more open and more inviting to all Lund residents."
Construction is expected to reach completion in 2023.
Site plan
Elevation
All images courtesy of Henning Larsen Architects