LuxMea Studio combines AI, computational design, 3D printing for a new mask to fit everyone
Toronto-Based multidisciplinary design studio LuxMea has combined artificial intelligence (AI), computational design and 3D printing in a new mask to fit everyone's face and needs. Nuo 3D Mask is completely reusable and washable.
Dubbed Nuo 3D Mask, the studio has launched its design in a Kickstarter campaign, which is currently suspended on the webpage. However, the details of the mask are designed well to suit everyone's needs and face shape.
"Everyone has the right to breathe clean air. Today, we see more people wearing masks on a daily basis, but conventional masks do not work well - they are not comfortable to wear and lack of elegance in look," said the team.
"Our team started to wonder, what if you could have a mask that is comfortable to wear as long as you want to and protects you with a tailored fit? What if you could wear it out of pleasure like a pair of sunglasses."
"To fulfill such a desire, LuxMea team took advantage of the technology of AI, computational design, and 3D printing which we have been working with for the last few years in architecture and many other products, to deliver a bespoke mask experience for everyone."
"Our Nuo 3D Mask is individually tailored with the help of AI to fit everyone, including kids, so you can wear it comfortably with style. It also comes with replaceable filters to ensure that you are always breathing fresh air. Partner with us today and bring the bespoke experience to everyone," the studio added.
Currently suspended on the Kickstarter page, but the campaign targets US$ 10,000 and has collected US$ 5,873 already. The mask also offers color options, including white, black and blue.
The mask is made up of five layers: valve (dual valve system, ergonomically designed for an easy breathing experience) mask, foam, filters and straps, with its sub-layers: 2 non-woven spunbonds, active-carbon, meltblown non-woven fabric and cotton filter layer.
Nuo 3D Mask covers every part of the face and it doesn't allow to enter any droplets inside. The design team also draws attention to air quality issues.
"Air pollution kills over 7 million people every year. Everyone has the right to breathe clean air but nowadays we are facing an increase in problems associated with air quality which leads to lung cancer, heart diseases, and brain damage," they said.
"Cotton masks often have leakage problems and filter only twelve percent of pollution particles, Disposable masks have leakage problems and they are uncomfortable to wear."
"We are creating a mask that is comfortable to wear and protects you with a tailored fit, more importantly, we want you to wear this out of pleasure like a pair of sunglasses," LuxMea Studio explained.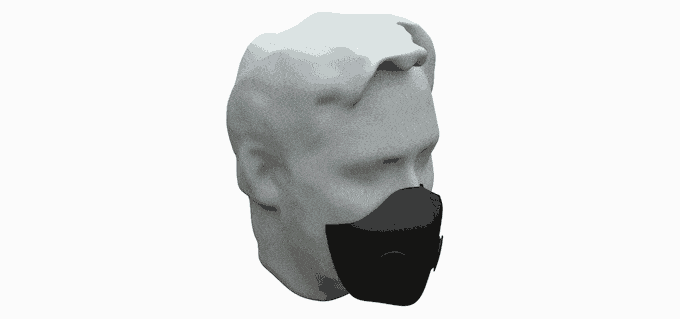 The design team added that Nuo 3D Mask comes with a replaceable filter that filters 99% of micropollutant particles, so users can always enjoy the fresh air.
More importantly, Nuo 3D Mask can be personalized with a fully customizable label to make users special, so everyone can wear a stylish mask with a personal or family brand.
All images courtesy of LuxMea Studio
> via LuxMea Studio