The Crucial Next Steps in Equitable City Building: Report on 2020's 'Next Step' Conference
Rebecca Solnit once said, "A city is a language, a repository of possibilities, …"
With the looming uncertainty and an infinite loss of lives because of the pandemic, it has brought with it some lessons for us city planners. The death of George Floyd that gave birth to the protests that erupted in America which subsequently spread across the world is a reminder of the forms of injustice that persist in cities here and around the world. The inequalities and uneven access to opportunities demand for a reinvigorated search for ideas that can influence change. Sometimes our solutions need to push the policy envelope, which is otherwise just a medium of ensuring legal process.
Recent Black Lives Matter protests in Toronto. Image (c) Toronto Grand Prix Tourist.
The need for powerful dialogue to necessitate a change in the way we planners think cannot be emphasized enough. Being a part of several virtual conversations on sustainable city building efforts and with planners like Jan Gehl coming to the forefront during Jane Jacobs' Virtual Walk 2020, I was able to reflect with many professionals and academicians within (and outside) the urban planning realm, on the significance of engendering just cities.
To realize housing affordability, food security, and a high standard of health for each and everyone, subjects of equity, diversity and inclusion must be at the centre of all our conversations.
"Alone, we can do so little; together, we can do so much." - Helen Keller
Next Step is a project piloted by urban strategists and thinkers, CP Planning and the University of Toronto's (UofT) Urban Studies Student Union (URSSU). The Next Step Conference, a City Building Summit, hosted by CP Planning's Cheryll Case and UofT's Nikki Mary Pagaling, on the 27th of April this year, was nothing short of outstanding, not only because the topics that were covered were relevant to the planning discourse, but also because it initiated a series of dialogues concerning equitable and just city building. The Conference aimed to change the current methods used to create (un)equitable communities.
Cheryll Case is an urban planner situated in Toronto, who specializes in a human-centric approach to community planning. As a City Planner and the founder of CP Planning, she has continued to provide expertise in producing and administering strategies with community members, private, public, and charity sectors, that facilitate a shift towards more inclusive communities that are both affordable and accessible to all. Nikki Mary Pagaling completed her undergraduate degree from the University of Toronto majoring in Urban Studies and Human Geography in early 2020. With a deep passion for engendering resilient cities, she is on a journey that explores urban geographies of identity through the analysis of race, gender, and colonialism. She also served as one of the 2019-2020 Co-Presidents of URSSU at UofT.
The fact that the Conference drew a number of attendees who belonged to a very diverse group of practitioners spread across different parts of the world was promising. The Conference became a platform that encouraged healthy engagement with persons whose voices were often left unheard.
The Mayor of the City of Toronto, John Tory, who has backed moves towards making Toronto's transportation network more active with the 25-kilometre expansion of the city's cycling network1, made the opening remarks that launched the Next Step Conference.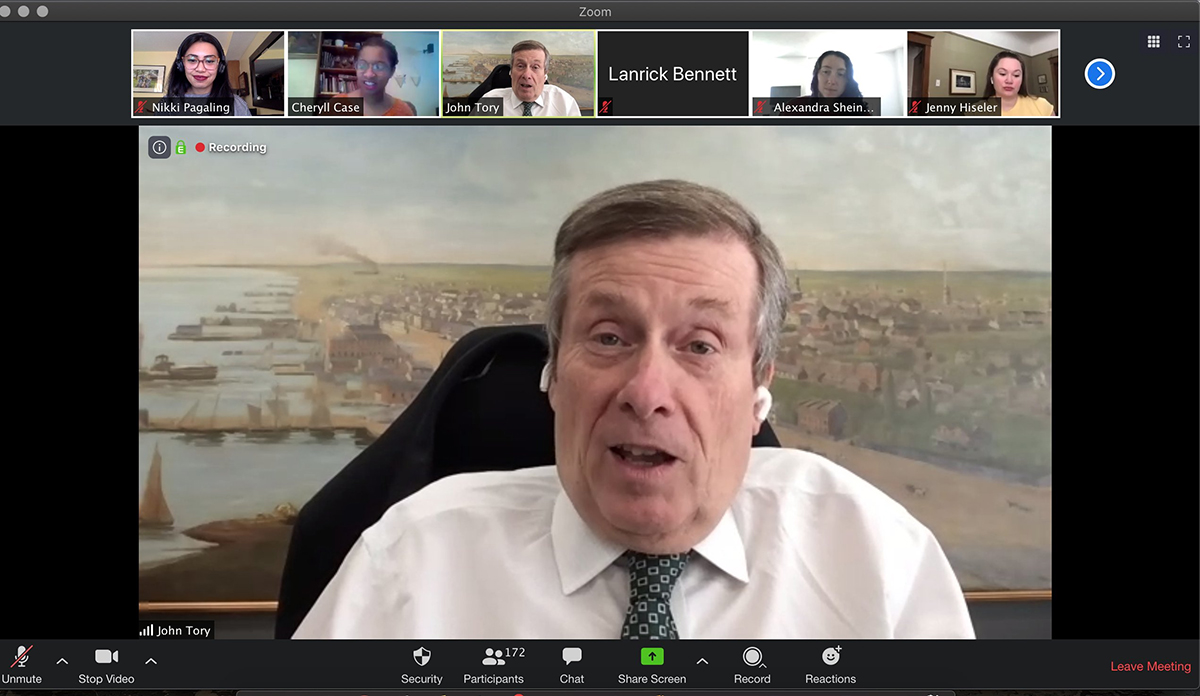 The Mayor with the opening remarks. Image (c) The Next Step.
After the opening speeches were delivered by the hosts and the Mayor, the Conference broke out into two sets of four separate sessions, with different moderators and panelists, that delved deeper into topics (listed below) that addressed the urgent need to support inclusive community building.
Set 1:
Session 1: Future Proofing Your City-Building Team
Session 2: Engagement that Shapes Cities
Set 2:
Session 3: Urban Agriculture in the City
Session 4: Art as a Means of Community Building
The first two sessions (part of Set 1) conducted simultaneously in two separate virtual rooms were namely, 'Future-Proofing Your City-Building Team' and 'Engagement that Shapes Cities'. The second set of sessions (part of Set 2), also hosted simultaneously, comprised the topics, 'Urban Agriculture in the City' and 'Art as a Means of Community Building'. Summaries of what went on in each of the sessions have been written out in this report.
Session 1: Future-Proofing Your City-Building Team
Zoom Session, 'Future-Proofing Your City-Building Team', in progress. Image (c) The Next Step.
The systemic racism in every sphere of life being experienced in countries across the globe is more pronounced now than ever. Planners are tasked with guiding cities in a new direction and there is a burning need to amend the status quo of the urban planning process.
Ryan Ram, Principal, Strategy and Engagement, of Matrix360, who moderated the panel, leads conversations on how to make the best use of networking opportunities for those who are passionate about urban issues. The esteemed panelists, Rosemarie Powell, Toronto Community Benefits Network's Executive Director, and Clayton Barranger, Bousfields' VP - Finance and Operations, drove the conversation forward. Rosemarie, who maintains her passion for social, economic and environmental justice, believes in the importance of representing racialized and marginalized communities in Toronto's construction industry.
The subject of discussion, 'Future Proofing Your City-Building Team', is especially important now because of conversations occurring in the background in light of the protests against anti-Black racism, and COVID-19. With the pandemic at large affecting the lives of scores of people, there are growing concerns regarding the densification of cities2. Instead, there should be a push for great urban planning with higher accessibility to transit and enhanced walkability options. Racial and economic inequities are increasing as we speak; the only solution to reshaping urban growth equitably is by incorporating inclusive hiring and planning practices in cities at the very outset. Barranger echoed a lot of the themes being discussed in the panel by providing a great deal of importance to mentorship when speaking about providing young city builders with access to equal opportunities.
This panel discussed how the real estate and development industries could incorporate inclusion, equity and diversity into work environs. Apart from the most obvious benefit of providing all folks with an equal opportunity to employment, best practices that involve furnishing the resources and supports necessary to succeed in the workplace are also made available. The acknowledgement of diversity in work environments is vital to improving relationships between senior leaders and team members. Respecting and appreciating members' unique backgrounds helps in building effective mentorships. The knowledge acquired from these healthy interactions makes it conducive for everyone involved to help tackle complex city building challenges. Senior leaders are now exposed to the new lived experiences of diverse individuals and team members are now benefited from the unstinting support. Self-reflection is an important tool to master. Authentic leadership, that drives towards diversity and employs deferential approaches in a team setting, will benefit from hiring a diverse team.
Mary J. Castel, Director of Business Development and Communications at Urban Strategies, stated, "Not 'culture fit' but 'culture add'. Importance of workforce reflecting the diversity of the communities in which we work."
Challenging tacit prejudices and biases that have been embedded in recruitment practices makes for a stronger case in achieving diversity and inclusivity currently absent in city building. If cities are to be planned equitably, the persons making those decisions also need to be fairly represented.
Next Steps:
• Begin the process (hiring) with the intent to build a diverse, equitable and inclusive team, thereby demonstrating a high level of commitment.
• Challenge the assumptions inherent in what it means to be a "good fit". Realize the untapped potential that diverse talent contributes to the existing organizational culture by allowing for potent engagement and healthy partnerships with diverse communities.
• Value the dynamism brought forth by the diverse members' lived experiences and knowledge.
• Build mutual trust and foster partnerships with diverse communities.
Session 2: Engagement that Shapes Cities
Zahra Ebrahim, Co-CEO of Doblin Canada, a consistent advocate for just communities, moderated the panel. She once aptly quoted, "If you're sitting at the table where everyone agrees with you, you're sitting at the wrong table."
Zoom Session on 'Engagement that Shapes Cities'. Image (c) The Next Step.
This panel explored how public consultation in the City of Toronto is conceptualized and put into practice across different levels. The panelists here drew attention to the challenges and assumptions that are largely a part and parcel of conventional community engagement methods. Ajeev Bhatia, Manager, Community/Policy Connections at Centre for Connected Communities, made an extremely pivotal argument on why internal audits are hugely vital ahead of engagements. He said that this was a great measure to address bias. He also quipped, "planners should understand community building more than communities should understand urban planning." Conventionally, public engagement methods leaned on "knowledge extraction" from the community. The hierarchical methodology employed by the planning community at large is outdated in the sense that suggestions and critical inputs are predominantly gathered in a top-down manner. This often includes a multitude of technicalities and field jargon. In writing about land use in the city, Andrew Keatts wrote that he believed that the only people who used more jargon than the military were urban planners. However comedic that sounds, it brings to light that this problematic approach to planning creates a barrier for community members to participate constructively.
Graig Uens, Senior Urban Planner for the City of Toronto, who has been involved in a variety of City initiatives, played a crucial role in driving the direction of the planning conversation towards effective community consultations. He previously asserted, "City Planning has to act as the group that consults with the community and takes that useful feedback and brings it to the developer, and really acts as a connecting force between all those parties." The importance of why the sense of community mattered echoed throughout the panel discussion.
In particular, marginalized communities (visible minorities, persons with different physical abilities, the working poor) are excluded more than white or homeowning community members. As a result, marginalized communities are most likely to support each other through mutual aid. By engaging them in the planning discourse, they are now in a position of control to aid in solving the problems they are encountered with, including food insecurity, the severe undersupply of affordable housing, lack of employment opportunities, the shortage of cultural spaces, etc.
A pride parade procession rolling through in the heart of Toronto. Image (c) Sean Smith.
Valentina Harper, founder of Facebook group, CareMongering-TO, was the most outspoken advocate for how cities should be made inclusive. Her dogged determination to change the way we planners designed our cities was seen in how she vociferously articulated her arguments.
The application of an intersectional, empathetic lens when engaging with the community will enable the public, private, and non-profit sectors to ascertain the needs of marginalized community members, and collectively develop solutions that are deep-rooted within their lived experiences.
The key takeaway from this panel discussion was to unpack internal biases and to ask difficult questions - not just about who was missing at the decision-making table, but what prevented the sharing of the table.
Next Steps:
• Award fair and adequate compensation to community leaders for their knowledge, time and effort.
• Acknowledge community's lived experiences as lived expertise that is essential to conduct community planning.
• Engage with grassroots community leaders and organizations by adopting purposeful and ethical strategies that are mutually beneficial.
• Strengthen the potential that already exists in communities, and track the progress of community-led initiatives already underway.
• Apply an empathetic and multi-pronged approach to community development that aids in understanding how communities actually function, and envisage planning outcomes that are in close alignment with a community's specific needs.
Session 3: Urban Agriculture in the City
According to World Economic Forum's report on food security, the world must feed 9 billion people by the year 20503. This panel discussed why urban agriculture mattered in addressing this challenge and how Toronto needed to become self-sufficient and resilient. A disturbing fact is that food insecurity impacts the black and indigenous population disproportionately. One of the solutions to facilitating urban agriculture equitably is by incorporating suggestions of city builders to allow for these communities to create, lead and implement solutions that are informed by their lived experiences.
Ryerson University's green roof being converted into an edible garden by Ryerson's student-initiated garden group. Image (c) Greenroofs.com.
Melana Roberts, Power Lab's Project Manager, moderated this panel discussion. Community-driven development models and community health systems have been her forte, and she believes that food workers should not have to be excluded from our conversations about transforming our food systems, especially when these workers are more likely to be discriminated against.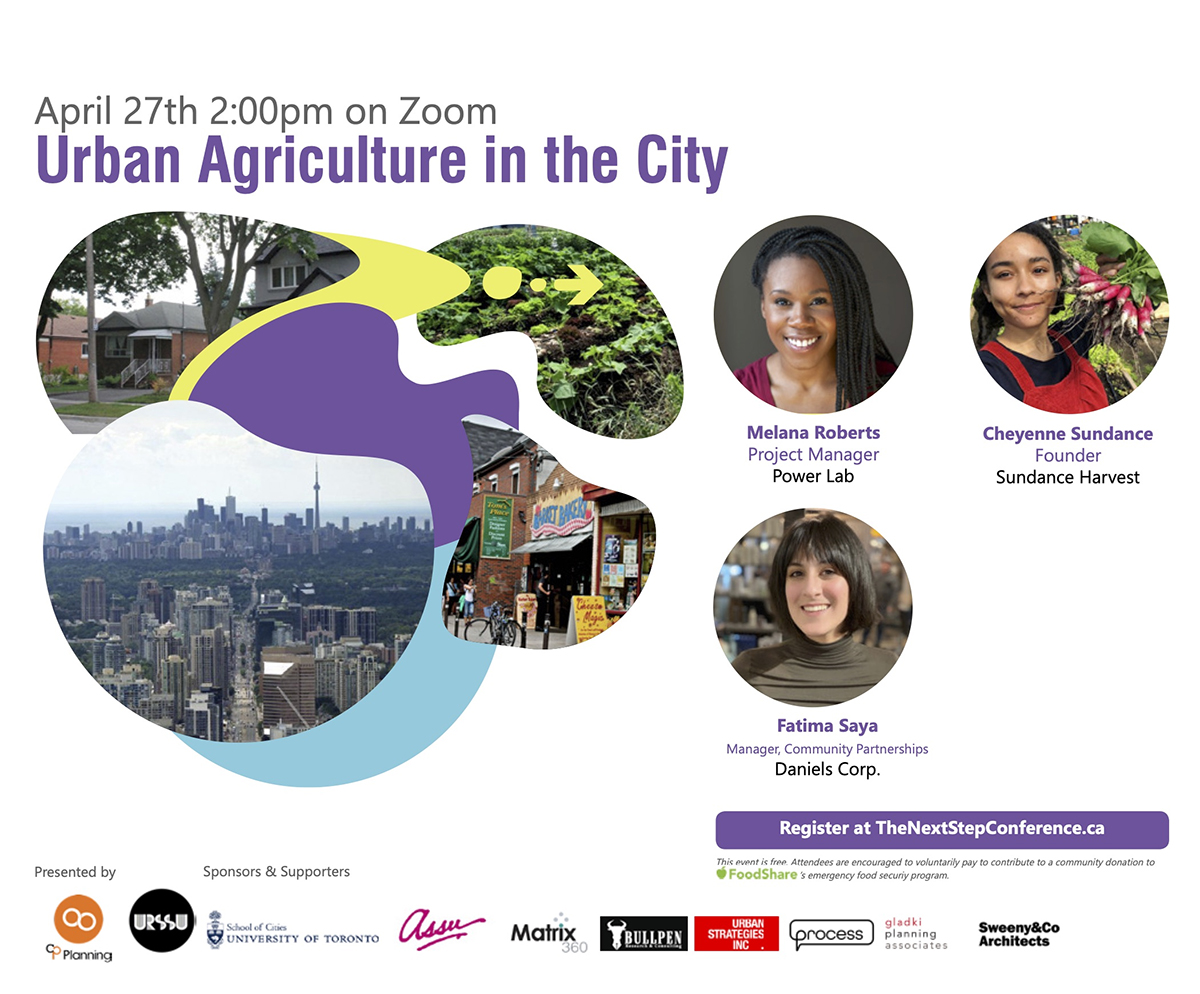 Zoom Session on 'Urban Agriculture in the City'. Image (c) The Next Step.
In fact, Toronto is already a pioneer in urban agriculture with a growing community of practitioners. The Mayor's office has officiated September 15th to be Toronto's first Urban Agriculture Day4. Toronto is replete with underutilized spaces that have the potential to be transformed into sustainable spaces that can house urban farms and community gardens. A planning framework for increased urban agriculture should allow for farmers and gardeners to sell their own produce, thereby enabling residents to achieve food sovereignty.
One of the session panelists, Fatima Saya, Manager, Community Partnerships at The Daniels Corporation, who is driven by her passion for women's economic empowerment, believes in giving women the tools to challenge perspectives and schools of thought on equity. The other panelist, Cheyenne Sundance, Founder of Sundance Harvest, a food and community justice advocate, is an avid upholder of the food and land sovereignty movement, and works towards the eradication of institutionalized racism within the food system.
With the unstinting support of the urban planning industry, there is hope that a system will be designed to oversee the access to urban land for farming. Fei-Ling, an architect, commented during the panel that we either have a huge opportunity to activate all suburban backyards to produce food, or let history write it off as the largest loss of a natural resource in Ontario.
• Increase the overall supply of agricultural lands in the City.
• Conduct a transparent study to find out those who would have easier access to land tenure and those who will be disadvantaged and/or excluded.
• Acknowledge the fact that food accessibility differs among different sections of society and that marginalized communities are the most vulnerable.
• Advance urban agriculture as a means to stimulate local economy and a priority mechanism to provide food security for everyone.
• Support the social and economic infrastructures that necessitate the sustenance of urban agriculture and urban farmers.
Session 4: Art as a Means of Community Building
Break-out Session titled 'Art as a Means of Community Building' in progress. Image (c) The Next Step.
The discussions in this panel titled, 'Art as a Means of Community Building', were about predominantly making a strong case for how artists and creative practitioners were to be intrinsically involved in the city planning process. Public art needs to be employed not only as a means to an end, which is very much the current scenario in the real estate and development industry, where art is utilized and valued only for its ability to lure capital. The current state of affairs should be altered to accommodate the value of artists. The work they produce extends beyond the artists' potential to generate capital. Examples of public art that are integral to how people experienced cities, neighbourhoods and communities were provided.
Sara Udow, the founder of PROCESS, the moderator for this panel, kept reiterating that a case for art was to be made. She emphasized the importance of what art can do for the community at large, and how inclusive cities are constructed as a result. The session invoked a certain level of interest because the artist, Kevin Merritt, was creating an art piece through the whole session, as ideas were being bounced around.
The art piece being created. Image (c) The Next Step.
The pandemic brought life to a standstill, but did not discriminate between the privileged few and the scores of others. It is in times like these that one comes to truly understand how essential art is to engendering vibrant civil societies. Hopes are reignited and substantial connections are made with the help of art. Artists, consequentially facilitate community building and connection.
Communities are considered healthy if they are designed keeping people in mind. Relevant contexts and appropriate content representative of cultures inhabiting communities should be made both available and accessible to everyone. Members of the community should find that 'space' where they are comfortable spending time with one another.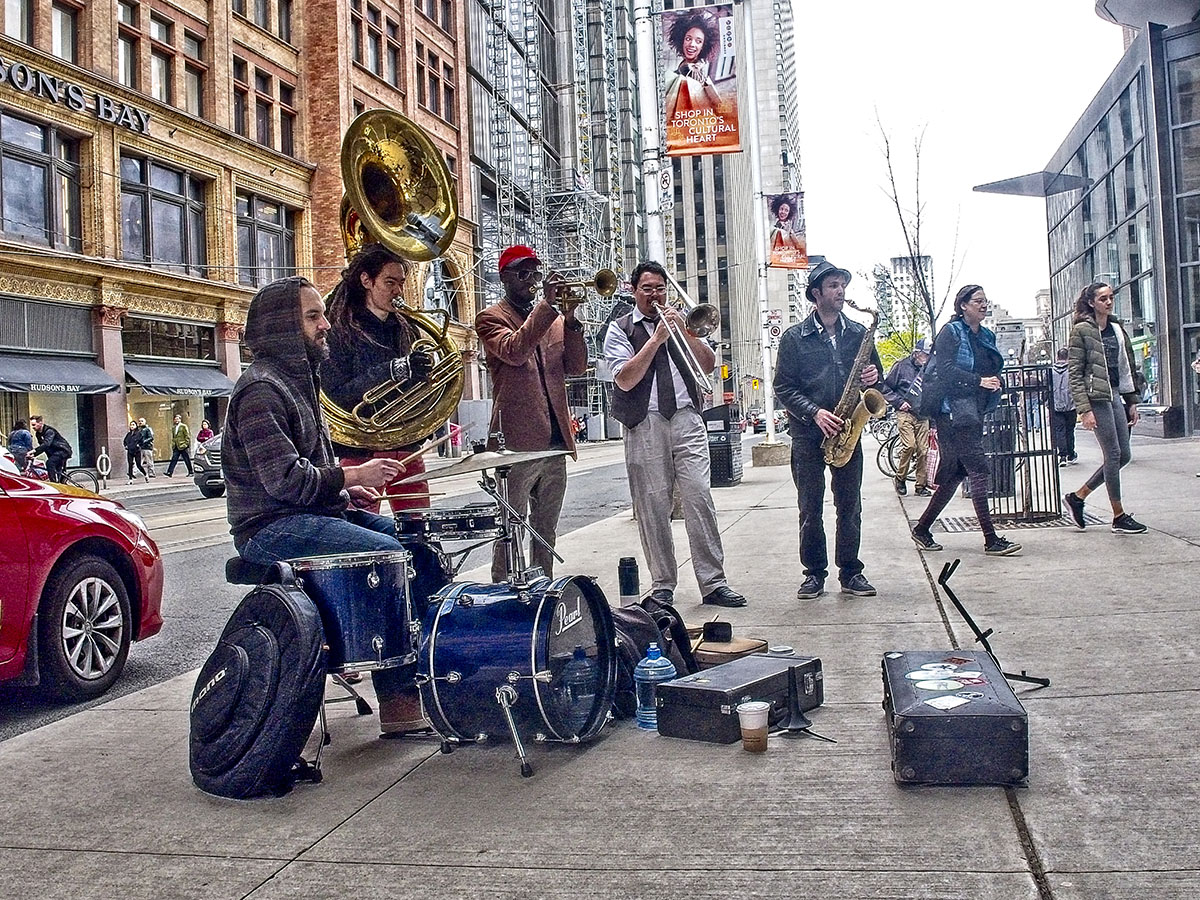 A Brass Band in full form in the downtown area. Image (c) Sean Smith.
Assaf Weisz, Vice President of Strategy at Artscape, emphasized the importance of re-engineering the sequence of events in the process of city planning. Assaf continued on to say that art should be included as part of that process. An active arts scene, characteristic of the different cultures that make up our Canadian cities, is crucial to engendering equitability in our neighbourhoods. This can happen only if engagement with diverse communities is made a requisite rather than an after thought. That way, persons who are often excluded from the public sphere are made a valued component of the society.
Hiba Abdallah, Adjunct Professor at the University of Toronto, previously the Senior Research Fellow at Broken City Lab, is an artist whose work is embedded in social practice. She combines design and social tradition as mediums for exploring locality and civic agency in different communities. At the panel, she remarked that artists had morphed and ebbed into existing systems, and recapitulated her perspective on how artists needed to be given due respect in more meaningful ways. This is why spaces and other amenities need to be afforded to artists to unleash their creativity.
Art is not appreciated because of its aesthetic appeal alone; art can be a real amplifier in bringing about social change. Art, in fact, has the potential to smash stereotypes and challenge prejudices about race, religion, social and economic inequalities, and gender.
As Lister Sinclair famously said, "Art pulls a community together... Art makes you feel differently. That's what artists are doing all the time, shifting and changing the way you see life."
Next Steps:
• Treat art as the cultural norm, rather than a stand-alone requisite.
• Embed art as an early component of the development and/or planning process.
• Engineer the possibilities for creativity upon the most mundane elements of our cities, such as construction barriers, facades and sidewalks.
• Budget for art and treat artists like solution providers critical to the decision making process.
• Harbour deep, long-lasting relationships with artists that are not limited to one-off projects.
• Maintain a consistent and dedicated commitment with artists and cultural workers, and support their creative initiatives.
The event culminated with a session that involved a captivating exchange of ideas, 'Big Ideas in Urbanism', on what the overarching ideas on urbanism ought to be, the conversations that were to be had at the moment and the course of direction these ideas were to take in the future.
Some of the attendees who made it through to the end. Image (c) The Next Step.
Sa'ad Ahmed, Founder of Tiny Toronto, presented his innovations in housing and went on to explain how those interventions could be translated to creating attainable housing. His Tiny Homes model illustrated new housing prospects that would result out of robust partnerships with existing homeowners. These partnerships would bring to life the proposition of additional housing through modular additions to existing homes and garden homes erected in rear yards. While these suggestions sound rather straightforward, questions of access, land use and privilege are brought to the fore. He raised a very important question, "How are the privileged about giving their spaces up that will benefit the community?" The housing model discussed here may thrive in places like Rosedale or Forest Hill where private ownership is commonplace and properties are larger. But, these same neighbourhoods are pressured with tensions regarding socio-economic privilege and the willingness to invest in home additions.
Armi de Francia, Active Transportation Coordinator at the Town of Ajax, introduced her approaches to encouraging active transportation in the ongoing transportation awareness campaign, #GetAjaxMoving, through community engagement and continuous evaluation. Her primary focus on racial equity in active transportation planning aligns with the work she does with the Town that calls for purposeful engagement with racialized families, immigrants and residents of different ages and abilities, as a way of responding to the needs of members of diverse communities in suburban municipalities. She said that Ajax's plan was to increase active transportation by 10% through sustainable transportation modes. The most effective mechanisms involved people engaging in rich discourse via participation in events in spaces where they felt a sense of belonging and safety. Cultivating partnerships and building relationships with persons outside of the planning field materialize in meaningful engagement with diverse groups of people.
Nadine Spencer, President, Black Business and Professional Association said a few words as part of Next Step's concluding session. In cultural spaces like Little Jamaica, also known as Eglinton West, we must look at diversity,
inclusion, and equity as an integral part of its landscape. Little Jamaica's vitality is attributed to its diversely owned and managed businesses, Black, Italian, Vietnamese, and others. Historically and for Toronto, however it is a cultural landmark of Black retail and culture. This main street has among the greatest percentage of Black businesses along its street when compared to its contemporaries. It once famously boasted of having more reggae record stores than even in Kingston, Jamaica. The rates by which commercial rents have increased on this street have jeopardized the very heritage of these Black businesses, placing them at great risk. Many Black businesses may be forced to shut shop and will be displaced as a result. The cultural and social fabric of the community that has existed for years at Eglinton will be threatened. The abolition of gentrifying strategies through the creation of commercial land trusts and customized funding strategies will ensure a retail landscape symbolic of Toronto's diverse population.
The Conference was an absolute success. One artist observed, "The ideas brought forward in the conference are in fact ideas whose time has come - answers to affordability, liveability, pollution, and quality of life in our City." Another participant, an architect, requested for the Conference to be made an annual feature.
Future iterations of The Next Step Conference will seek to further support relationship building amongst those active and passionate in city building for engendering the creation of equitable, inclusive, and healthy communities. The event scheduled for 2021 would build on the conversations had at this Conference and will hopefully generate tangible action plans based on the input of 2021 participants. Let me end this report with John Lennon's thoughts on hope, "Evolution and all hopes for a better world rest in the fearlessness and open-hearted vision of people who embrace life."
References:
Case, Cheryll and Pagaling, Nikki Mary. "The Next Step Conference Report on the 2020 City Building Conference." https://thenextstepconference.ca/.
1. Boisvert, Nick. "Toronto to expand cycling network by 25 km in bid to ensure physical distancing amid COVID-19. CBC News, 28 May 2020. https://www.cbc.ca/news/canada/toronto/toronto-city-council-may28-1.5588231.
2. Miller, Glenn. "Density can work post-COVID-19, with good urban planning." Policy Options, 08 Jun. 2020. https://policyoptions.irpp.org/magazines/june-2020/density-can-work-post-covid-19-with-good-urban-planning/.
3. Breene, Keith. "Food security and why it matters." World Economic Forum, 18 Jan. 2016. https://www.weforum.org/agenda/2016/01/food-security-and-why-it-matters/.
4. Friedmann, Charlie. "How to feed a hungry city." The Globe and Mail, 03 Nov. 2017. https://www.theglobeandmail.com/news/toronto/new-urban-agriculture-projects-in-toronto-are-struggling-to-take-root-as-public-awarenesslags/article36835601/.
Top Cover Image: Car-free streets in in the vicinity of Toronto's Eaton Centre. Image (c) Scott Webb.