Film producer Chris Hanley's Invisible House reflects its surrounding desert landscape
An elongated mirror-clad Invisible House reflects its own surrounding desert landscape which is hard to grasp from far away.
Situated near Joshua Tree National Park, which is 2 hours southeast of Los Angeles and 10 minutes from downtown Joshua Tree, the cabin-like house was designed by American film producer Chris Hanley and architect Tomas Osinski, a Frank Gehry collaborator.
The privately owned home is now available for renting for filming, photography, intimate events, and larger outdoor experiences.
The house, covering 5,000-square-foot or 465-square-metre area, was designed with fully mirrored exterior which disappears into the surrounding desert landscape, while at the same time, its angular dimensions offer a strikingly different appearance from the large worn boulders that marks the area.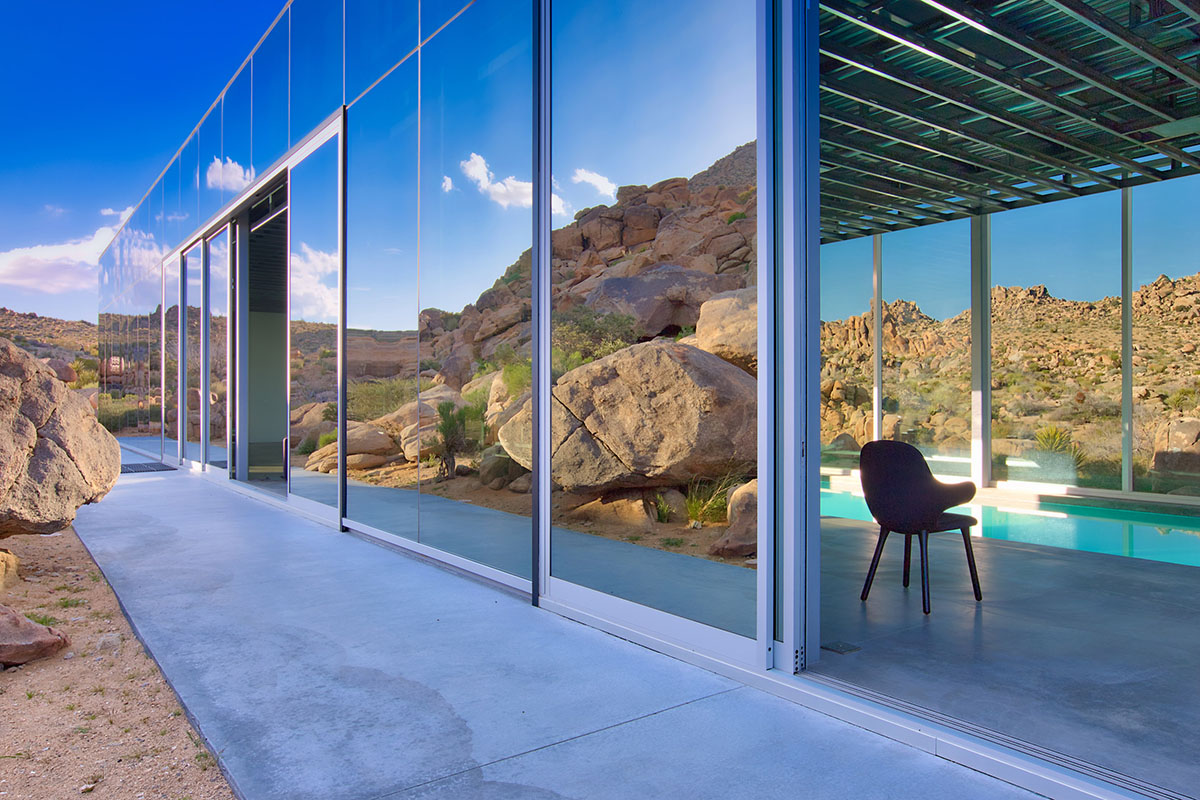 In the interior, the house includes a 30-metre-long indoor swimming pool, while offering a mesmerizing view towards an arid landscape.
The interior space contains 3 bedrooms (kings and ensuites), bathroom, prefab guest house. Its interior is sleek, stark and cool, while just outside, it reflects the earth tones of the land beneath the expansive lavender and blue skies.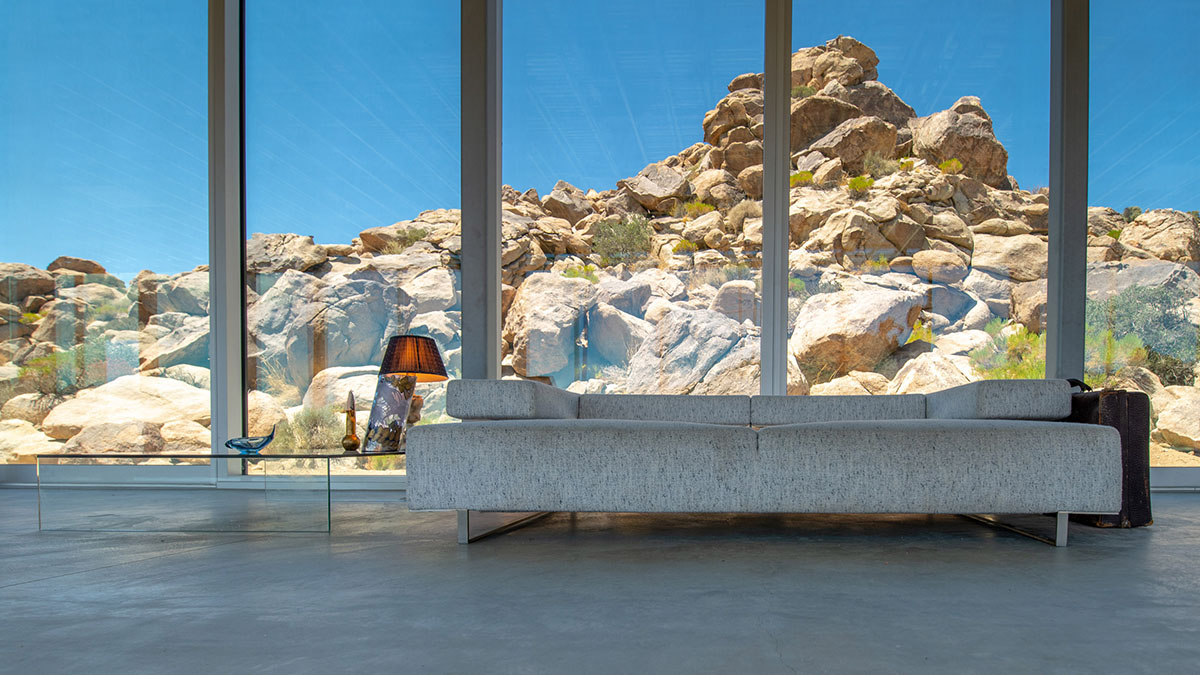 The interiors consist of a west-facing wall of sliding floor-to-ceiling glass doors. The entire wall opens tor reveal the breathtaking expansive of wind-born boulders, the desert brush and iconic trees, and red and purple shadows cast upon the rocks as the sun moves across the sky.
As the dark desert sky fills with stars, the pool offers up its own light snow, changing from electric blue to deep red, neon, green, turquoise and violet.
A 11(h)x16(w) (222sf) white wall at the end of the pool can serve as a projection screen for films, videos or still images for guests. Smooth, concrete floors and contemporary seating dominate the interior, which features gleaming white surfaces and Boffi fixtures.
Its modern kitchen is built for smaller catered events and includes 2 ovens, a heating drawer and separate refrigerator and freezer storage.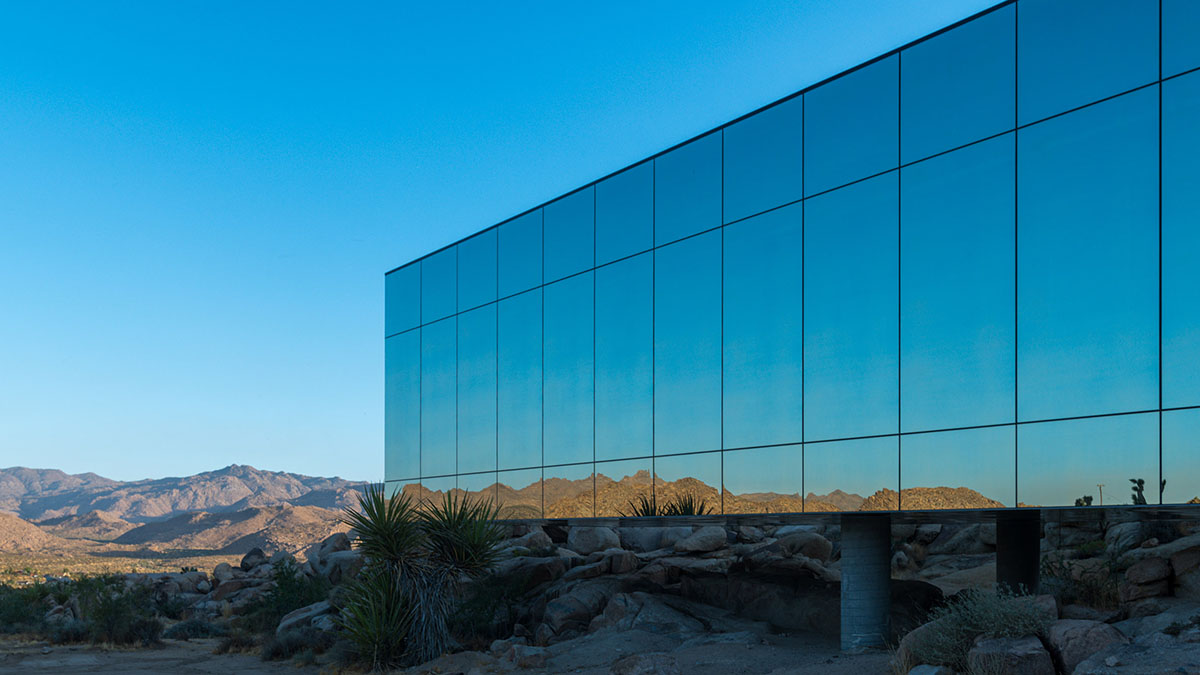 Chris Hanley is American film producer and behind the movies such as Buffalo '66, The Virgin Suicides, American Psycho, Spun, Spring Breakers, and London Fields.
Hanley previously worked with Whitaker Studio to design a branched-shipping container home in an arid landscape of California.
All images courtesy of Invisible House
> via Invisible House