Whitaker Studio proposes a branched-shipping container home in an arid landscape of California
A group of shipping containers is irregularly jointed together for the Joshua Tree Residence, which is envisioned by London-based visualisation firm Whitaker Studio led by James Whitaker. Pale pink coloured containers will now being built as a private house of a film producer, which was previously designed an office block in Germany and never built.
This time, James Whitaker has redesigned the building like a "desert star" bursting from an arid landscape, which makes the building's form adaptable to its peerless environment with a distinctive outer appearance.
The Joshua Tree Residence will be designed for a client, who is a film producer and has a background in nurturing creative projects into fruition. The couple, who live in Los Angeles, purchased the 90-acre plot before to realise their dreams - the site is located in Joshua Tree National Park, Southern California, which has a fascinating variety of plants and trees.
The client has decided to build her own private houses after he and his friends took a road trip to the site earlier this year. "Whilst there, amongst the arid landscape and jutting rocks, one of the friends said, "you know what would look great here?", before opening her laptop to show everyone a picture she had seen on the internet. The picture was of an office that I had designed several years ago but had never been built.," said James Whitaker.
The building is situated on their 90-acre site, the house sits on a mountainside spanning a wash, where stormwater has created a small gully in the landscape.
The house encompasses a 200-square-metre space consisting of 3 ensuite bedrooms, a kitchen, living room. Whitaker has designed a special "exoskeleton" formed out of shipping containers.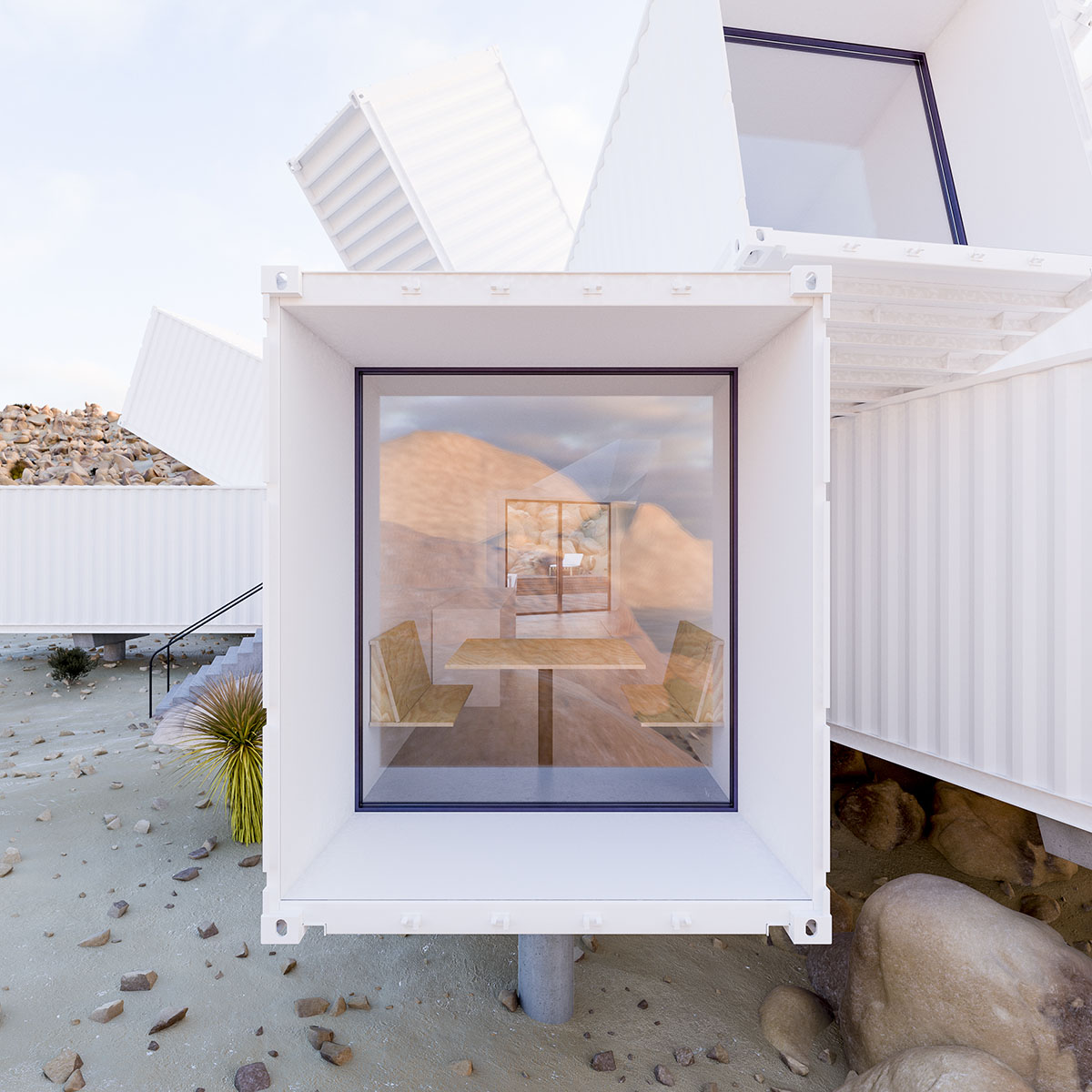 All containers have only one window overlooking this spectacular natural landscape from different vantage points. Each container is orientated to maximize views across the landscape or to use the topography to provide privacy, depending on their individual use. There is also a car park, a little bit far away from the house, which will be producing electricity for the house with solar panels.
The interior of the containers is designed as free space by only including irregularly-formed furnitures and fixtures. Red and pastel tones of pink are the dominant colours for the interiors.
Albert Taylor, co-founder of the engineering firm AKT II, will work with James Whitaker to work on the Joshua Tree Residence's structural development. If everything goes on a plan, the project is scheduled to start on site in 2018.
Whitaker's previous proposal - the unbuilt German office building is going to be exhibited at the National Maritime Museum of Australia from October 26, 2017.
All images © Whitaker Studio
> via Whitaker Studio