RebelArchitette releases an interactive public world map showcasing outstanding women architects
Women-led collective RebelArchitette has released an interactive public world map showcasing outstanding women architects from all over the world.
A new tool, aiming to "detox architecture from inequalities", puts 732 outstanding women architects and their practices from around the world; a new public tool is named WAWmap.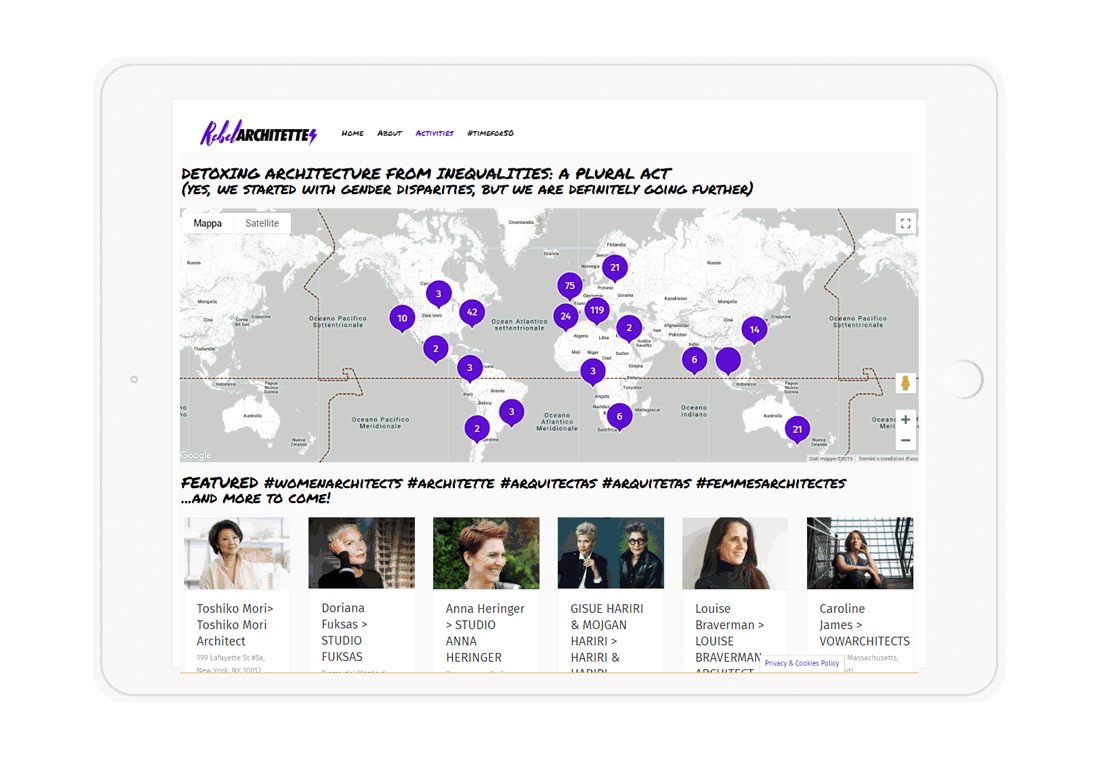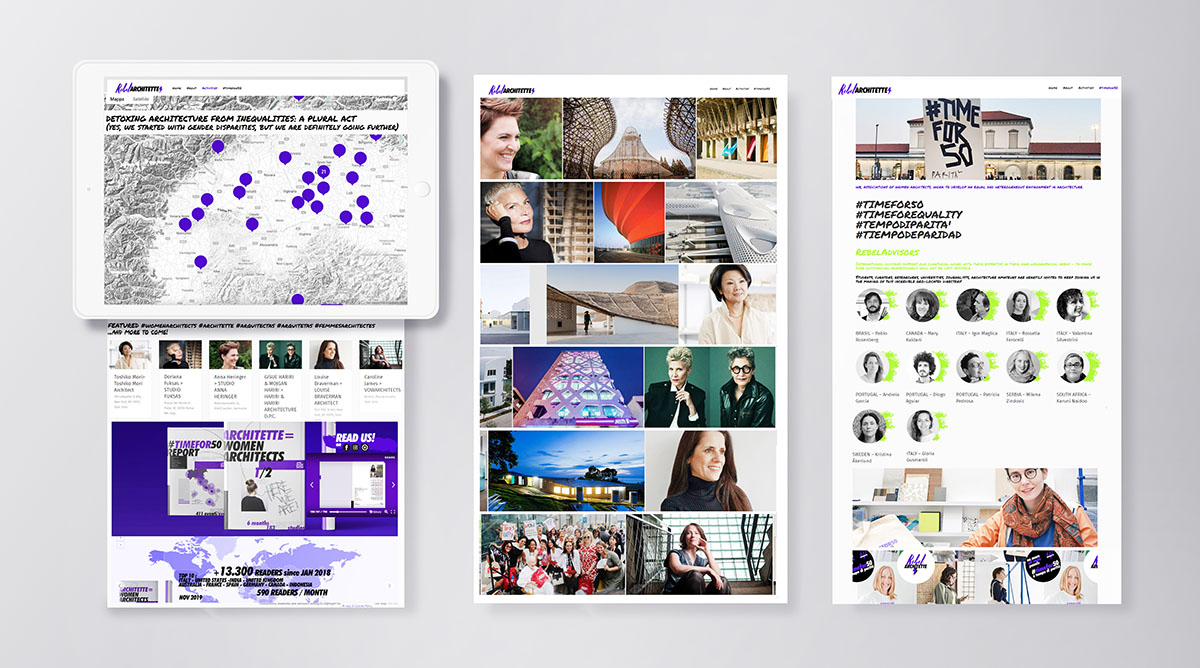 Image © rebelarchitette web
An interactive map of over 730 studios of women architects from all over the world emerged 2 years after the launch of the e-book Architette=Women Architects, RebelArchitette, RebelArchitette activists double their selection of outstanding female-driven studios - the e-book previously profiled 365 female architects as role models.
Image © rebelarchitette web
WAWMAP was developed as an open, collaborative platform constantly updating, created in Bergamo, today it benefits from the contribution of more than 40 international advisors belonging to the world of the profession, universities, research, curatorship.
2018 Venice Architecture Biennale. Image © rebelarchitette web
Just as the 2020 edition of the Venice Biennale should have taken place, this new visual guide offers an answer to the urgent need for diversity in the architecture field, a new tool that expands the book project launched in 2018 coinciding with the opening of the 2018 Venice Architecture Biennale, which was curated by Grafton Architects.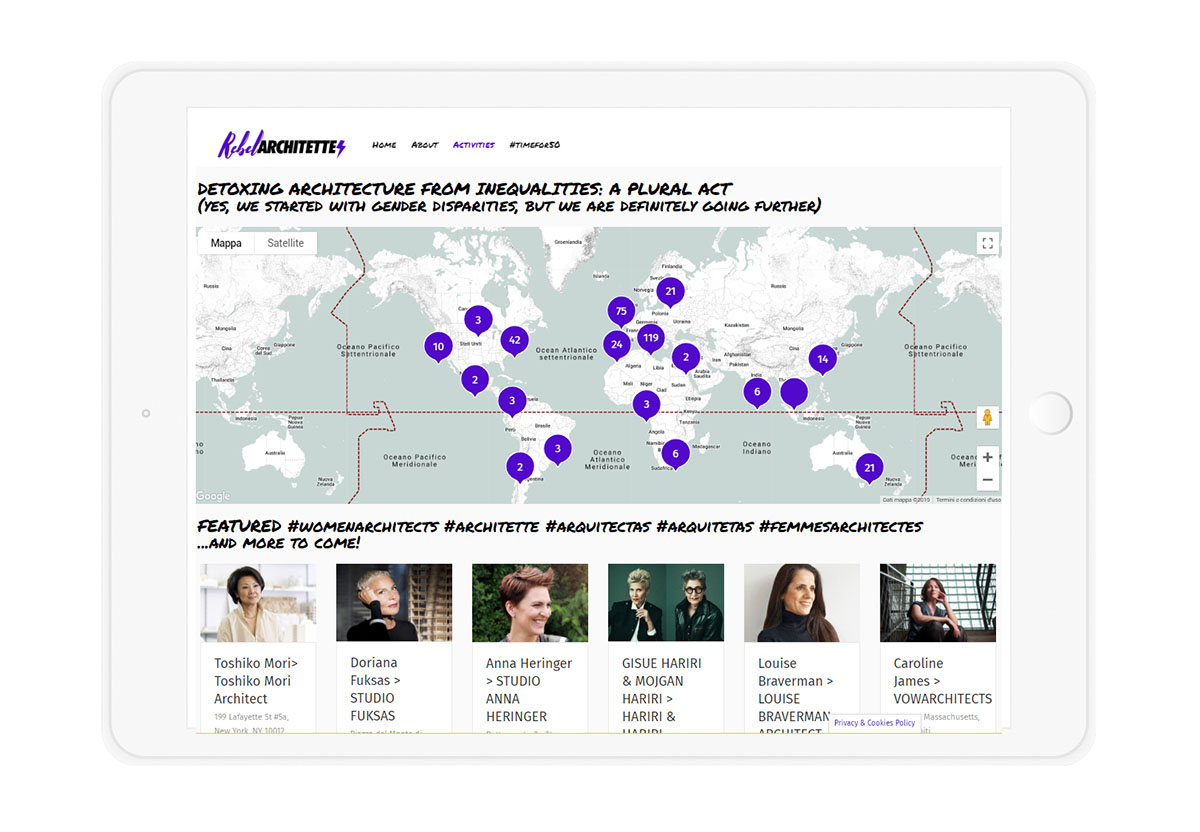 Image © rebelarchitette web
This new visual database of worldwide contemporary, exceptional professionals is intended to encourage organisations, universities, institutions and media to counter the prevalent, toxic, single-gender architecture landscape with a richer and more inclusive panorama.
In parallel, emerging practices from the least exposed areas of the world will also be brought to the fore as part of the overall project.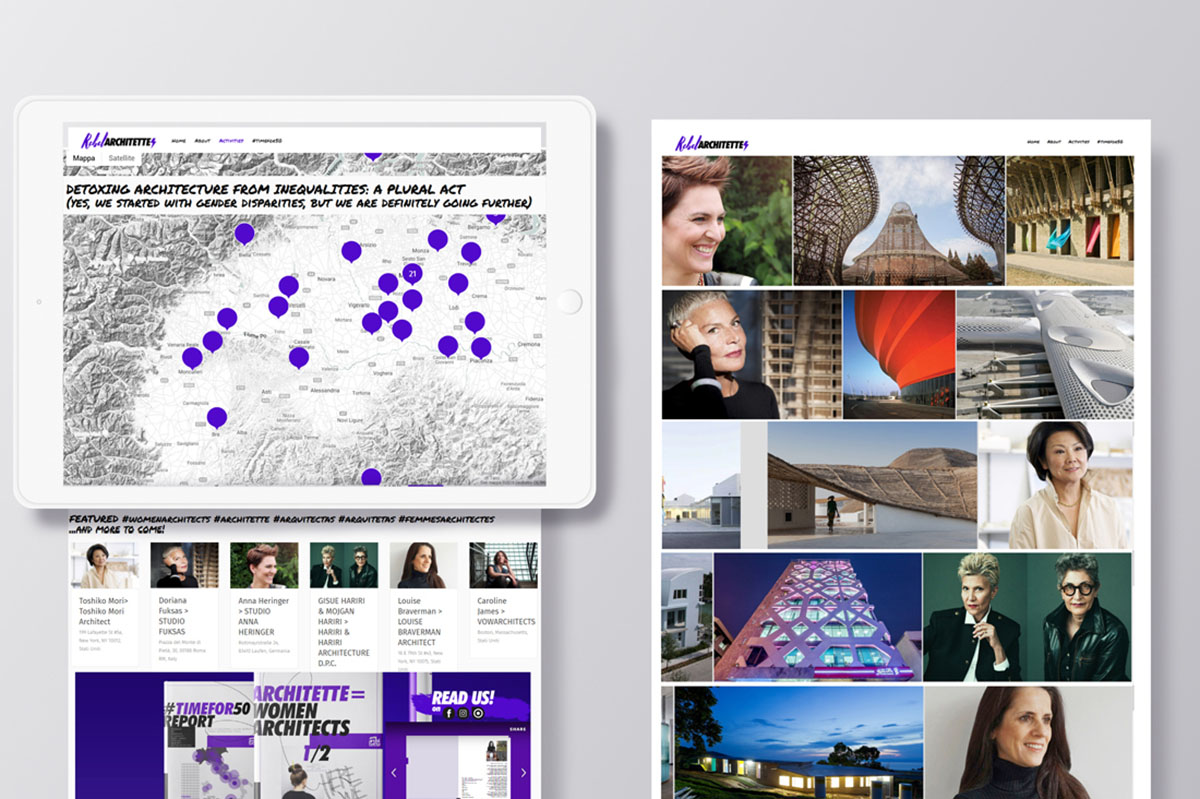 Image © rebelarchitette web
This new self-funded, independent project has been developed by the young Italy-based collective RebelArchitette, which has 15 team members, with the aim to be as open and flexible as possible to editorial contributions from other associations and individuals advocating for a needed equality change in architecture.
"RebelArchitette's website is an interactive tool, which will soon be open to self-proposal and more filter search developments," said RebelArchitette.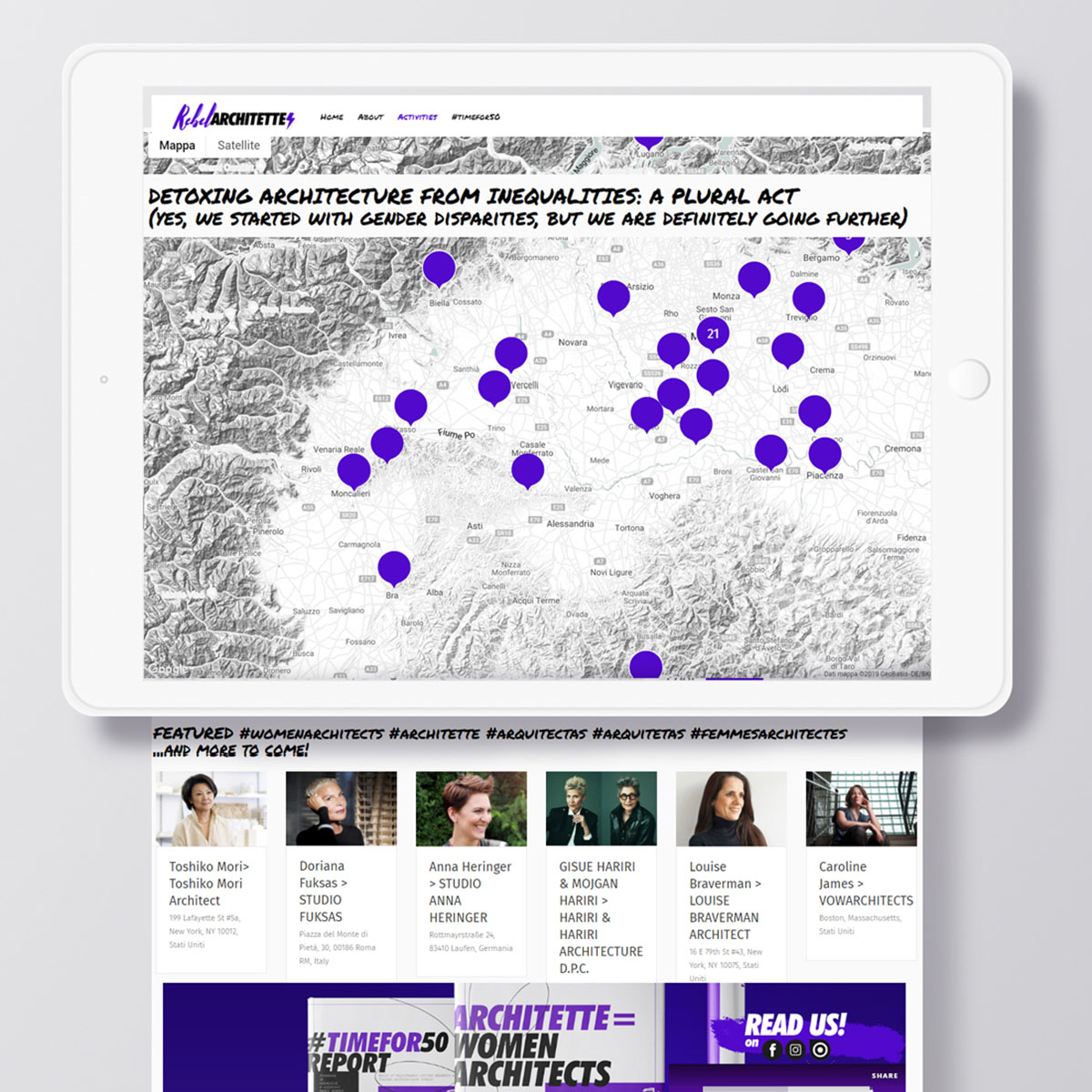 Image © rebelarchitette web
Louise Braverman, Gisue Hariri & Mojan Hariri, Anna Heringer, Caroline James, Doriana Mandrelli Fuksas, Toshiko Mori are featured with the first seven full profiles.
These outstanding women architects, who have been openly supporting the team's work from the beginning, are displayed in the way a filled-in-form may look like. All other studios are currently presented with a link to their website.
Image © rebelarchitette web
"We want to facilitate a brand new narrative of Architecture," said founding member Francesca Perani.
"During our two years research experience we have been exposed to amazing architects, who are delivering powerful, urgent messages in the building and design industry: new approaches, priorities, opportunities, languages, materials in such a critical and changing profession."
"In Italy, data on equality is discouraging. Here an overcrowded architecture field (155.000 architects, 27% of the European total) makes a harsh, competitive attitude mandatory," added architect and curator Francesca Perani.
"Boys clubs are still winning the game in the public face of architecture (see all data in the #timefor50 report)," she added.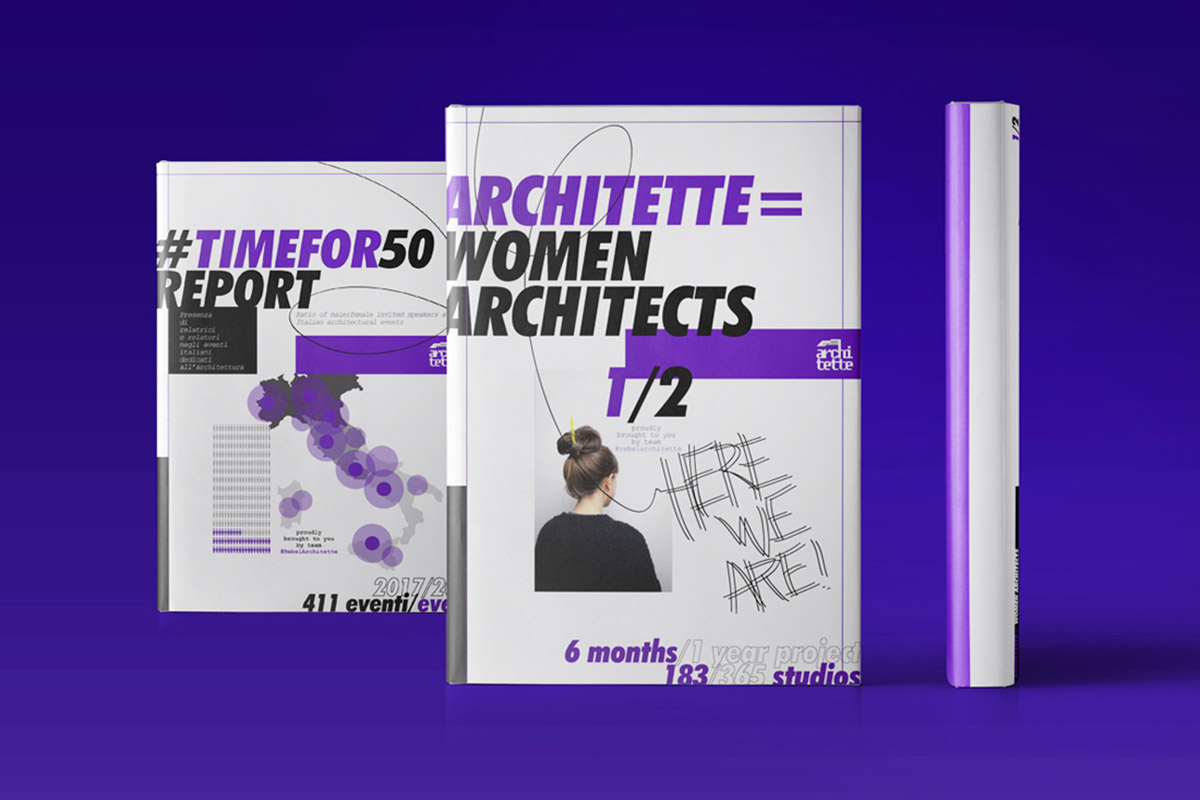 Image © rebelarchitette web
"We need to give a better future to younger generations of students and discourage male dominated literature and conferences resulting in a single-gender role model reference," said Elena Fabrizi, co-curator of the project.
"We are pushing to have a social and cultural impact through a powerful, collaborative approach, which we are already experiencing with incredible international associations."
Image © rebelarchitette web
With this new curatorial project, RebelArchitette looks back to and goes beyond the #timefor50, #timeforequality campaign, launched in 2018, advocating for equal participation of men and women in the public face of architecture, not just in public speaking but also teaching, jury membership, crits, writing, etc.
This is an international call delivered to the cultural and academic world on the need for a joint public presence of role models to be offered to new generations of architects.
Founders of RebelArchitette. Image © rebelarchitette web
RebelArchitette is also collaborating with different organizations and collectives to extend the scope of the project and to include more women architects, including Architecture Women in New Zealand, Arquitetas Negras in Brazil, Iranian Women Architects, Mujer Arquitecta in Chile, Women in Architecture in France.
Team
Francesca Perani / Founder & Curator
Elena Fabrizi / Curator
Caterina Pilar Palumbo / Editor / Social Media Manager
Anna Serafini / Curator / Universities
Domenica Bona / Curator
Cinzia Bigoni/ Timefor50 Report / Professional Stamp Architetta
Marzia Bergo / Editor / Public Institutions
Jimena Ranero / Editor Latin America
Tatiana Vinciguerra / Editor
Laura Belotti / Editor
Roberta Pastore / Editor
Anita De Caprio / Editor
Elisa Rizzato / Editor
Valentina Mariani / Editor
Giovanna Bosis / Translations / Proof Reader
Top image © rebelarchitette web
> via RebelArchitette