MEAL* launches new Virtual Design Learning Program "Live Academy"
MEAL*, a sister online initiative of MEAN*, has launched "Live Academy" - a Virtual Design Learning Program, to bring together the brightest minds in architecture and design from around the world, to meet and exchange their ideas of the future.
Developed by Dubai-based architect, entrepreneur and researcher Riyad Joucka, Founder of MEAN*, Live Academy is an online project, focusing on emerging trends in technology and design, both in academia and in practice.
Gilles Retsin will deliver a public lecture on May 31, 2020.
Aimed at democratizing the use of technology in design, MEAL* (Middle East Architecture Laboratory) is a research repository of emergent technologies in design and was established as an open- source nomadic platform enabling architects, designers, and students by providing access to cutting edge, hands-on technical research through design and build projects.
MEAL* has now launched a series of public lectures and online classes which will be delivered by prominent architects, including Gilles Retsin, Gilles Retsin Architecture, AUAR, UCL The Bartlett, Soomeen Hahm of SoomeenHahm Design - a design faculty and robotic researcher at SCI-Arc, Alvin Huang of Synthesis Design + Architecture - an Associate Professor at the USC School of Architecture, Filippo Nassetti from Zaha Hadid Design, co-founder of MHOX, Sushant Verma of rat[LAB] Studio based-in New Delhi.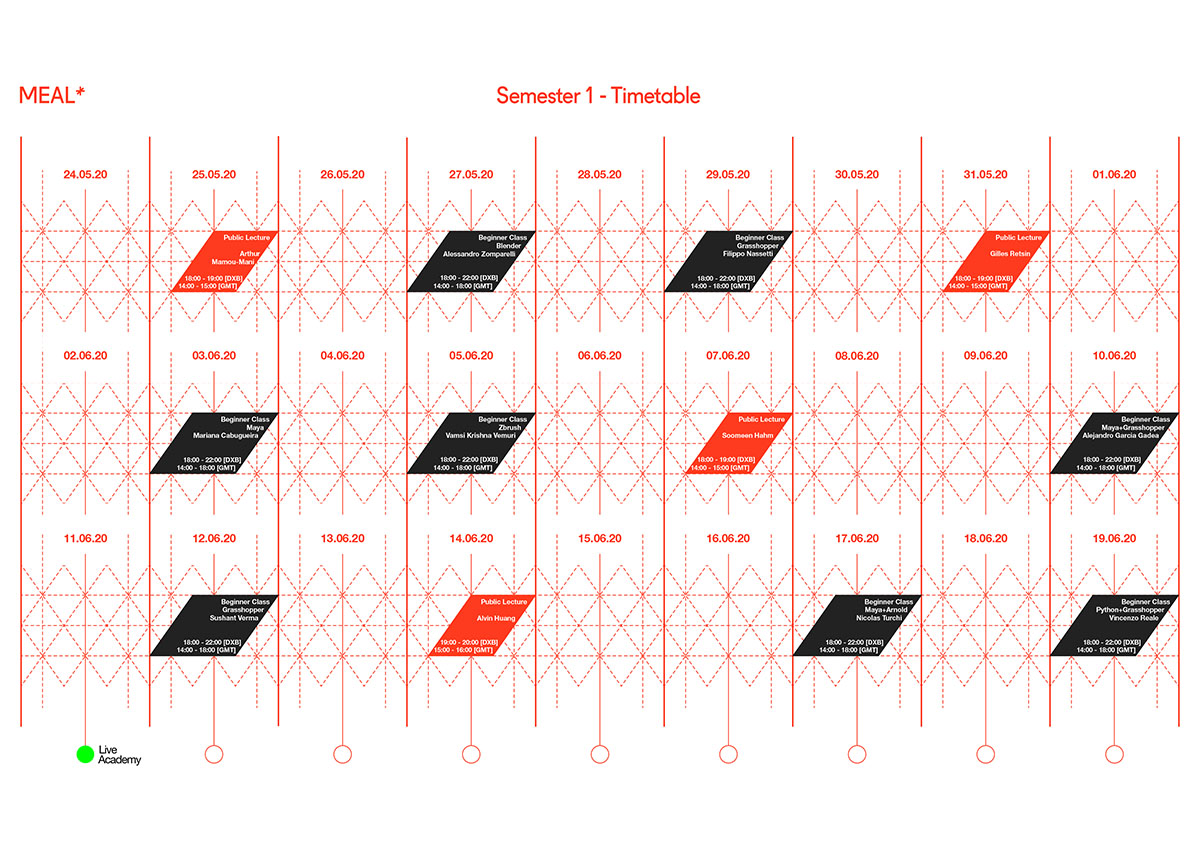 MEAL*'s Semester 1 program.
"The worldwide effect that COVID-19 had on our design and culture communities is an imminent pivoting point affecting our lifestyle around the world," said MEAL*.
"New adaptations to work, education, and knowledge exchange have rapidly emerged over a short period, changing our modus operandi by taking advantage of the power of connectivity available to us today."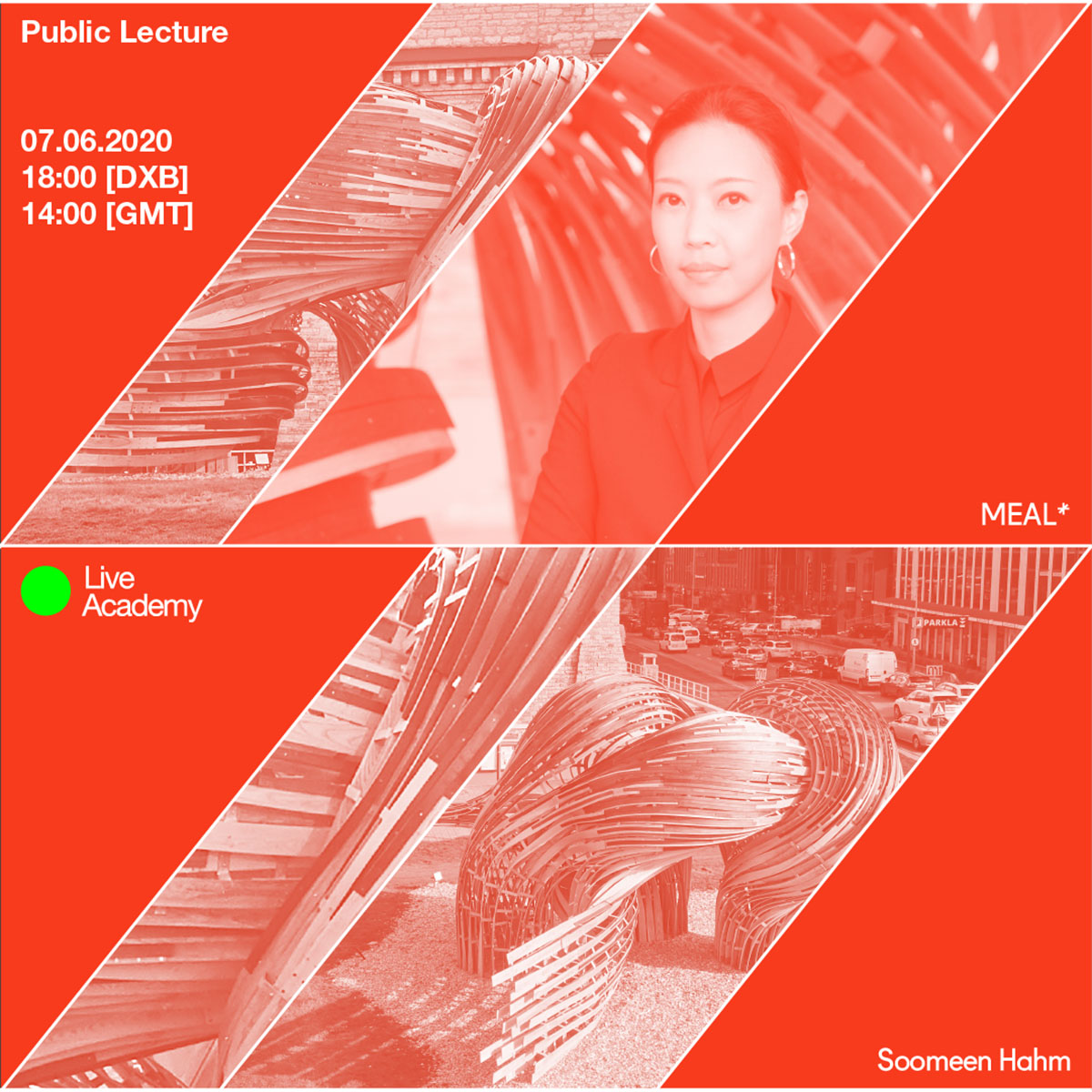 Soomeen Hahm will deliver a public lecture on June 7, 2020.
In its first edition, Semester 1 takes place over 4 weeks (Monday 25 May - Friday 19 June 2020). Every week, architects with outstanding innovative work will present their projects in an online lecture for 1 hour. The lectures are open to all, followed by live questions from the audience.
Two classes by global experts focused on different computational design software will follow every week in the format of a live webinar over 4 hours. For this new online experience, for an opportunity to learn, develop, and exchange ideas.
The lectures and classes will be able to be watched on MEAL*'s Youtube channel.
Alvin Huang's lecture will be online on June 14, 2020.
See the full program of "Live Academy" below:
---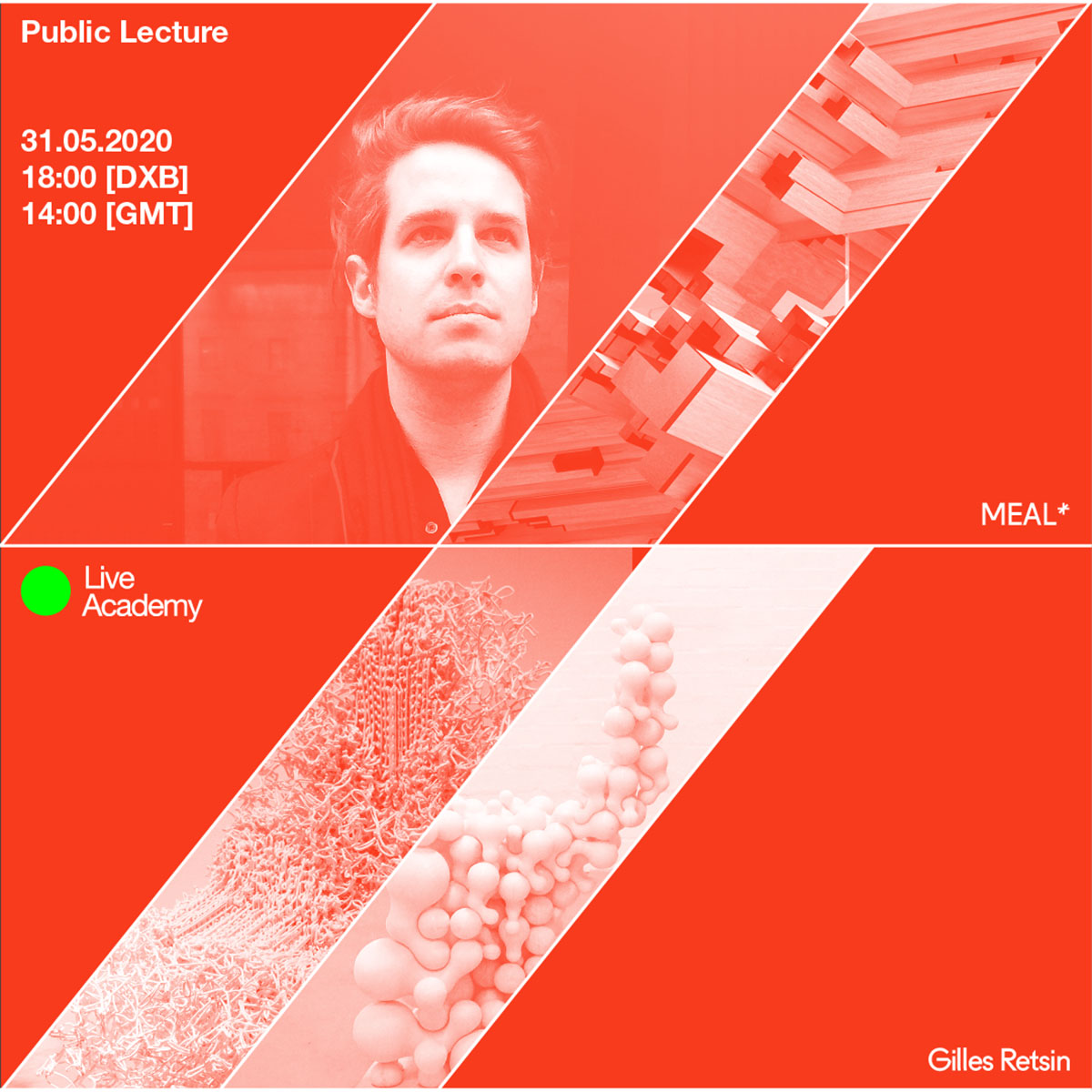 May 31, 2020
Gilles Retsin
Gilles Retsin Architecture AUAR Ltd. UCL The Bartlett
Originally from Belgium, Gilles Retsin is an architect and designer living in London. He studied architecture in Belgium, Chile and the UK, where he graduated from the Architectural Association.
His design work and critical discourse has been internationally recognised through awards, lectures and exhibitions at major cultural institutions such as the Museum of Art and Design in New York, the Royal Academy in London and the Centre Pompidou in Paris. Gilles Retsin won 1st place in the competition for the main installation of the Tallinn Architecture Biennale. He has also qualified with his proposals for the Budapest New National Gallery and a concert hall in Nuremberg.
June 7, 2020
Soomeen Hahm
SoomeenHahm Design Ltd., SCI-Arc
Soomeen Hahm is the founder of SoomeenHahm Design Ltd. She is a design researcher, educator and architectural designer. Academically she is currently a design faculty and robotic researcher at the Southern California Institute of Architecture (SCI-Arc).
Soomeen gained her Bachelor of Architecture degree at the Beijing Tsinghua University and her Master of Architecture degree at the Architectural Association where she studied in the Design Research Lab (DRL). Her latest research focuses on AR/VR, wearable machines and human computer interaction. She is specialized in coding, digital simulations and 3d modelling in various software platforms.
June 14, 2020
Alvin Huang
Synthesis Design + Architecture, USC
Alvin Huang is a Los Angeles based architect with a global profile. He is an award-winning architect, designer, and educator specializing in the integrated application of material performance, emergent design technologies and digital fabrication in contemporary architectural practice. He founded his architecture practice Synthesis Design in 2011.
His work spans all scales ranging from hi-rise towers and mixed-use developments to temporary pavilions and bespoke furnishings. His design work has been published and exhibited widely and has gained international recognition with over 40 distinctions at local, national, and international levels.
---
Classes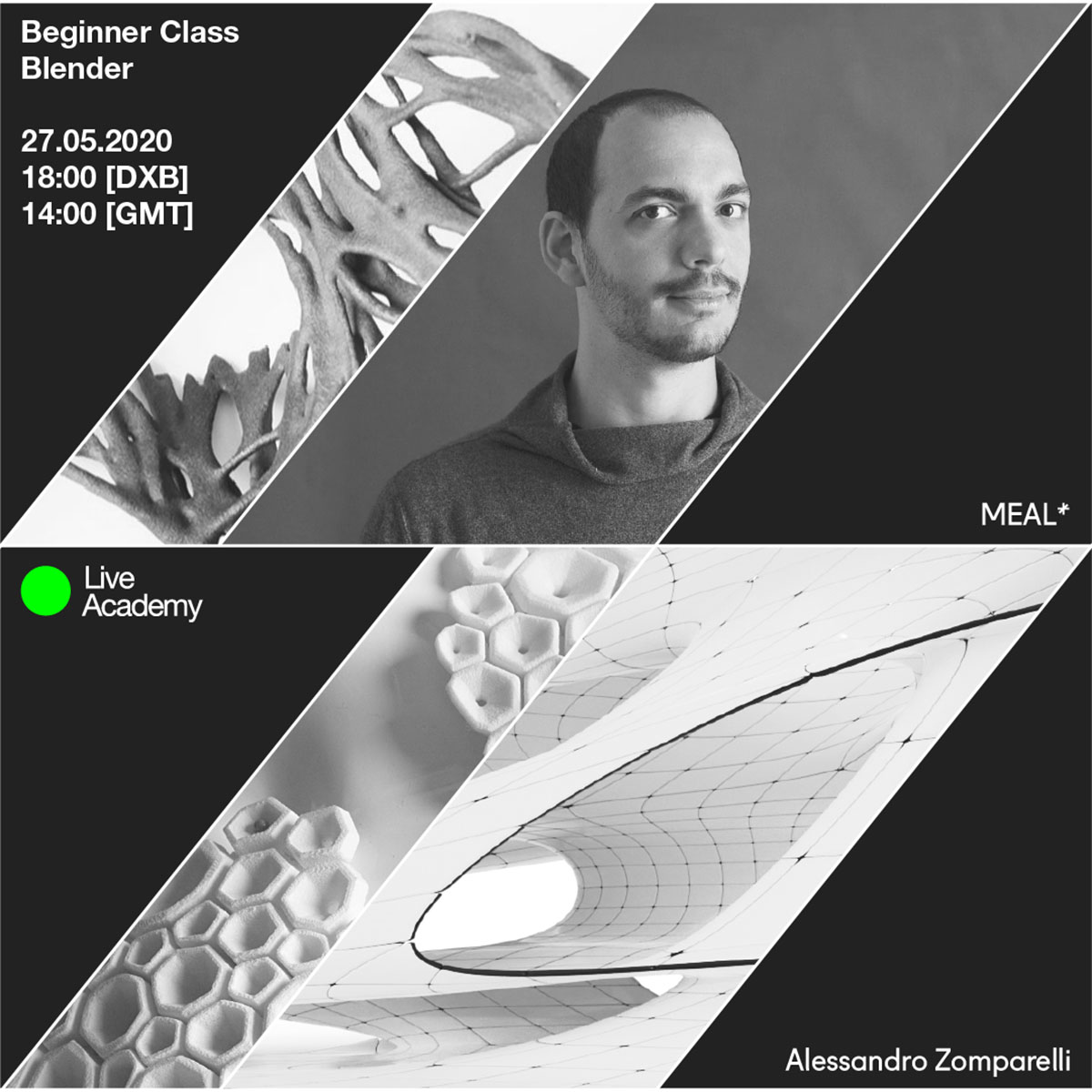 May 27, 2020
Alessandro Zomparelli
Co-de-iT, MHOX, Accademia di Belle Arti di Bologna
Alessandro is a member of Co-de-iT as part of the design team for the Reefs project, a 3D printed reef system computationally designed for adaptation to marine environment. He taught in several international workshops about computational design strategies in Architecture and Product Design. His background in Engineering and Architecture drove him to explore the opportunities of computational design in combination with 3D printing technologies at different scales, from architecture to human body. In 2012 he co-founded MHOX, a generative design studio focused on the development of body extensions developing products such as customized masks, medical devices and fashion products.
May 29, 2020
Filippo Nassetti
Zaha Hadid Design, MHOX, UCL The Bartlett
Filippo Nassetti is an architect and generative designer. His design agenda was initiated in 2012 by co-founding MHOX, a EU-funded research practice and start-up focused on the design of radical artefacts and wearable products through computational techniques and 3d printing. The contribution of MHOX to generative design gained international recognition through a number of experimental projects.
In 2015 Filippo joined Zaha Hadid Architects, initially as part of the Computation and Design team, then of Zaha Hadid Design. His focus there is on small scale research projects, from product design to experimental sculptures and installations.
June 3, 2020
Mariana Cabugueira
Zaha Hadid Architects, Architectural Association School of Architecture
Mariana Custodio Dos Santos is an Architect and Urban designer from Portugal, recently working at Zaha Hadid Architects and teaching at the Architectural Association in London. Graduated from the School of Architecture in Lisbon, she moved to London to explore design and technology trough the Postgraduate course: Design Research Laboratory (DRL) at the Architectural Association school (AA). Her research interests gravitate around Generative Design, Parametric Design, Digital Design, Iterative Design, and the evolution of technology through Robotic Fabrication. Mariana joined Zaha Hadid Architects after graduating from the AA School.
June 5, 2020
Vamsi Vemuri
Futurly, FLUX REAL
Vamsi Krishna Vemuri is a Speculative architect, educator, researcher and an Alumnus of Städelschule Architecture Class based in Frankfurt, Germany. He recently co-founded Futurly, an Online Architecture and Design Education Platform. Vamsi's areas of interest lie in the eccentric utilization of Computation; real-time visualization, working in the intersection of digital media, design fiction, technological and Architectural discourse. His work often engages diverse immersive mediums such as animation, Virtual, Augmented and Mixed reality. He holds diverse experience in communicating contemporary forms and spatial experiences.
June 10, 2020
Alejandro Gadea
Zaha Hadid Architects, Design Morphine
Alejandro is currently working as a Senior Architect at Zaha Hadid Architects, developing computational building strategies from design to construction. He has been involved in projects across all stages, with his main focus on complex geometry from design, through analysis and rationalization to the construction and fabrication. Alejandro has tutored multiple international workshops on computational design and digital fabrication organized by the AASchool, UCL Barlett School of Architecture and Design Morphine.
June 12, 2020
Sushant Verma
rat[LAB], rat[LAB] EDUCATION
Sushant Jai-Amita Verma is a Design Entrepreneur, Architect, Computational Designer & Educator, currently leading rat[LAB] Studio (Research in Architecture and Technology) that investigates intersections of design, art & technology through architecture, interior design and art installations. He holds a Masters Degree in Emergent Technologies & Design from Architectural Association, London and is a former architect at Zaha Hadid Architects, London & a Sr. Editor at Arch2O. He is the founder of rat[LAB] EDUCATION.
June 17, 2020
Nicolas Turchi
Zaha Hadid Architects, University of Bologna, UH Studio Design Academy
Nicolas Turchi is a designer at Zaha Hadid Architects and an Adjunct Professor in Computational and Parametric Design at the University of Bologna. Nicolas holds a Master in Architecture II from the Harvard Graduate School of Design and a Bachelor of Architecture and Master of Architecture I from the University of Bologna where he received the Best Thesis Prize. Before joining ZHA, he worked in several international firms including Peter Eisenman Architects, Xefirotarch, Mario Cucinella Architects and 5+1AA.
June 19, 2020
Vincenzo Reale
ARUP, AA School of Architecture
Vincenzo Reale is a chartered structural engineer (ICE) and architect (ARB). He holds a master's degree with distinction in Structural Engineering and Architecture from the University of Bologna and a Master of Science from the Architectural Association in London. During the last ten years he has worked with several contemporary architectural and design practices, including Zaha Hadid Architects, Antony Gormley Studio, and Tom Wiscombe Emergent Architecture. He currently holds the position of senior structural engineer in the Specialist Technology + Research group in Arup in London.
All images courtesy of MEAL*
> via MEAL*