"Design is more than what you think it is" says Design Indaba's Ravi Naidoo in reSITE Conference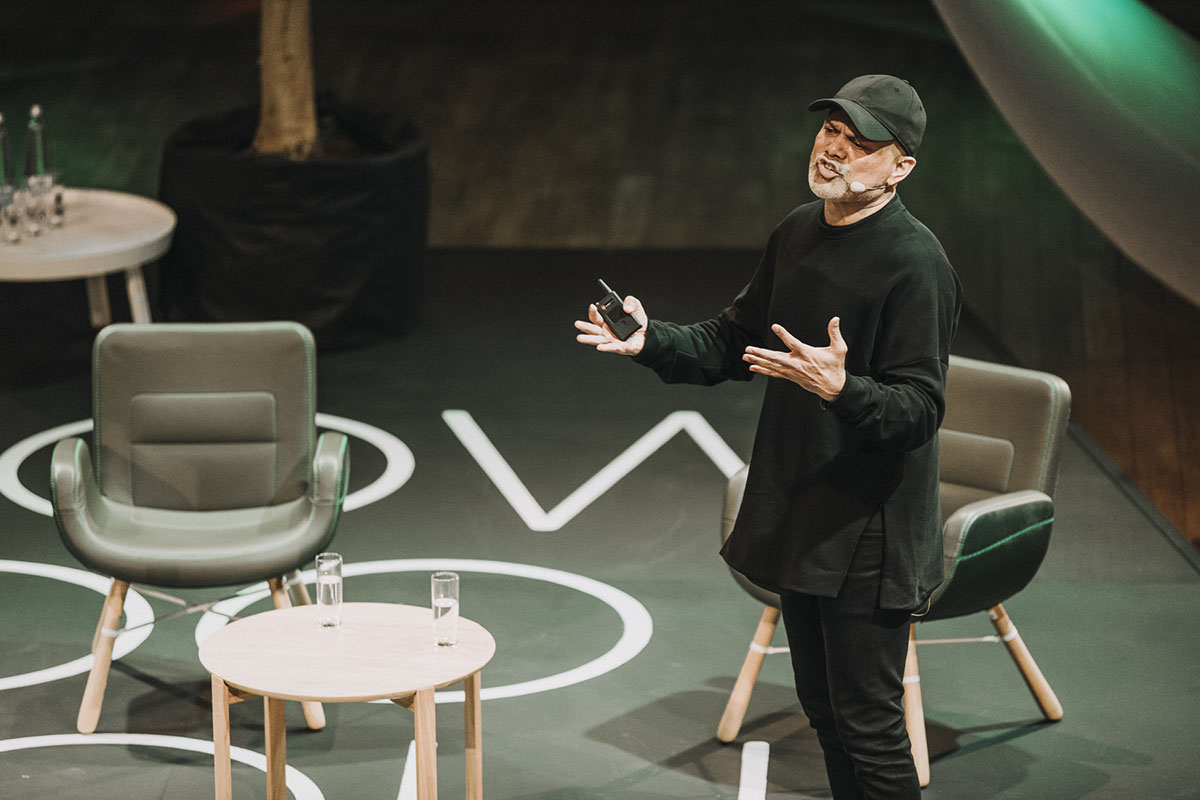 "All the time, with the experimentation what we are saying in the public domain is; design is more than what you think it is and it is very very important," says Ravi Naidoo, founder of South African design event Design Indaba, at the reSITE REGENERATE Conference.
"With Design Indaba, what we're wanting to do with design is to give it a higher purpose," adds Naidoo in his talk.
In our new video lecture, Ravi Naidoo's talk is released from reSITE's REGENERATE Conference, which was held at the Forum Karlin in Prague in September 2019.
In his 30-minute talk, Naidoo discusses the importance and power of design, as well as the mission of Design Indaba festival which is annually held in Cape Town to drive a better world through creativity with its online design publication and other "design activism" projects.
Naidoo believes that design can be the ultimate toolkit to reimagine the 21st century. That it has the power to enhance democracy, elevate cultural identity, improve the quality of life, and act in service of people.
In his talk, you will hear how the South African "think-tank, do-tank" brings about the idea of a better world through creativity by finding uncanny solutions to foster affordable housing, safer cities for environmental, social, and economic change.
Image © Tomas Princ
Ravi Naidoo starts his talk with basic questions on design: "The fundamental question is this: what's design?" asks Naidoo.
"Is design a handmaiden to consumption? Is design just to sell more widgets? Or is design in service of people? What's design for?"
Ravi Naidoo is the founder and managing director of Interactive Africa, a Cape Town-based company that combines marketing, project management, logistic prowess and creative production to work on projects that promote South Africa.
In 1994, Naidoo founded Interactive Africa. The company's initial recognition came through the project management of the First African in Space Mission and the marketing and pitching of South Africa's bid to host the 2010 Football World Cup, as well as for the 2006 FIFA campaign.
Ravi Naidoo founded Design Indaba in 1995 to help to improve South African context with local projects, craftsmanship, activism and creativity, putting the South African context in the world map.
Ravi Naidoo in conversation with Martin Barry, Founder and Chairman of reSITE. Image © Jakub Cervenkai
Describing Design Indaba as "a think tank and a do tank", the aim of the project was making a lead to any change through creativity.
"We have to be advocates, but we also have to be exemplars for what it is that we are suggesting to be a great toolkit for the 21st century," Naidoo said.
"So we get back to the simple honesty of making and we love making."
"What we're wanting to do with design is to give it a higher purpose," Naidoo said.
"A more noble purpose for design, not just to be about consumption. But design, could it improve the quality of life and how could it do it, not just for the haves, but also for the have nots," he continued.
"So, put higher-level questions to design: can design give dignity? Design has enough power to give dignity."
Image © Tomas Princ
Design Indaba helped to be realised projects in South Africa by world-renowned architects
Design Indaba paved the way for the realization of some projects in South Arica designed by world-renowned architects, including Thomas Heatherwick's Zeitz MOCAA in Cape Town - the transformation of a disused grain silo into a new museum for contemporary art in South Africa, and Snøhetta-designed Arch for Arch, a tribute to the human rights activist and Nobel Peace Prize Laureate Archbishop Desmond Tutu.
"What does Archbishop Tutu say to this generation, and the generations after, and what the message really is?" Naidoo said.
"He used the metaphor of the Constitution. The Constitution has 14 chapters. It also has 14 lines in the preamble. So this has 14 arcs of wood, 14 arcs of Siberian larch, five stories high," Naidoo continued.
"It starts to say 'protect my legacy, protect this constitution jealously', and as parliamentarians looking down every day, must understand that this constitution is what we need to uphold jealously."
Naidoo explained that design has one simple mission. "Ideas are just the most amazing powerful force," he said. "Creativity is the ultimate renewable energy. We can conceive of a better world through creativity."
Image © Jakub Cervenkai
reSITE is a global non-profit acting to improve the urban environment, both on the stage at our events, and off. reSITE works at the intersection of architecture, urbanism, politics, culture, and economics, acting as a catalyst for social action and innovative leadership.
The organization encourages the exchange of ideas about making cities more livable, competitive, resilient, inclusive, mobile and designed with humans in mind to protect and public space, architecture, and sustainable development in cities.
reSITE's main event is held annually in Prague in September, it previously held flagship events in Lisbon and Berlin. reSITE was founded by landscape architect Martin Barry in 2011.
WAC will be releasing one lecture from the reSITE 2019 annual conference each week. Watch previous lectures on WAC's Czech Republic Country page.
Top image © Jakub Cervenkai
> via reSITE