Architektur3 designs slim church tower made of acetylated wood in Bleibach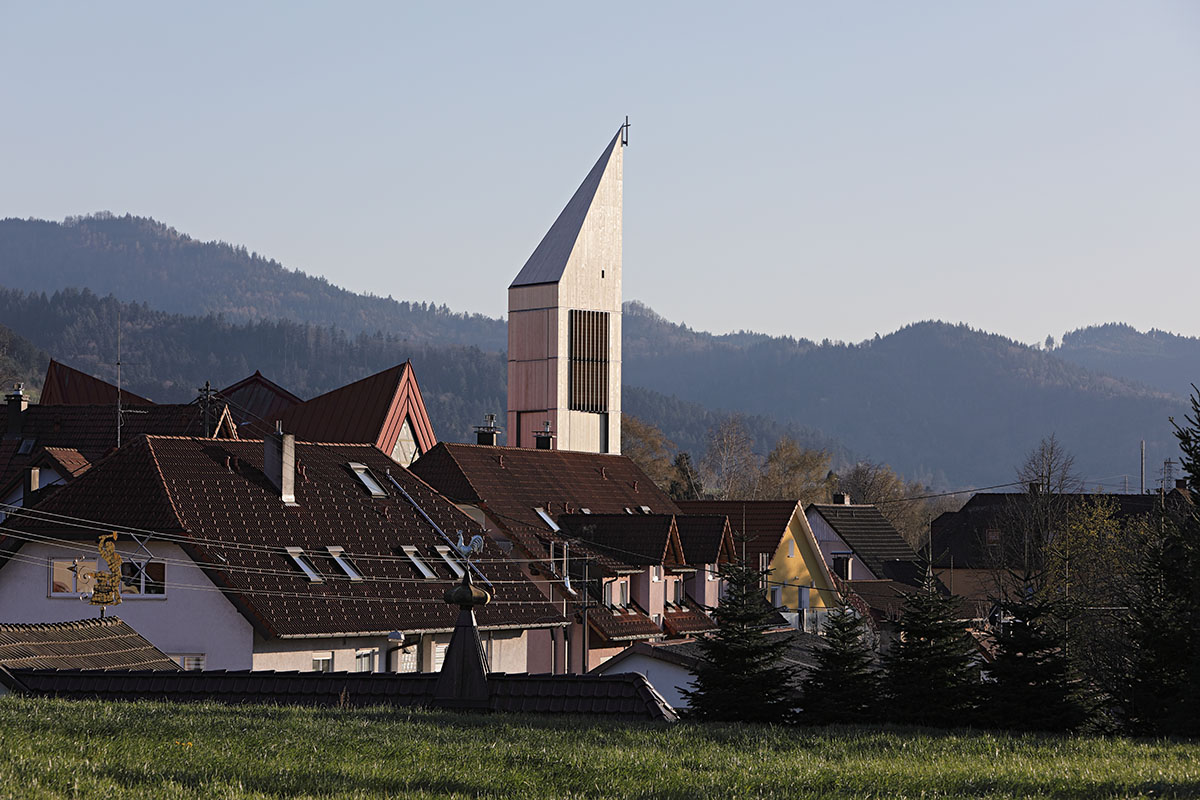 German architecture studio Architektur3 has built a slim tower and viewpoint that complements a gothic and modern church ensemble in the centre of three Black Forest valleys in Bleibach, Germany.
Named Church Tower, the triangular structure was added as the final piece of the church tent from the 1970s, which serves as the nave and spans the Gothic choir from 1514.
The 23-square-metre tower consists of steep roof pitch, triangular basic form and materiality, which are all derived from the church inventory.
"The result is a building that bundles so many of the influences found that it could not stand in any other place," said Architektur3.
"The basic shape of the church tower is based on an equilateral triangle, which in Christian mythology stands for the Trinity."
Reaching at 33-metre height, the tower stands as a landmark in the centre of three Black Forest valleys, almost exactly at the point where the Elz valley, Simonswald valley and Siegelau valley intersect.
The tower consists of three parts; the tower shaft, the bell frame and the tower head.
In this, in turn, different functions are accommodated, because the church tower of the parish of St. Georg is not a pure bell tower. The shaft contains a staircase that follows the triangular ground plan and leads to a viewing platform.
The walls can be opened on all three sides by means of a sliding shutter system, which provides an excellent view over the valleys and the surrounding mountains. In the tower head above the bell tower there are integrated breeding devices for rare bird and bat species.
The church tower can be recognized from afar as a wooden building. The use of Accoya as facade material and roof covering is innovative here. The acetylated wood, which gains a high degree of durability and resistance to pests through treatment, is particularly suitable for outdoor use.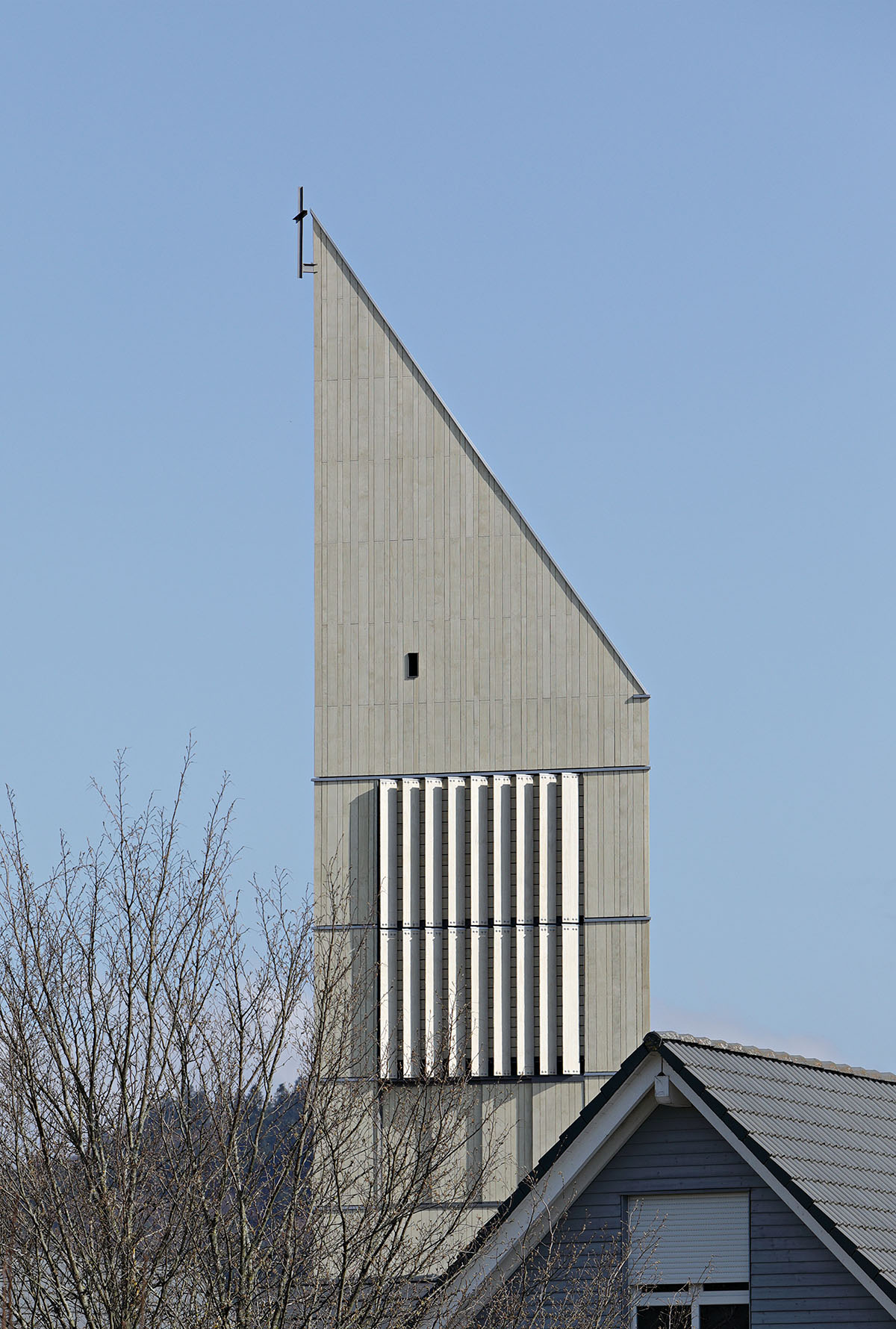 Due to the available board lengths, a facade rhythm was developed in which the vertical window openings are integrated. The presented slats for directional sound propagation and the sliding shutters are made of the same material.
They slightly protrude from the form, or rather cut something into it, which creates a certain dynamic and gives the outer shape an additional tension.
The dynamic loads of the swinging church tower bells required special attention to the statics and thus the inner shape of the tower. Cross-layered wood panels made of silver fir were the obvious construction material for walls, stairs and ceilings here.
On the one hand because of its high stiffness, on the other hand because silver fir is the typical coniferous tree of the Black Forest and thus represents a sustainable, available building material.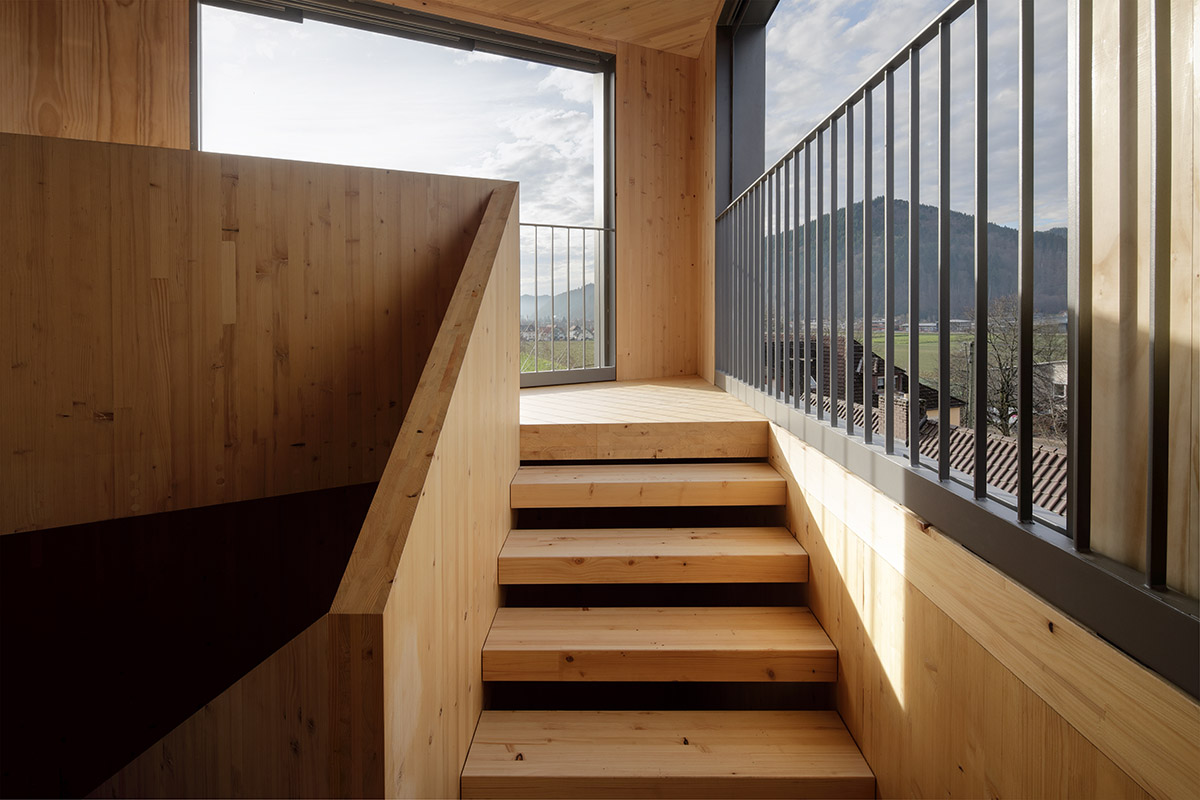 Site plan
Elevation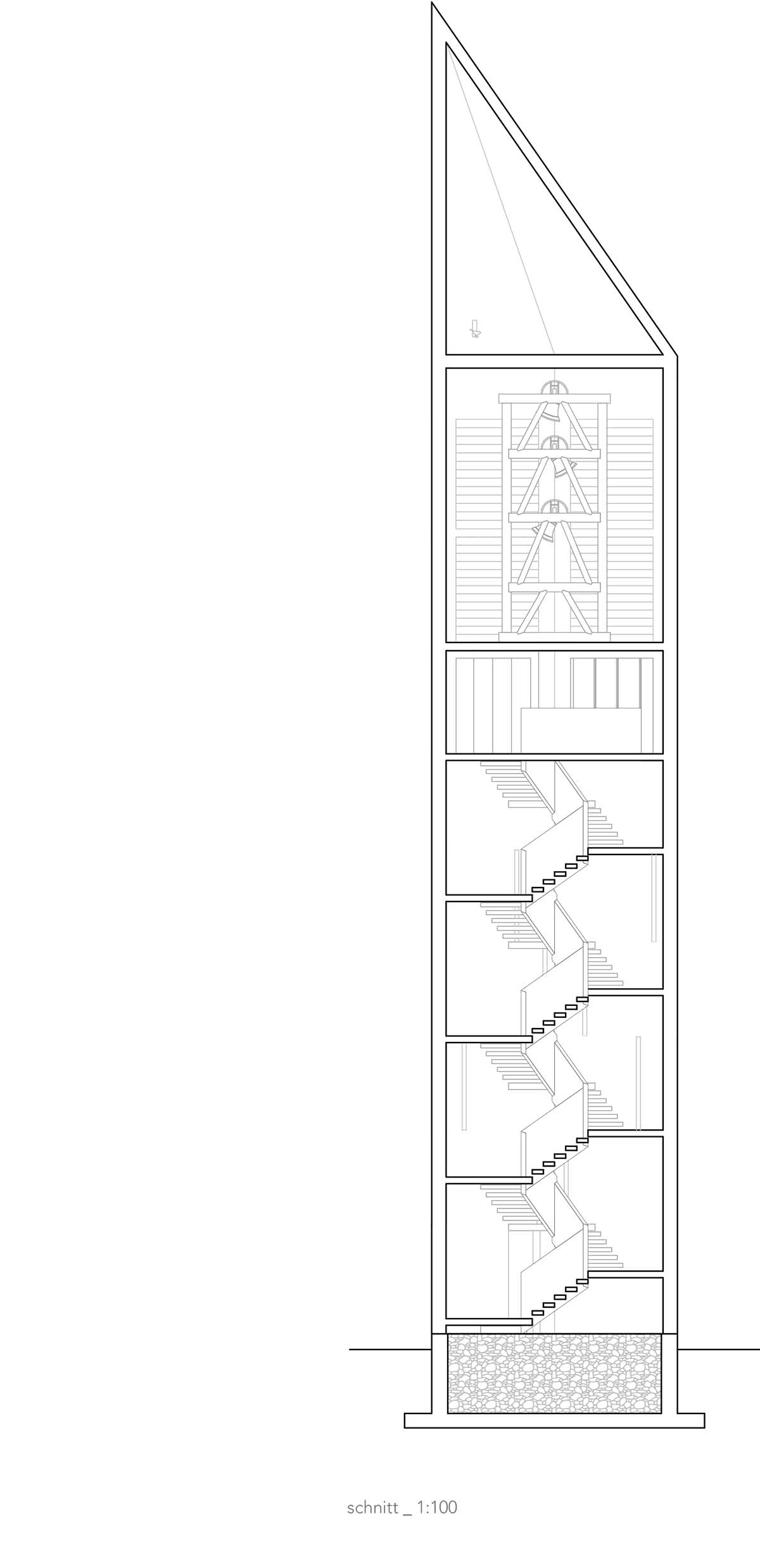 Section
Project facts
Completion Year: October 2019
Gross Built Area: 23 m2
Project location: Bleibach (Germany)
Lead Architects: Klaus Wehrle
Design Team: Juan Santos Ortega, Sara Mormeneo Beltran, Klaus Wehrle
Clients: Röm.-kath. Kirchengemeinde Mittleres Elz- und Simonswäldertal (Kirchstraße 8 in 79263 Simonswald)
Engineering: Ingenieurbüro Wirth Haker (Marie Curie Straße 1 in 79100 Freiburg)
Collaborators: Baumer Holzbau (Carpenters)
All images © Oliver Kern
Al drawings © Architektur3
> via Architektur3