Kjellgren Kaminsky reveals its preschool building with durable facade in harsh Icelandic environment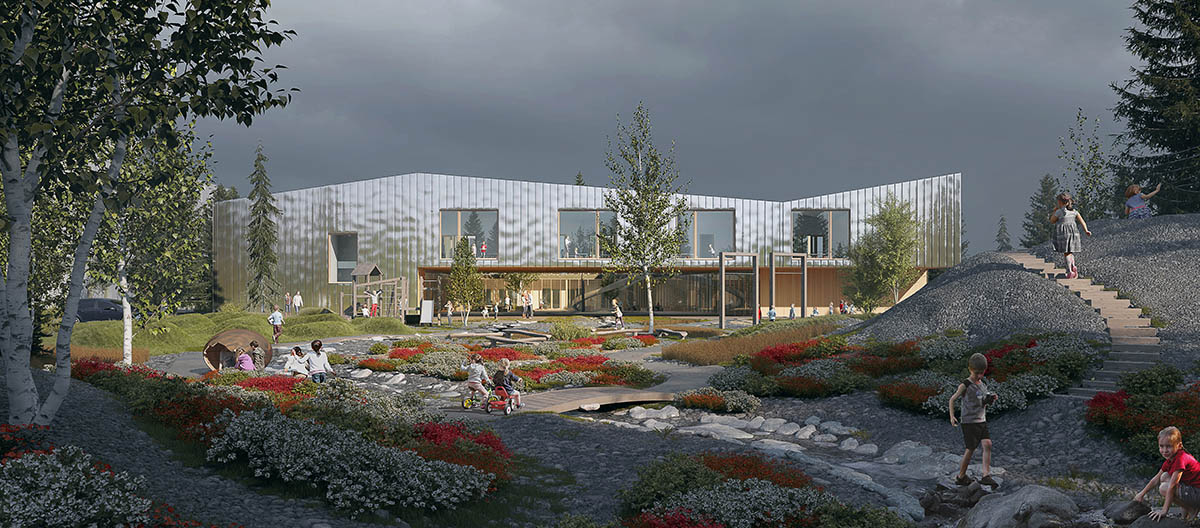 Swedish architecture studio Kjellgren Kaminsky Architects has unveiled its design proposal for a new preschool building that features a durable facade against harsh Icelandic environment.
Called Reykjavik Kindergarten, Kjellgren Kaminsky Architects' proposal was rewarded with a Honourable Mention in a competition.
The dual nature of architecture as both refuge and work of art strongly defined the project Skjól. Aiming to provide the community of Seltjarnarnes with a safe, functional and yet aesthetically pleasing shelter.
The building articulation defines three distinct outdoor areas and a patio. The latter offers a safe outdoor space, sheltered from the harsh coastal wind. While providing children with a space for play and creative development it also represents the core of the building.
The past is present
Skjóls facade is clad in locally produced polished aluminium alloy, a material which defines the project´s strong character, is durable and low-maintenance and reflect the surroundings of Seltjarnarnes.
The interiors are timber clad, contributing to a warm and sheltered feeling. It also resembles local tradition of using scrapped shipping crates for house building purposes. They used to be the only source of building timber in this secluded country of no forests.
The landscape design grammar is sampled from the wild Iclandic landscape. The palette of earth colours, gravel, grass and vegetation will emphasize the architecture and its sharp, metal cladding enhancing the contrast between the solidity of the exterior and the welcoming warmth of the interior.
Kjellgren Kaminsky believe in a basic landscape palette with different landforms, materials and spaces. Landscape elements and vegetation offers a creative and pedagogic background for children and teachers. Wind and water are important dynamical features changing the scene over time.
Three landscape zones
Next to the building and in the Atrium, there is room for calm and creative activities such as outdoor studio, gardening and sand & water play. The Atrium is well protected from wind and sun. Shade is integrated in the architecture.
The central parts of the yard are open for physical activity and active games. Partly programmed with playing equipment partly unplanned for flexible use.
In the far end of the yard it's important to create more informal and wild landscapes for children to explore and create their own play and activities. The lush vegetation is placed in a suitable way for play. The hilly, volcanic landscape defines a variety of rooms and areas.
Water is an important element in the schoolyard. The rain from hard surface is canalized in open systems becoming a creative and pedagogical element for play, teaching and gardening.
Al images courtesy of Kjellgren Kaminsky Architects