Rajesh Advani to discuss "Writing Architecture" In WAC's Instagram Live Interview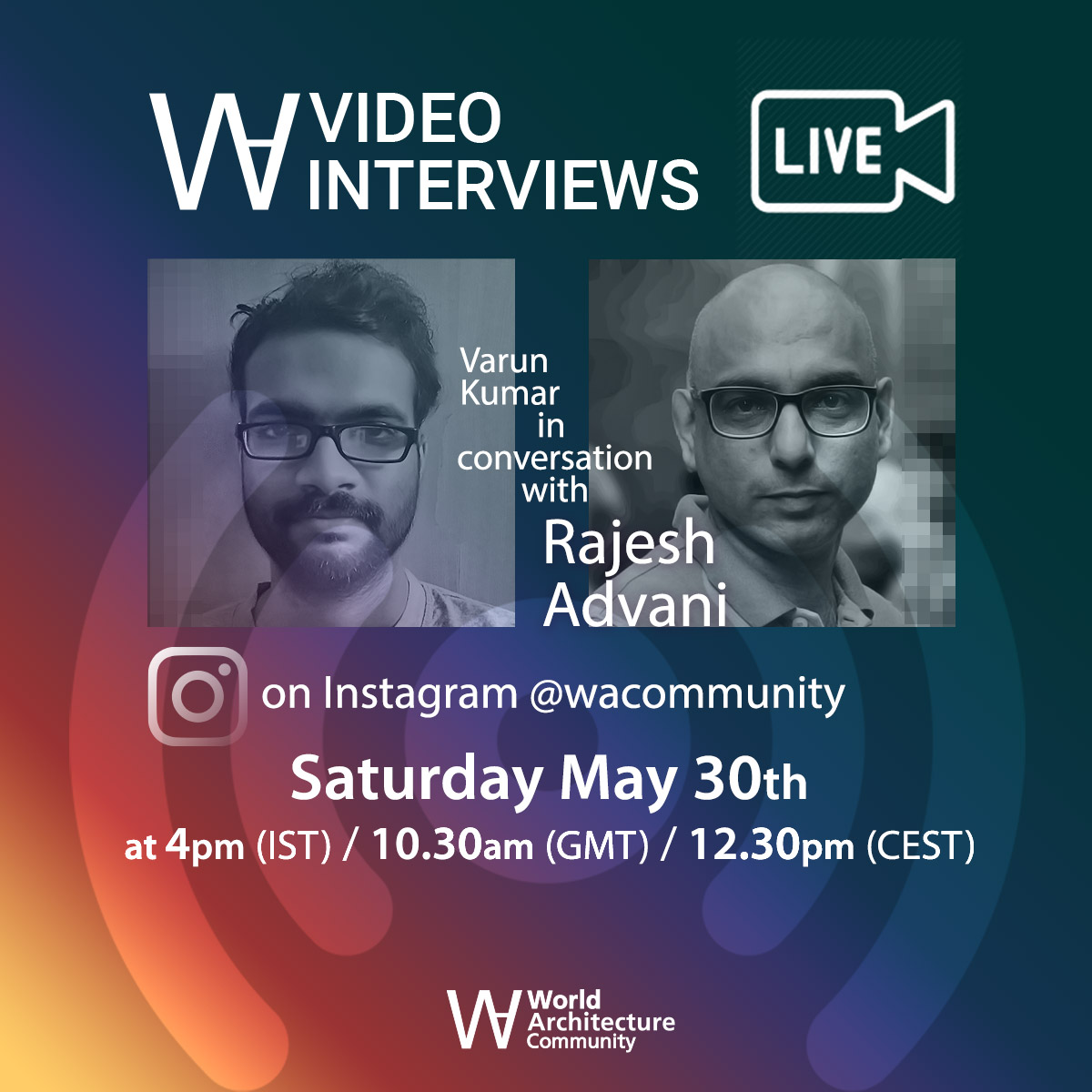 Architect and urban designer Rajesh Advani, Founder of ArchitectureLive! platform, will be our new guest architect in WAC's live interview series, hosted by WAC's Deputy Chief Editor Varun Kumar.
WAC's live interview series elaborate different themes decided by WAC Country Reporter or Country Editor in each session, in our fifth session, Advani will deliver a talk on "Writing Architecture".
Rajesh Advani is an architect and an urban designer by qualification with a background and experience in information technology as well. Has worked on architecture portals previously. He superseded this with a journey of making architectural information easily accessible to everyone by Founding ArchitectureLive!.
It is his currently active portal enabling architects and interior designers in India to share, upload and manage their projects efficiently. The portal looks forward to becoming India's most rich repository of Architectural data and projects. Rajesh is also running his own blogs, archiSHOTS and advanirajesh.wordpress.com.
Rajesh has also taught full time at two architecture institutes in India. One in College of Architecture and Center for Design, Nashik, and Vidhyavardhan's Institute of Design Environment and Architecture, Goa.
He was instrumental in setting up IT infrastructure, designing curriculum and holding a number of workshops at both these Institutes. His current focus is also on building up a Portal for the construction industry.
Architect Rajesh also recently published the first book, titled india: unbuilt architecture, discussing the value of unbuilt Indian architecture and launched a dedicated portal to feature unbuilt ideas.
WAC's live interviews are held as 20-30-minute sessions to deliver a quick glimpse of the current works of the architect and provide a fast-paced discussion on the architects' design philosophy or other issues that are relevant to the theme.
The sessions also include questions taken from the audience during the talk.
WAC Instagram Live Interview
Theme: "Writing Architecture"
Host: Varun Kumar, Deputy Chief Editor at WAC.
Date: 30th May 2020/4pm (IST) / 10:30am (GMT) / 12:30pm (CEST)
Venue: WAC Instagram