Fu Fu Hua He: Towards A New Architecture of 21st Century
Japanese young architect Akihisa Hirata recently cooperated with Taiwan's renowned construction company Pauian Archiland to create a new typology of apartment building in Taipei.
In the concept he wants to design the urban housing like a "tree house" that will breathe itself naturally. The terraces project out from the building like a cherry tree, and the blossoming petals have their own branches, but they form a tree metaphorically. He creates a relationship between humanity and nature through the organic architectural form.
Image © Dean Cheng x Tenderology
Hirata asserted that "Taiwanese people has been making rich lifestyle from old days, I want to create a new type of apartment that would reinterpret it in a modern way."
"Taiwanese people have lived very comfortably and well suited to local climate by skillfully combining shades, small fences, small roofs and outdoor furniture. However today people can still see the abundant activities of semi-outdoor spaces around the city."
Image © Tenderology x Cheng Chin Ming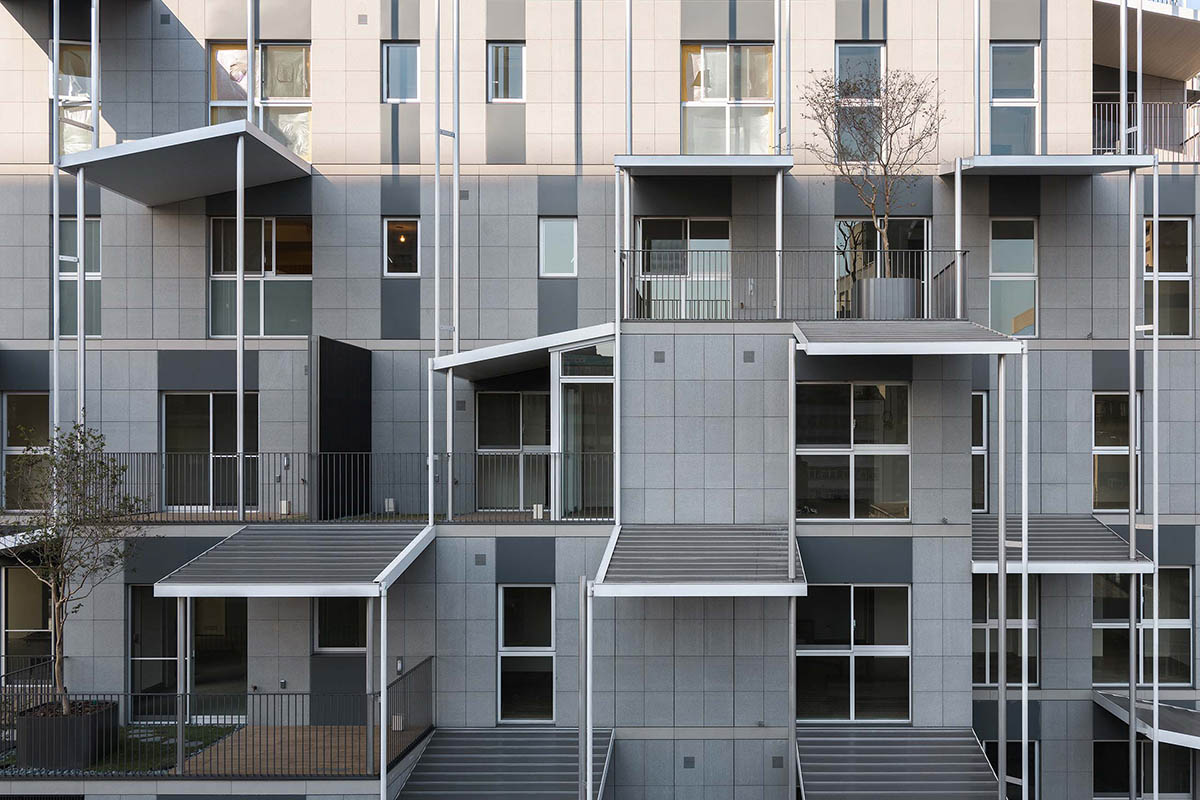 Image © Yi-Hsien Lee x a+tec
.:3 m by 3-6 m terrace. Image © Yi-Hsien Lee x a+tec
He continued: "The three-dimensional intermediate space is protected from the sun and rain, and pleasant breeze blows all around this building. For this middle-high-rise building, creating an East Asian prototype that is richly connected to the outdoors, unlike western Modernism. This is the project that takes the ideal of a new architecture in the 21st century."
Ground floor lobby. Image © Yi-Hsien Lee x a+tec
Project facts
Project Name: Fu Fu Hua He Apartments
Location: Taipei City, Taiwan
Design Period: 2013.06 - 2016.03
Construction Period: 2014.12 - 2017.11
Architect: Akihisa Hirata
Technical Data:
Building Structure: RC
Site Area: 795 m2
Building Area: 508.5 m2
Total Floor Area: 5881.34 m2
Consultants:
Construction Design: Chengyu Architect
Structural Engineers: Envision Structural Engineering Consultant
Interior Design: Yuan You Design
Electrical & Plumbing Engineering: Kun-Tai Consultants & Associates
Air Conditioning Engineering: Hong Yi Engineering Co.Ltd
Lighting Design: Concept Lighting Design Consultants Inc.
Construction:
General Contractor: Pauian Archiland/ Pu-cheng Construction
Interior: An-Ti
Exterior Steel: Balu Metal
Exterior Stone: Shiny G&M Associated Co., LTD
Interior Steel: Beei / Yihdah Metal
Interior Stone: Dibao Stone / Green Stone
Electrical Engineering: Eight Yu Ltd.
Air Conditioning Engineering: Meifu Engineering Services
Lighting: Mao Yuan Optoelectronics
Landscape: Tree Garden Corporation
All images © Yi-Hsien Lee x a+tec © Dean Cheng x Tenderology, © Cheng Chin Ming x Tenderology, unless otherwise stated.
All drawings © Akihisa Hirata
All images and drawings courtesy of Pauian Archiland
> via Akihisa Hirata