Studio Eiraji reveals its "Neck Dancing" competition proposal for London's Redchurch Street
"Shop Smart on Red Church" was the title of urban and architecture ideas design competition held by Khaa Projects Ltd. with the head jury of Sir Peter Cook.
Khaa was searching for ideas to consider how technology interplays with place and how communication can harness the digital age. According to the studies, Redchurch Street is one of the oldest streets in London which had seen different aspects of societies and cultures during different ages. Khaa was searching for different ideas to combine different factors with new digital ideas and describe new version of a street. The overall winner and shortlisted teams were announced for the competition on December 2, 2019.
Studio Eiraji has unveiled its design for the competition. "Neck Dancing" is the title of the project proposal of Studio Eiraji, Design and Creation Studio based in Tehran, which the studio will try to describe it in this report.
Architect and academic university lecturer Dr.Javad Eiraji, CEO and founder of Studio Eiraji, with his design team; Ali Moghri, Azita Behboodi and Elnaz Tofighi have tried to use problems, potentials and solutions to answer the design needs in this project.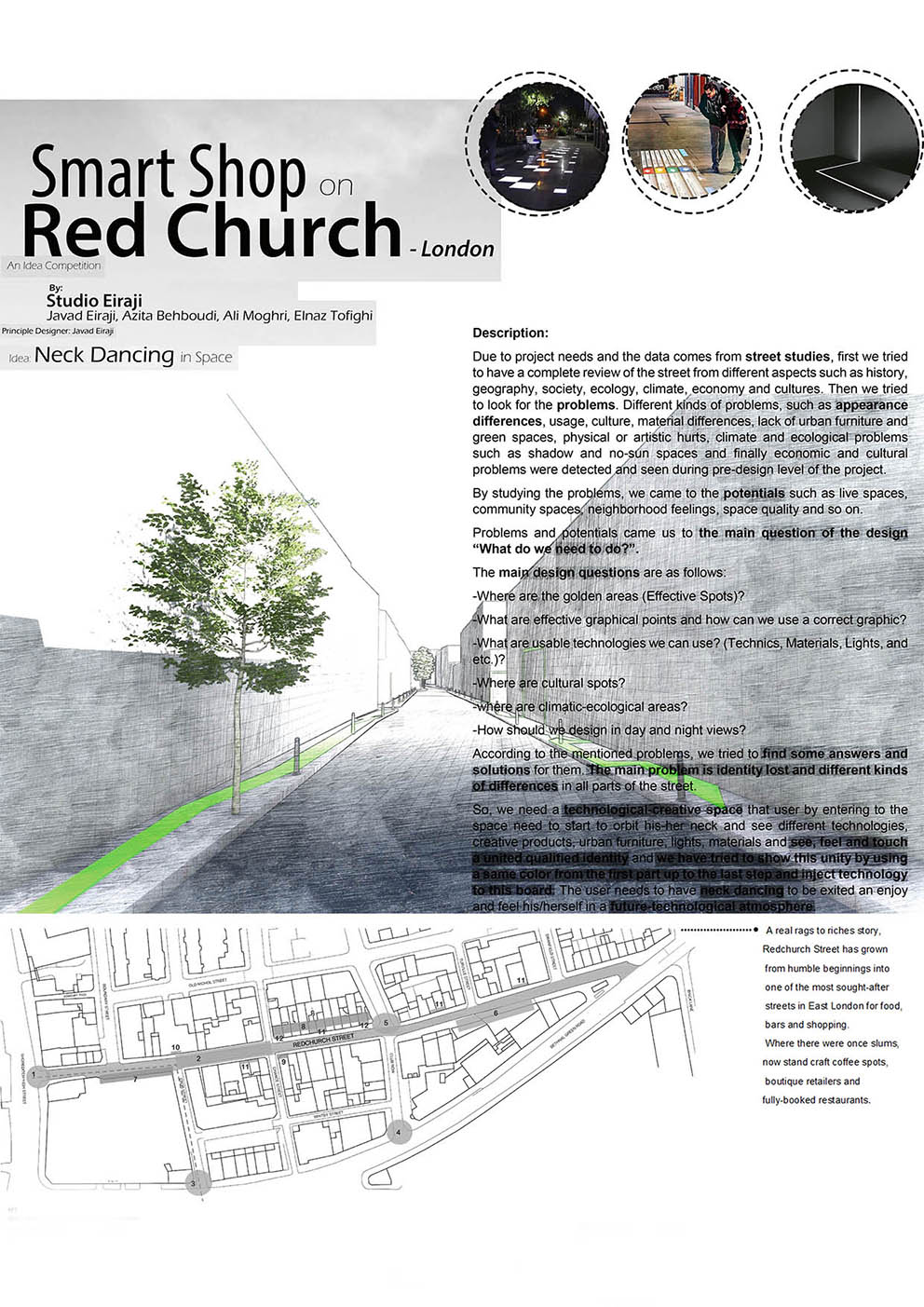 Although the needs of project and the existing data comes from the street itself, first, the design team have tried to have a complete review of the street from different aspects such as history, geography, society, ecology, climate, economy and cultures.
Then, by looking for the problems, different kinds of problems, such as appearance differences, usage, culture, material differences, lack of urban furniture and green spaces, physical or artistic deficits, climate and ecological problems - as well as shadow and sunless spaces and economic and cultural problems - were detected and seen during pre-design level of the project.
By studying on the problems, the potentials became clear; such as live spaces, community spaces, neighborhood feelings, space quality and so on. Problems and potentials came to the design process as the main question of the design: "What do we need to do?".
The main design questions were as follows:
- Where are the golden areas (effective spots)?
- What are effective graphical points and how can the correct graphic be used?
- What kind of efficient technologies can be used? (technics, materials, lights, and etc.)?
- Where are cultural spots?
- Where are climatic-ecological areas?
- How the day and night design must be done?
According to the mentioned problems above, the project aimed to find some answers and solutions for them. The main problem is identity lost and different kinds of differences in all parts of the street.
So, the project needed a technological-creative space that users can enter the space and need to start to orbit their neck and see different technologies, creative products, urban furniture, lights, materials and see, feel and touch a united qualified identity.
This idea has tried to show this unity by using the same color from the first phase to the last phase of the project and inject technology to this board. The user needs to have "neck dancing" to be excited and enjoy and feel him/herself in a future-technological atmosphere.
All Images and drawings © Studio Eiraji
> via Studio Eiraji