AIA's Emerging Leaders in Architecture 2020 Sessions Start! - Session 1
In this series of articles, I will share my personal perspective as a selected participant of the American Institute of Architect's Emerging Leaders in Architecture program. ELA is an honors academy developed by AIA Virginia to gather select students, licensed and unlicensed professionals, to expose them to advanced professional knowledge with intensive seminars about design, business development, community outreach, collaboration, communication, and more. "ELA is an intensive program of educational sessions structured around presentations, discussions, team exploration, analysis, consensus-building, collaboration, and case study activities undertaken over a year by a small cadre of participants (16) selected for their potential to be outstanding contributors to the profession and the community." defined by AIA Virginia. The program lasts for a year with seminars that takes place in various cities and towns in Virginia. Apart from the knowledge that this program provides to its attendees, it gives them the opportunity to develop a group project for a selected community. The program ends with an extensive presentation to a broad audience at the annual Architecture Exchange Conference.
The first session was held at AIA's main office in Richmond. After a warm welcome talk, an overview of the program, and the expectations from the attendees were presented by Christopher Kehde, the past chair of the ELA Executive Committee, the first session during the day was held by Bryan Clark Green, who talked about the emergence of the architecture profession. Bryan is the Director of Historic Preservation with Commonwealth Architects of Richmond, Virginia. He served as an adjunct professor at the University of Mary Washington's department of historic preservation and VCU, Wilder School of Public Policy. His presentation was an interesting summary of how the profession, as we know was evolved throughout history and explored some of the reasons why we have things like associations for architecture, review boards, and licensure systems. He explained these from the perspective of American architecture and how European and early American architectural education and the perception of the profession differed from each other. He also told how European immigrants coming to America as architects such as Henry Latrobe has both challenged these perceptions and fought to improve the standing of the architectural profession from being seen as an artisan who oversees construction, to an artist who is responsible for thoughtfully designing a space and have the engineering and construction knowledge to lead the construction team.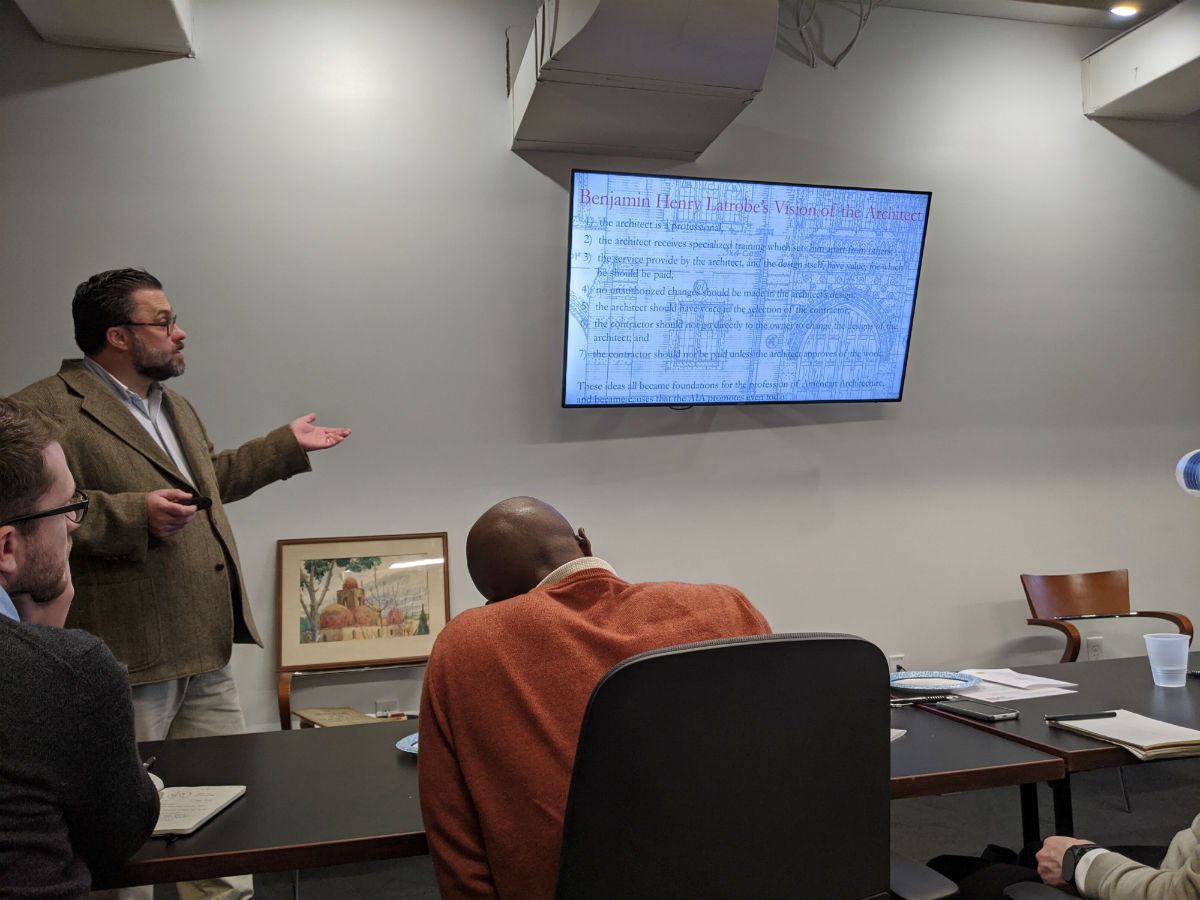 Photo © Mert Kansu
The second session was presented by Kelly O'Keefe, who is a professor and chair of the creative brand management program at VCU Brandcenter, the master's program for advertising and creative problem-solving art Virginia Commonwealth university's school of business. He gave an inspiring speech on creative thinking, on how generations perceive creativity and valuable life lessons about design-thinking, problem-solving, and how to teach yourself to think creatively. Being an owner of an esteemed advertisement firm, he approached talking about architecture from a broader lens, which was refreshing, and I believe helped broaden all the attendees' horizons. His speech touched on the point that advertising, architecture or any other creative field not only share the requirement for creativity but also a responsibility to the commerce and culture they serve. He gave real-life case studies, such as how he has developed the City of Richmond's "RVA" logo and how it helped to bring all the points he talked about together. He also mentioned how he used creativity to design a new brand for the city, how he dealt with the clients, and to the criticisms and demands that came with pushing a unique idea that the town was not expecting at the time.
Photo © AIA Virginia
The next session is announced to be held at Portsmouth, which will last two days. The sessions will include an introduction to the community design project that the attendees will be responsible for and work sessions where everyone will be able to brainstorm and produce the first strategies and ideas on how to tackle the given design problem.
Top image © AIA Virginia