Office with a view by Quirk Studio designed for a father and his daughters
Nestled in the suburb of Juhu is the Office with a View; an eclectic and unique space amidst the bustle of Mumbai. The client wanted a space that is premium, luxurious, contemporary yet modern and minimal in design. He also wanted a section within the same office for his two daughters running their respective businesses. The brief for the daughter's offices was to add a feminine touch to their space, through furniture, colors, and material. With both briefs being distinct, an approach to design the overall office as two separate spaces was adopted with a modern contemporary design style that would seamlessly tie all the spaces together.
The left-wing of the office was divided between a pantry/café, the two daughter's cabins, and a small praying/storage area. The two cabins for the daughters have been placed beside each other; similar in look and feel a sliding folding glass partition segregates the two, so that the space can be used as one or separate spaces depending on the requirements. Softer pastel shades have been used with only one paneled wall that stands out as an accent in an oxford blue shade, floral wallpaper, while tying up the space with brass metal elements. The Pantry/Café has been designed to keep the space light, bright and fun. An exposed brick wall finished in white stands out, with the flooring in the same dark grey marble spilling from the outside area and blending with the sage and coral hexagon handmade cement tiles.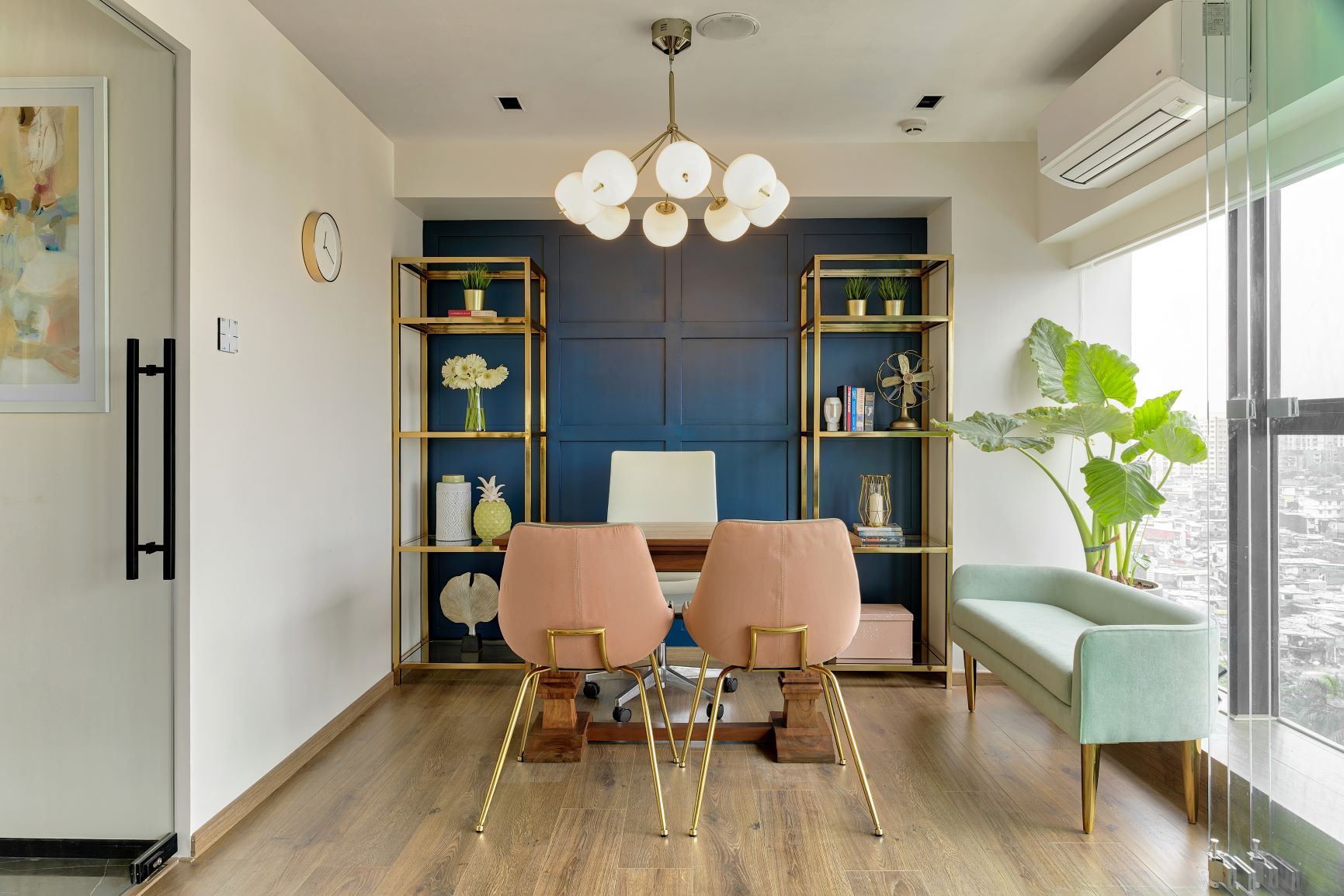 To demarcate the entrance and reception from the rest of the office, a planter wall made of metal and wooden boxes has been created, without compromising on the openness of the space. The main door has been inspired from the steel business of the clients and is finished in black gunmetal sheets; Weighing 200kgs, this door makes for a grand entrance statement. The private lift lobby continues to carry forward the same language as the office interiors.
The bathrooms have been designed with elements that are luxurious, yet nature-inspired. A dark patterned leaf wallpaper and sage green subway tiles along with textured grey IPS on the walls, all come together to create the mood that the designers set out to achieve. To take the luxury quotient higher, Automation is adopted to create a Modern, smart office. The designers tethered the entire office using a lot of greens throughout, right from the entrance to the restrooms, which immediately adds a burst of color and warmth to the space, while connecting the inhabitant to nature outside and enhancing the overall well-being quotient.
Project Facts
Site Area: 2800 sq ft
Location: Juhu , Mumbai
Completion Date: May 2019
Client: Mr. Rajeev Vyas
Design Team: Devaunshi Bosamia
Photographer: Pulkit Sehgal
> via Quirk Studio