Teach the Trainers Program, an Initiative of Smart Habitat Foundation
Architecture mostly looks upon the design processes and its innovation, while the study of architecture mostly revolves around design studios. In today's global and dynamic architecture with ocean of new innovative materials, we need to look beyond core architecture and attain a comprehensive understanding of various elements of applied architecture and inculcate them into a more holistic design approach. Realizing the need to create a platform where there can be a serious dialogue between the academics, and the practice in the field of Art and Architecture to create sustainable smart human settlement, Prof. Charanjit Singh Shah and Ar. Gurpreet Shah have established the Smart Habitat Foundation which is supported by Creative Group.
It is a center of excellence in pursuit of Art - Architecture - Urban Planning - Transport - Infrastructure to support educational excellence and promote interaction between practicing architects and budding students of architecture, in order to bridge the gap between architects, practitioners, academicians and students, promoting an all-round holistic understanding and learning of the noble profession of architecture.
The realm of architecture is full of ambiguities where subjectivity plays a major role in design feasibility. After five years of intensive architectural education when one enter into the professional on-site field work, the academic background of conscious sustainable design approach often fades away under the influence of commercial and political influences. On the other hand academicians, isolated in their shells, stay unaware of the contemporary technologies and materials which lead to lack of interest and passion amongst the young generation of architects. This disconnect is currently ruining the urban fabric of our Indian cities and to resolve this, Smart Habitat Foundation initiated "Teach the Trainers Program" on Large Span Structures exclusively to bridge this complex gap between professionals and academicians on 20th July' 19.
Lifetime Achievement Award To Prof. Prem Kumar Chaudhery
The Foundation was honored to felicitate Prof. Prem Kumar Chaudhery for his exemplary contribution of more than 61 years as an architect and academician. His design philosophy focuses majorly on environmental sensitivity, terrain response and local craftsmanship, he graduated from School of Planning and Architecture Delhi in 1958, then he worked with Joseph Allen Stein for the coming 22 years (1959 - 1981) and partnered with J.A Stein from 1981 - 1985. He has taught design and Architectural Construction for years at different colleges of Architecture with special emphasis on construction detailing.
Expert's presentations
Numerous prominent architects, industrialists and civil engineers were invited to present their take on the topic and related issues of large span structures, steel structures, architectural practice and profession. Eminent professionals like Er. Praween K. Verma, Pradeep Verma, Ar. Rajat Srivastava, Er. Arjoon Garg, Ar. Ravi Shankar, Ar. Amit Khullar and Ar. Vinit Khanna ignited the inquisitive minds of teachers and students leaving a retrospective impact.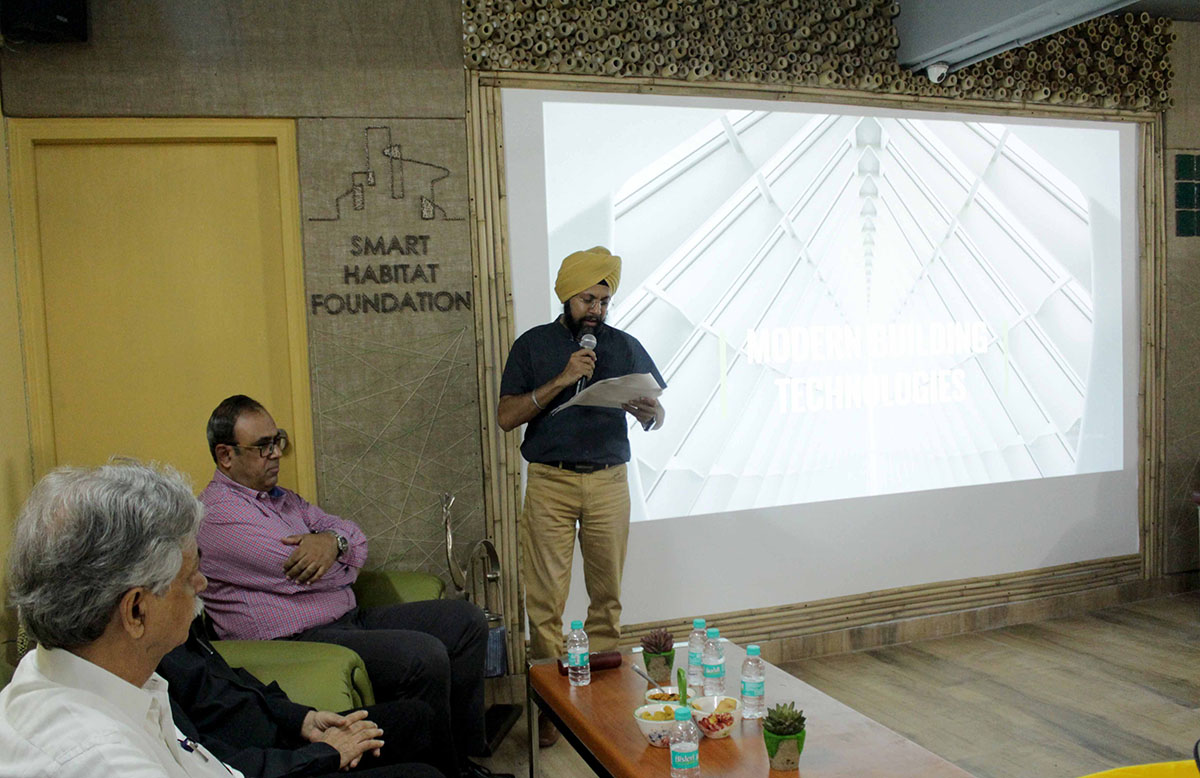 Expert presentations' overview
Applications of Large Span Structures in Modern Buildings
Er. Arjoon Garg presented his projects discussing details of steel construction also including Chennai airport which is an award winning star project of Creative Group showing the large span truss construction, various challenges, methodology and techniques involved in construction and execution of these structures.
Getting the concrete right, Pre-right, Precast, Pre-tensioned - A case study
Ar. Amit Khullar talked about the various features of Pre Cast Construction, Advantages over cast – in – situ and construction
sequence majorly focusing on Planning, Site execution and Time saved through various examples of his projects.
New age steel structures for Rising urban infrastructure
Ar. Ravi Shankar presented his projects based on advance engineering, analytical & digital techniques for free flowing light
weight shell roofs supported on sleek steel columns. The simulation and the realization of every project was projected in a journey which was documented in the form of pictures at different stages showing the transformation of a building .
Common Defects in Building Construction
Ar. Rajat Srivastava talked about common defects which originates from material behavior, moisture damage and detailing issues
posing solutions for the same.
Exceptional Architect or an Exception
Ar. Vinit Khanna from Space ace discussed the present scenario which architects are facing in the profession when the quality of government projects is degraded as the authorities settle for the lowest bid. Artistically demarcating and comparing with an Orchestra Performance it is important to understand how an architect is positioned in the making of the city.
Panel discussion moderated by Prof. Vivek Sabherwal
Towards end the gathering panel was open to an exhaustive discussion with a question answer session related to the experts' presentations. It opened up new perspectives and eye-opening dimensions towards contemporary usage, feasibility and maintenance of
large span structures. The workshop was concluded by Prof. Charanjit Shah provoking the architectural and construction fraternity for collective efforts towards a sustainable India.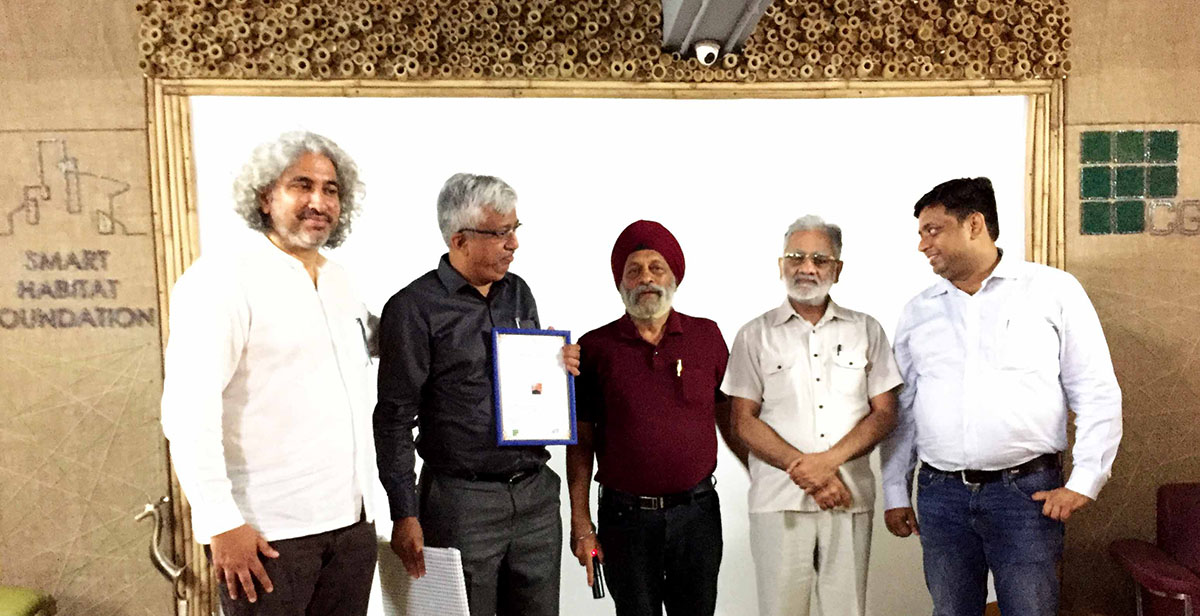 All images courtesy of Karan Gupta
Sponsor Partners: Hunter Douglas, Multi color Steel.
Coordinators: Ar. Rashi Jain and Karan Gupta.
> via Smart Habitat Foundation