BIG designs snow-covered roof for its first Greenlandic stadium

Global Danish firm Bjarke Ingels Group (BIG) will build its second major stadium in Greenland with snow-covered roof and organic form, evoking the glacier era or snowdrift. The tent-looking design will create a new gathering point for the capital city Nuuk on a disused plot of land, which will the first 'arctic stadium' and iconic structure of BIG.
Commissioned by the local municipality of Sermersooq, the future Nuuk Stadium is developed as part of a large-scale municipal strategy to create a new Cultural and Commercial Complex in the capital of Greenland.
The 34,600 square-metre stadium will contribute to the identity of the Nuuk harbour, while its dome-shaped structural frame will allow visitors the pleasure of stunning views, including the adjacent National Gallery of Art, also designed by BIG.
Speaking at a press conference this week, Ingels said he was inspired by the culture and environment of Greenland and its natural phenomena, including the northern lights, waterfalls, icebergs and the waves of the sea.
''Stadiums are just a total dinosaur,'' he had said in his Rolling Stone interview.

"It's the same three or four global offices that have designed all the stadiums. It becomes this self-fulfilling prophecy, where you have to be a stadium designer to design a stadium. And that means they're all the same."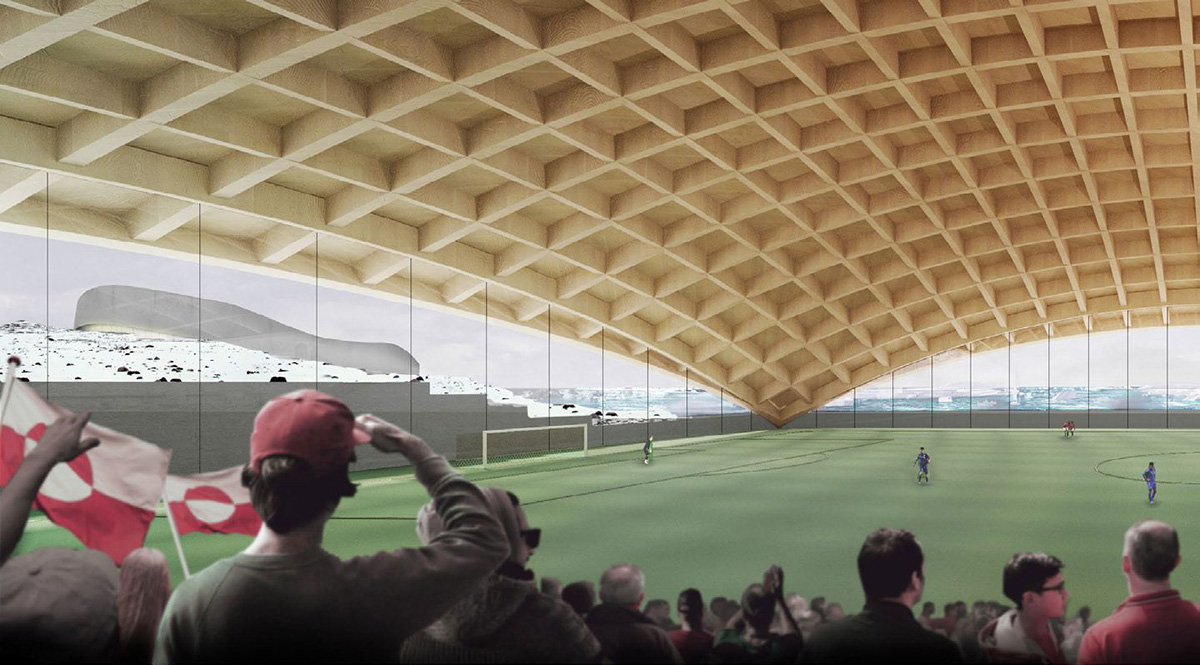 The local municipality of Sermersooq will fund the project as part of a wider cultural strategy. The interior ceiling of the stadium features a special wooden-lattice making a contrast with the outer skin. The Nuuk Stadium touches the ground in only 4 points and is wrapped by glass panels which make the building more visible and inviting.
Last year, Bjarke Ingels revealed its first major stadium National Football League (NFL) in US- an undulating structure is made of a golden metal mesh and will celebrate cultural events throughout the year.
Netflix's new documentary titled Abstract: The Art of Design kicks off today-and Bjarke Ingels is the only architect featuring in this documentary series alongside other artists.
All images courtesy of Sermersooq
> via BIG