MoMA PS1 2017 YAP winner Jenny Sabin designs knitted fabric made of recycled textiles
Ithaca-based architecture design practice Jenny Sabin Studio has been named as the winner of the MoMA PS1 2017 Young Architects Program (YAP) with her robotically knitted fabric, made of recycled textiles, photo-luminescent and solar active yarns. Celebrating its 18th edition this year, the winning design by Jenny E. Sabin will be on view from June 29, 2017 at MoMA PS1 during the summer 2017.
Jenny Sabin selected among this year's finalists including Ania Jaworska (Chicago), Bureau Spectacular (Los Angeles), Office of III (New York), and SCHAUM/SHIEH (New York).
Video by MoMA
Named Lumen, the architect calls the structure as ''feminine'', Lumen is knitted light, bathing visitors in a responsive glow of photo-luminescence; by day, Lumen offers succor from the summer heat, immersing participants in delicious ground clouds of cooling mist.
Lumen is a socially and environmentally responsive structure that adapts to the densities of bodies, heat, and sunlight. A lightweight knitted fabric of responsive tubular structures and a canopy of cellular components employs recycled textiles, photo-luminescent and solar active yarns that absorb, collect, and deliver light.
This environment offers spaces of respite, exchange, and engagement as a misting system responds to visitors' proximity, activating fabric stalactites that produce a refreshing micro-climate. Families of robotically woven recycled spool chairs reveal informal messages and conversations through hydro-chromic materials.
It is an open responsive system featuring digitally knitted and robotically woven lightweight, high-performing, formfitting, and adaptive materials. Lumen is a feminine form that offers luminous interiorities, informal networks, social fabrics, and fibrous assemblages that are pliable, transformative, and playful.
Jenny Sabin's work is at the forefront of a new direction for 21st century architectural practice — one that investigates the intersections of architecture and science, and applies insights and theories from biology and mathematics to the design of material structures.
Sabin is the Arthur L. and Isabel B. Wiesenberger Assistant Professor in the area of Design and Emerging Technologies in the Department of Architecture at Cornell University.
The Young Architects Program founded by MoMA and MoMA PS1 is committed to offering emerging architectural talent the opportunity to design and present innovative projects, challenging each year's winners to develop original designs for a temporary, outdoor installation at MoMA PS1 that provides respite with shade, seating, and water.
The jury for the MoMA PS1 YAP is composed of Glenn D. Lowry, Director of The Museum of Modern Art; Kathy Halbreich, Associate Director at MoMA; Klaus Biesenbach, Director of MoMA PS1; Peter Reed, Senior Deputy Director for Curatorial Affairs; Martino Stierli, Philip Johnson Chief Curator of Architecture & Design at MoMA; and Sean Anderson, Associate Curator of Architecture at MoMA. The panel selects five finalists who are invited to make preliminary proposals; the chosen winner is announced in February of each year.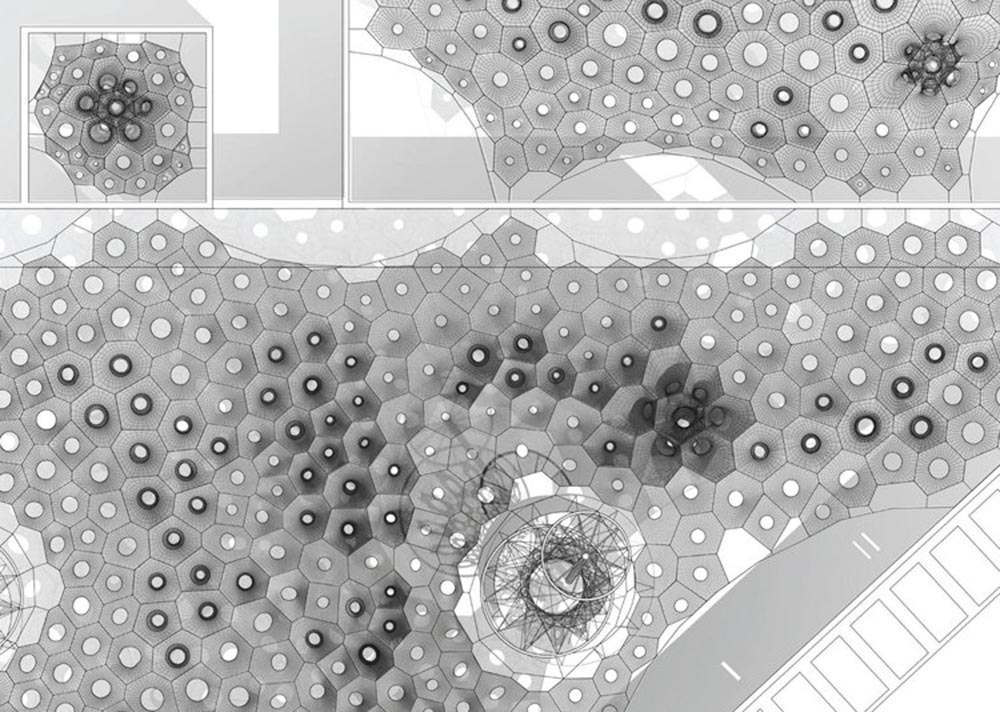 MoMA and MoMA PS1 have partnered with the National Museum of XXI Century Arts (MAXXI) in Rome, Italy, with CONSTRUCTO in Santiago, Chile, with Istanbul Modern in Istanbul, Turkey, and with MMCA in Seoul, Korea, to create international editions of the Young Architects Program.
Last year, Escobedo Soliz Studio from Mexico City won the competition with ''Weaving the Courtyard'' -the project exhibited between May -August 2016 in New York.
All images © Jenny Sabin Studio
> via Jenny Sabin