Steelcase partners MIT Lab to design customized furniture through rapid liquid printing in 10 minutes
Global US-based furniture brand Steelcase has partnered with MIT's Self-Assembly Lab to design customized furniture through a new 3D printing process - called Rapid Liquid Printing - which gives innovative solutions to create personalisation to the future of furniture, produced in just 10 minutes.
The Rapid Liquid Printing firstly announced at Milano Design Week held between April 4-9, 2017 at Salone del Mobile. According to the researchers from MIT's Self-Assembly Lab, the new technique aims to create multi-complexed surfaces with an enhancing speed, scale and quality on the furniture design, beating the constraints of traditional 3D printing.
3D Printing, also known as additive manufacturing (AM), has been used for decades to manufacture and layer 3D objects, but, undoubtedly, it takes time and is a longer process to create objects under some certain limitations.
Pointing out to those intricate issues on the traditional 3D Printing, Skylar Tibbits, Assist. Prof. at the Self-Assembly Lab and co-director of MIT Lab Jared Laucks aimed to create new modelling on 3D printing, improving speed, size and quality of material.
"Industry partners are really important for us," said Tibbits. "They bring insight, challenges, relevance and domain expertise that we don't have."
A group of researchers from MIT Self-Assembly Lab developed this innovative and fast liquid technique by working on particular projects with Steelcase. The new Rapid Liquid Printing works inside a gel and allows a product designer to draw his own custimozed 3D space, excluding the limitations of gravity. After a designer drawing his own object within the gel, the object is extruded from the tank as it is shaped.
During this process, since there doesn't needed any traditional supporting material, layer or structure, the printing process is continuing faster with various sizes in which the only tank size is limited. The chemically-cured process interacts within a gel, without using light and temperature, and produces a hardened object.
At Milano Design Week, Tibbits said that "it took about 28 minutes to print the intricate design for the Bassline table top. In another experiment, the team was able to print a structure in 10 minutes with Rapid Liquid Printing that had previously taken 50 hours to produce using a different 3D process. The type of design, material and size all impact printing speed."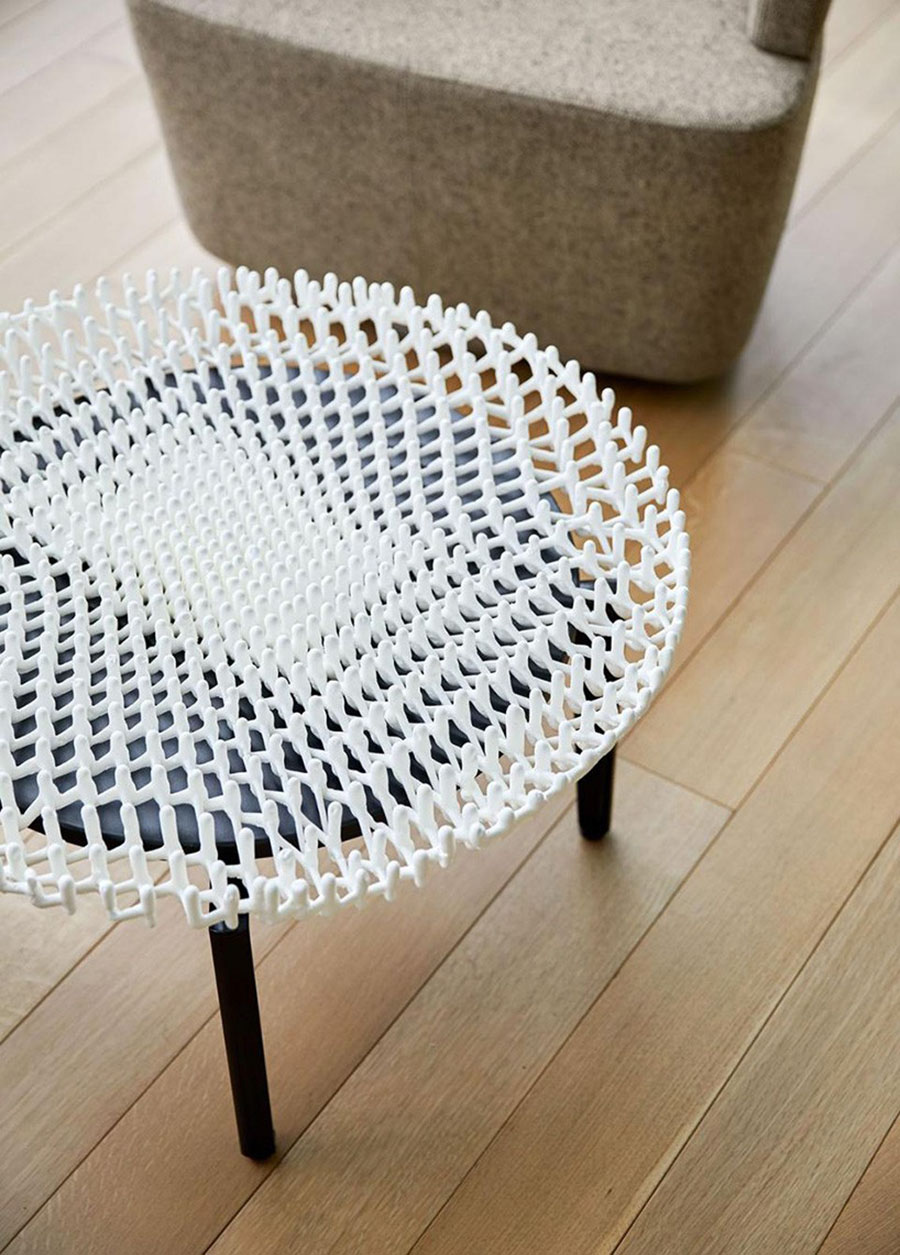 This new Rapid Liquid Printing works with many industrial liquid material such as rubber, foam or plastic. Even if the Rapid Liquid Printing is experiment ed now on various objects and materials, it seems that the Rapid Liquid technique will reach its ultimate purpose for a wide range of materials in the furniture design, keeping the product's original properties in the real world.
"As a designer, what's most fascinating and unique about Rapid Liquid Printing is the line quality of the print. It's soft, almost organic. It evokes images of brushstrokes or the branches of plants," said Yuka Hiyoshi, turnstone senior industrial designer.
"The printing speed is very impressive. In the far future, large scale objects could be printed in minutes instead of days. Also, it's not limited to typical 3D printing material making the technology very desirable from a design perspective."
Steelcase and MIT's Self-Assembly Lab continue on their researches to create the fastest printing process on materials, products or furnitures - by also obtaining the optimal product which is printable in maximum size.
Project credits
Self-Assembly Lab Team: Kate Hajash, Bjorn Sparrman, Mattis Koh, Schendy Kernizan, Jared Laucks & Skylar Tibbits / In collaboration with Christophe Guberan
Steelcase Team: Yuka Hiyoshi, Rob Poel, Markus McKenna, Paul Noll, Sharon Tracy, Edward Vander Bilt, Chris Norman & Charlie Forslund
All images courtesy of MIT's Self-Assembly Lab
> via MIT's Self-Assembly Lab & Steelcase