Mailitis Architects' Amphitheatre helps monks to create flying performances above a wind tunnel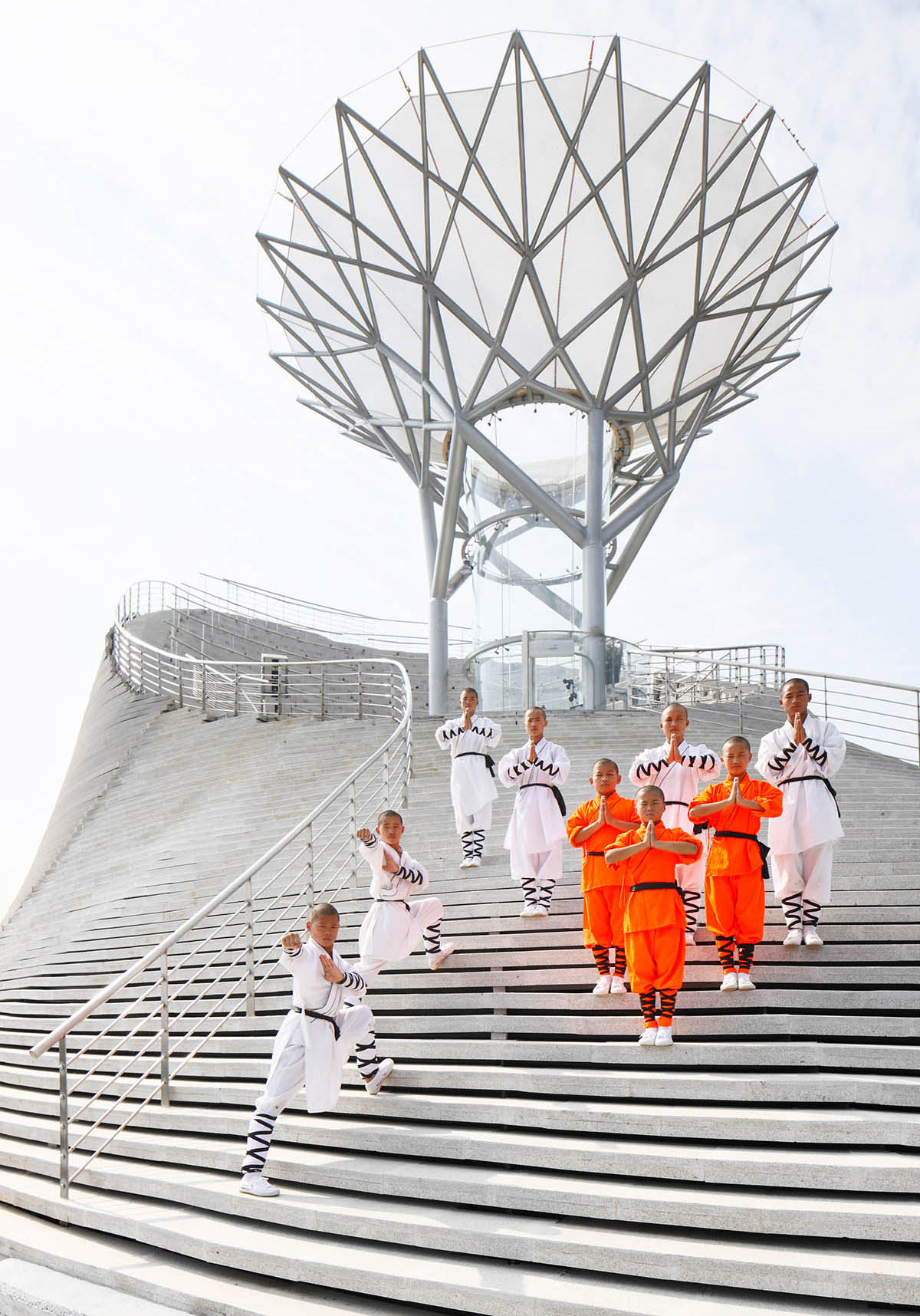 Latvian architecture firm Mailitis Architects has completed a mountainy-looking amphitheatre on the hillside of sacred Songshan Mountain in central China, allowing monks to create levitation performances above its wind tunnel. The Songshan Mountain is known as spiritual "Centre of Heaven and Earth" features a significant Buddhist presence.
It is home to the Shaolin Monastery, traditionally considered to be the birthplace of Zen Buddhism and Kung-Fu martial arts. Being rich in its extensive history and significant in its cultural impact on the world the place was added to the UNESCO World Heritage list.
Called Shaolin Flying Monks Theatre, the architects' giant terraced structure is situated on the top of the Cypress Hill, the Shaolin Flying Monks Theatre's architectural and conceptual image pays respect to the beauty of surrounding nature and the historical heritage of the site.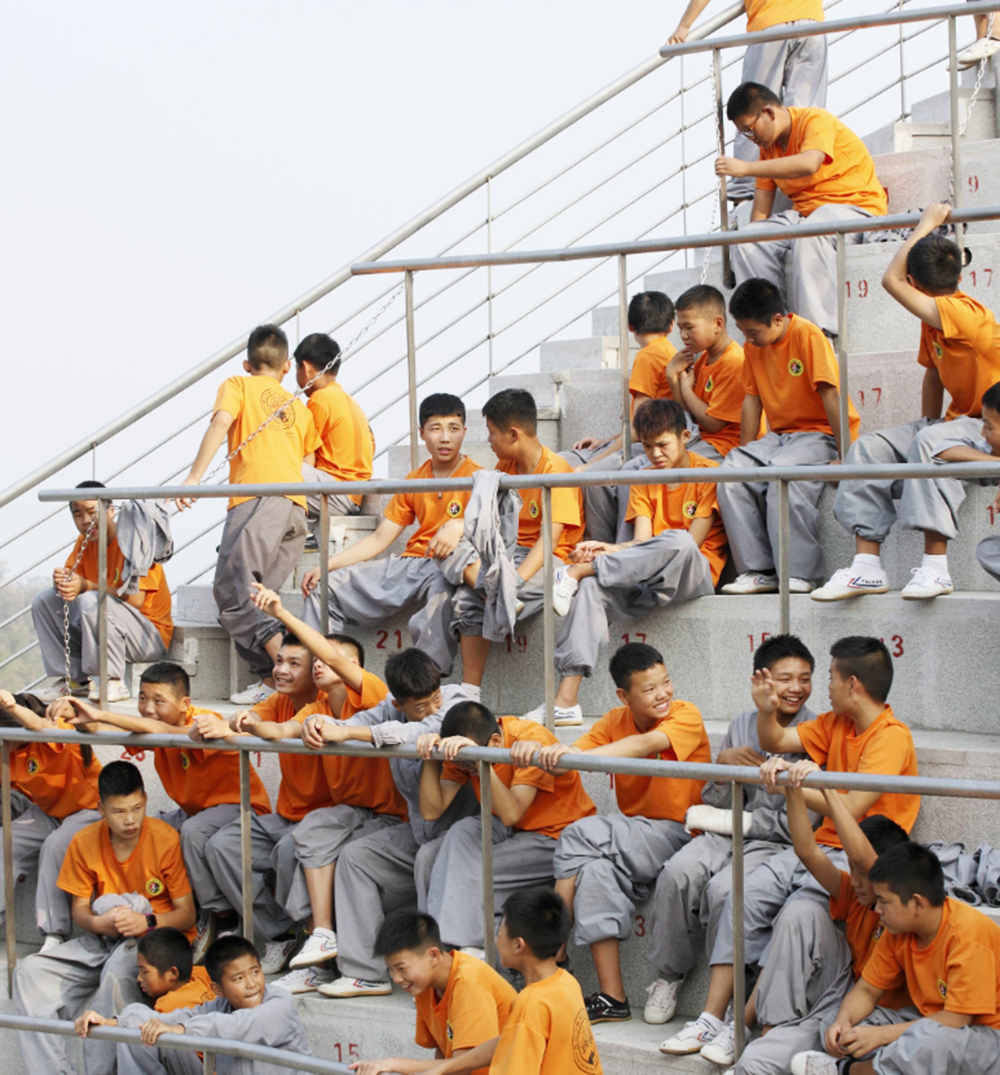 Developed in the shape of two symbols – mountain and tree – it serves as a platform for any kind of scenic arts focusing especially on flying performances. The building method combines modern and ancient technologies – laser-cut steel superstructure supports stone steps handcrafted using local quarry resources.
"The building has four basic functional zones: exterior surface, the stage, interior area and engine room. The exterior combines both aesthetical and functional aspects," said Mailitis Architects.
Stair surface, apart from its usual purpose, is designed to continue the topography of territory, to adjust natural lighting for interior and to provide massive air flow for engines. Upper levels of stairs shape the embracement for the stage – an amphitheatre with a wind tunnel in the middle.
The interior of the theatre is organized in three floors and includes all the necessary premises and facilities for visitors and performers. Technical devices are developed by Aerodium team and anchored in the engine room under the stage.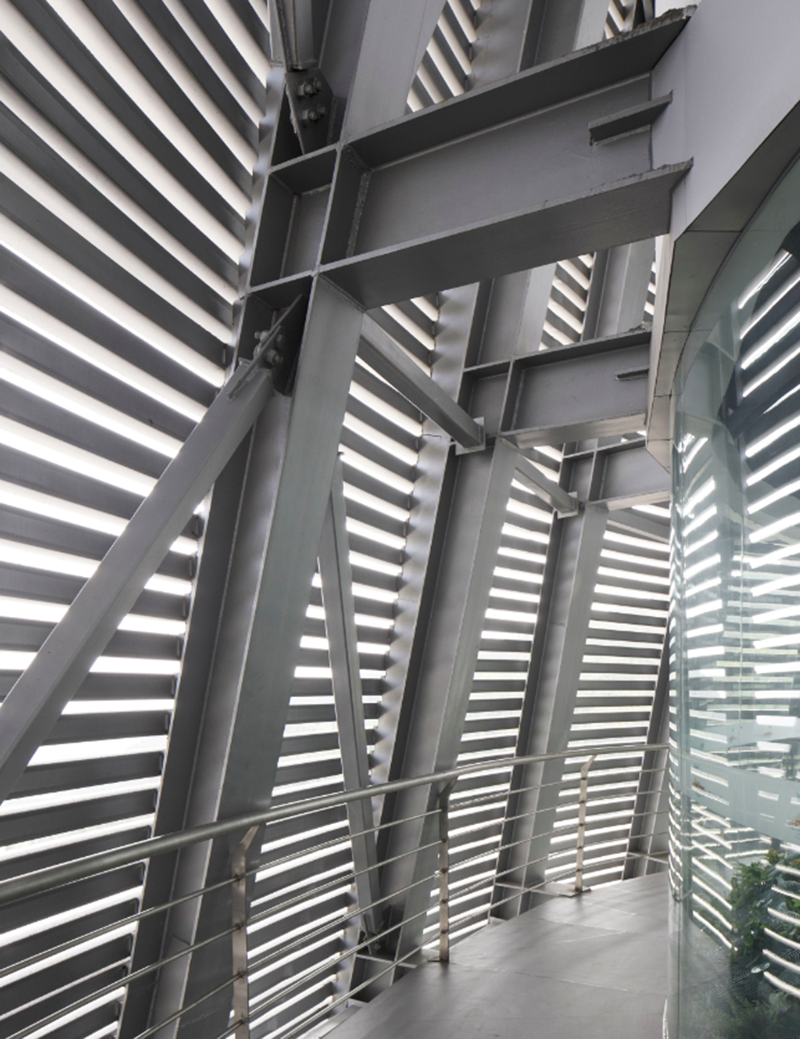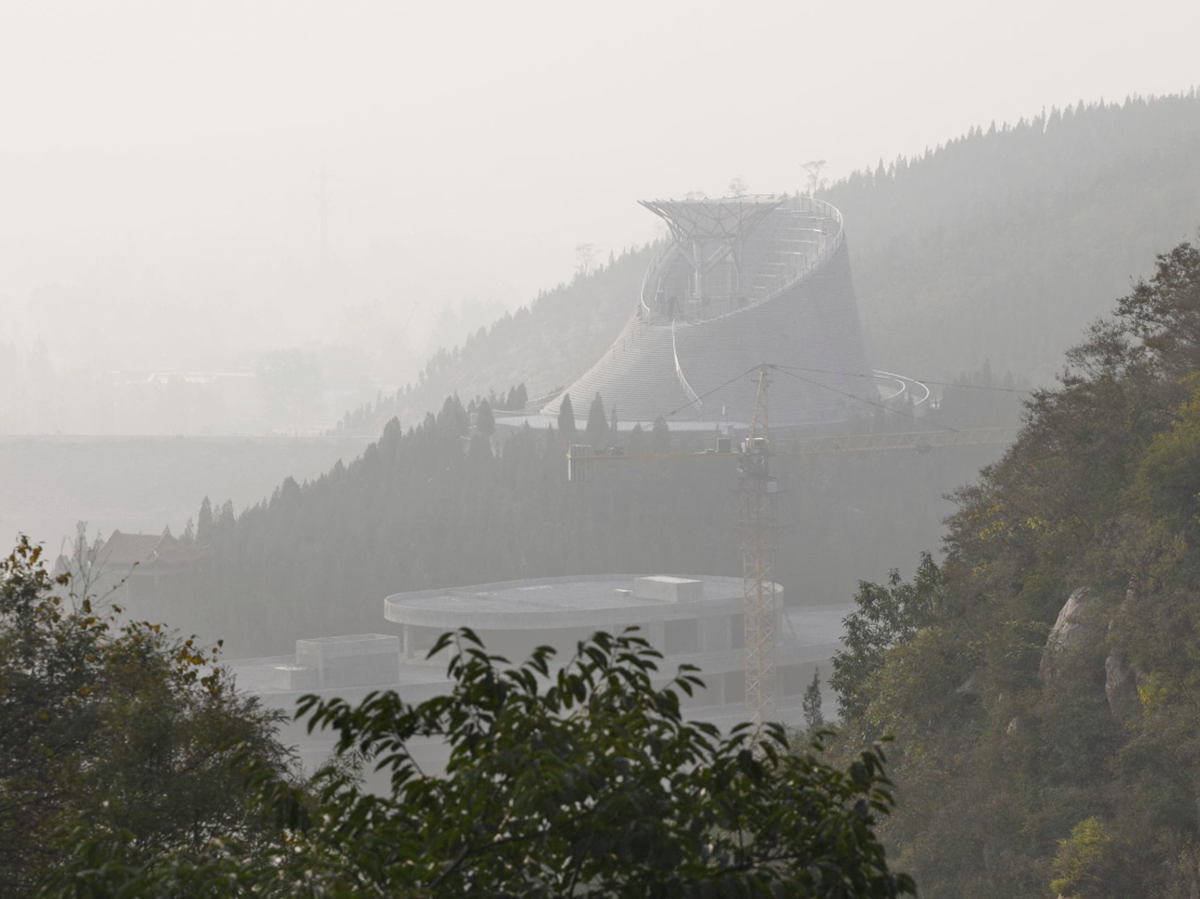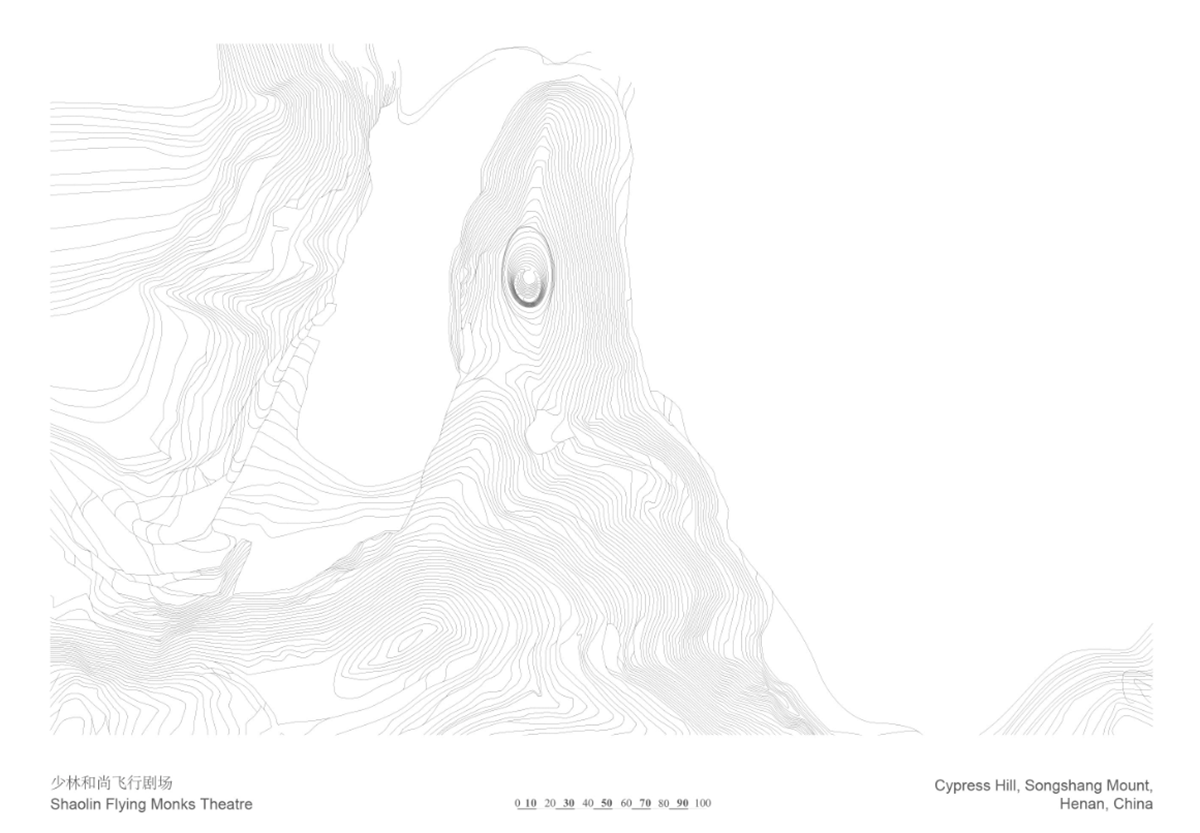 Site plan
Surface layout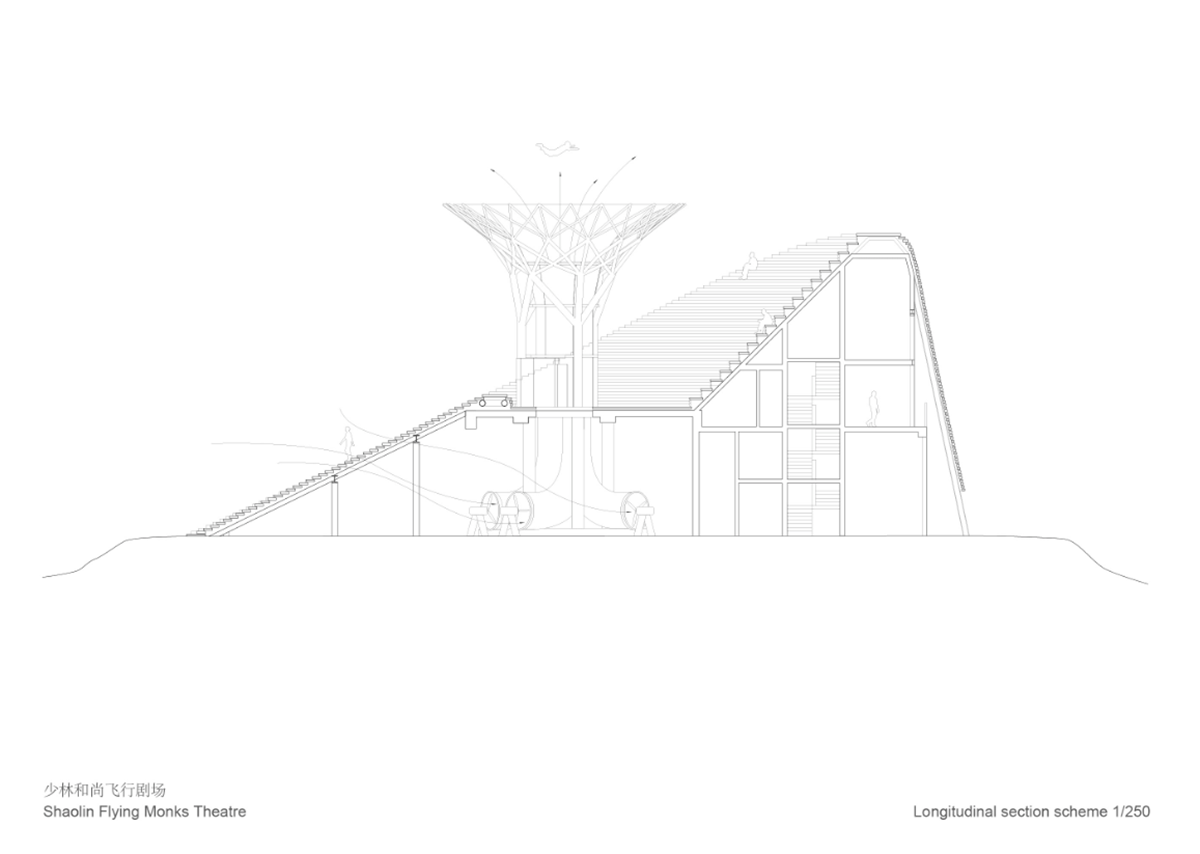 Longitudinal section
Surface details
Project facts
Project name: Shaolin Flying Monks Theatre
Date: 2010 – 2016
Location: Songshan Mountain, Dengfeng city, Henan Province, China
Area: 614.8 m2
Client: Henan Ji An Industrial Co., Ltd
Design Team: Austris Mailitis, Valters Murans, Ints Mengelis, Karlis Melzobs, Dina Suhanova, Andra Odumane, Jekaterina Olonkina
All images © Ansis Starks
> via Mailitis Architects